Cheap & Easy DIY Halloween Decorations For Front Porch and Yard
This post may contain affiliate links. Please read the disclaimer.
Are you excited to welcome the trick-or-treaters this Holiday? Get your creative juices flowing with these cheap & easy DIY Halloween decorations for the front porch and yard.
Halloween is my favorite holiday because I can try new ideas for outdoor and indoor decorations. If you scroll down the Pinterest you know what I mean.
But not all those ideas are cheap and easy to make, that's why I have rounded up these scary and spooky ideas for your Halloween party decorations.
Outdoor Halloween decorations are not just limited to jack-o'-lantern and witch legs. Here you'll find ideas to make scary lawn ghost and Halloween props for the front yard, simple Dollar store items to decorate lanterns, pumpkin topiary, and cool Halloween signs
Easy DIY Halloween projects for door decoration, skull pillars, giant spider webs, and garage door silhouettes. Bubbling witch cauldron and groundbreaker skeletons in the graveyard come to welcome your guests.
Sounds crazy!
Let's dive in to get inspired
Related Post – The Most Creepy Halloween Decoration Ideas
Lawn Ghosts
You don't need a graveyard to make your lawn look spooky. Try this simple skeleton decoration with yellow flowers in the background. Imagine how beautiful and classy it looks in your lawn.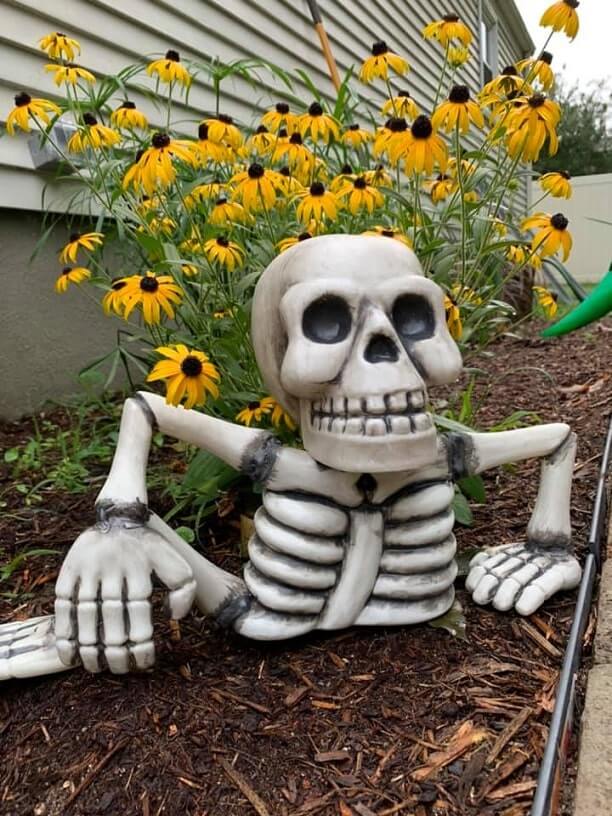 Garage Door Silhouette
This is my favorite DIY Halloween decoration for the garage door, for this decoration you need a dancing witches plywood cutout shape (you can place a custom order here). Paint it black and attach a string of red LED lights at the back using tape or nails.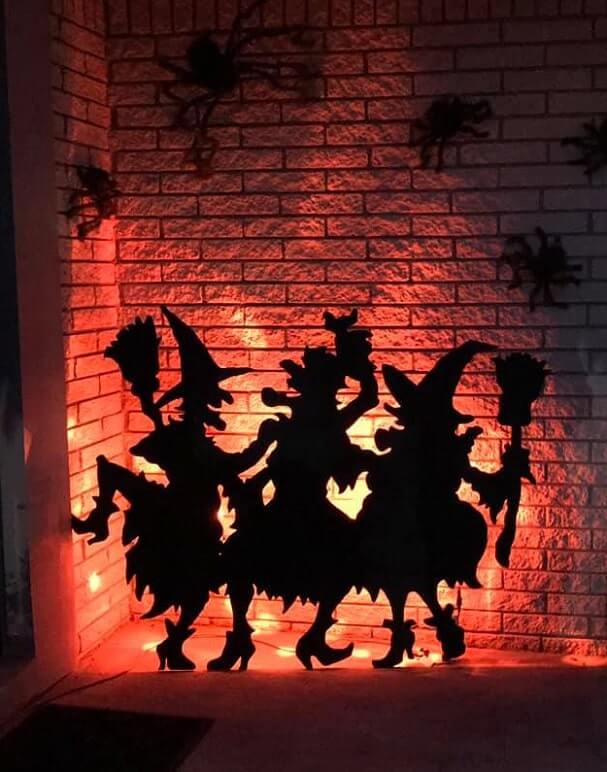 Giant Spider Web & Skeletons
Front porch Halloween decoration made from a giant spider web, skeletons, and a huge inflatable spider.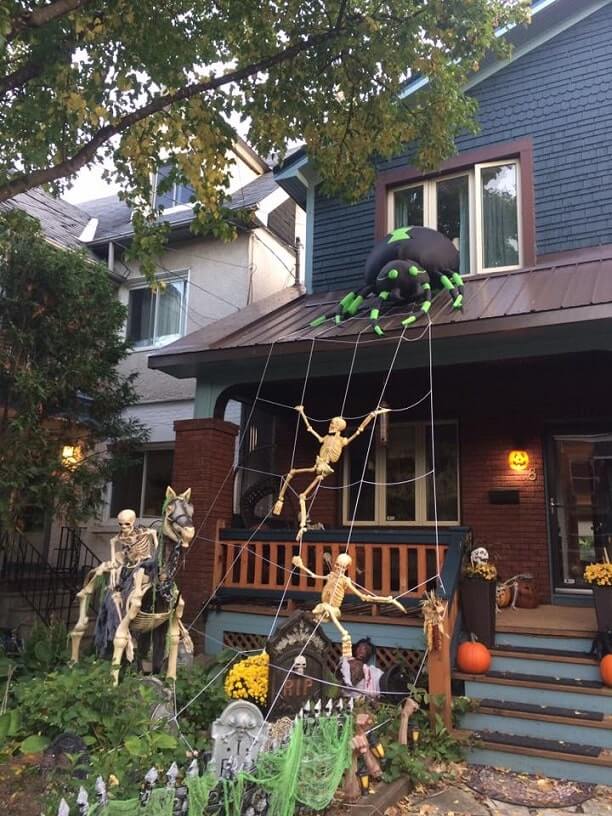 Skull Pillars
Scary Zombie Pit
To make this simple DIY, head over to Home Depot and get a wood pallet. Use red paint to make those hand patterns on the pallet. Place the zombie face and hands between the gaps as they were trying to escape. Also add accessories like chains, hammers, and zombie knives.
To make it more realistic you can put a speaker playing zombie growls underneath it and add some red LED lights inside.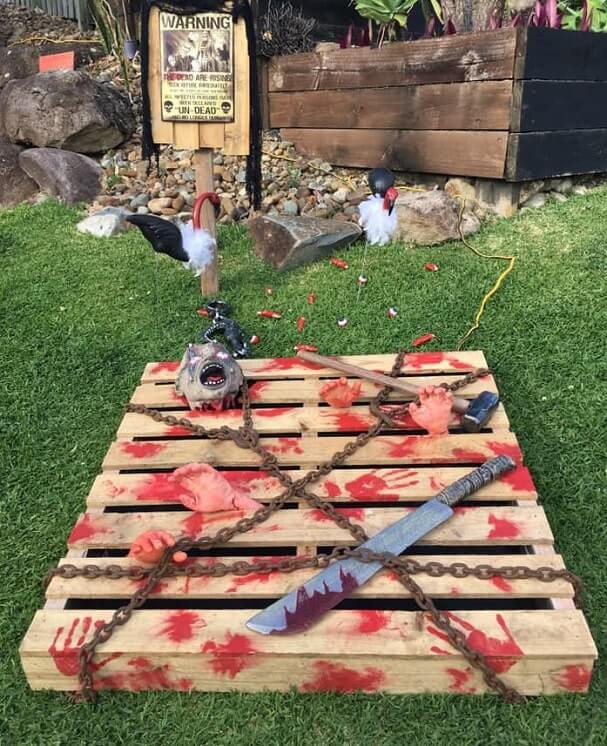 Fake dead body for Halloween
simply hung a fake dead body on a door for indoor Halloween party decoration. They are simple and inexpensive to make at home. Check out the tutorials.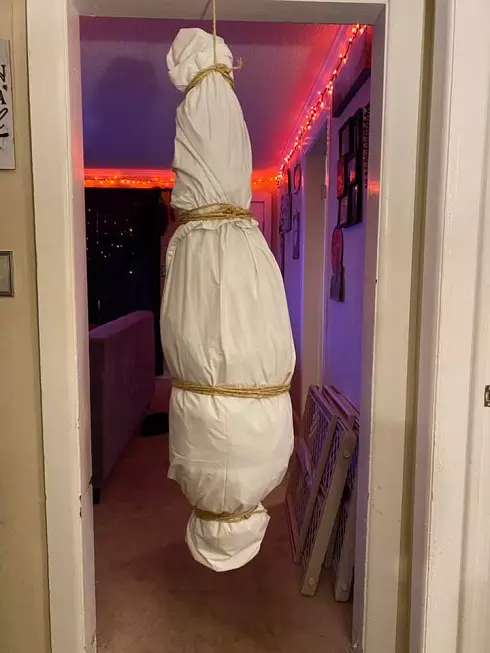 Guests at Skeleton Wedding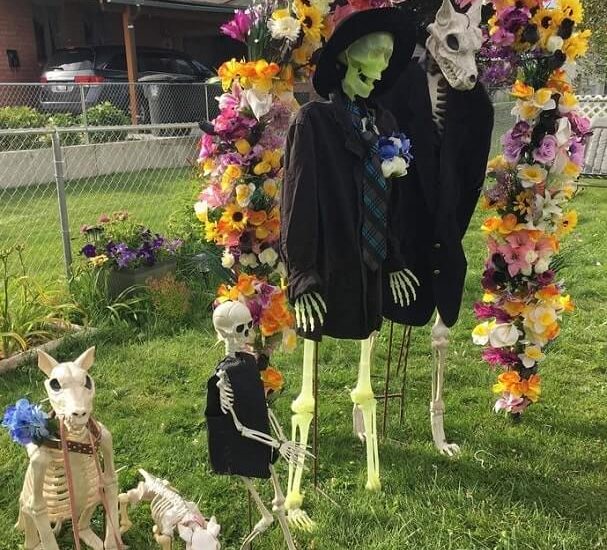 Spooky Skeleton Hand Lantern
This prop is perfect for the lawn. You need some skeleton bones, a hanging chain, and a Halloween lantern.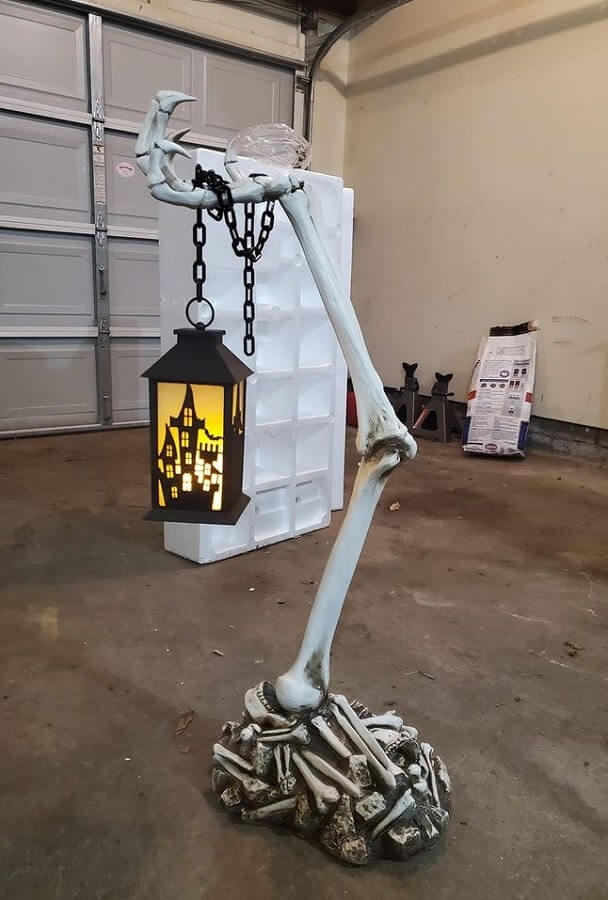 Skeleton in Coffin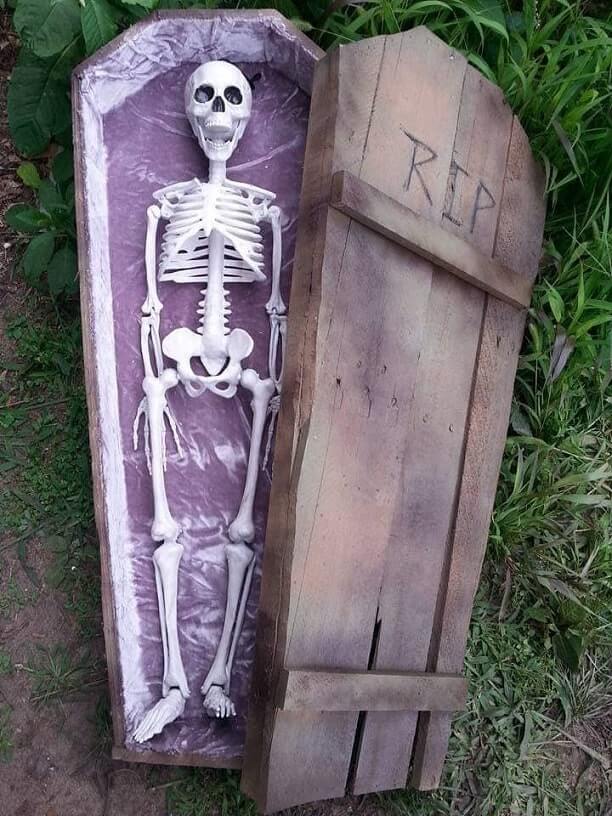 Creepy Zombie Skeletons
These zombie skeletons decorations especially their eyes really look so scary. Check out these creepy lawn ghost props.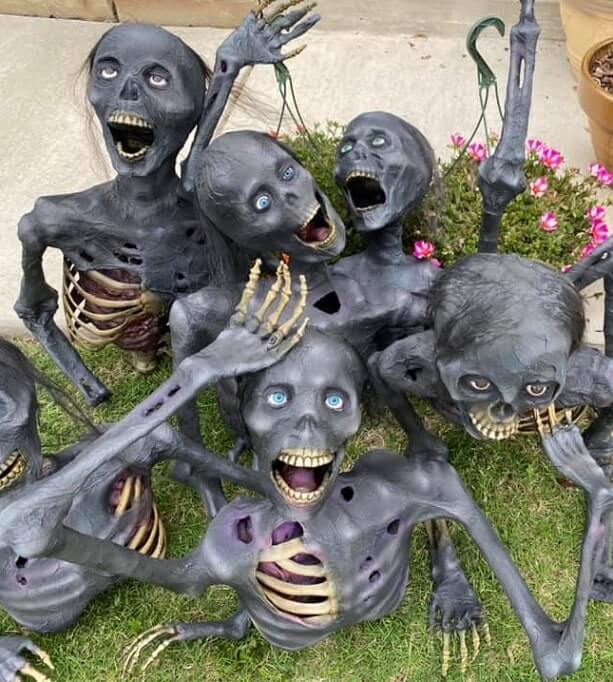 Skeleton Campfire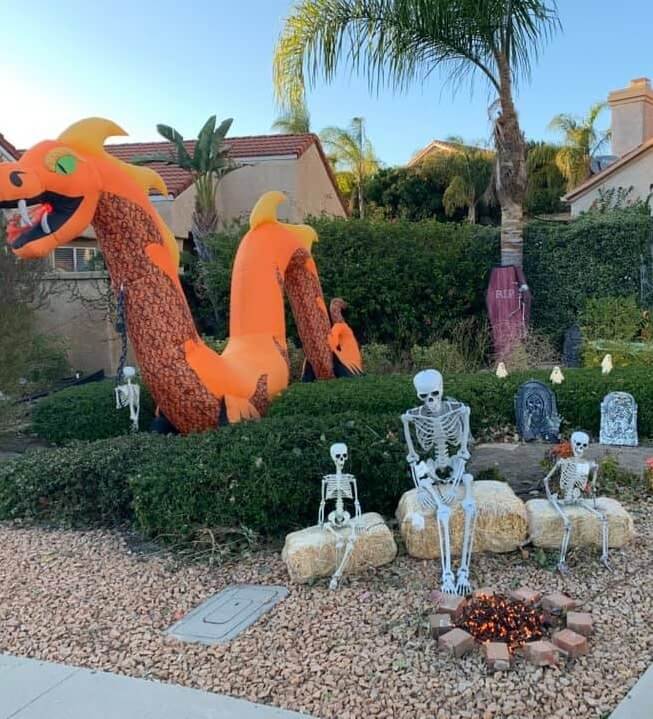 Halloween Welcome Sign
A coffin-shaped wooden Halloween sign can be a great front door and porch decoration idea. Check out this similar Halloween sign on Etsy.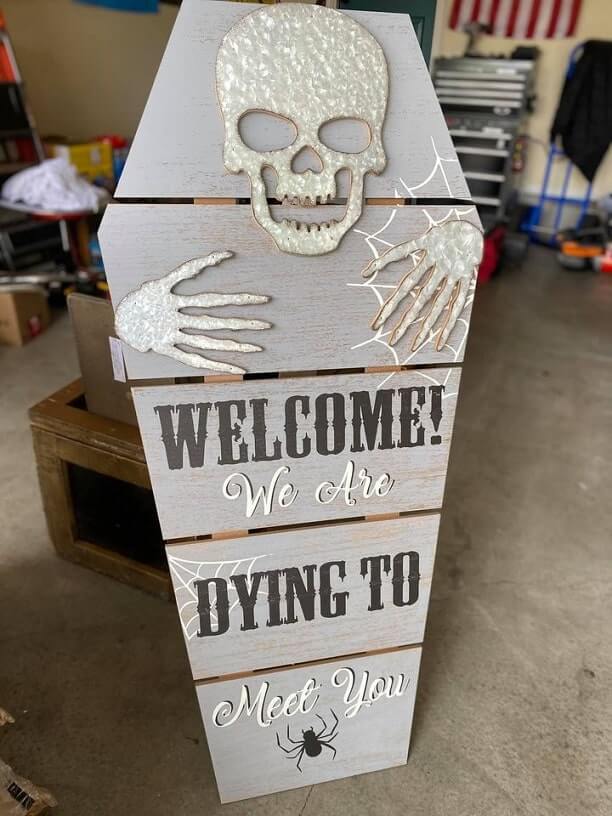 Ghost Calling From The Window
This prop is easy to make using some leftover wood panels on the window. Place this creepy ghost to make it scary.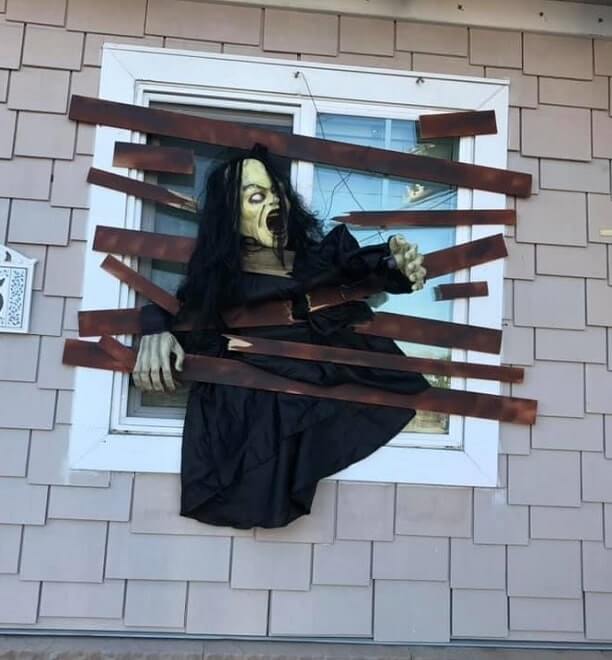 Glowing Cauldron Over Skulls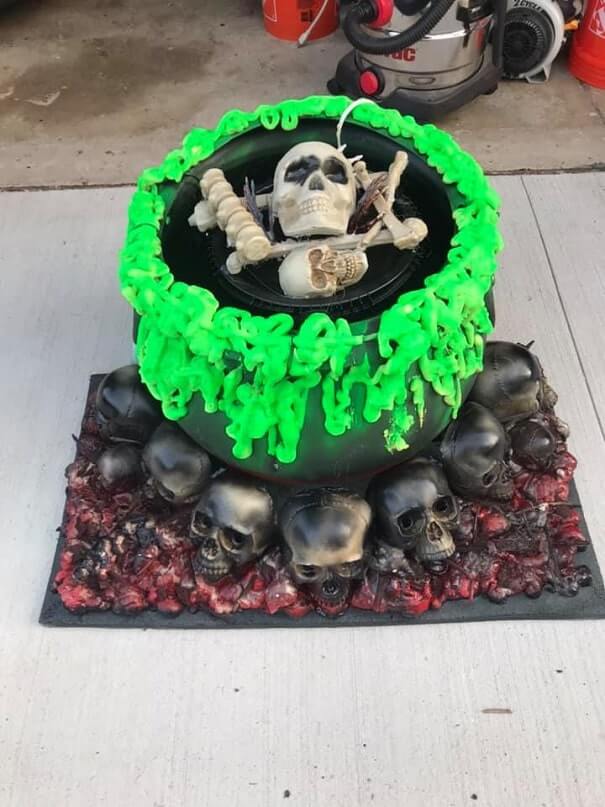 Mermaid & Pirate With Treasure
Pirate Halloween decorations can be created using the following accessories. You can also use creative ideas for the mermaid's hair and jewelry.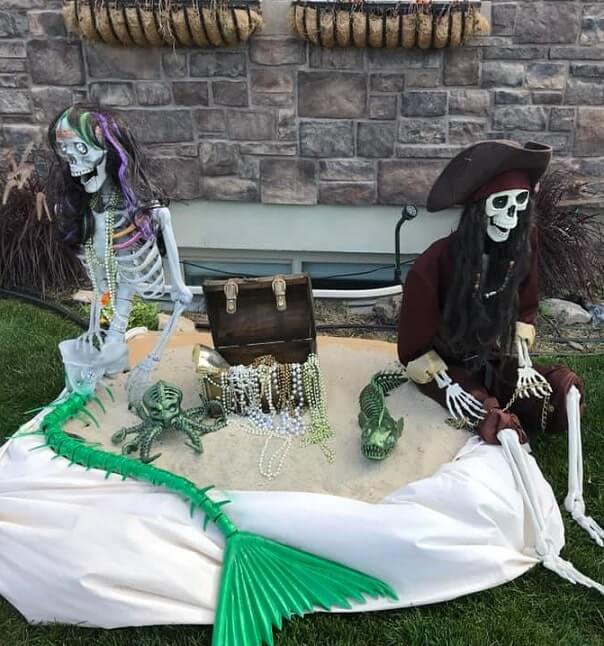 If you enjoyed this post or want to save it for your inspiration, Please Pin it on the Halloween Decoration board on your Pinterest.