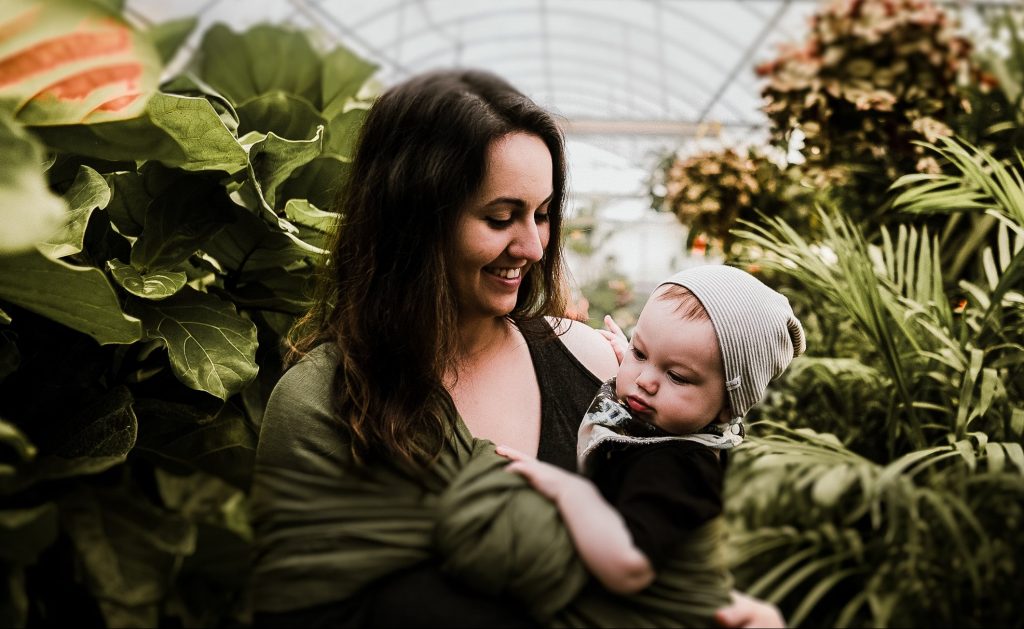 Finding the best baby carrier for newborn to toddler which fits in your expectation is difficult than it should be.
Crazy isn't it?
As there are thousands of great options available in different styles of baby Carriers it's so confusing for parents, which one is the best baby carrier for your newborn.
Your choice of baby carrier will also depend upon few questions:
Will you be carrying a newborn or toddler?
When we think about the baby wearing, the most obvious one that comes to mind are the sling wraps and soft structure carriers which we assume is suitable for babies ranging from newborn to toddler.
Let's answer this question:
Do you really need a baby carrier?
A baby carrier isn't meant for every parent you can also consider a stroller for newborn, if you frequently go out for shopping, walk around the park or your neighborhood with your toddler then a stroller is best fit for your needs.
Here when the baby carrier comes to play
Imagine a situation where you have the baby in one arm at the same time you are struggling to do your routine tasks like cleaning, making breakfast/lunch, texting etc., its very uncomfortable situation for new parents. In such situations, a baby carrier is the best solution for your problems.
Benefits of Baby Carrier
Babies are kept close to parents so they tend to stay calmer and cry less.
Good for the social and mental development of baby as they learn to interact with others and develop their eye contact.
Parents arms are free to perform their day-to-day tasks like cooking, cleaning, typing.
Babies can easily move hands and legs very comfortably.
It helps to increase bonding with your baby being so close.
Types of Baby Carriers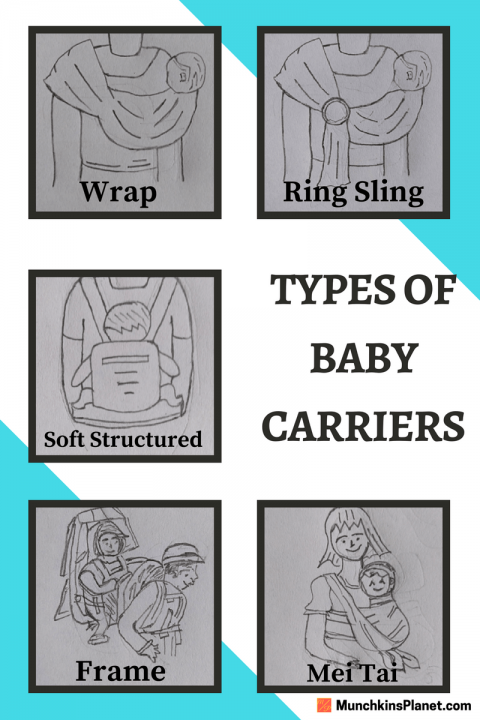 Baby Wraps Carriers: Baby wraps are a long piece of stretchable fabric wrapped around your neck and Shoulder to tie a knot to form a pouch for your baby.
Rings Slings Carriers: Rings sling is a wide piece of fabric with two rings attached to it which goes over the shoulder to go across your torso forming a pouch for your baby there are no straps or buckles around ring sling carrier.
Soft Structured Baby Carriers: Soft structured baby carrier comes with straps more like a backpack, which can be worn on chest or back. These baby carriers are very comfortable for toddlers.
Mei-Tai: Mei-Tai carriers come with the adjustable straps with no padding; the carrier is designed to be worn on the hip, back, and front.
Frame Carriers: These carriers are designed to carry the baby for a long period like hiking, traveling which fits well for older babies who can independently support themselves.
Criteria For The Best Baby Carrier: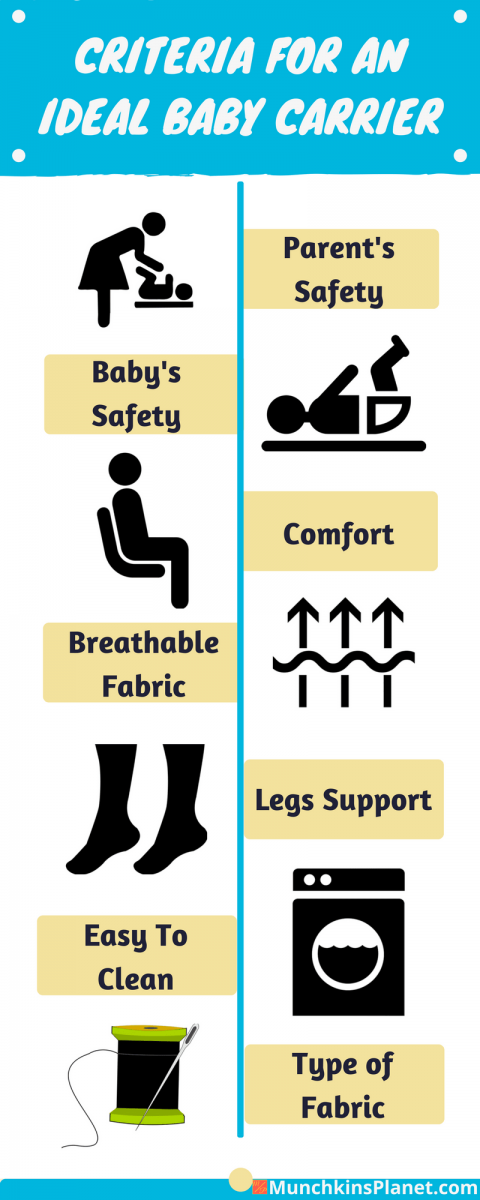 1. Baby's Safety
The baby carrier must be capable enough to support babies back while sleeping the carrier should be comfortable for baby's hand and leg movement.
2. Parent's Safety
The baby carrier should have wide straps to support both the shoulders of parents to avoid development of any future back problems.
3. Comfort
The straps of the baby carrier should be easy to adjustable according to baby's weight to make it more comfortable.
4. Type of Fabric
The fabric used on the carrier should not be chemically treated as the baby sometimes chews the fabric. The fabric must be skin friendly. Fabric made from nylon and harmful dyes must be avoided.
5. Breathable Fabric
The baby carrier must allow easy flow of air as baby's skin is sensitive which need breathable fabric. The baby carrier should also withstand hot weather.
6. Legs Support
The baby carrier should support baby's legs from behind to maintain a 90-degree angle, forming a 'M' shape as suggested by experts.
7. Easy to Clean
The baby carrier should be easy to clean. The machine-friendly cotton fabric is best for easy cleaning and should dry fast.
Based on these criteria, we have recommended some of the best baby carriers:
1. Ergobaby 360 Baby Carrier
Ergobaby 360 baby carrier is a bit pricey as compared to other baby Carriers because Ergobaby 360 has more features and comfortable as mentioned below:
Why is it the best?
Comfort for baby: It is easy to adjust, as the bucket seat is more comfortable to your baby for natural 'M' position of legs.
Comfort for parents: Extra padding is provided on Shoulder straps. Support for the lower back and wide waistband for parents which is especially helpful after C-section.
Adjustable: Easy to adjust for growing baby from 7 lbs to 33 lbs.
All carrying position: Easy to carry baby in all positions, front or back facing baby in or out.
Safe material: Made from Oeko-Tex 100% certified fabric. premium cotton used. No harmful dyes are used.
Easy to wash: Easy to clean, as the material is of premium quality fit for machine wash.
2. LILLEbaby Complete All Seasons SIX-Position 360° Baby Carrier
If you are looking for more breathable options in the baby carrier, then this baby carrier is perfect for you, as the carrier is made up of 3D mesh which allows easy flow of air for your child. It also includes 6 carrying position for your baby.
Why is it the best?
Six carrying positions: The baby carrier comes with six carrying positions – inward and outward facing, hip, back and front carrying.
All-in-one feature: Headrest, hood, dual adjustment zippered pocket, and lumbar support.
Breathable fabric: The fabric is made of 3D mesh which promotes an easy flow of air in the baby carrier. Most suitable for 7 to 45 lbs baby.
Machine-friendly fabric: The fabric is made up of 100% cotton and very easy to wash in washing machine.
Safe for baby's hip: The baby carrier comes with adjustable seat and leg opening facilitates proper hip support for baby.
Dual adjustable straps: The baby carrier comes with dual adjustable straps easier for breastfeeding. The strap adjustment allows you for both at H-style and X style.
3. Boba 4G Baby Carrier
If you are looking for the perfect blend of comfort, features, and style in a baby carrier, then Boba 4G is the best you could get. Boba 4G comes with exclusive colors and prints, offers you plenty of choices to select from.
Why is it the best?
Great comfort: Boba 4G is designed to provide great comfort to parent and baby, as it evenly distributed weight to shoulders and hips.
Additional features: Apart from adjustable straps over the chest, it also offers multiple pockets for storage, waist zipper to keep smartphone and credit cards, back strap holder.
Fabric material: The carriers fabric is 100% organic cotton, perfectly safe for baby. free from harmful chemicals and dyes.
Color and patterns: Boba 4G comes with 13 color options. you can choose the color and pattern of your choice from wide varieties.
Easy accommodation: Boba 4G can accommodate a baby in front and back carrying positions, ideal for 7 to 45 lbs baby.
Lightweight and compact design: The lightweight and compact design of the baby carrier make it a perfect fit for vacations in shopping.
4. BABYBJORN Baby Carrier One
Babybjorn baby carrier one's key feature is light colored mesh fabric which is ideal for hot weather. It comes with a signature buckle which is quite helpful in switching baby carrying positions.
Why is it the best?
Adjustable Buckle: The baby carrier has especially featured buckles which allow you to switch carrying positions without bothering baby especially while sleeping.
Easy Airflow: The mesh design of baby carrier allows easy airflow during hot weather, and light color options make it perfect for summers. The fabric is safe for babies' mix of 60% cotton and 40% polyester.
Carrying Positions: The baby carrier offers four carrying positions for baby, front and back, inward and outward facing positions.
Zip Feature: The unique zip feature of baby carrier helps in positioning baby's legs. It allows you to keep baby's leg in ergonomic 'M' position or switch to dangle legs.
Waistband Support: The baby carrier's waistband is extra supportive for back and easily adjustable according to evenly distribute baby's weight.
Light Weight and Machine Friendly: The baby carrier one is lightly weighted compared to conventional baby carriers, so it is ideal for 8 to 33 lbs baby. The fabric of baby carrier is machine friendly, the mesh fabric is easy to clean and dry quickly.
5. BABYBJORN Baby Carrier Miracle
The babybjorn miracle is the ideal baby carrier for growing babies, from newborn to 15 months old. The adjustable padded straps and belt allow extra back and shoulder support for parent and baby.
Why is it the best?
Extra back and shoulder support: Babybjorn miracle carrier has an adjustable padded waist belt and wide shoulder straps for extra back and shoulder support which maximizes comfort in the lumbar region.
Head Support: The sturdy and adjustable head support allows to keep baby's head upright for the crucial 5 months of newborn to develop neck muscles.
Adjustable Buckles: The adjustable buckles make it easy to adjust baby carrier as your baby goes, also it make easy to remove the entire front section of the baby carrier when your baby lay down to sleep.
Multiple Facing Options: Easy to carry baby in inward and outward facing and front and back positions.
Safe Material: The baby carrier's material complies with Oeko Tex standard 100, class 1, So it is free from harmful substances and safe for baby. It is made up of 60% organic cotton and 40% polyester fabric.
Easy to wash: The carrier's fabric is machine friendly, easy to wash and dries quickly. Most suitable for 8 to 26 lbs baby.
I hope these pieces of information will help you to choose the best baby carrier for your baby.
Please leave a comment below to share your thoughts.