Cheap & Easy DIY Indoor Halloween Decoration Ideas
This post may contain affiliate links. Please read the disclaimer.
Halloween is just around the corner, have you figured out some spooky ideas for indoor Halloween decorations?
I'm sure you must be organizing a Halloween party. And to impress your guests you need some cheap & easy DIY indoor Halloween decoration ideas.
When we think about spooky Halloween home decor ideas, the most usual things that come to mind are the lawn ghosts, witch legs, and jack-o'-lantern, which are the outdoor decorations.
That's just the tip of the iceberg if you see there are endless possibilities to show your creativity with Halloween house decor. You can start your haunted farmhouse decor from the mantle with black lace, skull, and candles.
Decorate your table centerpiece with a glowing Halloween tree, spooky wine bottles, and lantern. To give you more inspiring ideas I've rounded up this cool collection of scary Halloween decorations ideas for inside.
Here you'll find DIY Halloween projects using Dollar store items like mason jar centerpieces, spooky pumpkin lighting decorations, skull vases, wall hanging, and Halloween signs.
Let's begin with these cool ideas…
Halloween Mantle Decor
There are many ways you can decorate the mantle, start with some spooky banner, fake pumpkins, spider web lace, and 3D bat decals. check out the entire mantle collections. Find these accessories: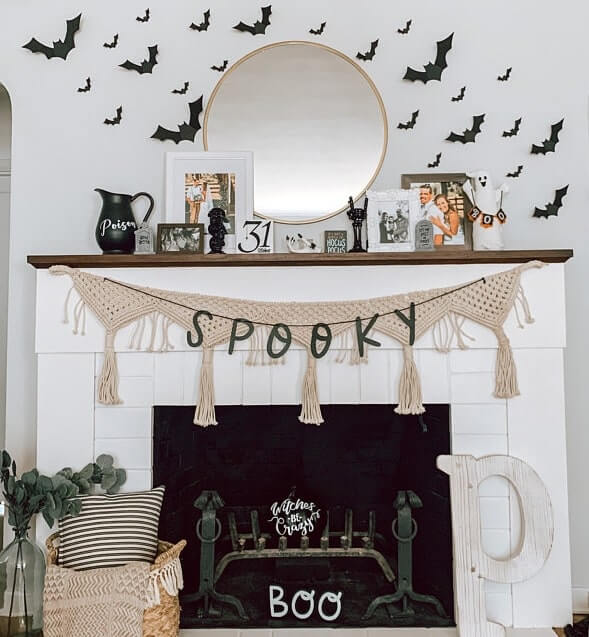 Ouija Board
It is super easy to create an Ouija board decoration, add a Chrystal ball, and skull to make it more realistic. It can be a great centerpiece or decorate your mantle with it.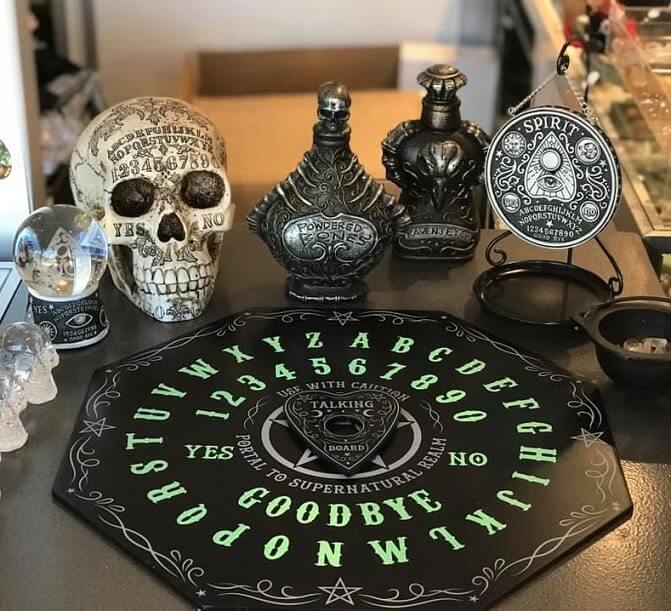 Metallic Skull Decor
Make your shelf and table look gorgeous with this amazing skeleton wedding couple and metallic skull for Halloween decoration.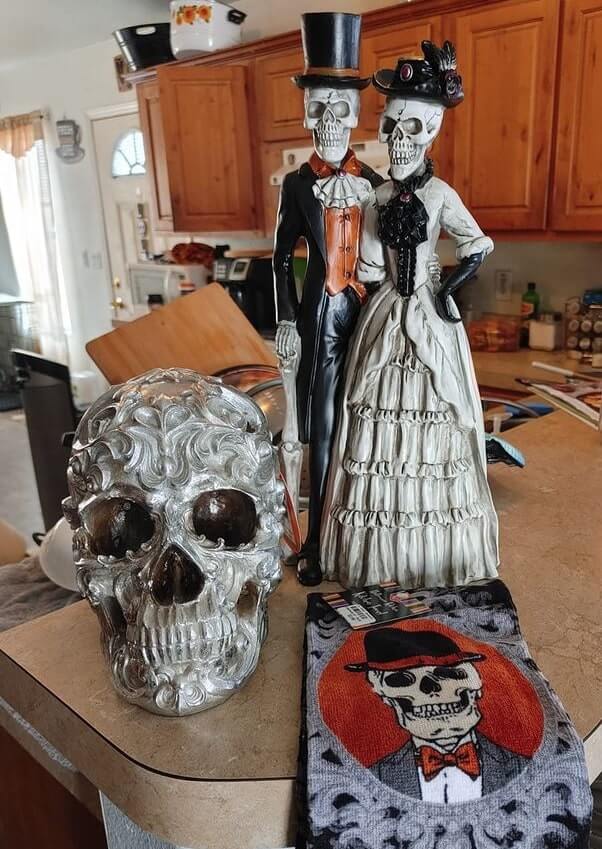 Funny Skeleton Pirate digging with a shovel
Though this is an outdoor prop you can also install this setup for indoor Halloween decoration.
This prop is made by Eric Corwin I saw on Facebook. He used a regular 5 ft cheap skeleton attached with a wiper motor that makes it look like a funny skeleton digging with a shovel.
In the video, If you take a closer look behind the shovel, you'll see a wiper motor go round and round pushing the shovel to and fro. Also, the shovel is connected to a board with a door hinge to stay intact. All the electronic components are hidden in a box under the moss near the shovel.
How does it stand intact? The whole setup was made on a 2×4 board. Fix a 4' long x 1/2" piece of threaded rod on the board. The rod goes into the bottom of the skeleton at the pelvis and all the way up the spine. And a nut with a large washer is attached to the pelvis to adjust the height of the skeleton.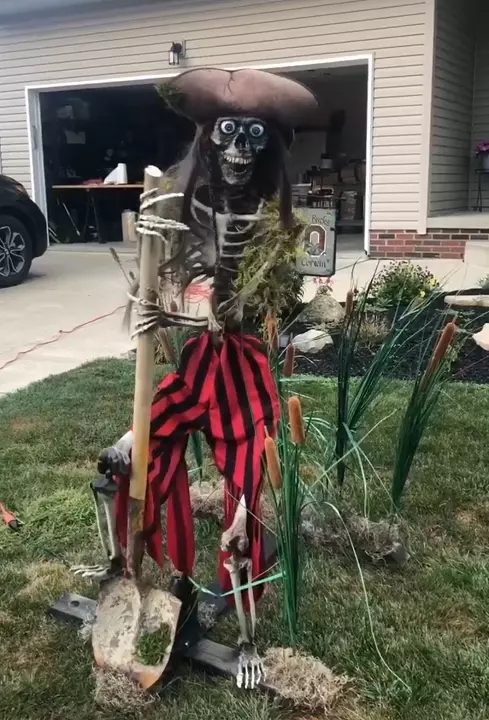 Halloween Wine Bottle Decor
These Halloween wine bottle lights are perfect to decorate your tabletop, mantel, or as a centerpiece item.
Also, check out these gorgeous wine bottle lights in sugar skull and floral design.
Hocus Pocus Table Decor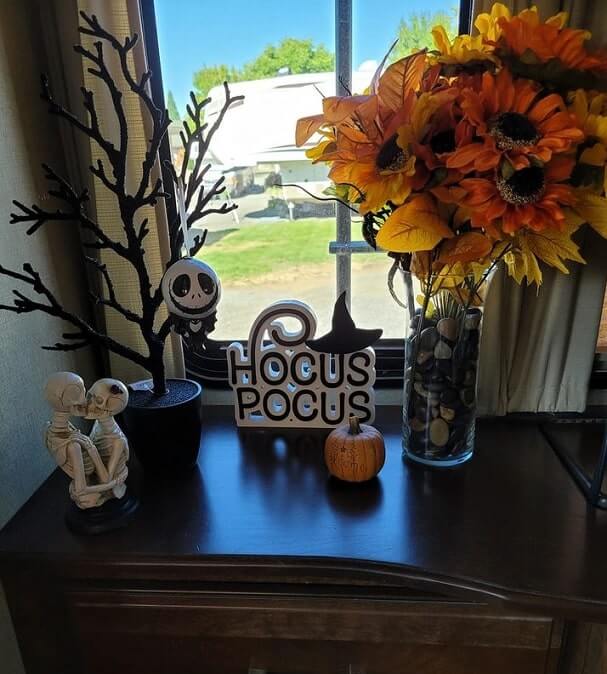 Man Eater Plant
Don't feed this cute man eater plant! This is a perfect decorative item for your bookshelf, table, or mantle for Halloween. Check out.
Witches Legs in Cauldron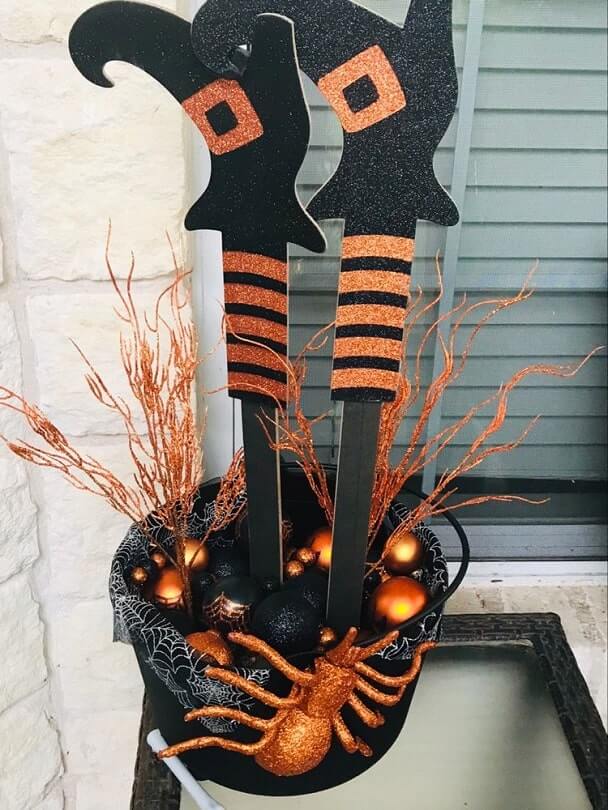 Spooky Lantern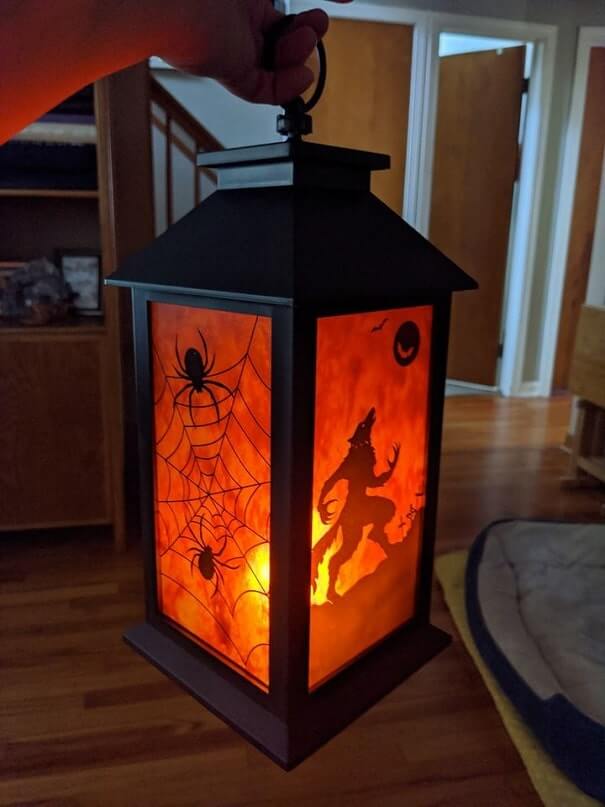 Lampshade Decoration
A very simple lampshade decoration using spider web wall stickers over a white lampshade also adds some hanging ghost ornaments to make it beautiful.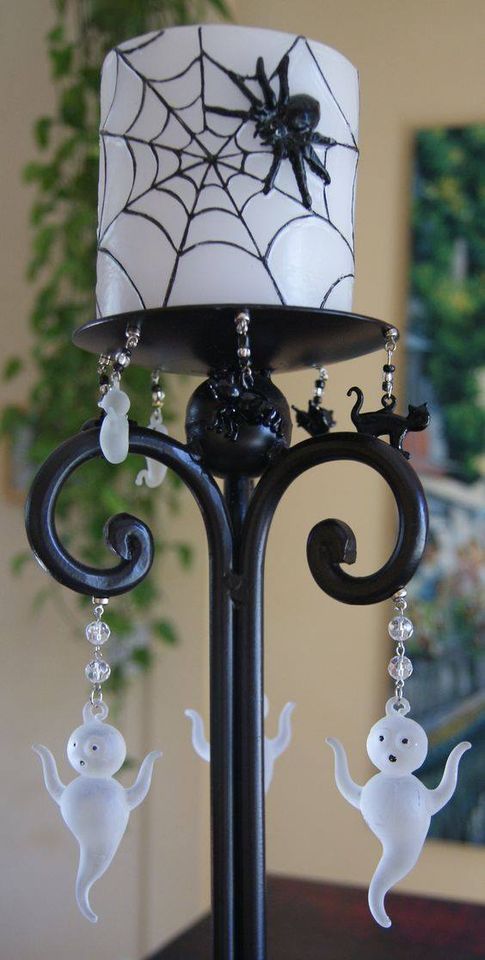 Halloween Garage Door Silhouette
Try this interesting DIY Halloween decoration for the garage door, for this decoration you need a witch with cauldron plywood cutout shapes (you can place a custom order here). Paint it black and attach a string of red LED lights at the back using tape or nails.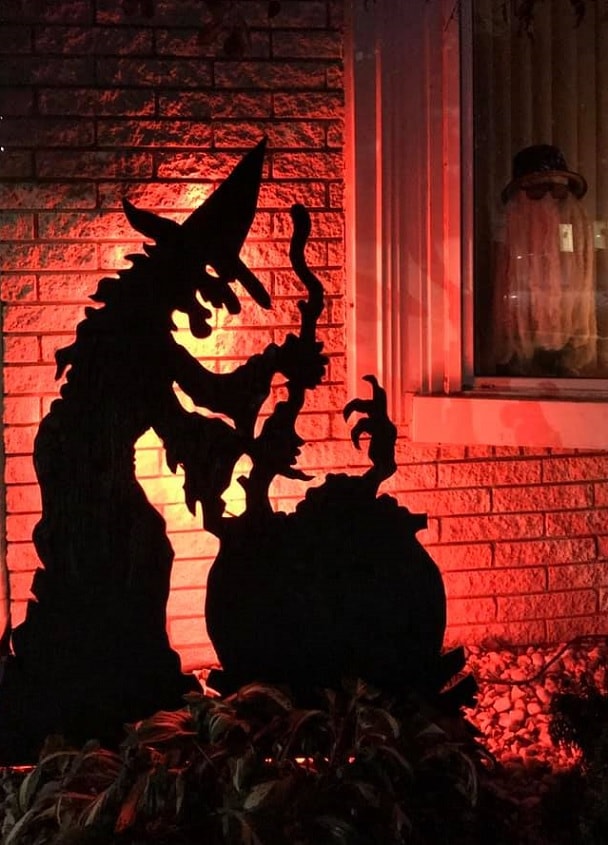 Cat & Witch Halloween Tree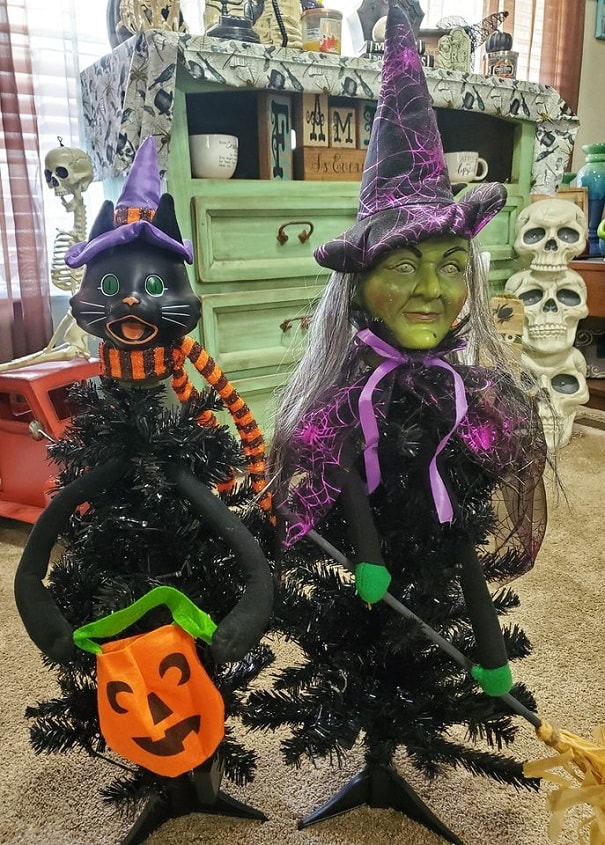 Halloween Tree Decoration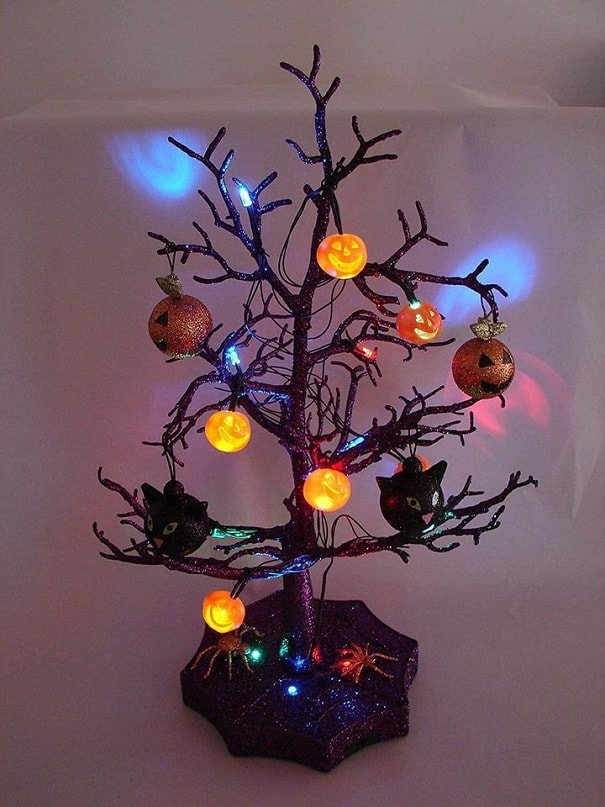 Cute Balloon Spider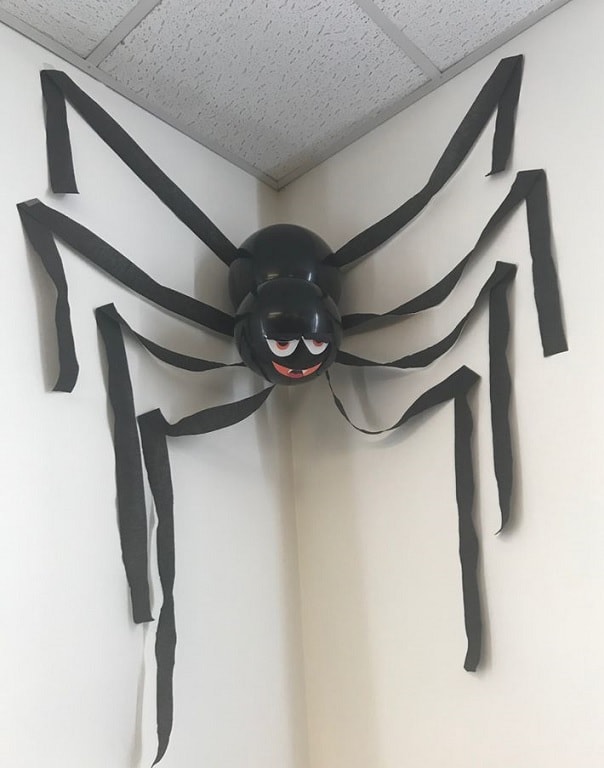 DIY PVC Pipe Candles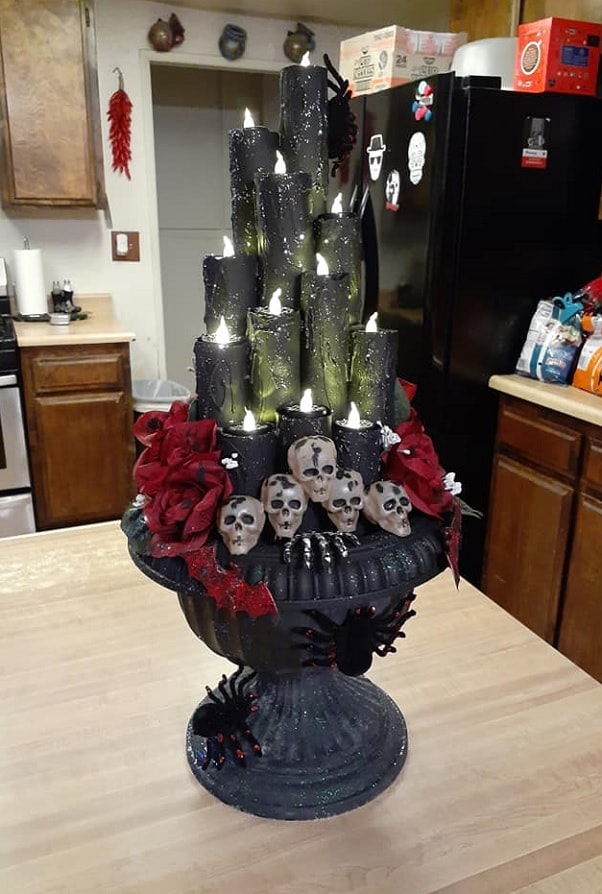 If you enjoyed these ideas or want to save it for your inspiration, please pin it on the Halloween Decoration board on your Pinterest.