26 Cute Romantic Valentine's Day Gifts For Boyfriend
This post may contain affiliate links. Please read the disclaimer.
Finding the perfect Valentine's day gifts for a boyfriend is notoriously difficult, probably because they are very particular about their choices. So we need to think out of the box and come up with some creative ideas.
It doesn't matter if he is a teenager, your first crush, or your husband. The best way to express your romantic feelings is to make some personalized DIY Valentine's day gifts for him.
Here are some of the simple and unique valentine's day ideas for men, cute handmade Valentine's day cards with heart-touching sweet and funny messages for long-distance boyfriend.
Cheap and easy last-minute boyfriend gift baskets, mason jar, and homemade candy box for your best friend.
Get inspired by these cute thoughtful crafts for surprise DIY gifts for boyfriend!

Related Post – Creative Gifts For Boyfriend
1. Magnetic Foldable Gift Box
I'm sure your boyfriend will going to love this personalized gift box. When he will open this box it will bring back all the memories and moments you had together. Inside there is a surprise box, where you can put your surprise gift for him. Buy this magnetic fordable gift box from here.
You will be amazed to watch his expression when he opens the hidden box. You can even hang these magnetic pictures on the fridge to keep those memories alive. Check out the gift box.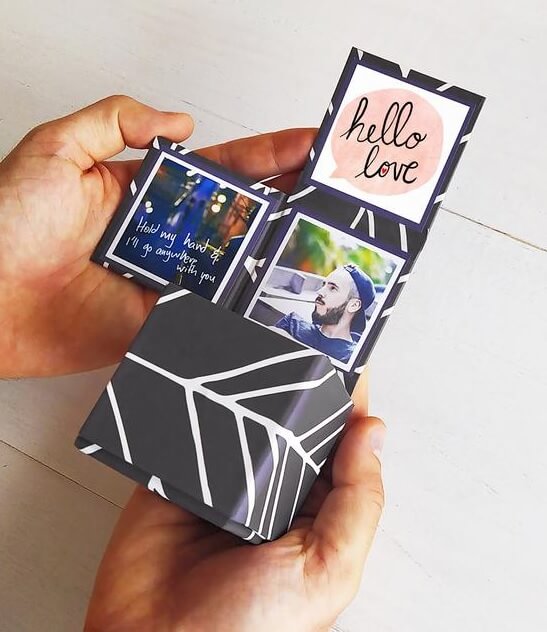 2. 52 Things I Love About You
An amazing DIY gift made from the deck of cards. Write short meaningful messages on each card. You don't need to write exact 52 messages, it can be 15 or 25. If you like to buy this creative gift with custom romantic messages of your choice check out here.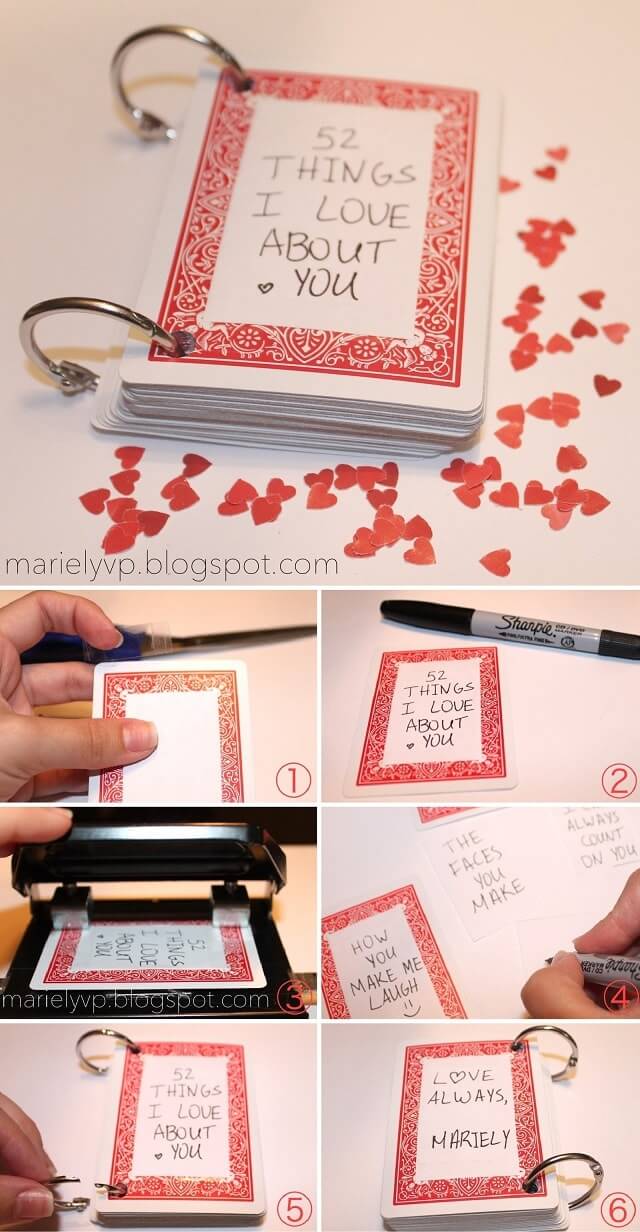 3. Love Story Map Picture Frame
Make a love story map picture collage. Cut the map locations in heart shape, and write about the special moment of life. The place where you first kissed, first date, and similar moments. You can also buy this love story map picture frame, with a customized address and description.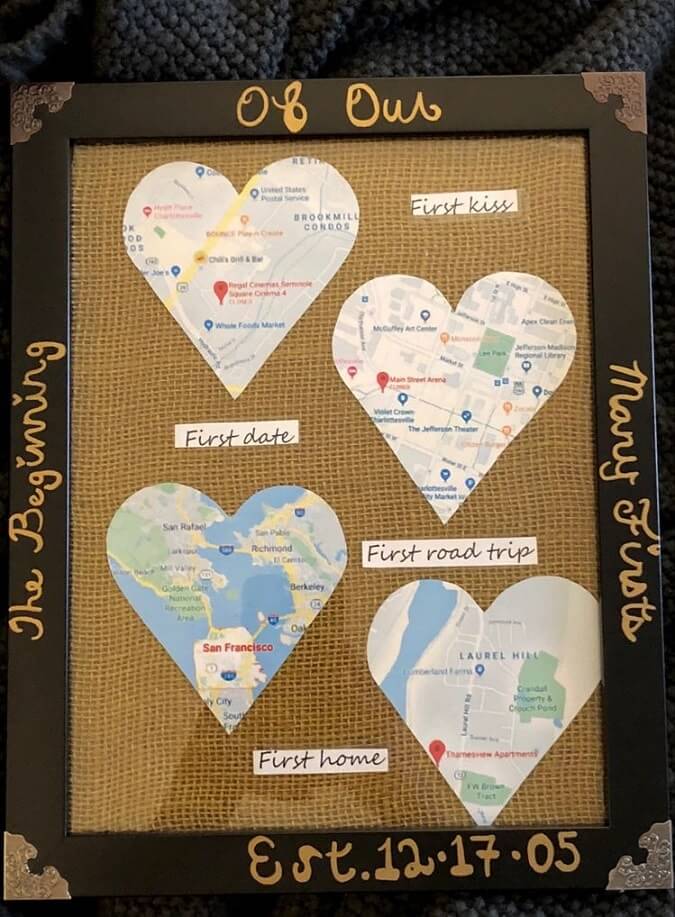 4. Mason Candy Jar Ideas With Funny Romantic Messages
A perfect DIY for couples who live far apart. A very simple way to express your love with those cute messages. Check out these beautifully crafted mason jars. Put these delicious heart shortbread cookies. To spice it up, add some cute romantic messages.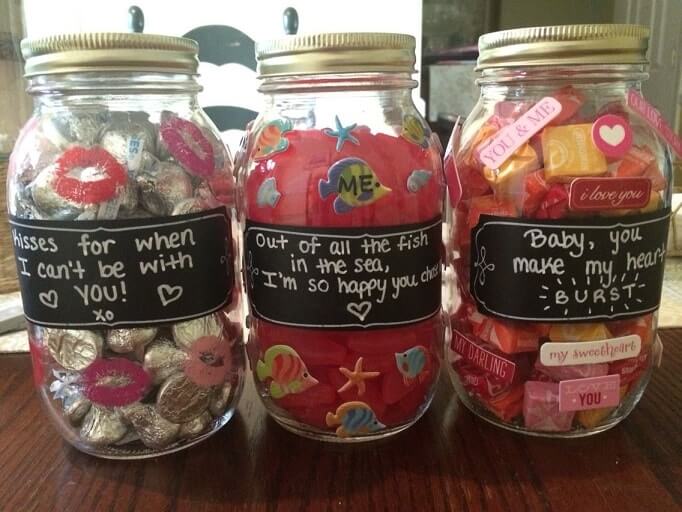 5. Heart Shape Photo Collage
Surprise your sweetheart with this custom-made photo collage, pictures of the best memories you spent together. The fairy LED lights make it stand out when he will hang on a wall. Order this photo collage.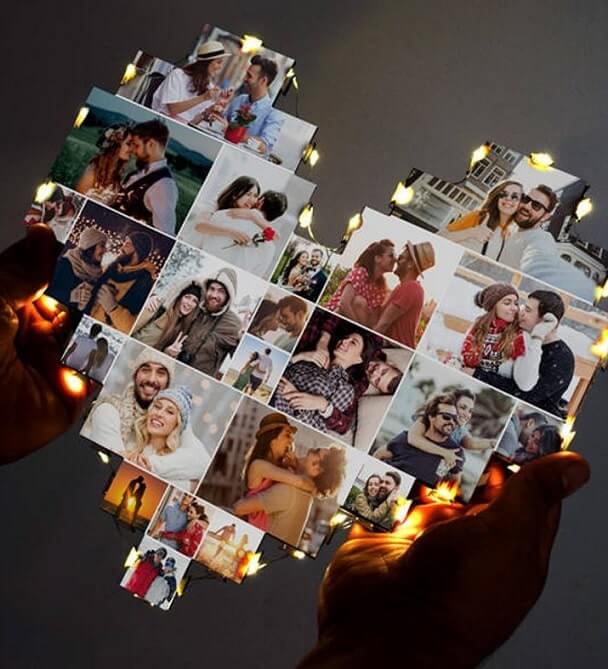 6. Magnetic Floating Globe With LED Light
Boys are gadget freaks. Gift this cool desk gadget to your babe for his birthday. The floating magnetic globe just looks awesome when you turn on the neon LED light. Get this gift for your cutie pie
7. 365 Reasons Why I Love You
A very sentimental and romantic gift, using colorful origami papers, writing reasons why you love him which are related to your memories, habits, and funny moments you spent together.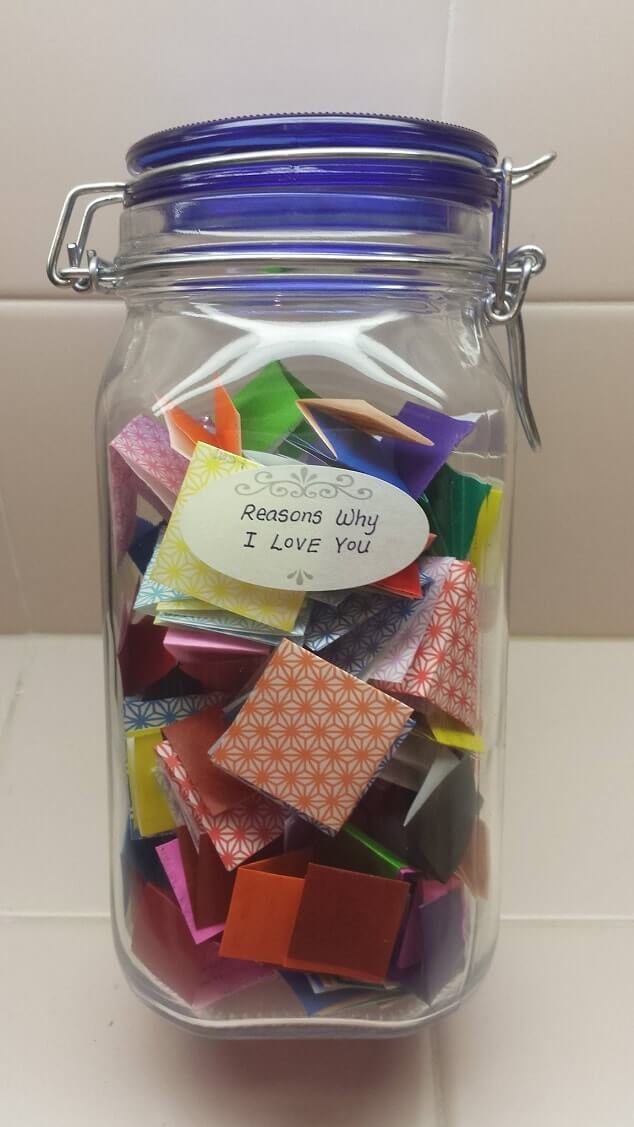 8. Open When Letters
Writing a letter is the best way to feel closer to someone whom you cant see. Open when letters are the series of letters you can gift to your boyfriend to be open in various situations. It can be when he is bored, feel lonely, or when he misses you. Try this unique open when letter kit, it includes beautiful envelopes and writing pages.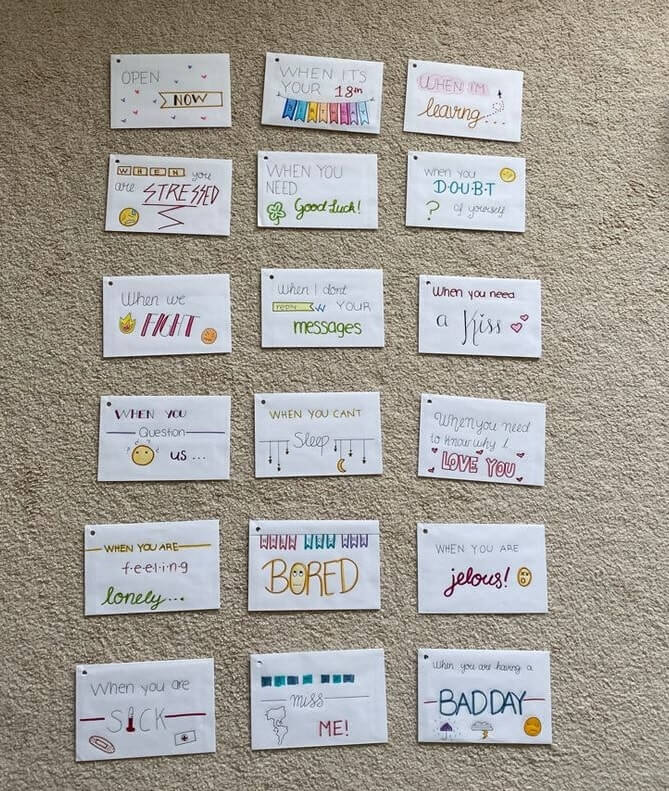 9. Personalized Glass Photo With Spotify Code
Special gift idea for music lover couples. This is a custom-made glass picture frame with your photo. Choose your favorite song on Spotify, this will be added to the frame. Whenever your boyfriend scans the Spotify code with his phone on the frame, the song will be played on the Spotify app on the phone. Order it here with your best photo together.
10. Snickers Dumbells
A funny gift for a gym freak boyfriend. Buy from here. A similar candy dumbbell tutorial to learn.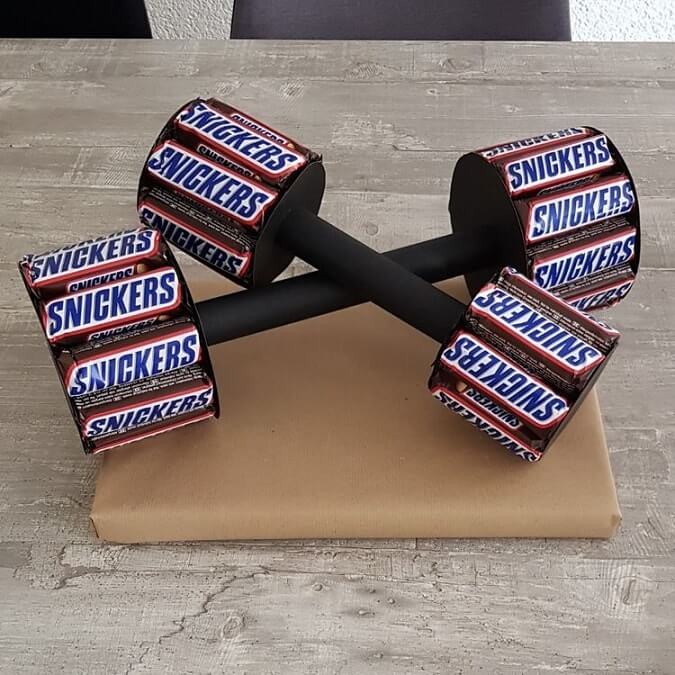 11. Personalized Polymer Clay Bobblehead
This is a unique gift, your boyfriend will be blown away by the detailing of the sculpture. Just send your pictures to the artist and instruct them about the pose, hair, and clothing you want. Order your bobblehead here.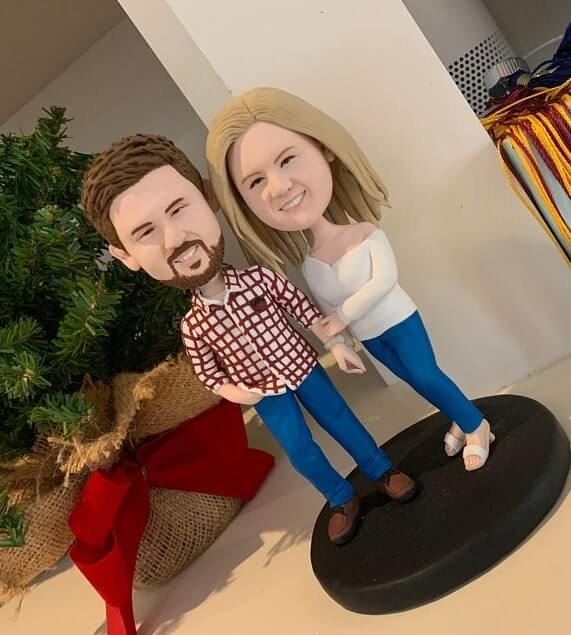 12. Personalized 3D Photo Lamp
Though it is not a DIY gift, I'm sure you'll love this unique gift idea! This 3D lamp is made from a custom photo. Send one of your best pictures together, and the seller (Etsy) will craft a beautiful 3D design on the lamp with a romantic message at the wooden base of the lamp. Order here (Etsy)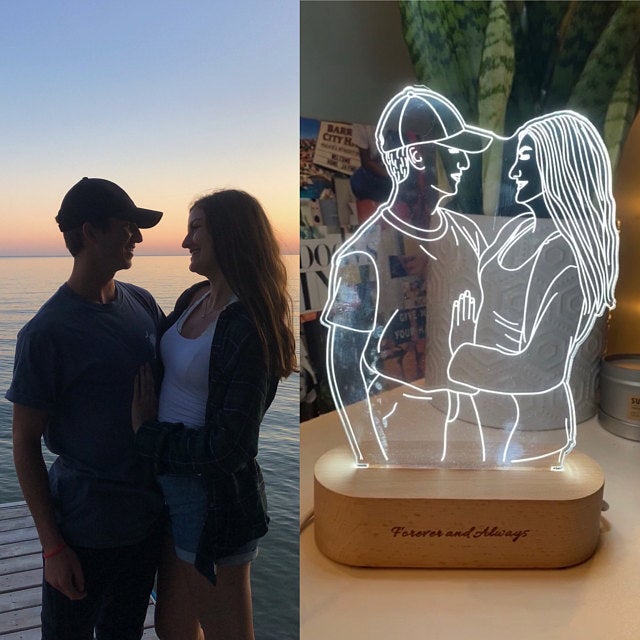 13. Personalized Love Gift Box With Pictures
Try this very cute DIY gift box for your boyfriend, you need to put together the accessories shown below and put pictures of your favorite moments together. Use mini clothespins and LED lights over the cover of the box.
Here are the accessories used in the gift box you can easily get from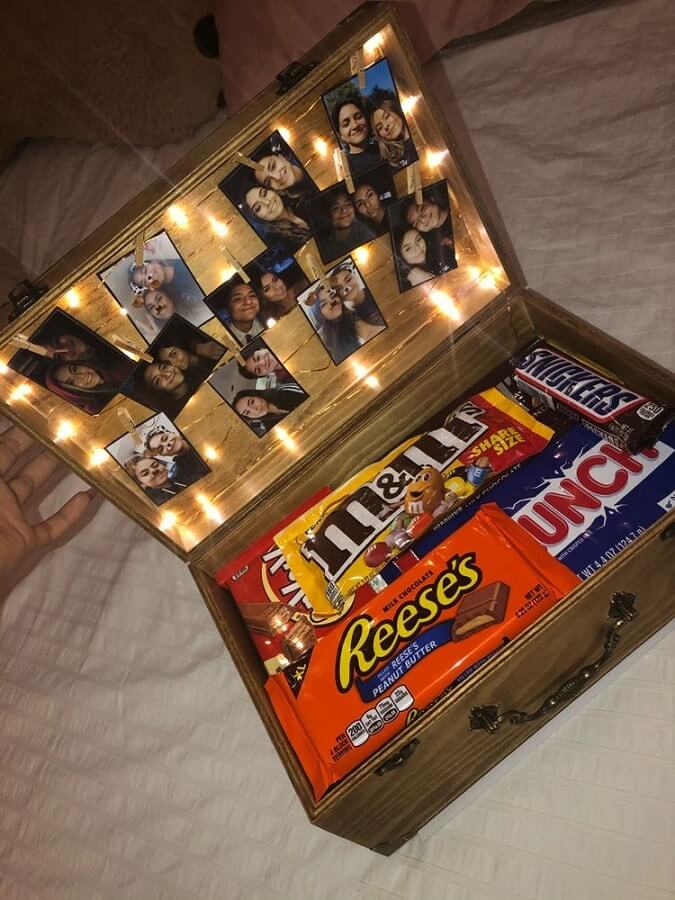 Also, check out – Long Distance Relationship Gift Ideas for Boyfriend

14. Whiskey Decanter Globe Set
This elegant and stylish whiskey decanter dispenser can be a perfect gift idea for a husband or boyfriend. Check out
15. DIY Rainbow Heart Waterfall Card
Try this awesome DIY gift for your boyfriend made from colored paper. Horizontal paper hearts are pasted on a strip, pull the paper strip down at the arrow to see the waterfall effect when all the hearts flip up and you can see the messages on each heart. You can write funny romantic messages on each heart! Tutorial here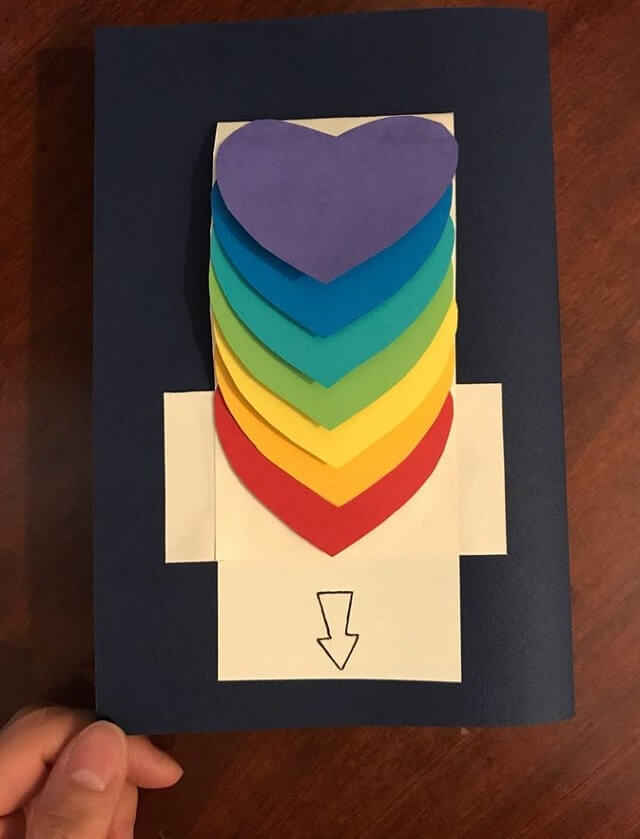 16. Coca-cola Vintage fridge
If your bae spends too much time in the office or car, then this is a perfect gift for him. It looks classy and he can easily store a few beer and coke cans. Classic collection for coca-cola fans. Check out this cool gift
17. Handmade Valentine's Day Card
Nothing more convincing than a handmade Valentine's day card to tell your feeling with the fun messages. Use some colors and glitters in a creative way to make it more interesting to read.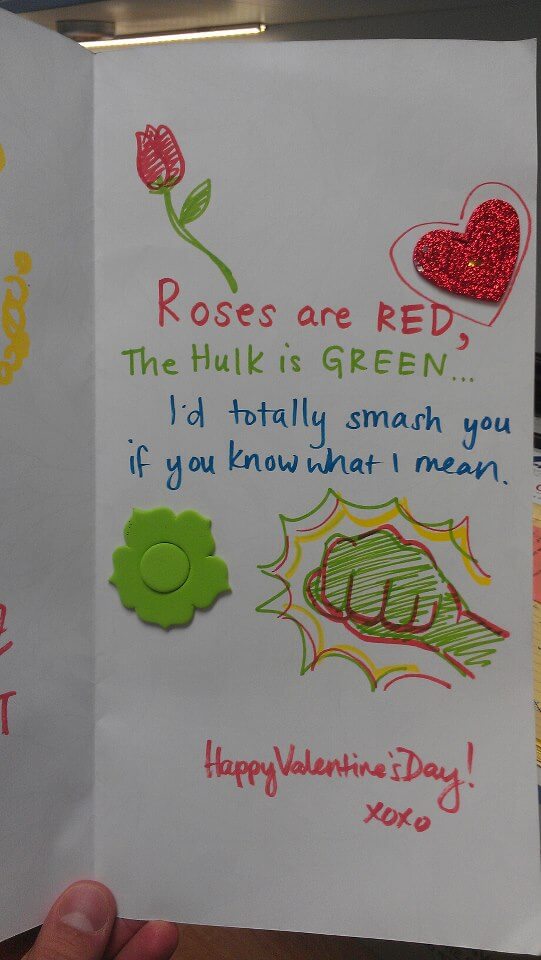 18. 5 Senses Gift Ideas For Him
This Valentine's gift your boyfriend 5 senses gifts, that appeal to each of your partner's senses: taste, smell, sight, touch, and hearing, with different gifts and surprises.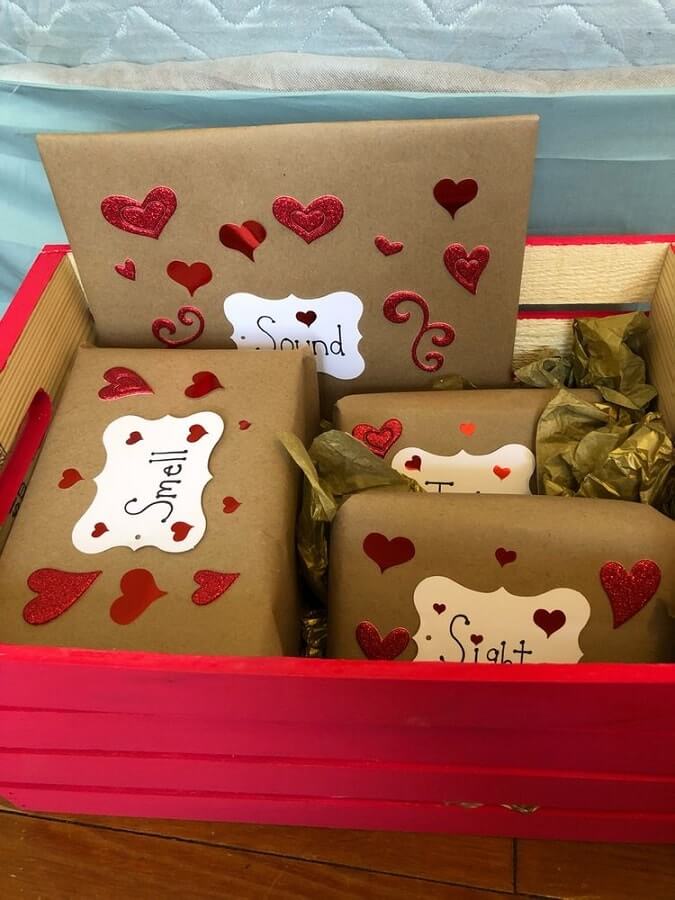 19. Cute Little Date Jar For Boyfriend
How about creating a date jar for your boyfriend? I'm sure you must have planned many things to do together at some point in time but because of your busy life, you forget it.
No worries! Take some popsicle sticks and write all those things you love to do on a date. Color one end based on outdoor, at home, and ideas that cost money. You can also buy the date jar from here.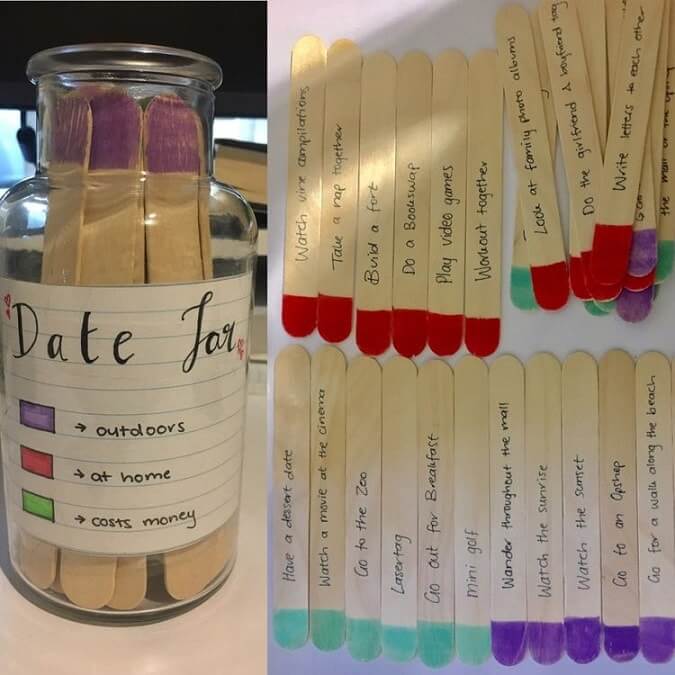 20. Emergency Survival Kit
If your bae is adventure crazy then this can be an awesome Valentine's day gift for him. Men love gadgets and cool gears like this. This portable tool case got everything a man needs for camping, hiking, and the outdoors. Check it out
21. Candy Jars For BF
If you're in a long-distance relationship, then this is the best gift for him. Just imagine the reaction on his face, when he opens this package. If you're not interested in making and want to buy a similar item, check out this cute love jar.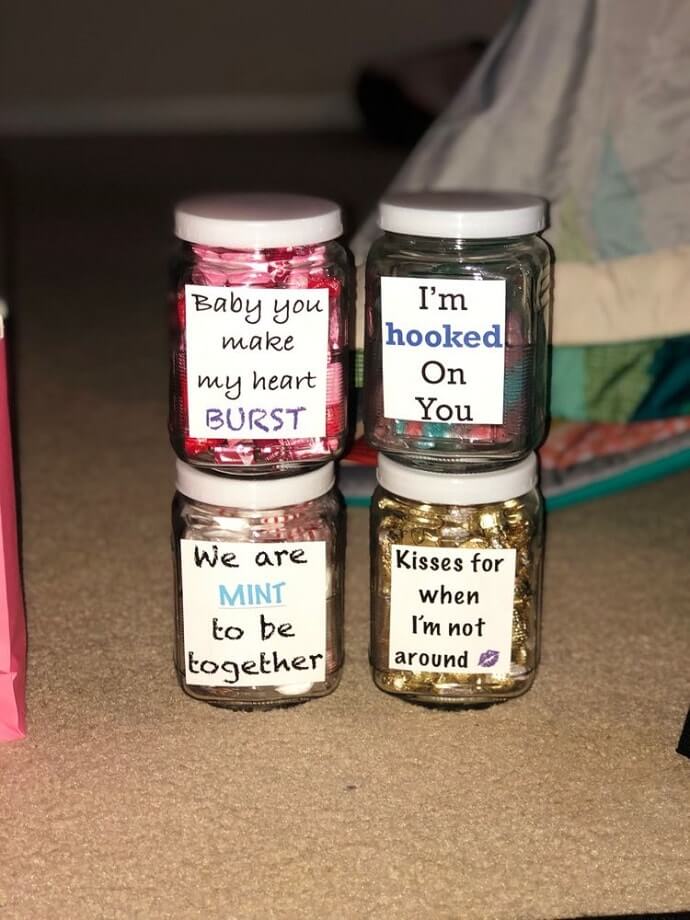 22. DIY Clothespins With a Message
Another fun way to share your feelings with your lover. Find more in this tutorial!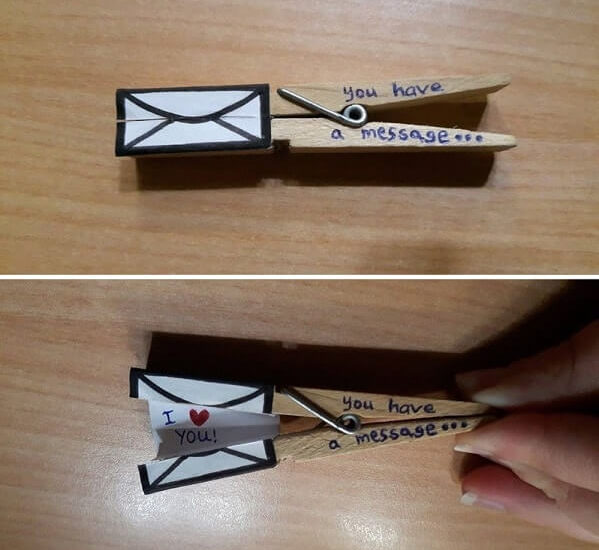 23. Personalized Mason Jar Gift
A super cute and thoughtful gift that he will remember for a long, a jar full of love. A very unique gift to express your love, 52 scrolls for every week in a year. If you like to buy this cute 52 reasons mason jar gift find here.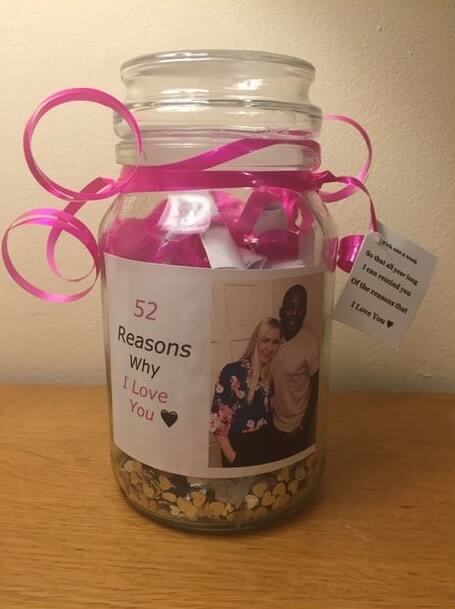 24. DIY Love Tower Box
This is similar to an explosion box, photo collage, and a surprise gift box. It opens vertically. Here is a DIY tutorial video. Get this tower explosion box.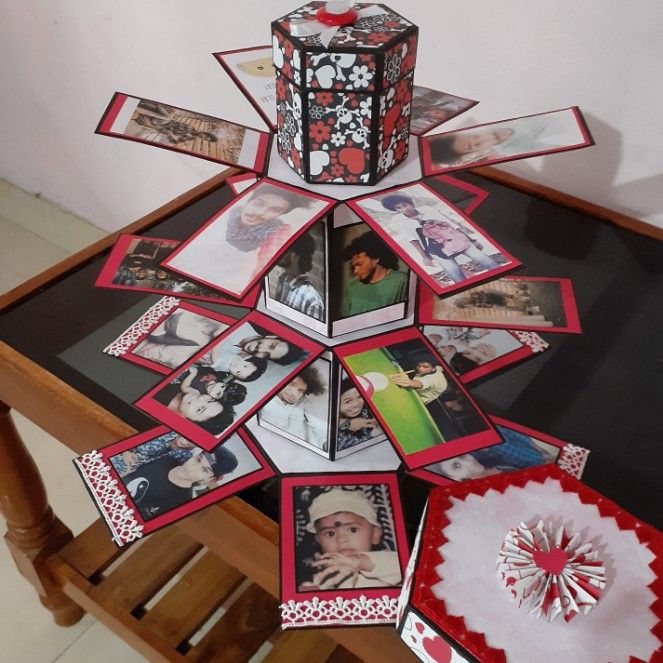 25. Funny Banana Message
A cute hand-drawn Valentine's day funny message on a banana, to bring a smile to your boyfriend's face. I made it myself.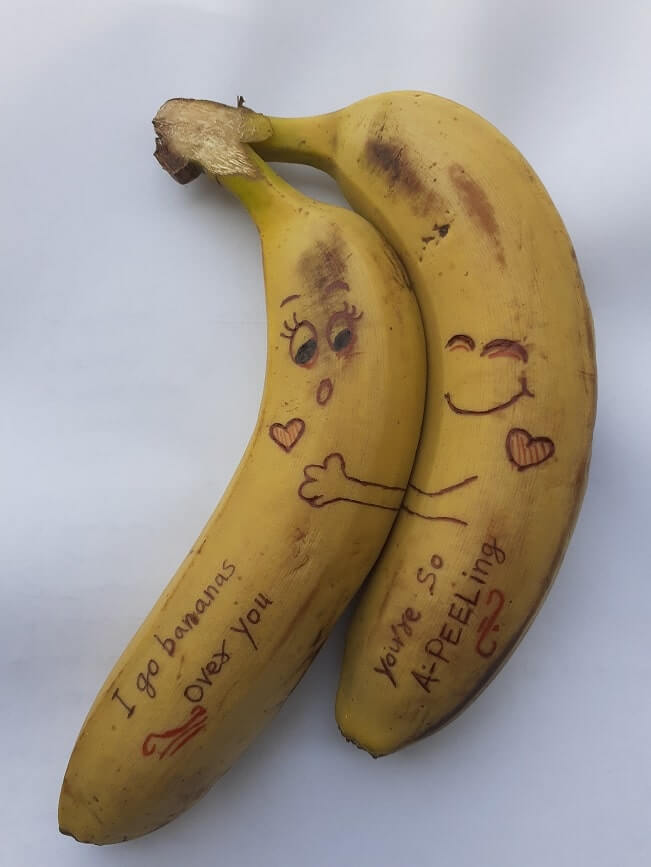 26. Hooked on You Candy Box
A very creative way to share your memories with your love. Get inspired by the hooked on you candy box tutorial.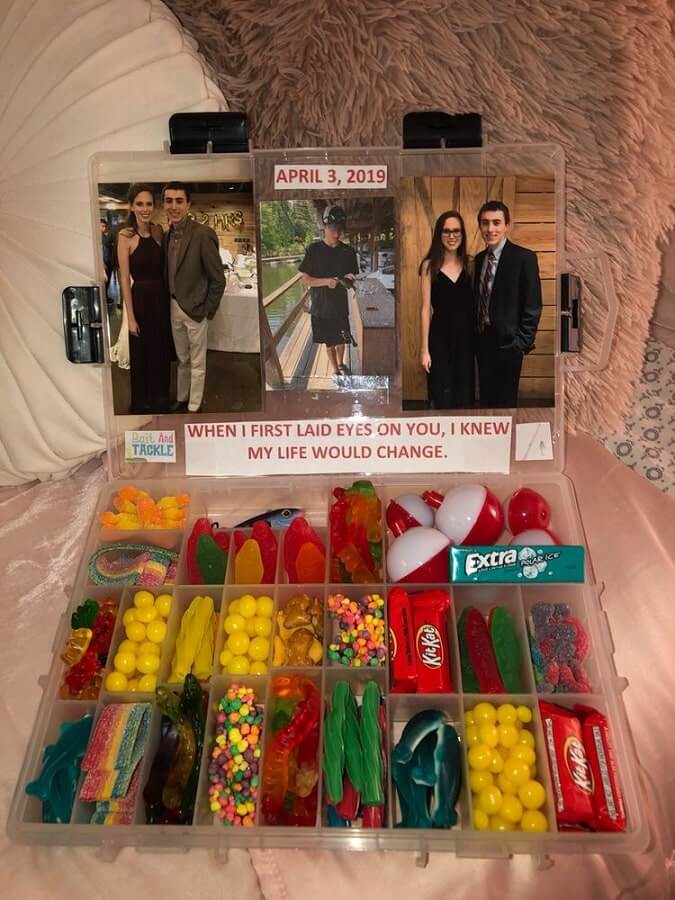 27. Personalised Photo Pull Up Gift Box
I'm sure this mini pull-up photo box will bring back some nostalgic memories of moments you spent together. Get this cute pull-up gift box to gift him!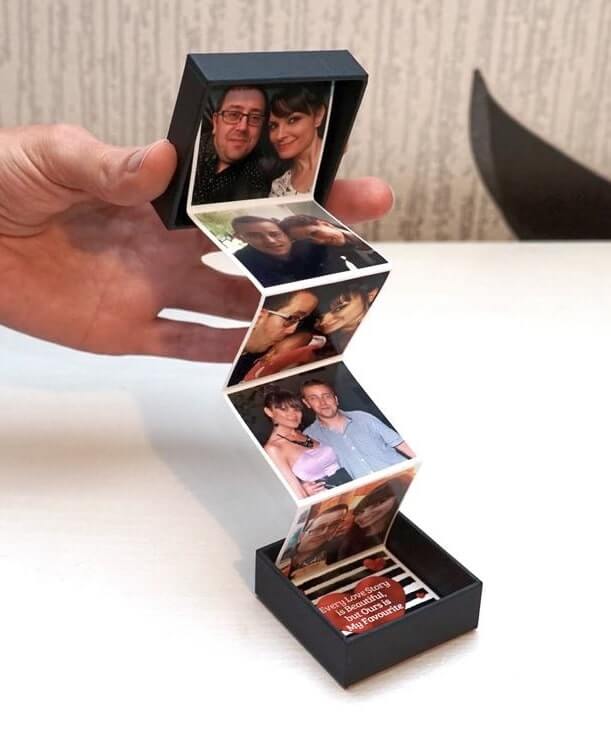 28. Valentine's Day Candy Poster
A creative way to remind him, how much you love him with help of a candy poster.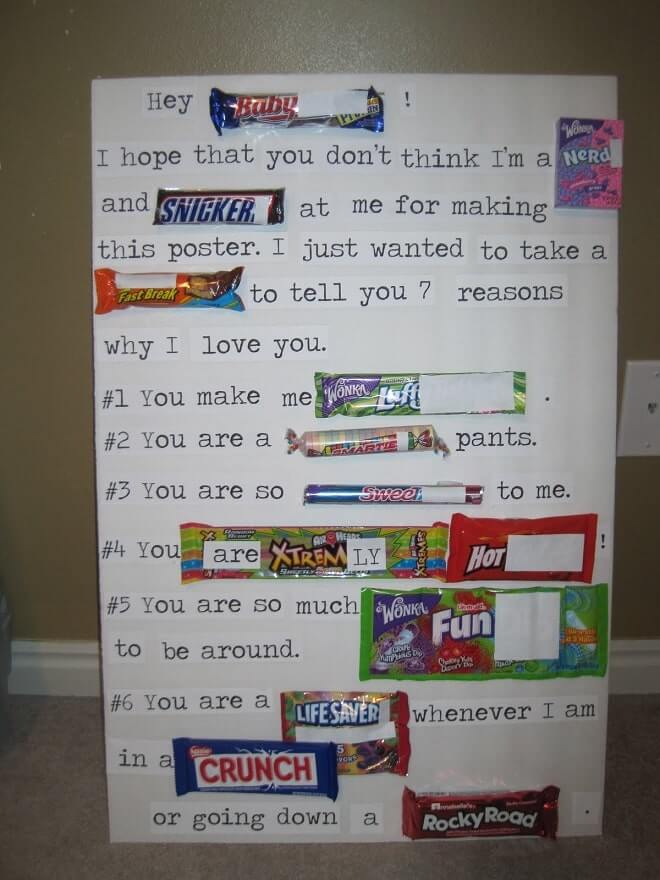 29. Cute Heart Shaped Love Note on The Mirror
All you need is some pink sticky notes and write what's in your heart. He will be surprised to see the mirror.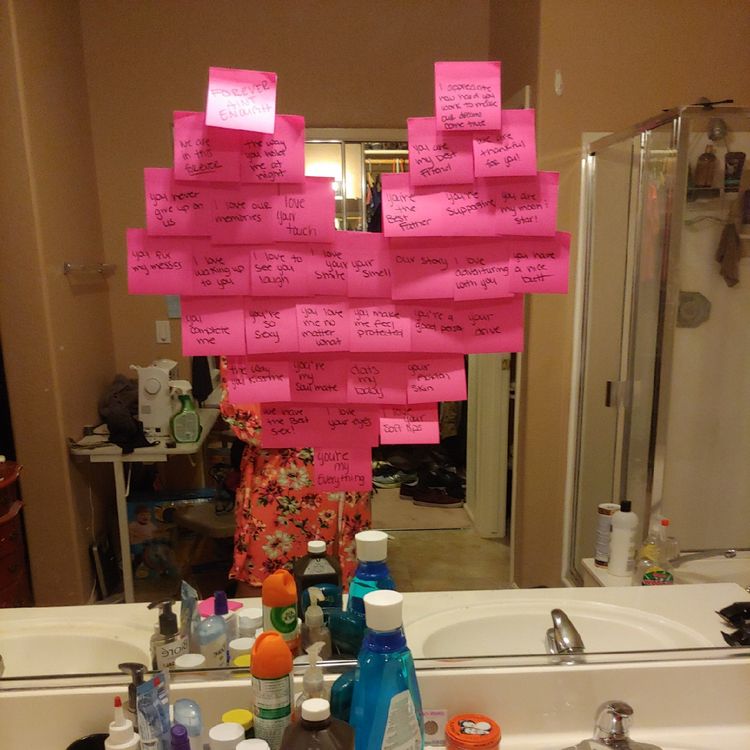 30. Clothespin Picture Frame
Super easy DIY clothespin picture frame to display the memorable moments with him or with his best friends. Tutorial

If you enjoyed this post or want to save it for your inspiration, please pin it on Valentine's Day Gifts board on your Pinterest.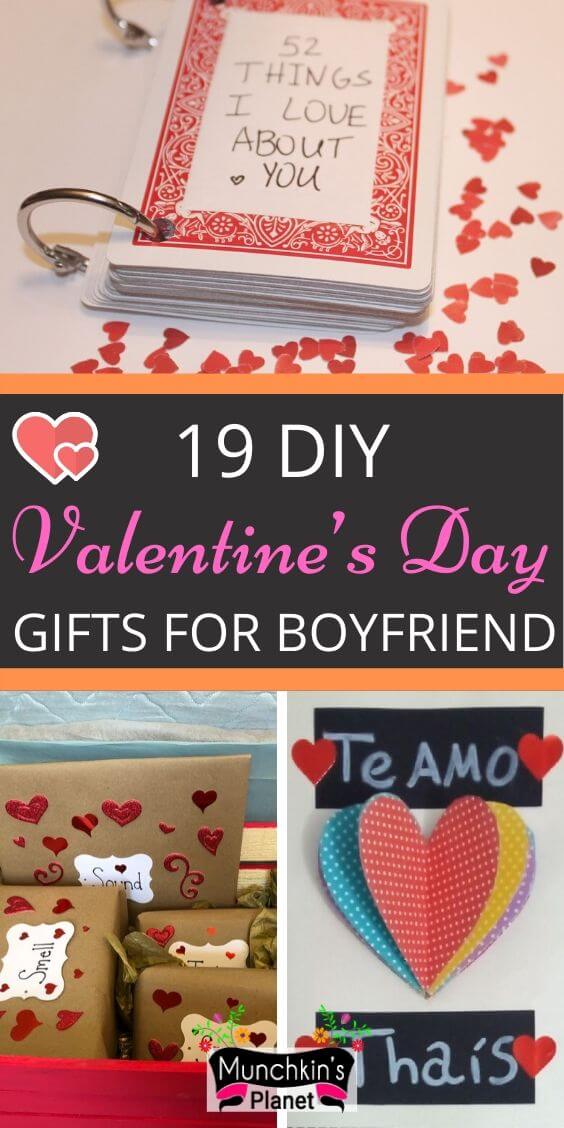 Related Post – Valentine's Day Cupcakes and Desserts For Him