Time has come to eat, drink and scare everyone around, Yes you guessed it right, it's about Halloween!

Halloween decoration is the fun time of the year, when many of us spend days, to make our home look scary and gorgeous.

So you must be looking for plenty of ideas for Halloween decorations, pumpkins, lanterns, ghosts, and props to make your outdoor and yard spooky.

But that doesn't mean you have to buy all those pricey stuff, there are many creative ways and DIY ideas to make your porch and backyard scariest in the neighborhood.

So here is the round-up of great DIY ideas to inspire your Halloween party decoration.

Ready for the scary, spooky night? Let's dive in!

Creating a graveyard is the most popular front yard Halloween decoration with lots of skeletons.

Take inspiration from this scary pumpkin monster to add extra charm to the Halloween party.

The skeletons enjoying the evening in the yard is a great example of a farmhouse theme Halloween decoration.

Related Post – The Most Trending Halloween Costumes for kids

A skeleton couple wedding party theme for Halloween decoration idea.

An awesome DIY decoration idea using packing tape to make ghost.

A wonderful prop idea from Addams family character Cousin Itt

A very creative idea to make cemetery in the front yard to scare the trick or treaters.

Related Post – The Most Creepy Halloween Decoration Ideas

The spider webs and bats go well with the skeleton ghost in the yard decoration.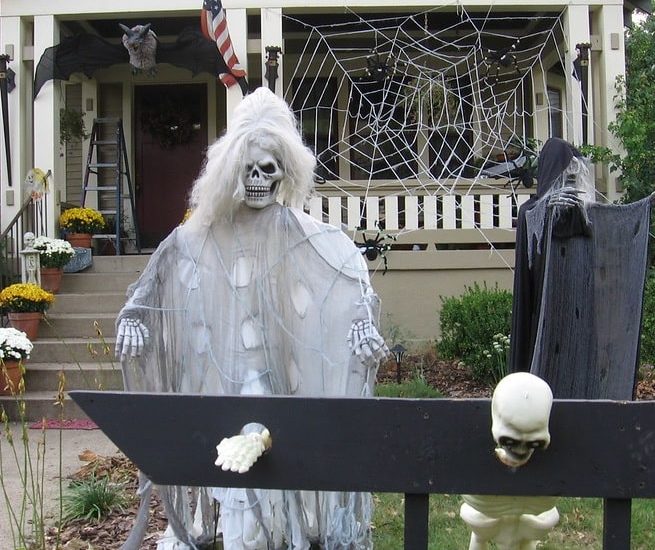 Try this cloaked ghost prop made from old clothes, the lantern will look wonderful at night.

Try this amazing sunflower skull prop this Halloween party decoration idea for yard.

Dancing witches in the lawn can be a great spooky decoration idea.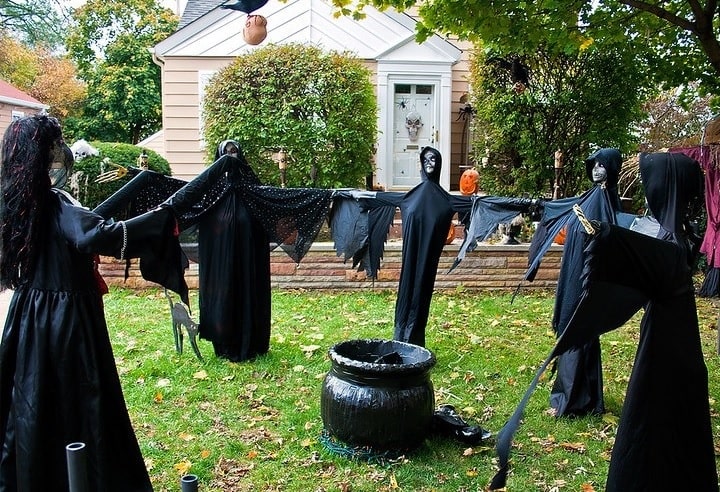 This creepy prop is given a scorpion skeleton look using a thin plastic sheet.

A simple DIY to make a floating head hanging ghost for outdoor decoration.

Skeleton family is going for hunting with their hounds.

Get inspired by this giant spider decoration taking over the whole house.

Find some empty pots to make this creepy zombie planted hands on your porch.

Make the pickled brain using cauliflower for the Halloween party.

Halloween farm decoration with skeletons enjoying the evening with their pets.

Climbing spider on the tree and eitch hats flying. Try this wonderful idea for the yard.

DIY Halloween tombstone prop using foam insulation

An easy to make hanging cage Halloween prop, simple laundry baskets and plastic chains is all you need.

Climbing skeletons over the house Halloween decoration

Skeletons chilling out in the front yard

Wanna a bike ride with this funny skeleton in the park?

If you enjoyed this post or want to save it for your inspirations, Please Pin it on the Halloween Decoration board on your Pinterest.

Related Post – The Most Creepy Halloween Decoration Ideas