19 DIY Easter Decorations Ideas For The Home
This post may contain affiliate links. Please read the disclaimer.
Last few days I can't stop thinking about bunnies, carrots, and eggs. Why not?
As Easter is not too far away, you might have some great plans in your mind for Easter decorations for the home and outdoor. I've many inspiring ideas for you.
And to get into the Easter spirit, you don't need to break your bank to impress the Easter bunny because I've cherry-picked some of the best DIY Easter decorations ideas using cheap Dollar Store items. Some are perfect to decorate Easter baskets.
These super easy spring crafts and DIY projects are inspired by pastel colors to give your home the festive look with handmade wooden easter crafts, farmhouse style fabric carrots, and beautiful glittering Easter eggs to decorate your living room mantel, and table centerpieces.
Make your front porch inviting with the rustic wood Easter bunny signs, elegant Easter wreath for the front door, and cute bunny butt pots. Not to forget those adorable Christain Easter crafts for kids to express their creative coloring and painting skills.
My personal favorite ones are the adorable paper Easter bunny garland and banners, elegant-looking door hangers, Easter topiary tree, and the easy no-sew tutorials for burlap and jute decor projects.
Without any further delay, let's start exploring!
Related Ideas
– DIY Easter Wreaths
– Creative Easter Basket Ideas
– Easy Easter Egg Craft For Kids
1. Easy Easter Candy Vase Centerpiece
A gorgeous candy centerpiece made from peep bunnies of different pastel colors arranged inside a glass vase and fill the vase with fresh spring flowers. Here are the instructions.
2. Easter Bunny Mason Jars
Decorate the cute bunny mason jar filled with pastel color slime or just paint it with colors. Kids will enjoy this simple spring craft. Tutorials. Check out these bunny mason jars on Etsy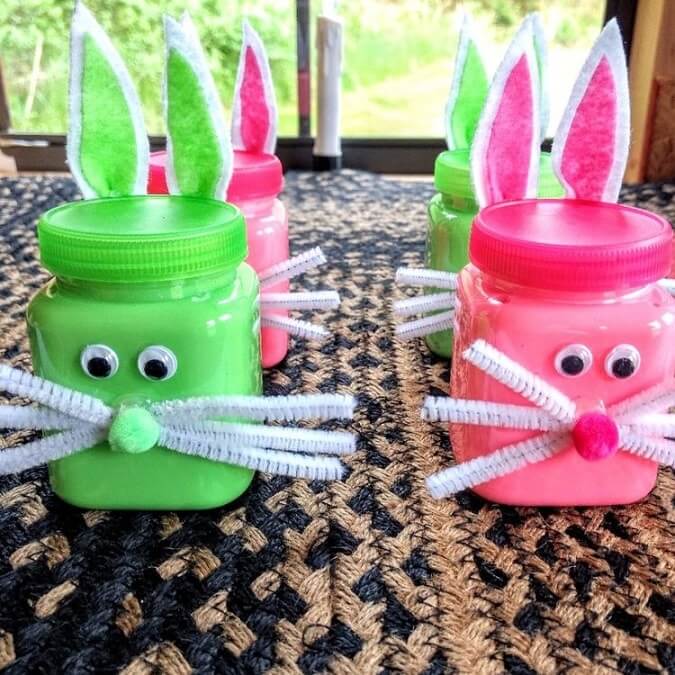 3. Easy Towel Bunny Craft Idea For Kids
Try this super easy Easter bunny craft with kids. These are no-sew handmade projects, using a washcloth, you can also hide Easter chocolates and eggs inside it. See the guide.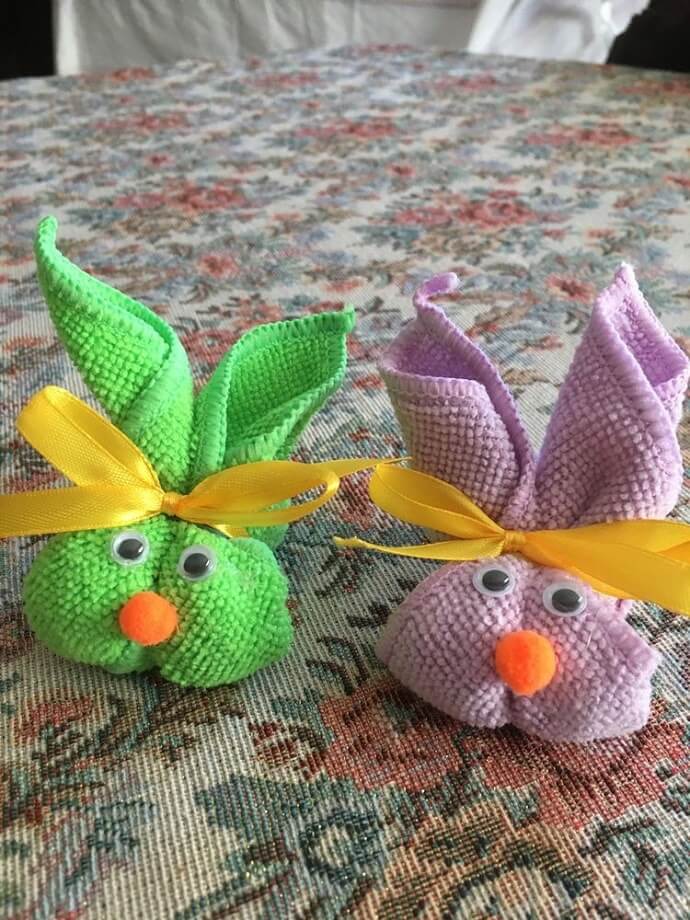 4. Cute Bunny Butt Pots
I'm sure kids and adults love to make these cute bunny butt pots because it is one of the easiest Easter crafts and cost a dime to make. Check the tutorials. Get these bunny butts from here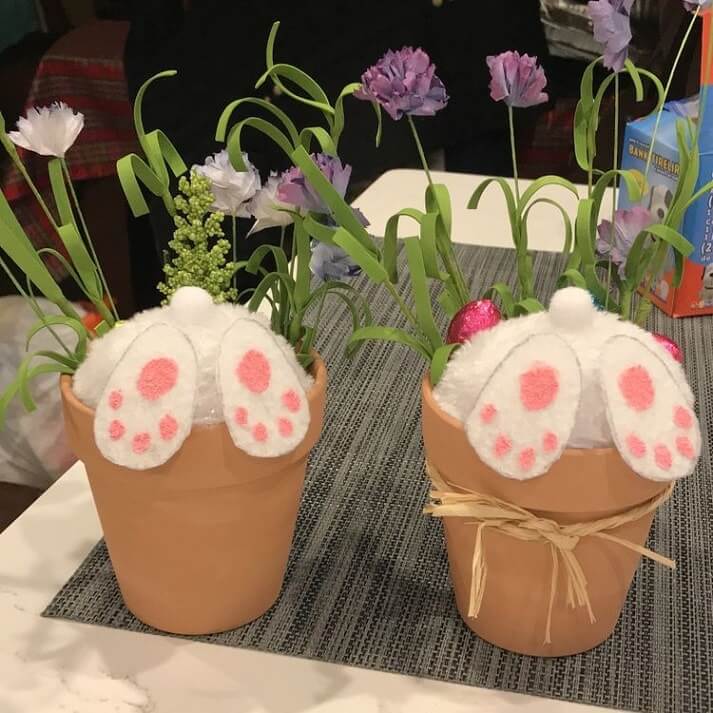 5. Easy Easter Bunny Banners
A simple Easter project for kids, let the kids draw a bunny out of the template on colored paper, and use pom-poms to make the bunny tail. Decorate your fireplace and mantle with these bunny banners. Tutorial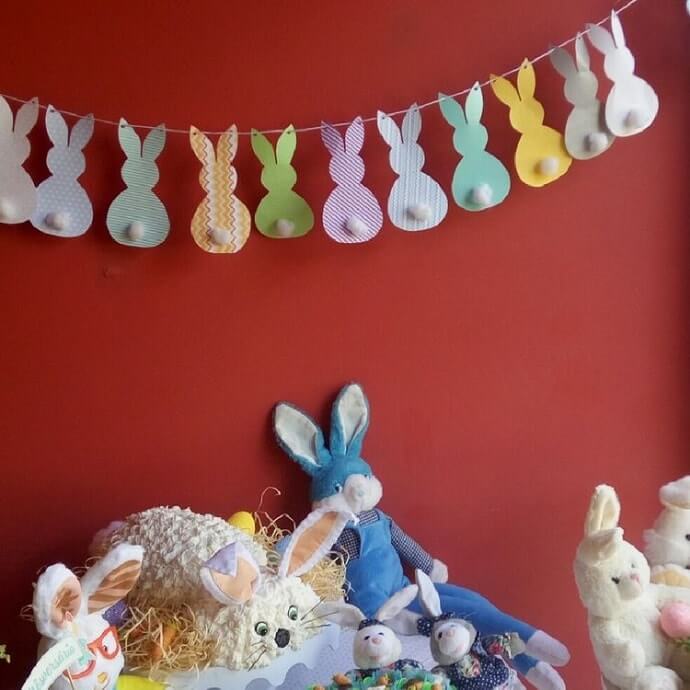 6. Farmhouse Style Fabric Carrots
Learn to make these elegant farmhouse-style fabric carrots. It can be a great centerpiece for your table. Here is the video tutorial. Check out these fabric carrots on Etsy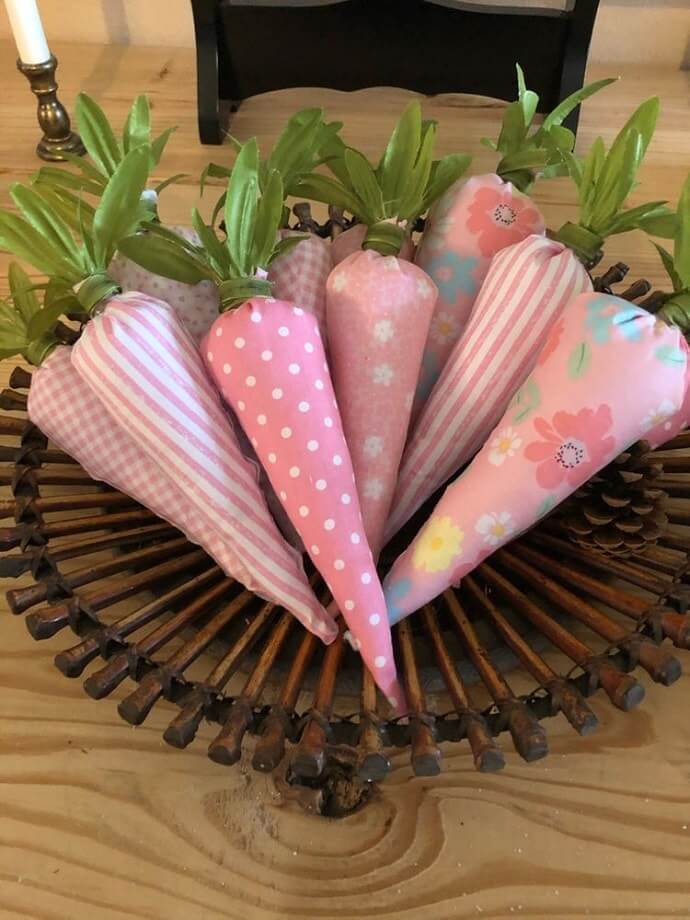 7. Bouquet of Peeps
Peeps are everyone's favorite Easter treat. Try this beautiful peeps bunny bouquet as an easy centerpiece. Here is the guide.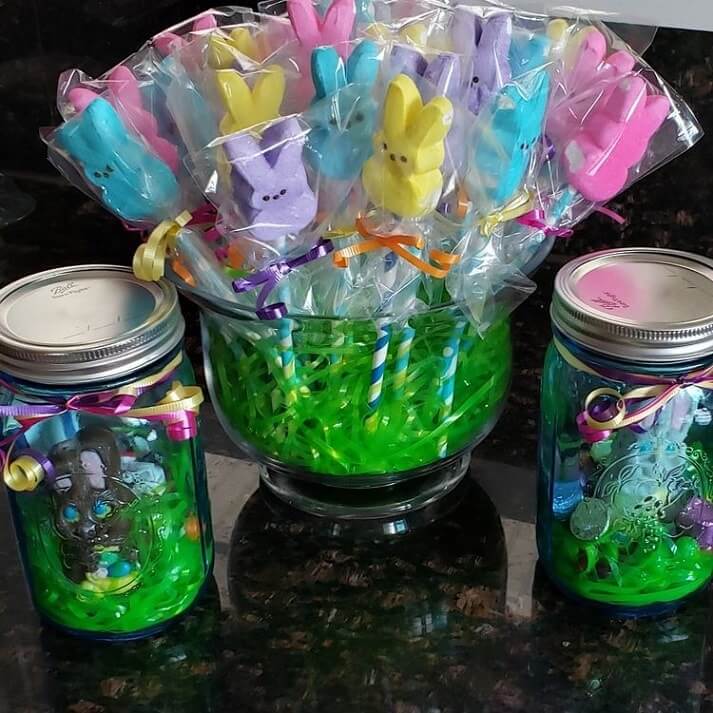 8. No-Sew Sock Bunny
A perfect Easter craft for kids and adults. It just needs a few Dollar Store supplies to make these no-sew sock bunnies.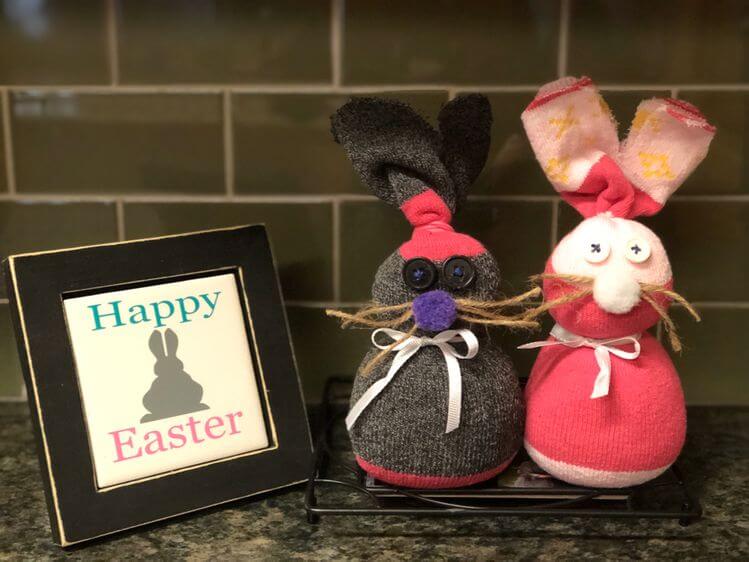 Learn from the video guide.
9. DIY Carrot and Parsnip
Try these adorable carrot and parsnip crafts, you can use them as toys or sell them as a craft. Find more here.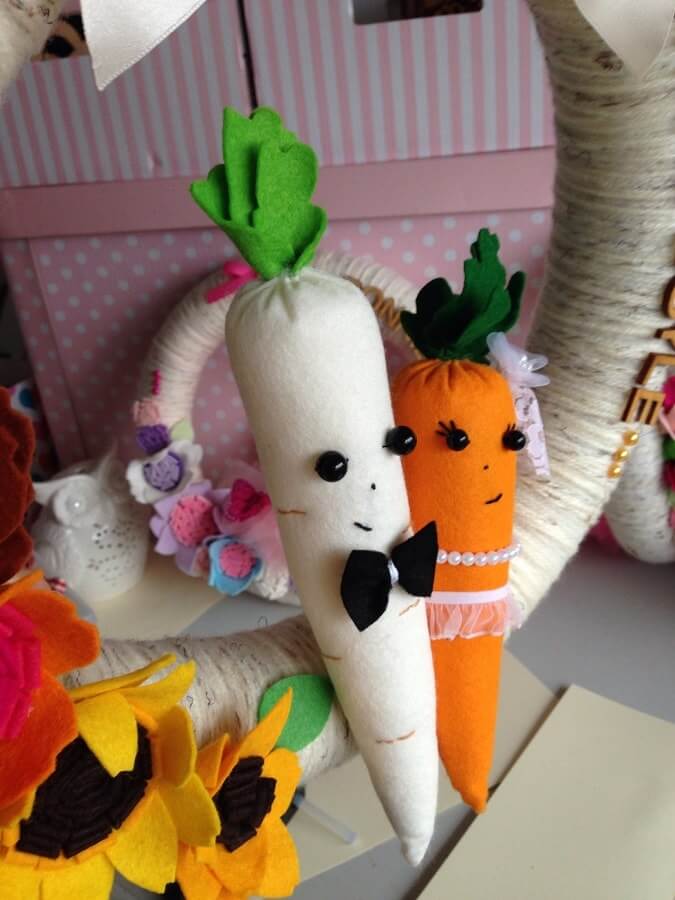 10. DIY Farmhouse Jute Easter Eggs
Start your Easter decoration with this farmhouse-style jute Easter eggs using Dollar tree eggs, jute twine, and lace ribbon.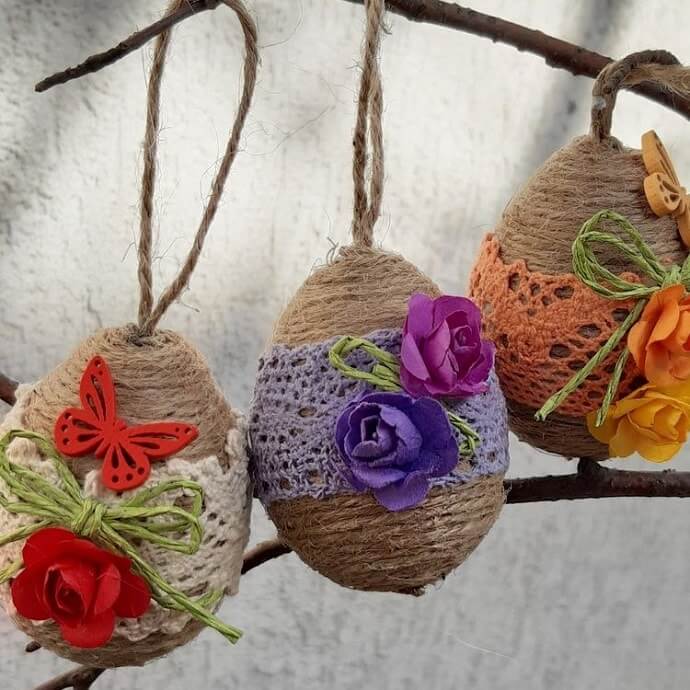 Tutorial
10. Easter Popsicle Craft
Simple wall hanging Easter craft using popsicle sticks to keep your kids busy this Easter. Instructions.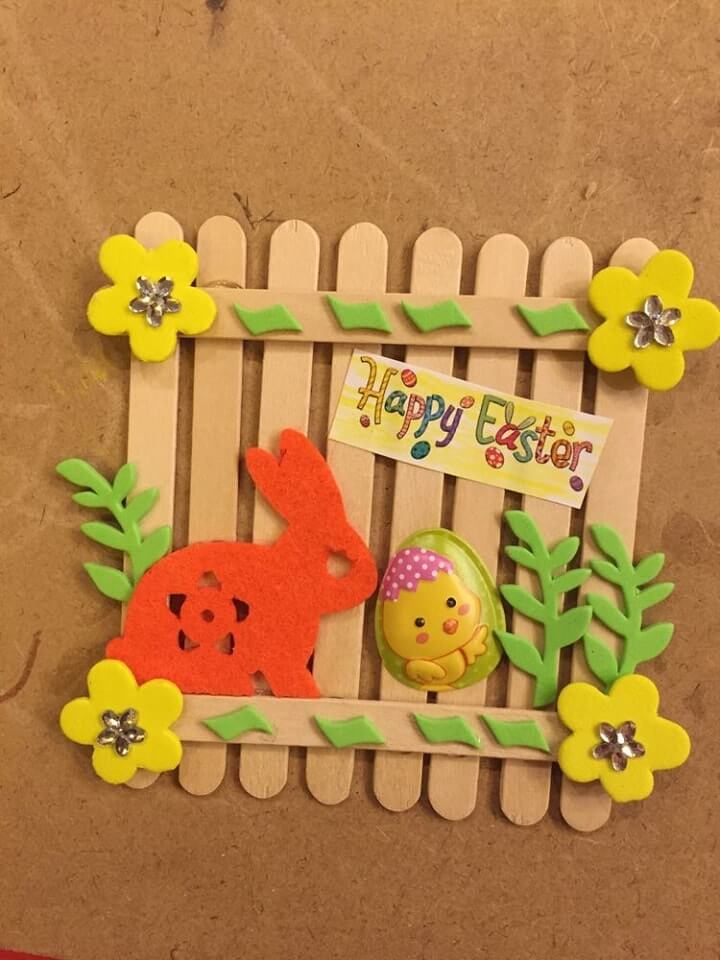 11. DIY Ribbon Flower Easter Egg
Learn to make ribbon Easter eggs decorated with kanzashi flowers. Get the guide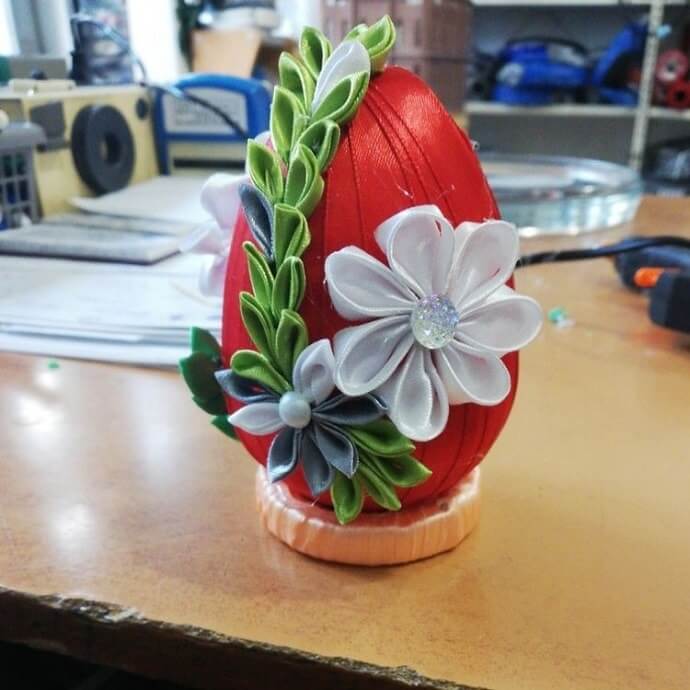 12. Easter Bunny From Scrap Wood
This holiday try to make these Easter bunnies from scrap wood. Follow the instructions.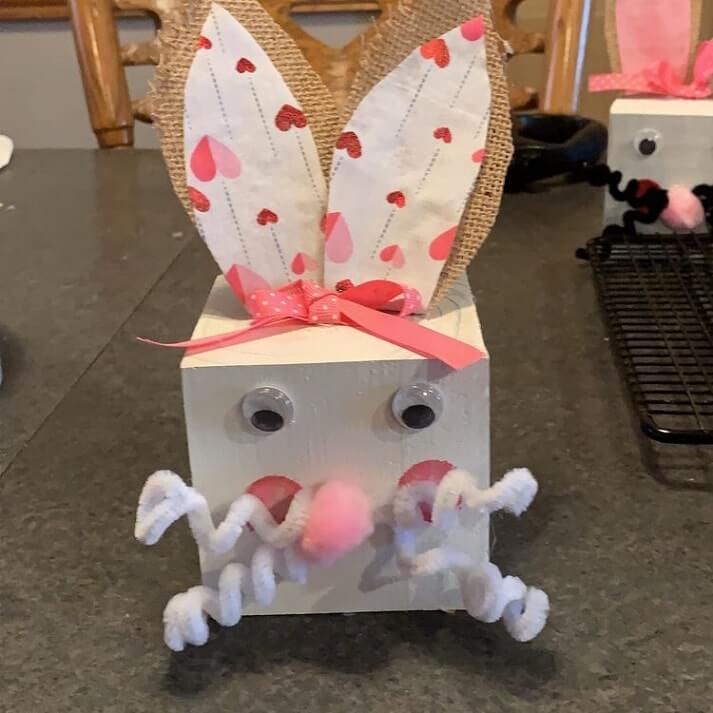 13. Fabric Carrots
These fabric carrots are a perfect spring craft because they can be used in multiple ways, put on the mantel, use in an Easter wreath, or as filler in an Easter basket. Learn how to make them.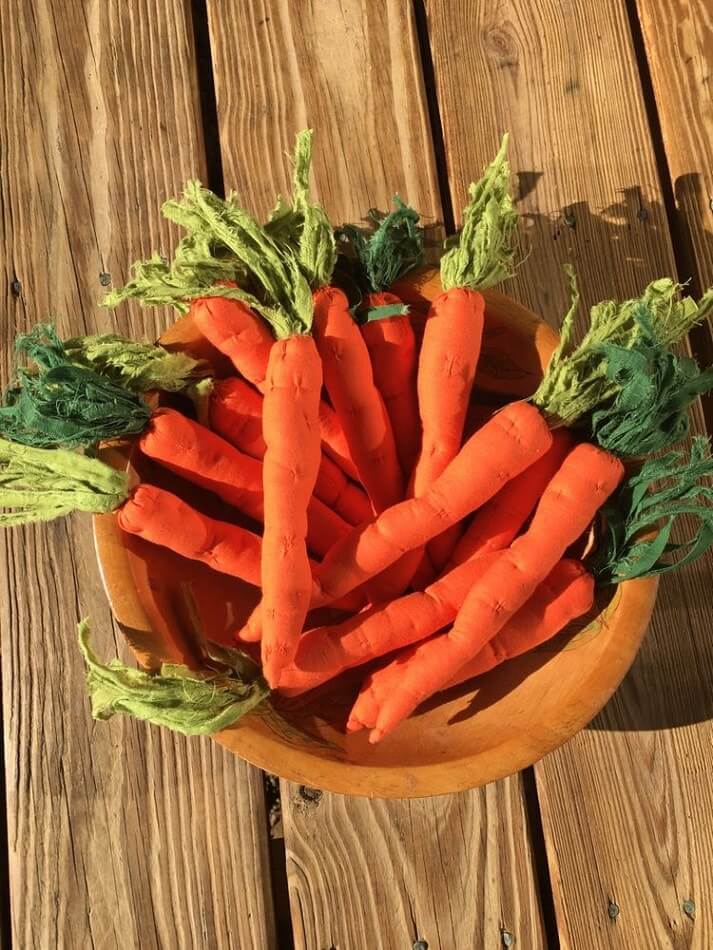 14. Welcome Peeps Easter Sign
Decorate your front door with this welcome peeps Easter sign. Easy to make using a 6″ x 26″ inch wooden block painted in white and peeps in pastel colors.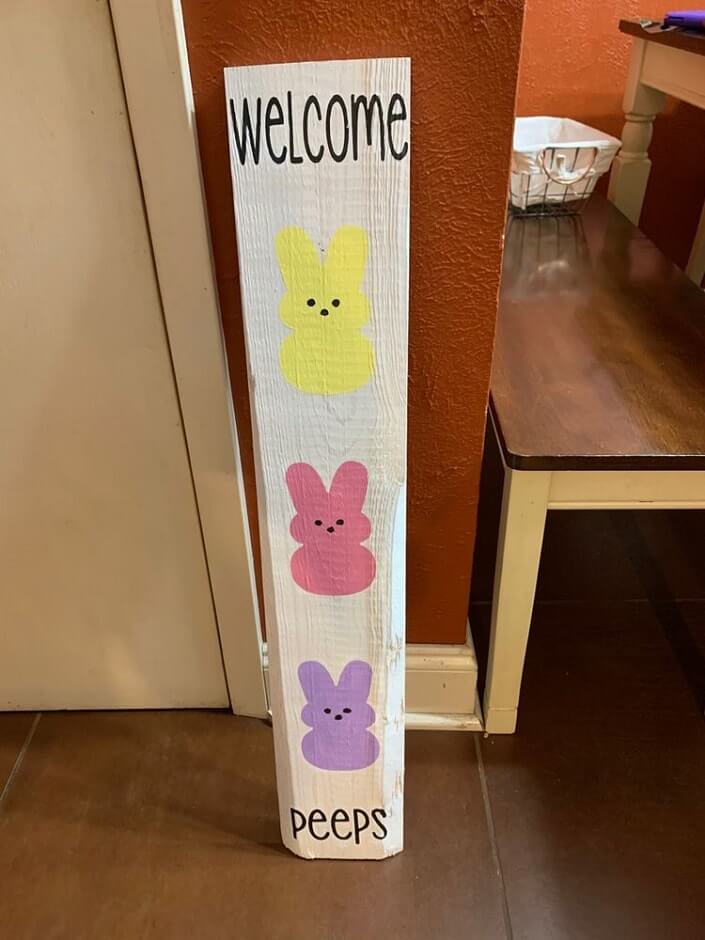 15. Easter Egg Topiary DIY
The Easter egg topiary tree is a very easy DIY Easter decor idea you can try with Dollar Tree supplies.
Supplies you need:
Instructions:
First hot glue the mini foam eggs over the boxwood ball. You can also use Styrofoam balls in place of boxwood balls, in that case, you have to hot glue faux eucalyptus garland over the ball.
Take the dowel rod and press it inside the ball. Then, fit the floral foam inside the pot and place the dowel rod in the center of the pot.
Make a bow using the burlap ribbon and hot glue it in the center of the dowel rod. That's it!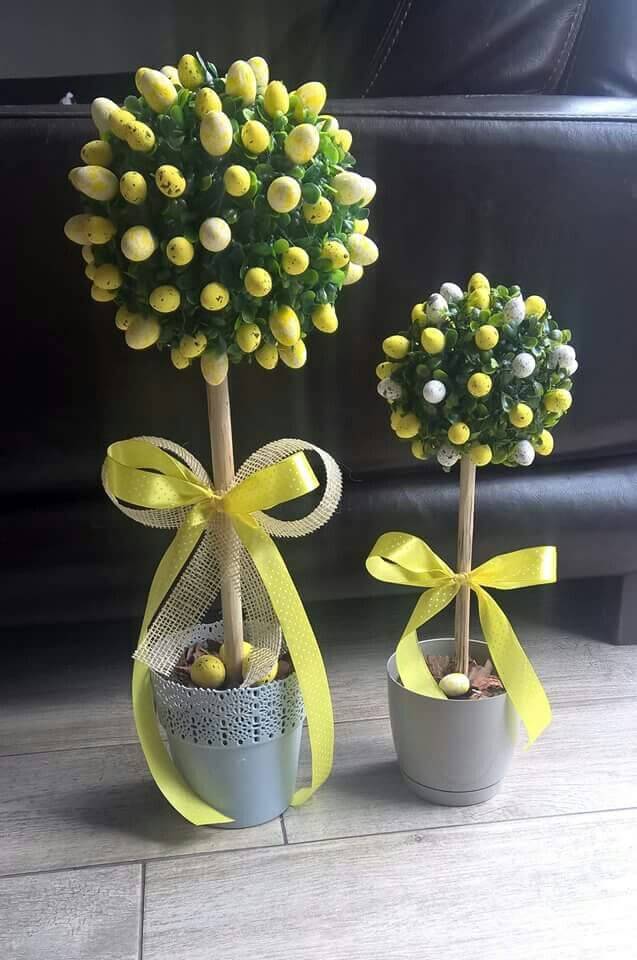 You can also follow some of the steps shown in the video tutorial
16. DIY Easter Egg Candle Holder
A very simple Easter project to make a DIY Easter egg candle holder using beaded Easter eggs. It can also be a great centerpiece for Easter decoration. Make it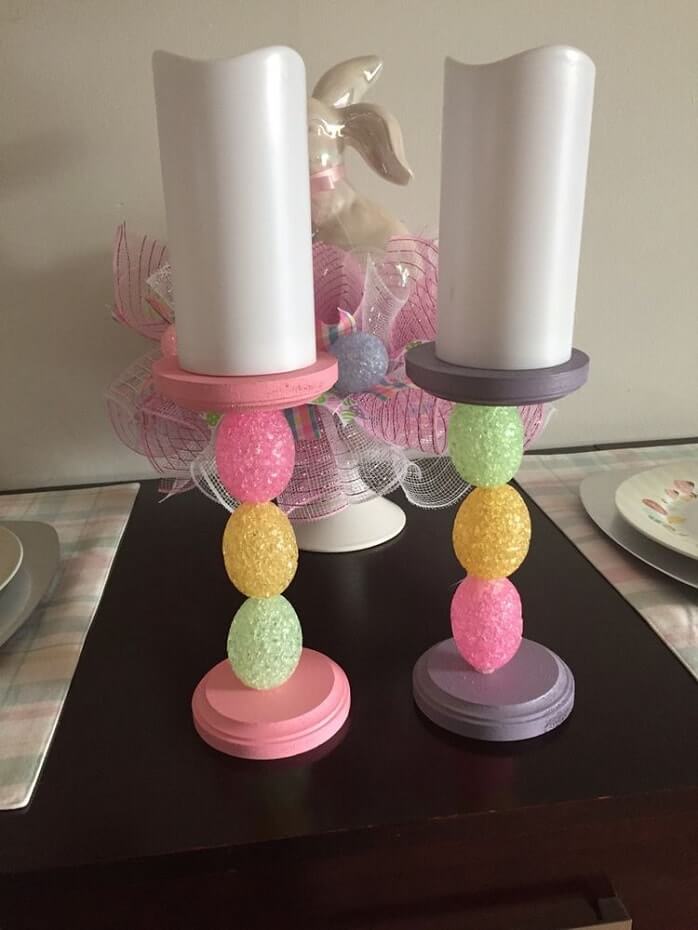 17. Simple DIY Easter Egg Cone Tree
Try this easy DIY Easter cone tree, you just need a planter pot, Styrofoam cone, and some plastic Easter eggs from Dollar Store. Here is the guide.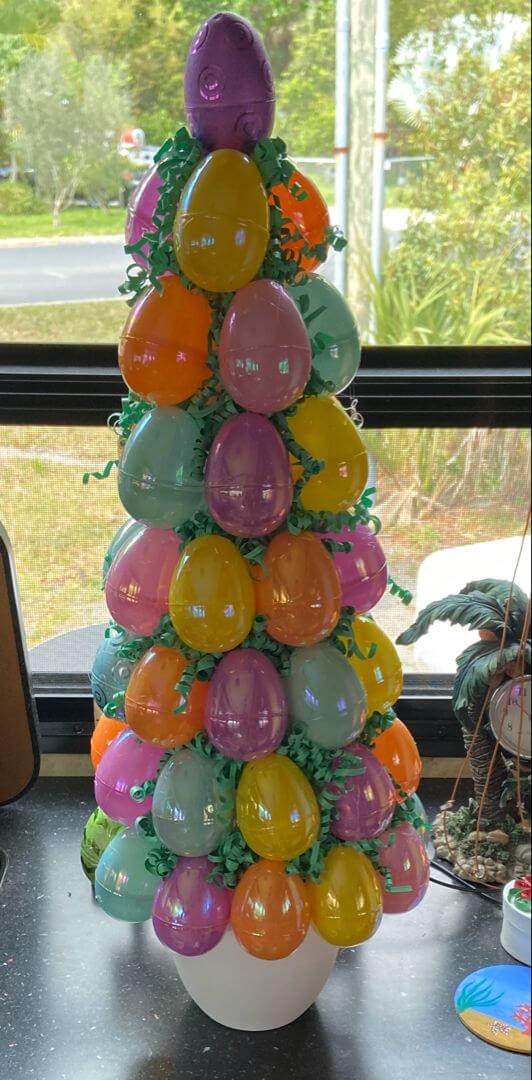 18. Wood Easter Bunny Sign
If you are interested in DIY wood projects, then try this rustic Easter bunny sign using some of the pallet wood or get some from Home Depot, cut them into bunny shape and paint the cute bunny face, decorate with ribbon.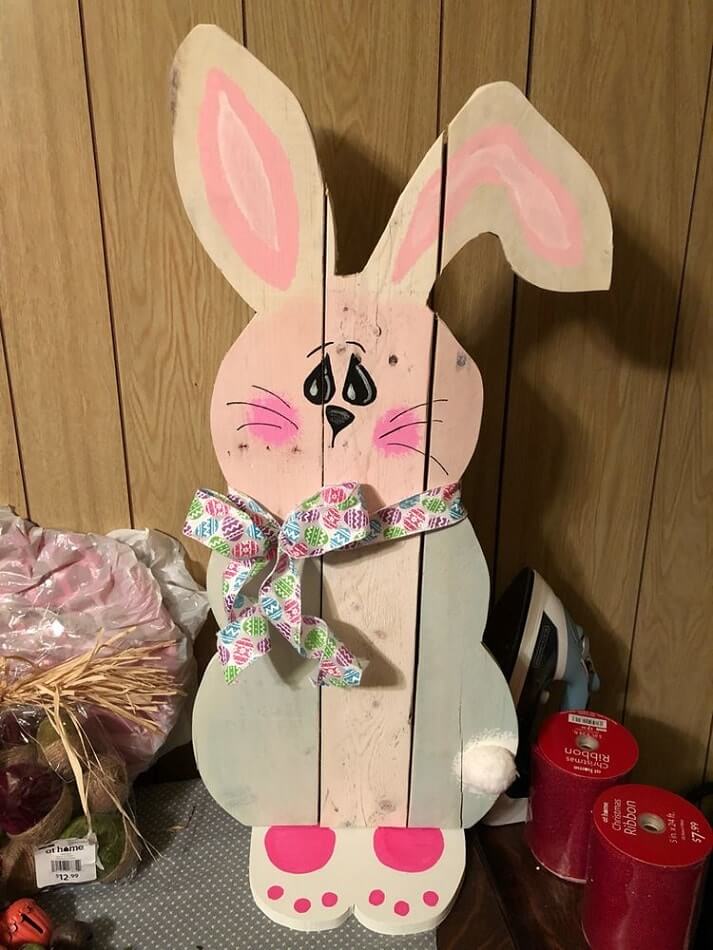 19. Farmhouse Bunnies and Carrots
These handmade fabric bunnies and carrots are the perfect fit for Easter home decoration with farmhouse style. Check out on Etsy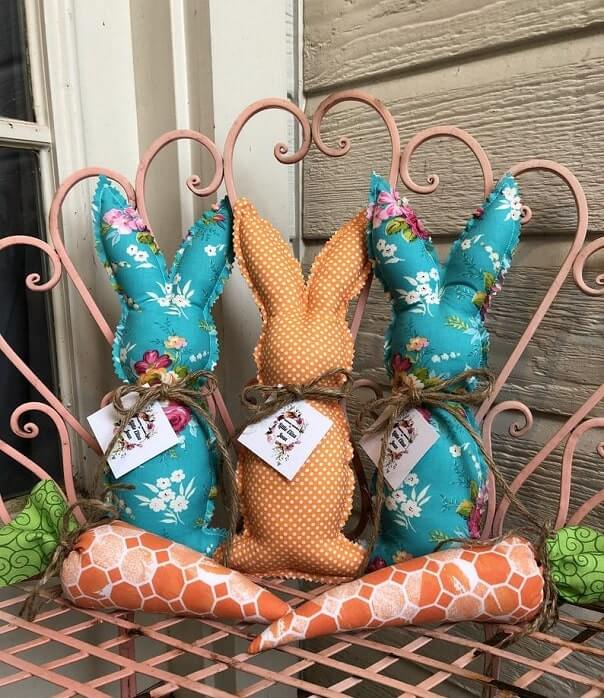 20. DIY Easter Burlap Wreath
Try this simple farmhouse decor style DIY Easter burlap wreath, using cheap Dollar Tree items. Supplies you need:
Instructions – Wrap the wide burlap ribbon over the Styrofoam ring. Hot glue the wooden rabbit in the center and happy Easter carrots on the bottom of the wreath. Stick the wreath bow on the top.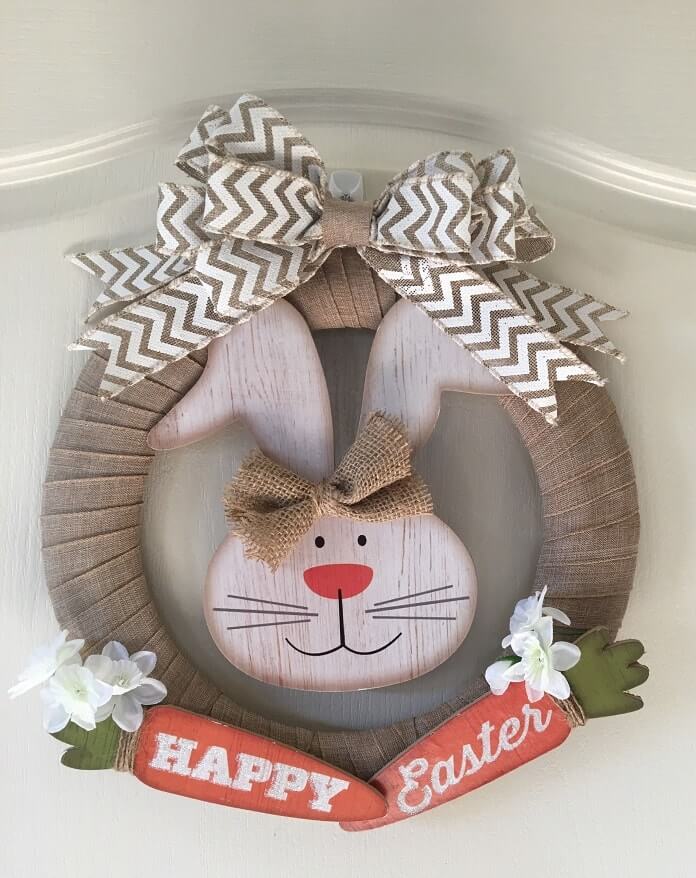 If you enjoyed these decoration ideas or want to save it for your inspiration, Please Pin it on the Easter Decoration Ideas board on your Pinterest.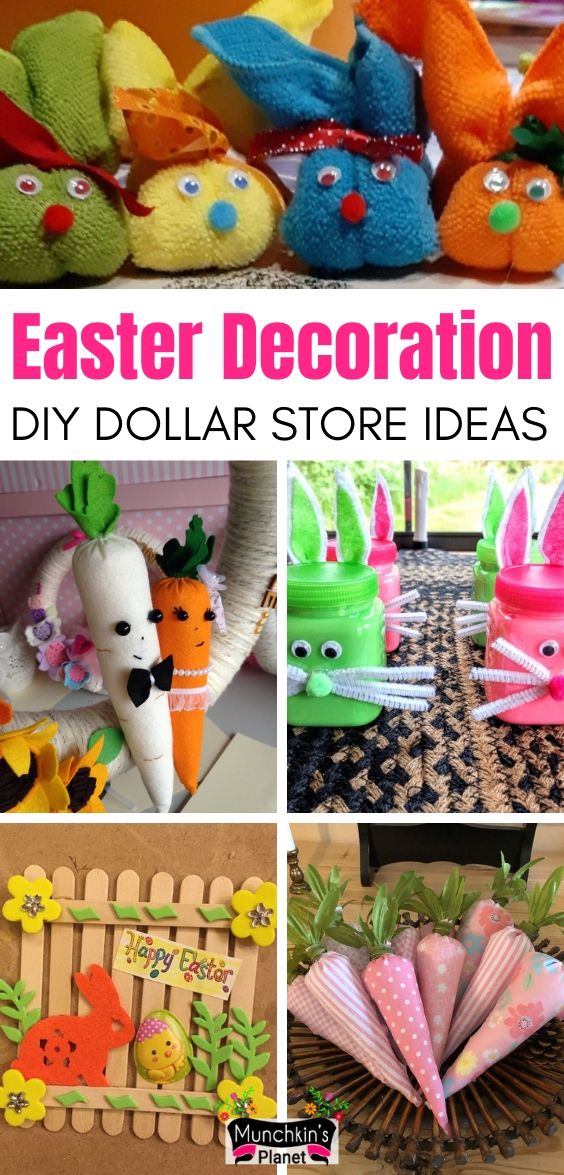 Related Post – Easy Easter Egg Decoration & Coloring Ideas