Easy Christmas Coffee Can Crafts: DIY Snowman Hats
I scroll through Pinterest to get some easy Christmas decoration ideas. I found these adorable DIY snowman hats.
And the best part of this Christmas craft is it's made of a simple coffee can, that you easily find in your home.
In this post, I'll show you how to repurpose your empty coffee tin cans into cute snowman hats for the Holidays.
These adorable Christmas coffee can crafts can be used as a centerpiece for table decor or in a Christmas gift basket. Last year, I used it as a Christmas tree topper.
Let's start this project!
How to make a coffee can snowman hat
Making a snowman hat centerpiece for Christmas is very easy. You just need some basic materials you already have in your kitchen.
Yeah, I'm talking about your very own coffee canisters or tin can coffee cans that you put in recycle bin. And the second item is a plastic dinner plate.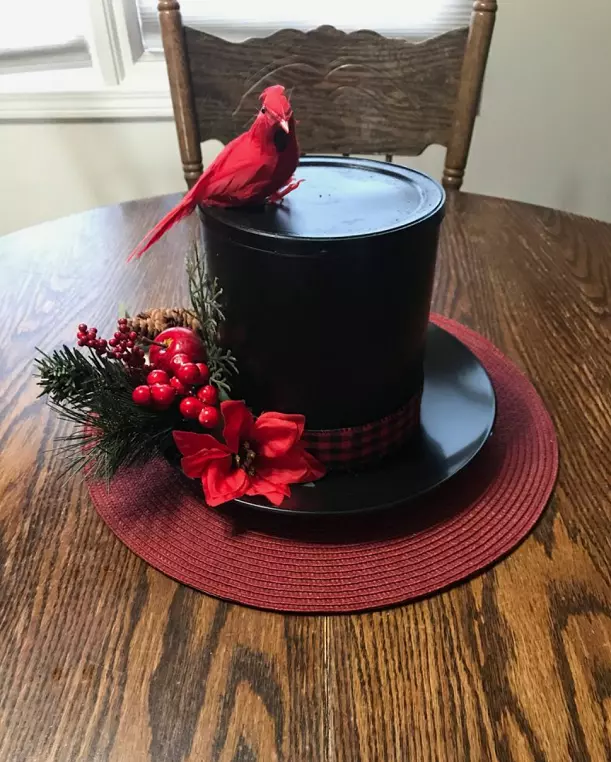 Before starting the project, get these additional items for the craft:
A coffee can or metal coffee canister is best for a snowman hat
Plastic dinner plate to make the hat's brim
Black spray paint
Hot glue gun
Buffalo plaid ribbon
Red floral picks that have some pine cones and red berries
Few glitters and snowflakes
Directions:
Spray paint the coffee can and plastic plate black.
Hot glue the coffee can over the plastic plate so that it looks exactly like a snowman hat.
Wrap the buffalo plaid ribbon around the hat and hot glue it.
Take the floral pick, cut its extra length to fit on the hat, and hot glue it on the ribbon.
Sprinkle some glitters or use snow spray for a snowy effect over the snowman hat.
Additionally, you can hot glue snowflakes on the hat. That's it!
snowman hat centerpiece ideas