Easy Halloween Snacks And Treats For Kids
If you're throwing a Halloween party and looking for some easy-to-make kid-friendly Halloween snacks and treats. You've landed in the right place!
This reminds me of my childhood days when those creepy eyeballs and witch fingers were my favorite Halloween party food.
To give a little teaser, here you'll find easy Halloween baking ideas like – peanut butter spider Halloween cookies, cauldron cake pops, ghost cupcakes, and, trick-or-treaters favorite Jack Skellington Oreo Pops.
Not everything is sweet, I also got delicious savory Halloween finger food including – skull head pizza, monster eye deviled eggs, mummy hot dogs, Jack-o-lantern chips dip for Halloween appetizers.
And the best part, you can even add them to the lunch box or as Halloween treats for the classroom. You don't need to worry about last-minute preparations as most of these Halloween recipes are ready to make ahead.
Without any further delay, Let's get started
Jack Skellington Oreo Pops
Remember Jack Skellington from the movie – The nightmare before Christmas. This is my favorite Halloween movie and I'm sure it's yours as well. Inspired by the movie these Oreo pops are the perfect treat for kids Halloween party. Here is the recipe.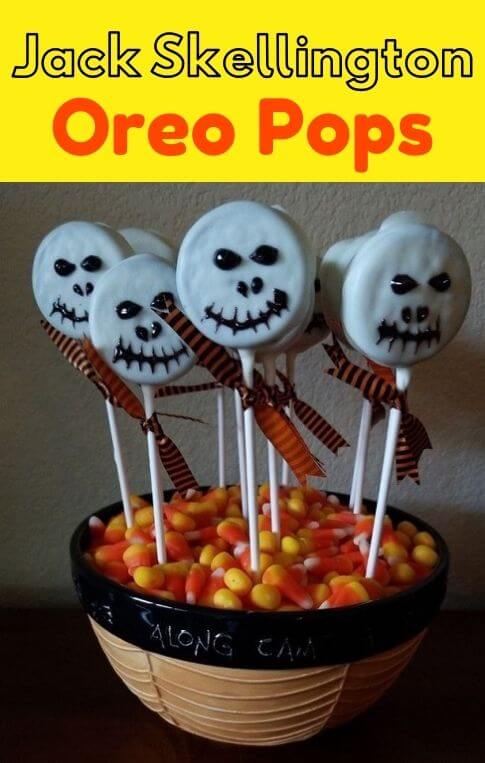 Monster Rice Krispies Treats
If you're looking for some delicious crunchy snacks for Halloween then try these monster rice krispies treats. They are very easy to make and the big candy eyes make them funny creatures. Check out this fun recipe.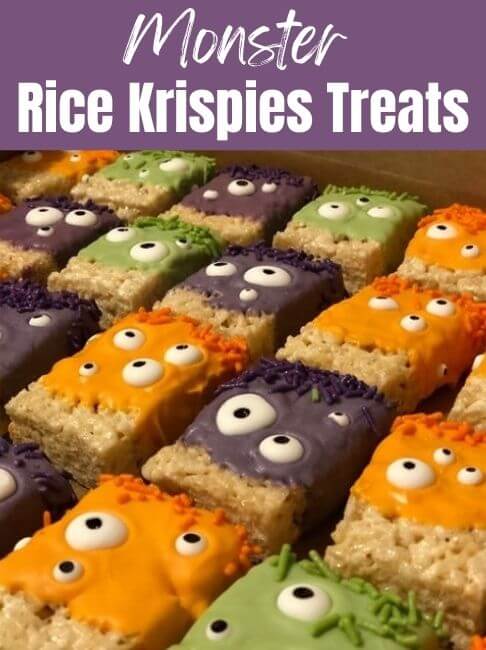 Peanut Butter Spider Cookies
These are the funniest cookies I've tried for the Halloween party, I was looking for something cute and spooky. I stumbled upon these melt-in-mouth peanut butter spider cookies. Add this recipe to your Holiday treat list!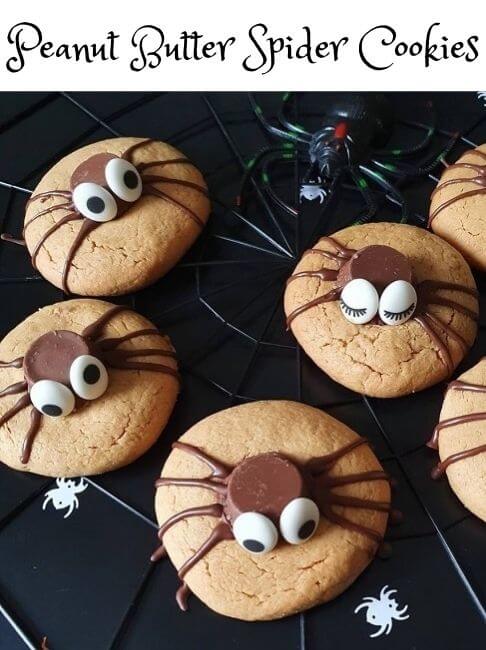 Bubbling Witch's Cauldron Brownies
I must confess! I'm addicted to these super yummy cauldron brownies and the icing on the cake, it is so easy and fun to make this delicious dessert. Get the recipe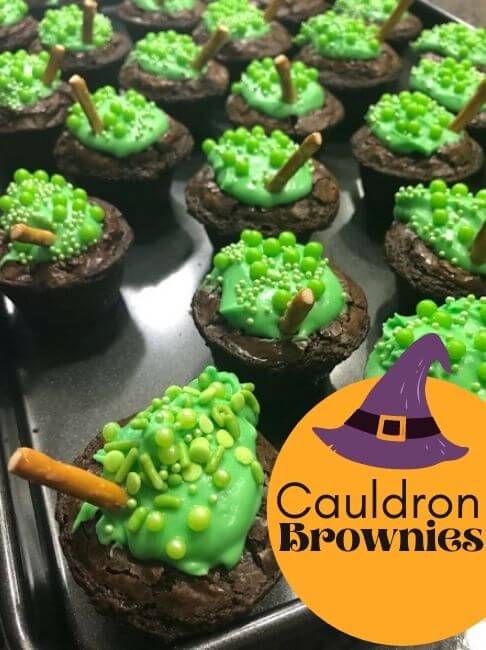 Related Posts – Halloween Finger Food For Adults
Witches Fingers Cookies
Keeping the Halloween spirit, here is the iconic witch finger cookies. No Halloween food is complete without these buttery witch finger cookies. The blanched almonds with a red gel on the green fingers give it a creepy look. Check out the recipe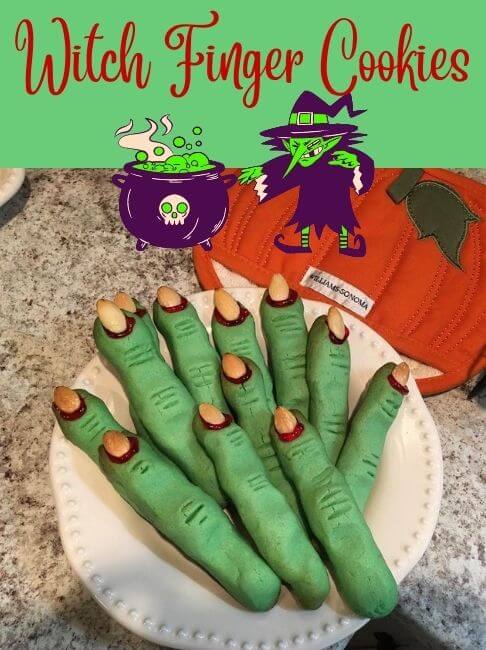 Apple Smiles Halloween Treats
Apple smiles are so fun and easy to make Halloween treats that even my kids love to make this simple recipe. They make healthy snacks and the perfect appetizers for Halloween parties. Try this recipe.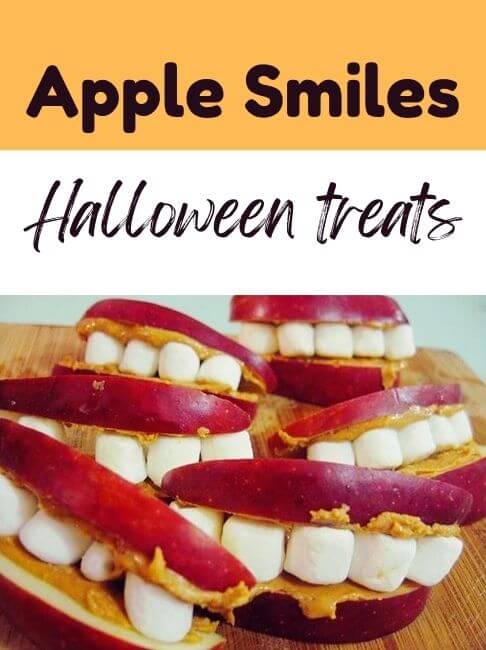 Cute Mummy Hot Dogs
The regular hot dogs are everyone's favorite snack, we gave a Halloween twist to it by wrapping crescent roll dough on the hot dogs to look like cute mummies. Get the recipe.
Eyeball On A Fork Cake Pops
If you don't like too much gross-looking Halloween food then these eyeball cake pops are perfect for you. Although, they look creepy still not that gross plus they are so delicious that the trick treaters will never have enough. Check out this recipe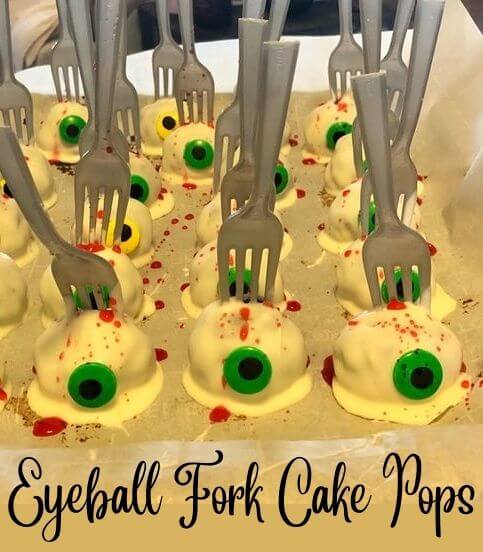 Jack O' Lantern Chips And Dip
The Jack O' Lantern chips and dip can be the main highlight of your Halloween food display. This looks so creative and it got the pumpkin, the theme of the night. Learn how to make it.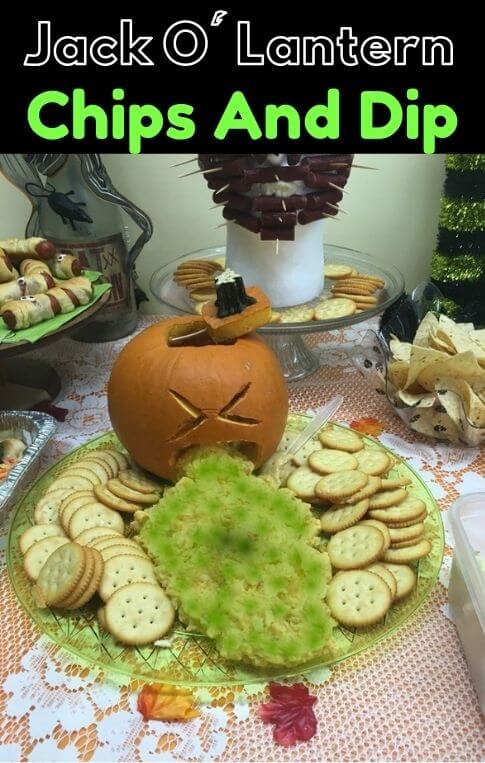 Frankenstein Halloween Cupcakes
Frankenstein cupcakes are made with a base of chocolate cake topped with lemon green colored frosting and some chocolate sprinkles over it. Get the full recipe.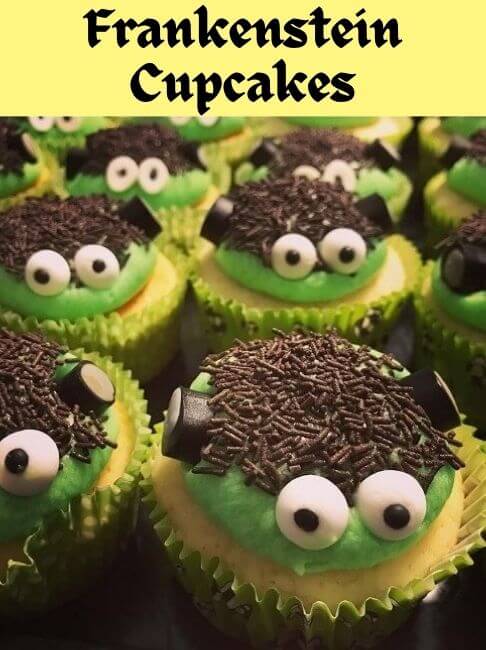 Spooky Graveyard Cupcakes
When it comes to spooky desserts my son's favorite is the RIP graveyard cupcakes topped with chocolate sprinkles. Some of these tombstone cupcakes are decorated with zombie topper hand picks which you can easily get from Amazon. Know more about this recipe.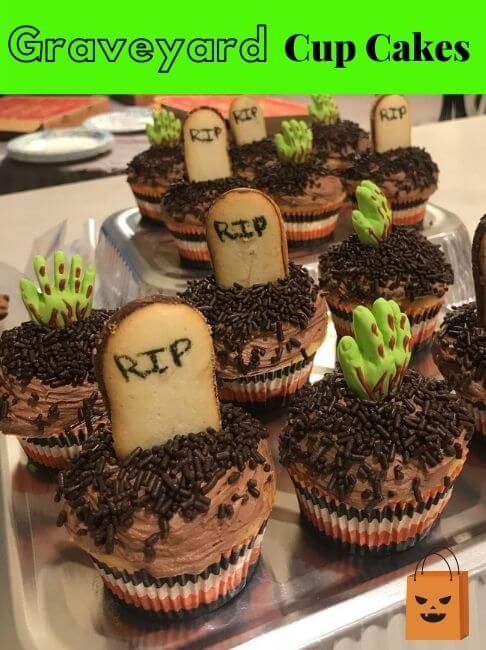 Skull Deviled Eggs
Skull deviled eggs are one of the most versatile Halloween party food. The best part is, not just the kids love it but it's popular among the adults as well. Plus they are healthy snacks. Get the recipe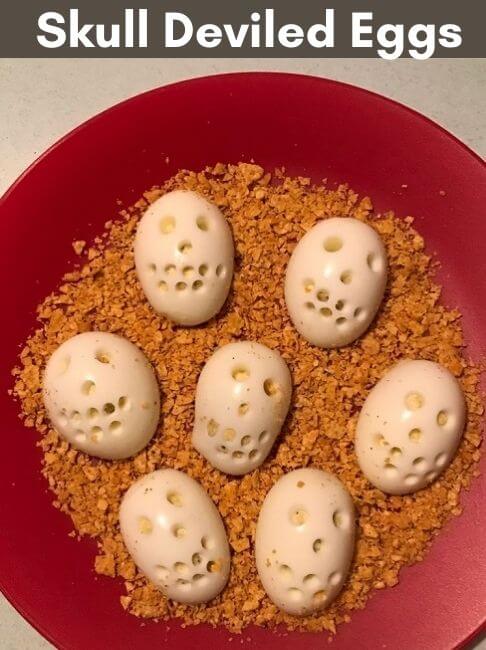 Applesauce Snack
If you're looking for a no-sugar alternative then try these applesauce snacks. A few apple sauce pouches wrapped with white crepe paper and stick cute googly eyes. It's that simple!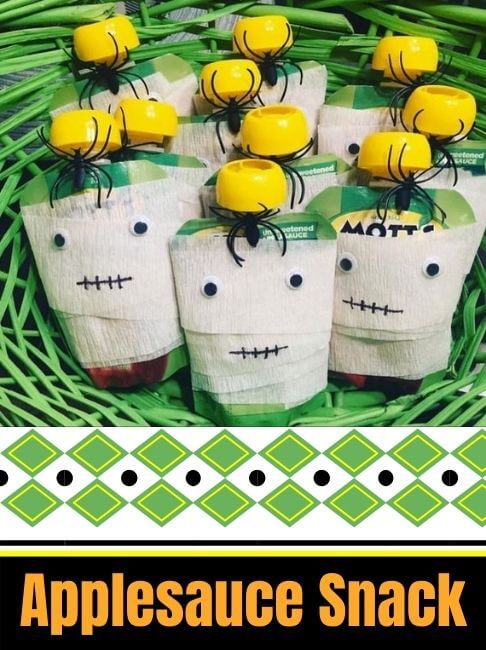 Skull Head Pizza
This super easy skull pizza is fun to make. Pizza dough packed with pepperoni, sausages, and shredded mozzarella cheese. Learn more.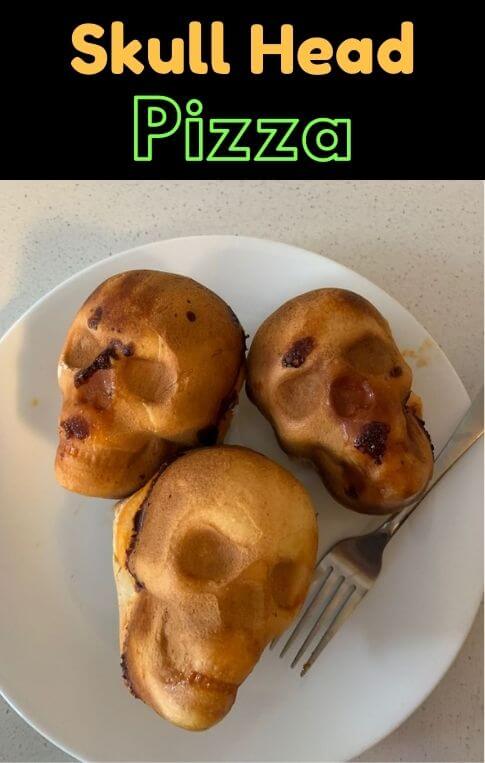 Giant Frankenstein Rice Krispie
I love rice krispies because they are so versatile, You can give them any shape and color to create mouth-watering treats. Check out this recipe for your party.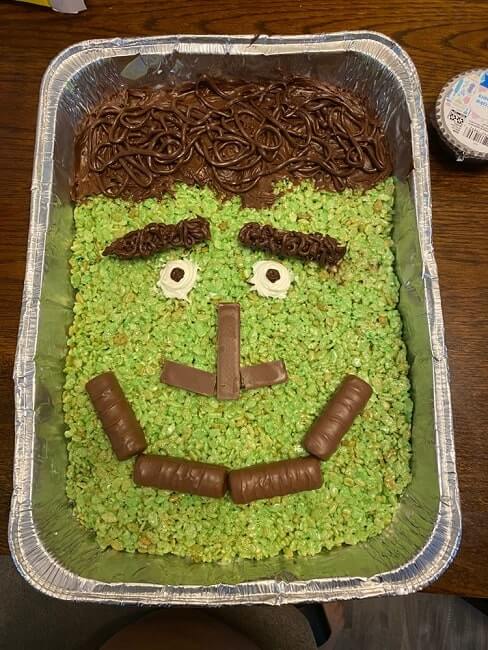 Mummy Cupcakes For Halloween
Chocolate cupcakes decorated with flat vanilla frosting to look like bandages. Googly eyes add some spookiness to the cupcakes. Get the recipe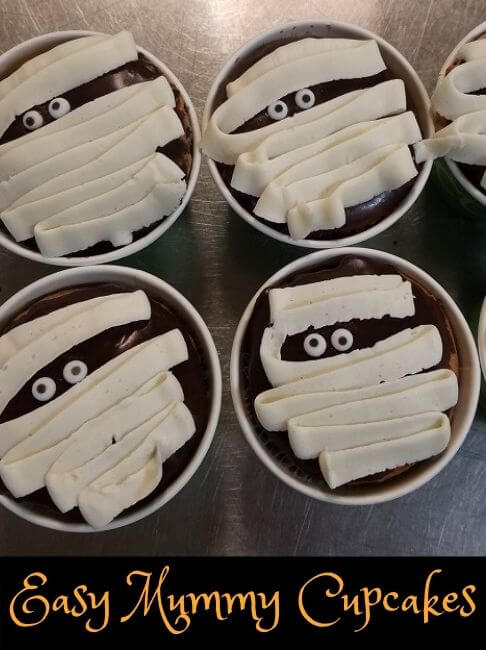 Oreo Bat Halloween Cupcakes
When it comes to decorating Halloween cupcakes, there are many ways you can choose the toppings. Oreo bats are easy to make and it gives a spooky look. Get the recipe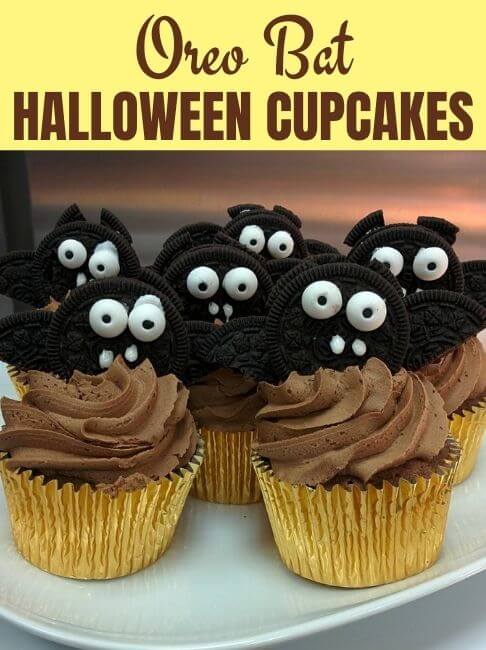 If you enjoyed these recipes or want to save it for your inspiration, please pin it on the Halloween Party Food board on your Pinterest.