18 Spooky Halloween Tablescapes Ideas
If you're hosting a Halloween party, you might be looking for the spookiest treats and scary appetizers. But don't forget the table decoration!
No matter how delicious your appetizers are, if it is not presented in line with the Halloween theme it feels incomplete.
Also, Halloween is the perfect time to showcase your creativity. Plus you can apply all those cool ideas you've seen on Pinterest.
In this post, I've cherry-picked some simple and easy Halloween tablescapes ideas for you.
The key element of the Halloween table setting is the color combination that matches the Halloween theme. The classic black and white or goth style.
If you're a complete beginner, don't worry!
In the same post, I have an easy guide to DIY Halloween table decorations. In which I've covered each and every element.
Let's dive in!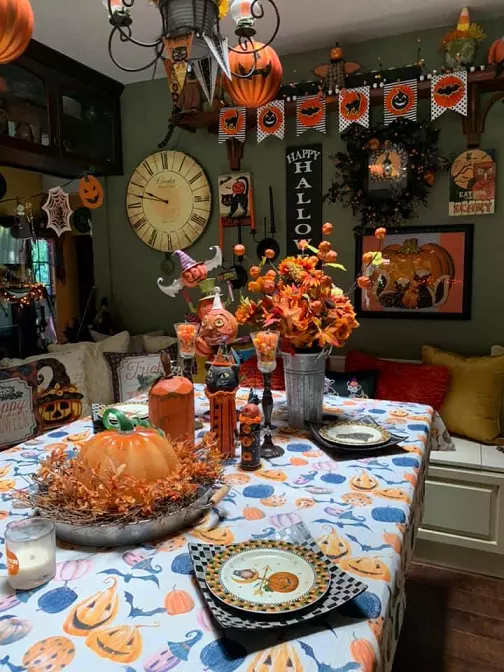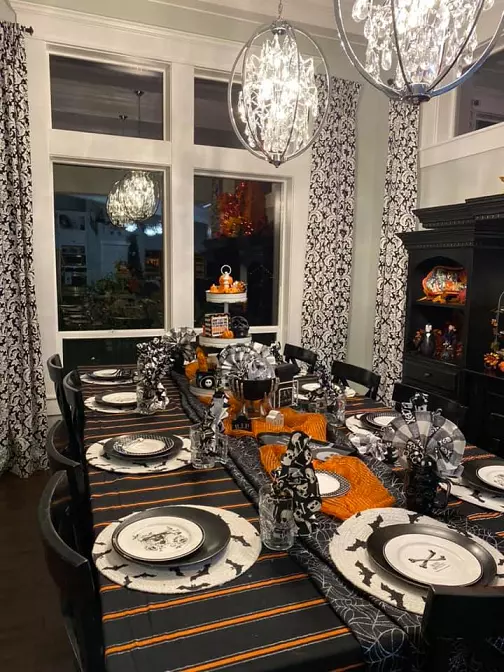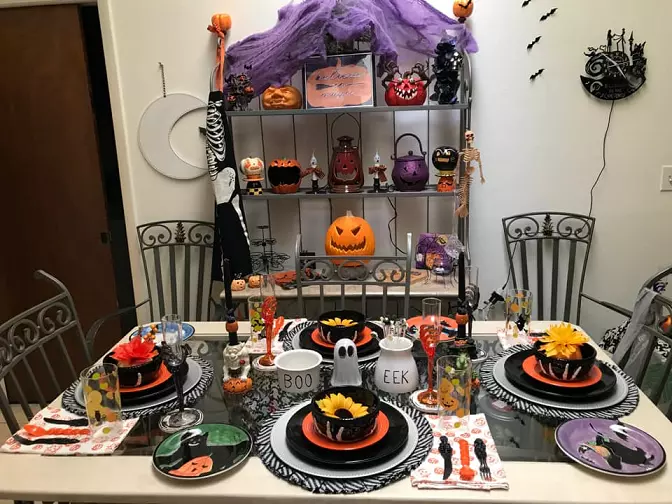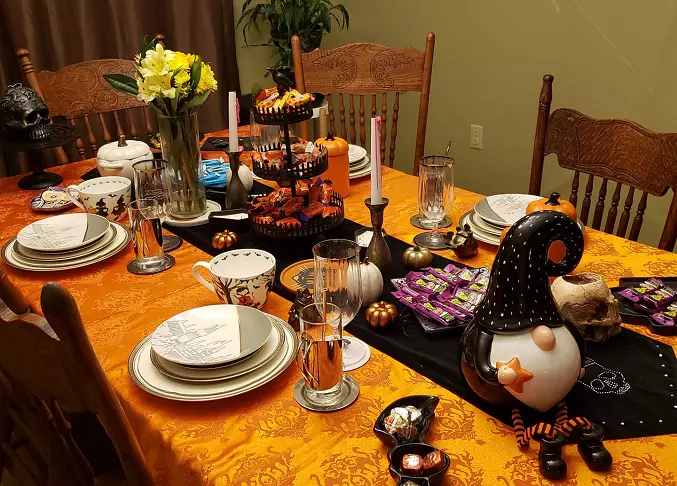 How to set up a Halloween table?
You need to keep in mind a few basic elements that go with the Halloween theme while decorating a dinner table. Let's take a look:
1. Tablecloth – Find a spider web pattern tablecloth with spiders to match the Halloween theme. The black colored tablecloth is preferred. Or use a creepy cloth.
2. Runner – For this, get a white cheesecloth and put it in the center of the dinner table.
3. Centerpiece – Lot of things you can try for centerpieces, you can spray paint skulls with metallic paint. Get some dry branches from the yard, spray paint them black, and put them in a skull-shaped pot. Add a few Halloween ornaments over the branch like mini skeletons, bats, or eyeballs.
I got another great idea for the centerpiece. Spray paint a plastic jack-o-lantern with metallic paint and place a mist maker (from Amazon) inside it. I'm sure this magical fog setup will make your guests say WOW.
4. Candle holders – Put two candle holders near both sides of the centerpiece. Or use a spider candle holder and put a plate over it.
5. Plates and charger plates – I suggest using a color combination of black and orange plates. Or blank and white buffalo plaid plates. Make sure to use plates in contrast color combinations.
6. Place cards – You can use small cauldrons or pots, and add the name tags over them.
7. Napkins – Should be in black and white color theme, and get some vampire teeth napkin ring holders you can easily find on Amazon.
8. Fill in the empty spaces on the table runner with mini skulls, ouija board, and spiders. Halloween-themed spooky wine glasses can also be a good idea.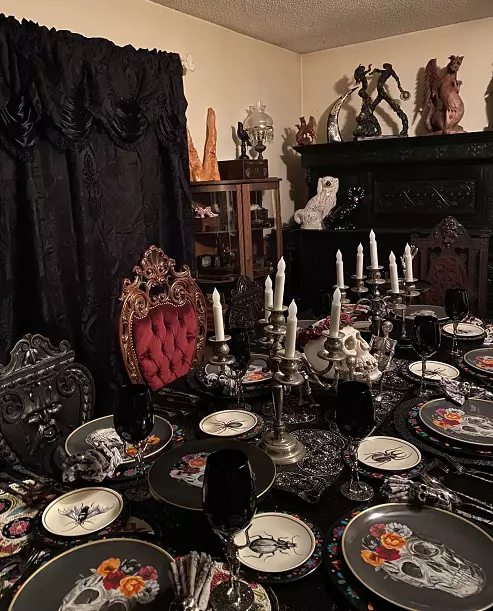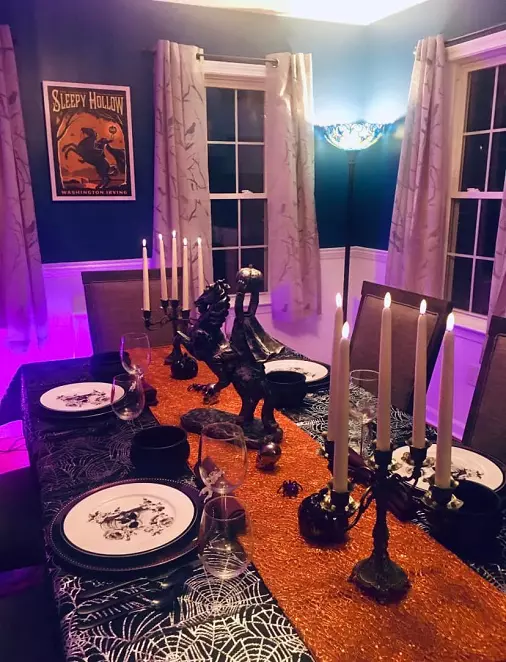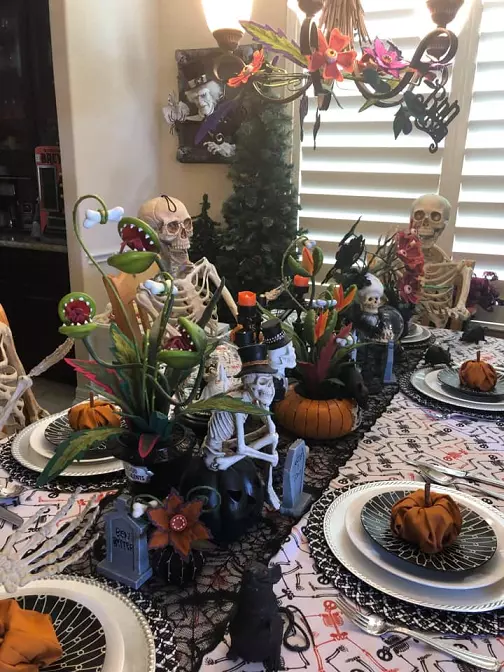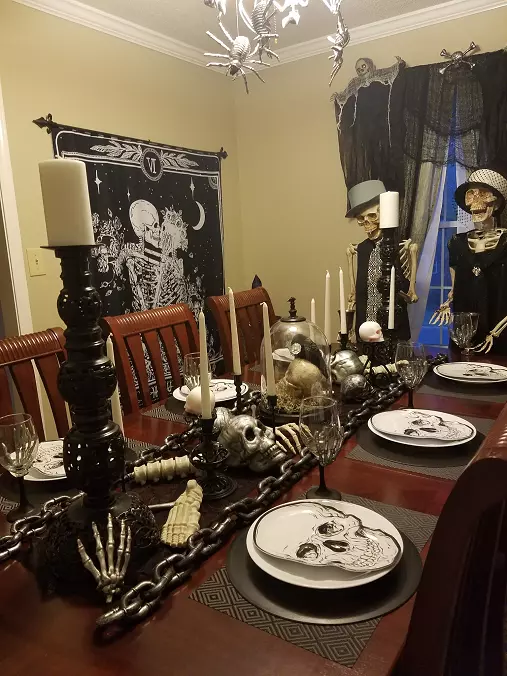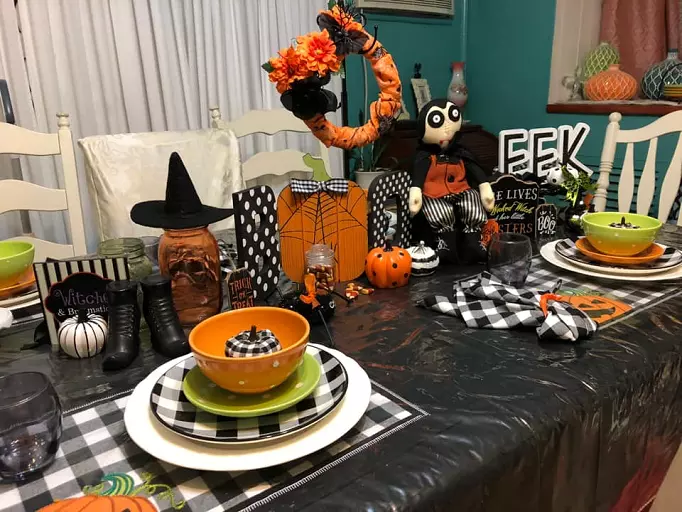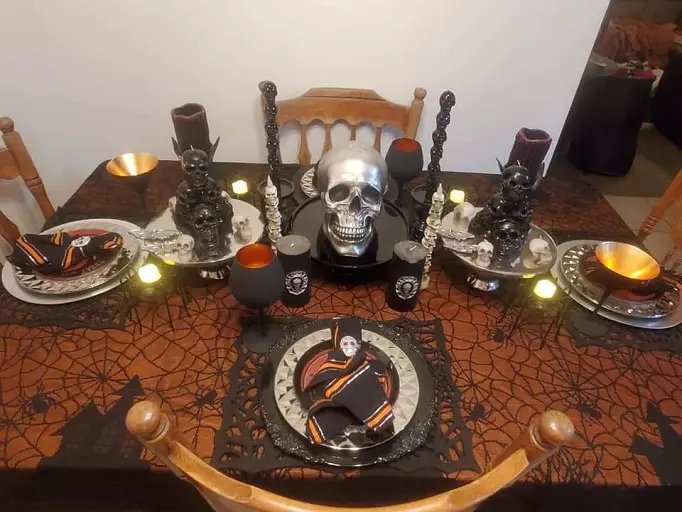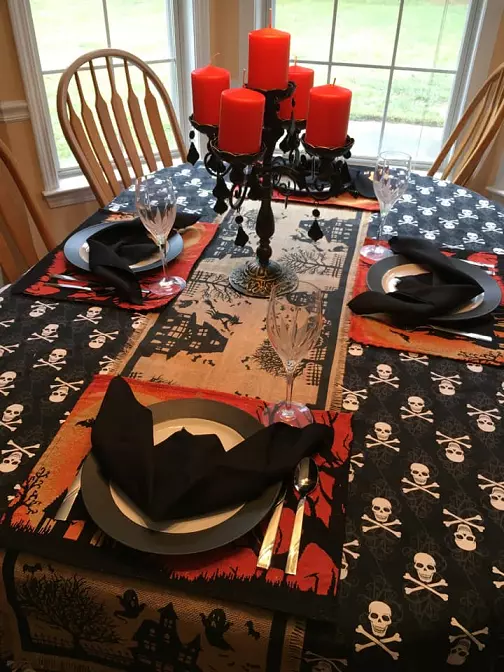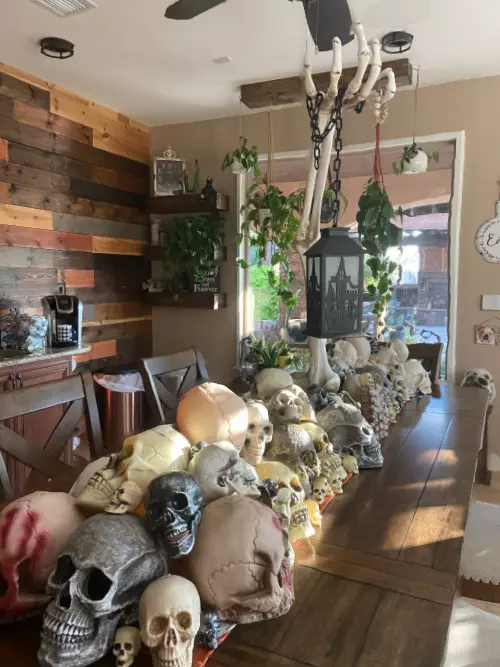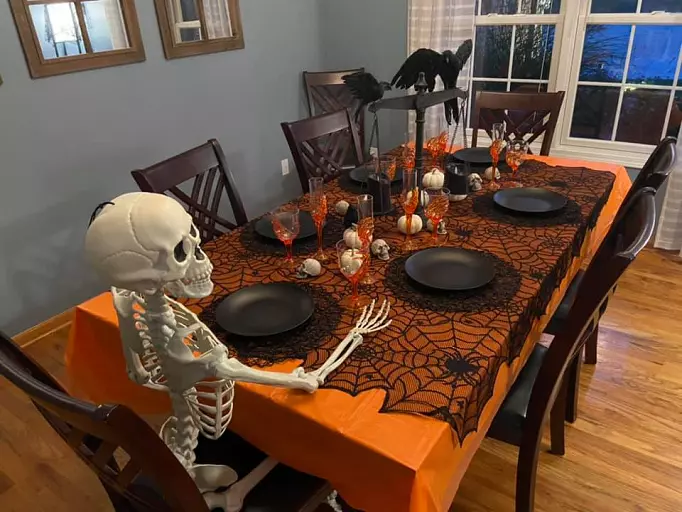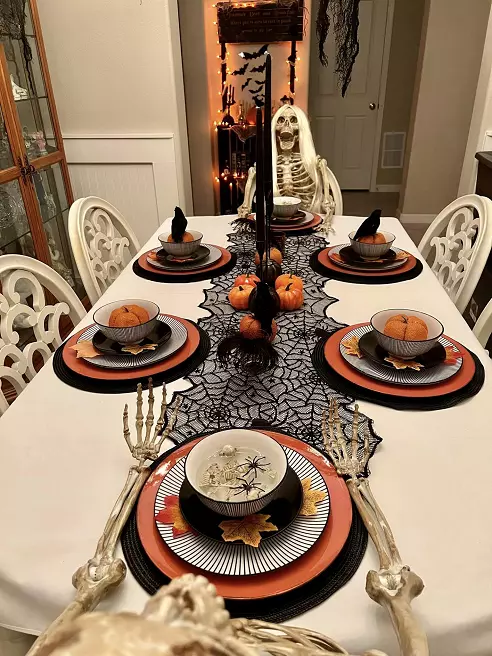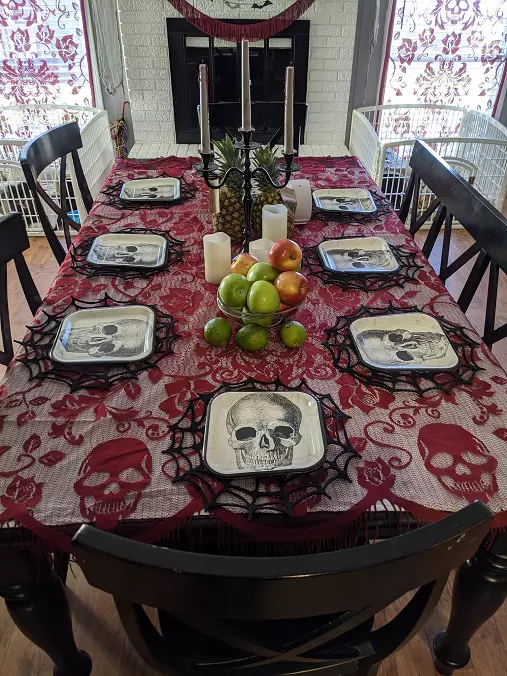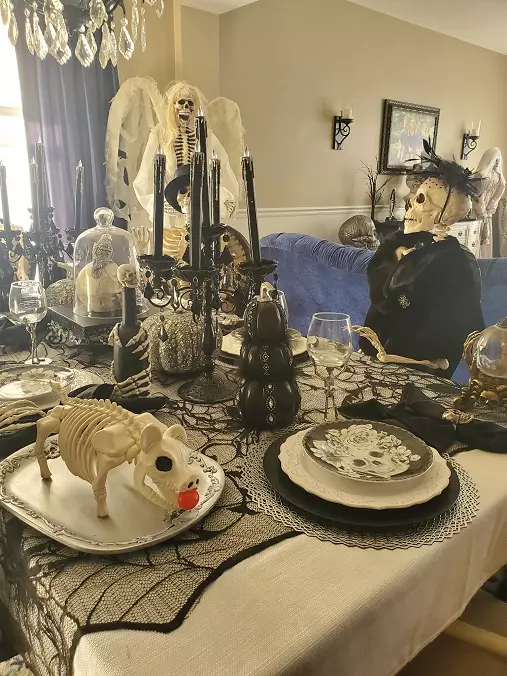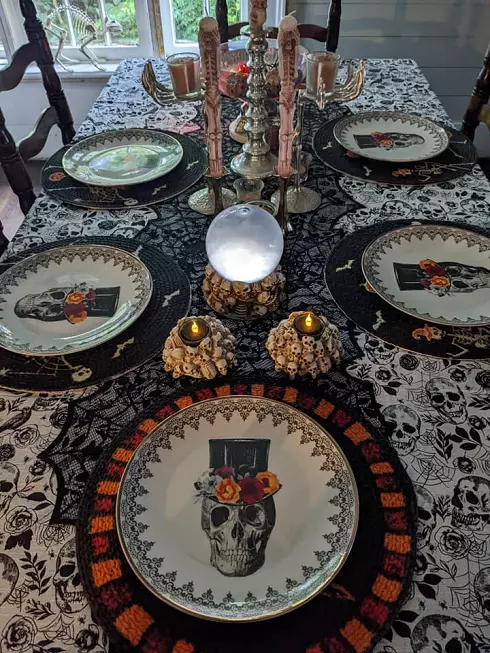 If this post inspired you with new ideas, please consider pinning the images to your Halloween Decorations board on Pinterest. It really helps me to reach more audiences.