Finally, spring is here. As the mother nature blooms with the gorgeous spring flowers.

It's the perfect time to give your home a refreshing makeover with these adorable DIY Easter wreath ideas for the front door.

Well, you can buy those expensive Easter wreaths from the stores but nothing can match the satisfaction of homemade wreaths.

And I'm sure, when your family and friends notice your Easter decoration, they will admire your creative skills. So get ready to be flattered.

These elegant Easter wreaths are super easy to make with inexpensive Dollar Store items like wreath frame, deco mesh, burlap ribbon or rustic grapevine. Make sure to check out the simple tutorials.

The best part of the handmade Easter wreath is you can experiment with colorful Easter eggs, fresh spring flowers, cute fluffy Easter bunny, and carrots to give the farmhouse decor style.

Let's jump right in!
Related Post – Creative Easter Basket Ideas
1. Easy Easter Egg Wreath
If you're on a tight budget and still want a stunning Easter wreath, try this easy Easter egg wreath using inexpensive Dollar Store plastic eggs and roll of ribbon. Get tutorial.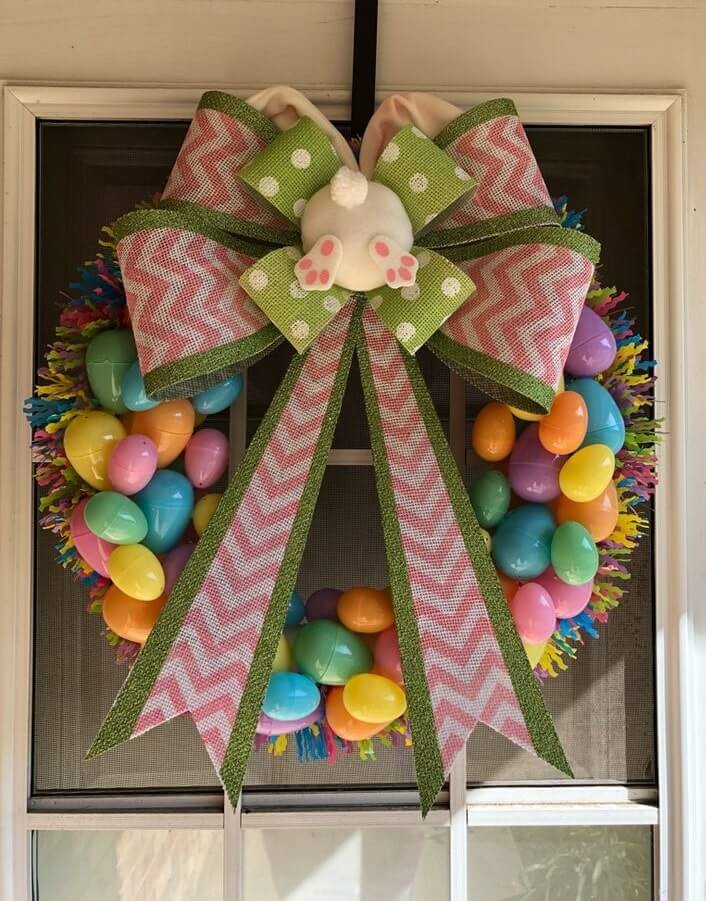 2. Adorable Easter Bunny In The Spring Grass
Take inspiration from a bunny on spring grass, wrapped burlap gives a farmhouse style decor. All using Dollar tree supplies. Get tutorial.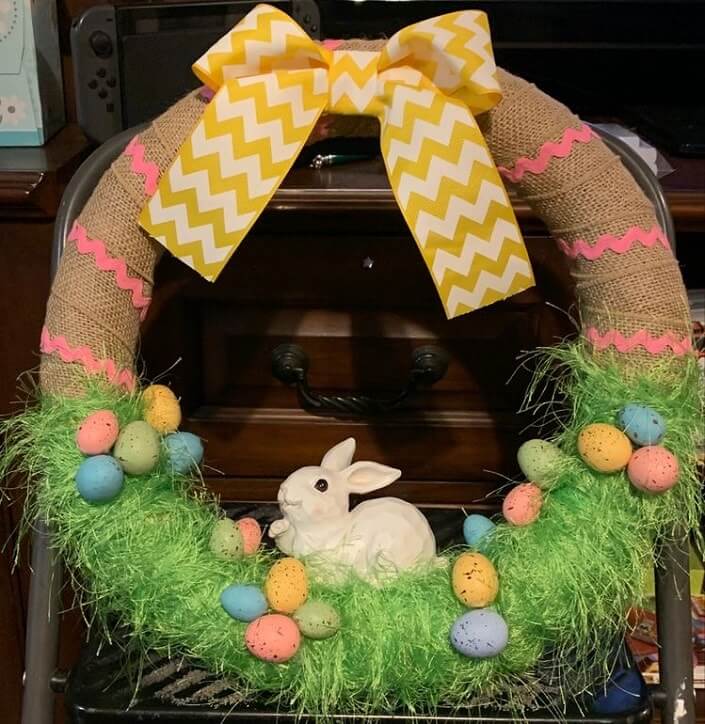 3. Beautiful Carrot Wreath
This classy carrot shape wreath perfectly matches with the spring theme. Very easy to make using orange tulips bushes and greens. Here's the tutorial.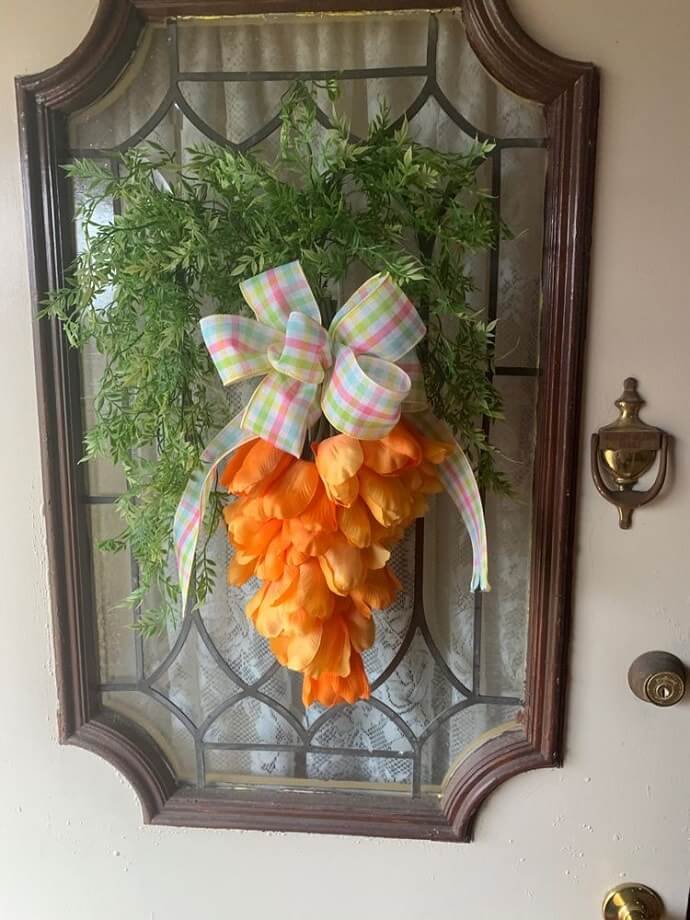 4. Easy Deco Mesh Wreath In Pastel Colors
Learn to make simple mesh Easter wreath in pastel colors decorated with glittering Easter eggs. Tutorial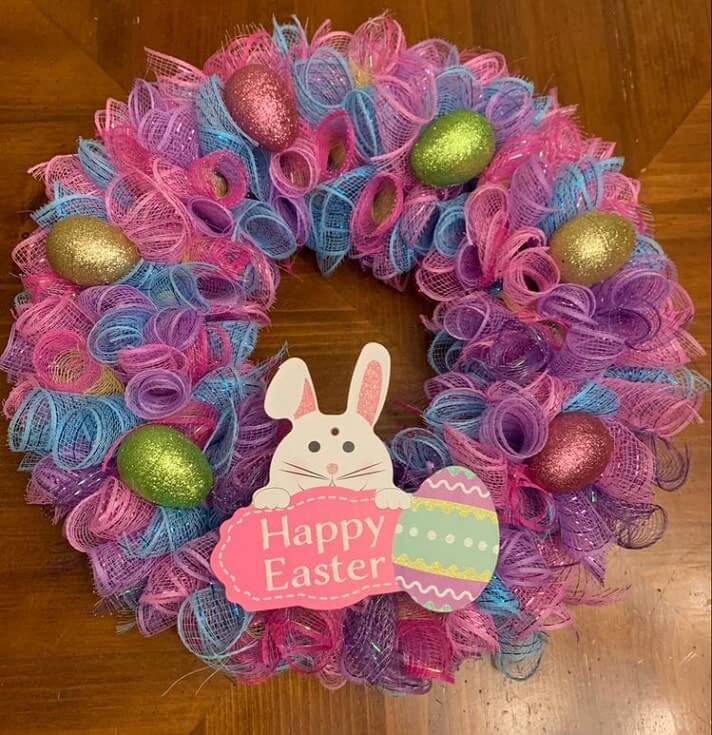 5. Cheap Easter Wreath Using Dollar Store Items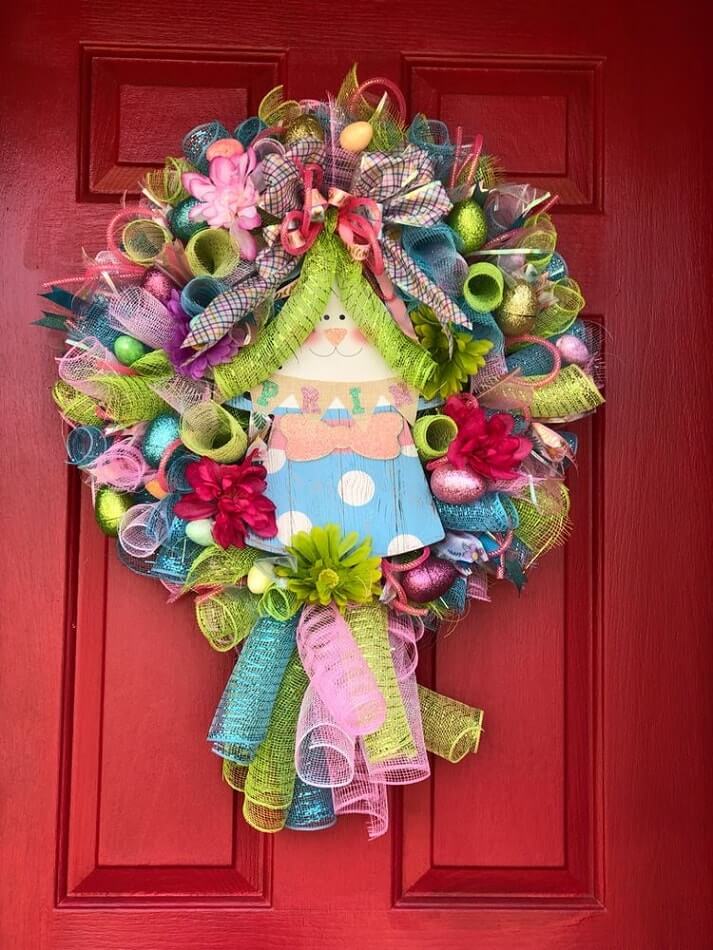 6. Deco Mesh Carrot Wreath
Another cool variant of carrot wreath using orange deco mesh ribbon to make this awesome wreath for the front door. Instructions here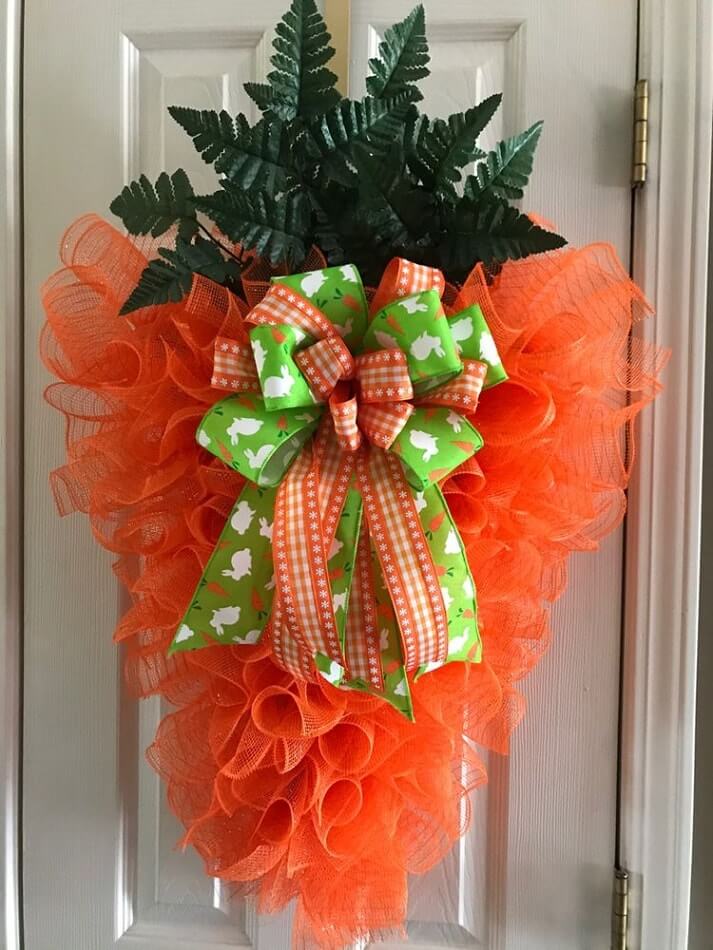 7. Easter Bunny Wreath Using Poof and Ruffle Method
Poof and ruffle method is a simple technique of using leftover mesh, where we add layers of mesh in the base of the wreath. The end product is just awesome.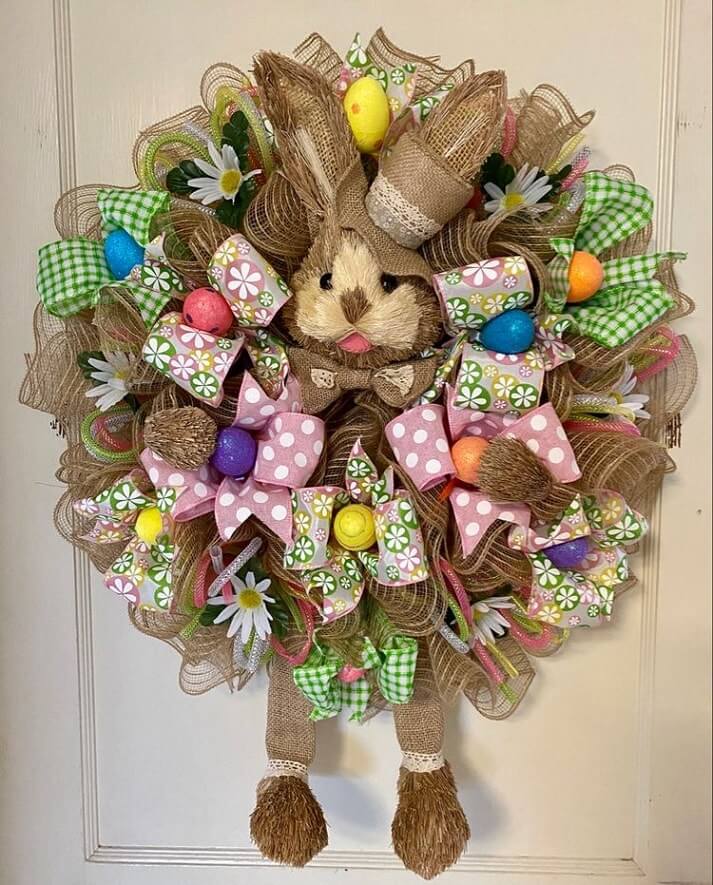 Tutorial guide
8. Farmhouse Spring Welcome Wreath
Try this farmhouse style spring welcome wreath with a lemon theme using yellow deco mesh and green floral ribbons with a welcome sign. Get tutorials.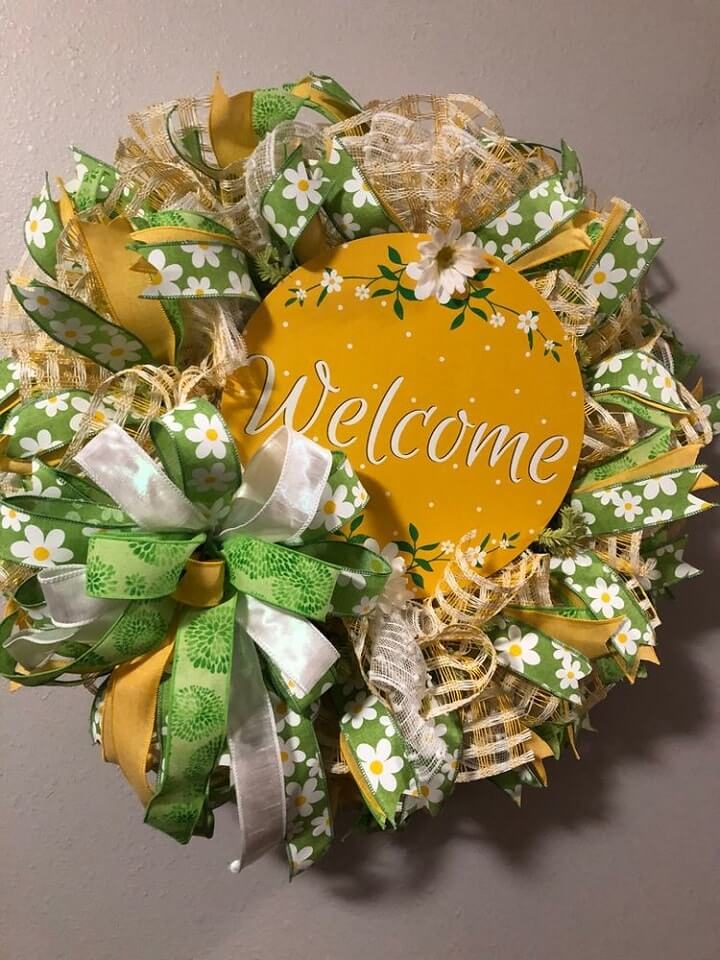 9. Spring Grapevine Wreath
Gorgeous spring grapevine wreath decorated with flowers and creative burlap bow. Find the guide.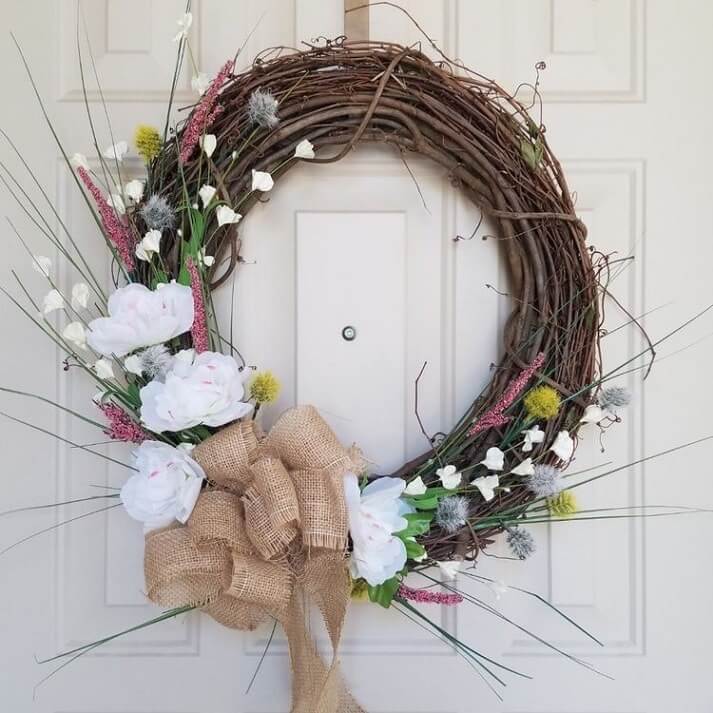 10. Floral Wreath
A simple spring floral wreath using straw wreath base decorated with lots of fresh flowers, green and polka dot eggs.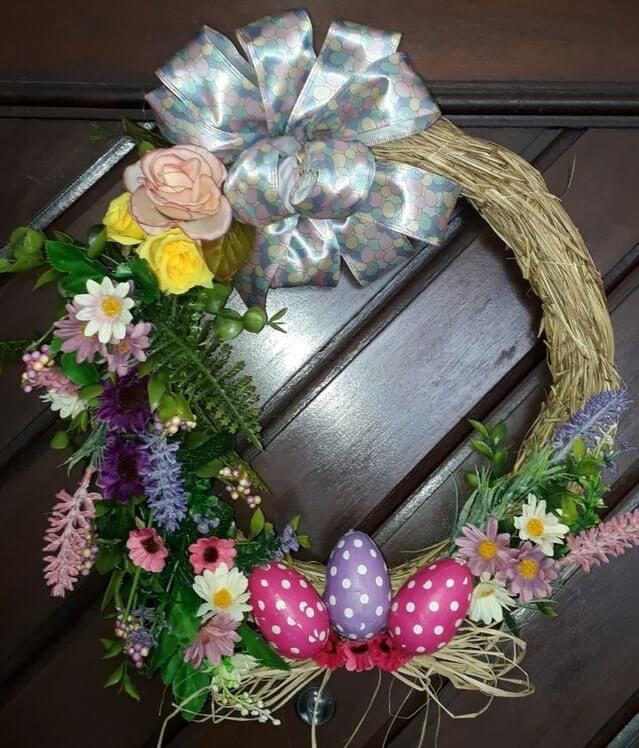 11. Cute Easter Truck Wreath
A perfect Easter wreath for the front door inspired by Pinterest ideas. The Easter truck wreath is very easy to make with Dollar Tree supplies, just follow the instructions.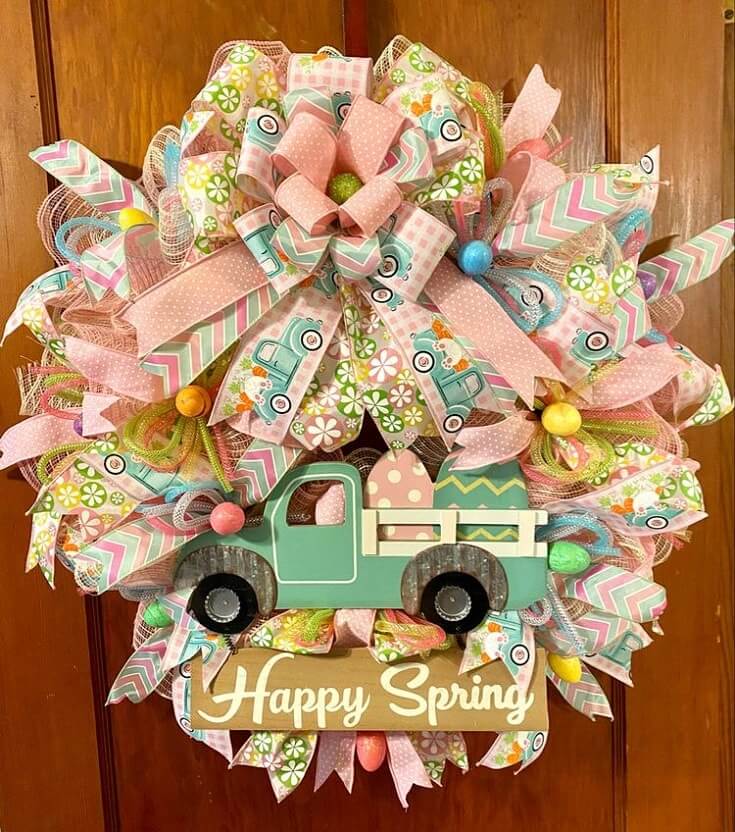 12. Nature Wreath With Tree Branches
Make this nature wreath by tying the tree branches and decorate it with fresh spring flowers, ribbon and green. Instructions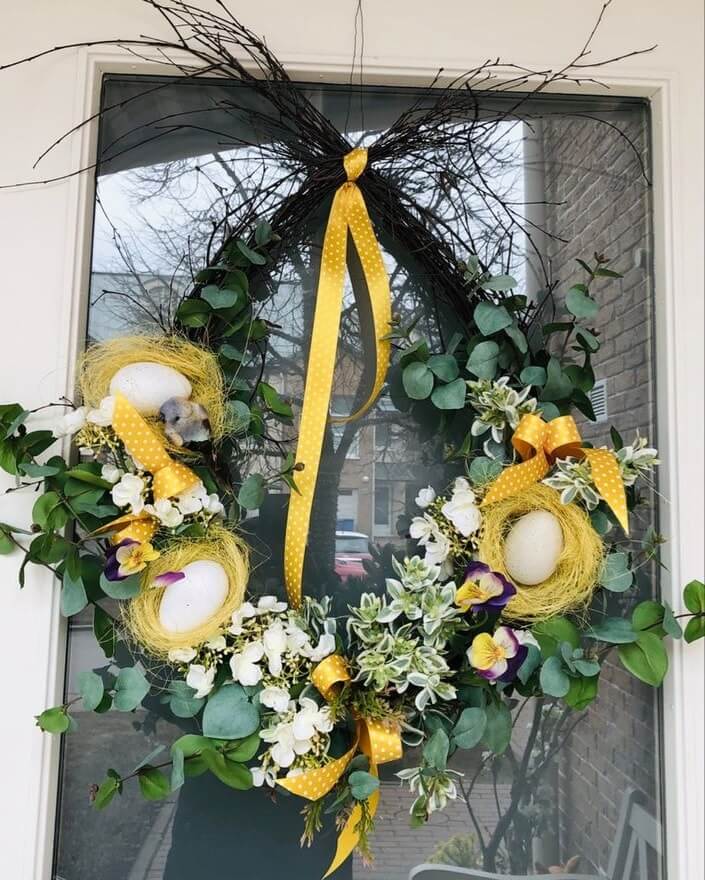 13. Bubble Mesh Wreath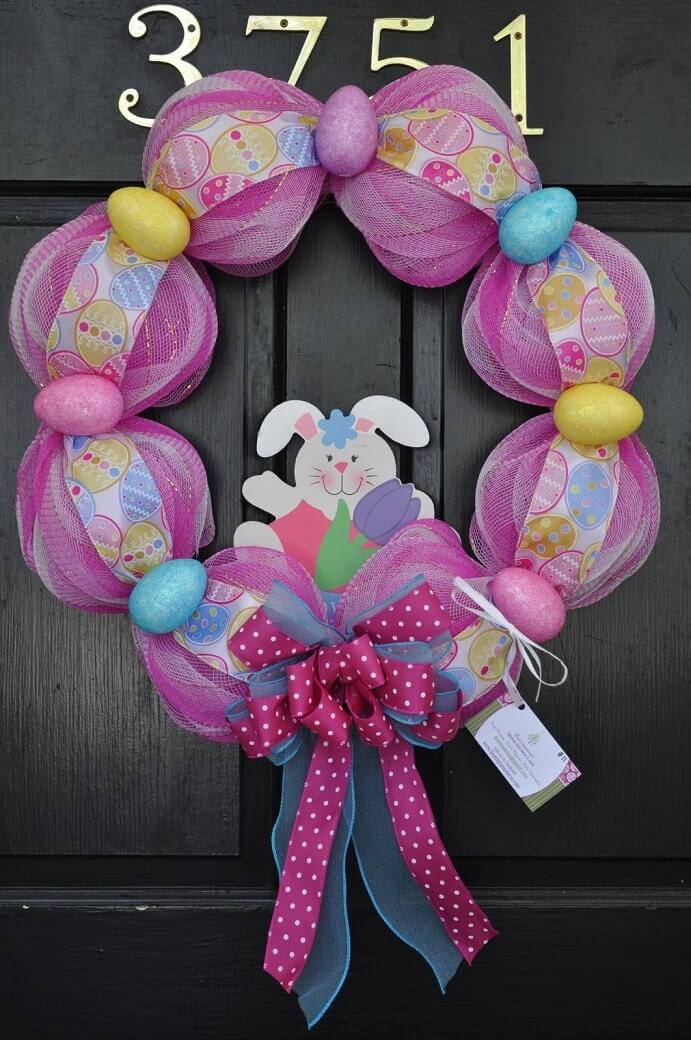 14. Floral Picture Frame Wreath
You can easily get this picture frame from hobby lobby, decorate it with some fresh spring flowers, greens and ribbon. Place a bunny and your door hanger wreath is ready.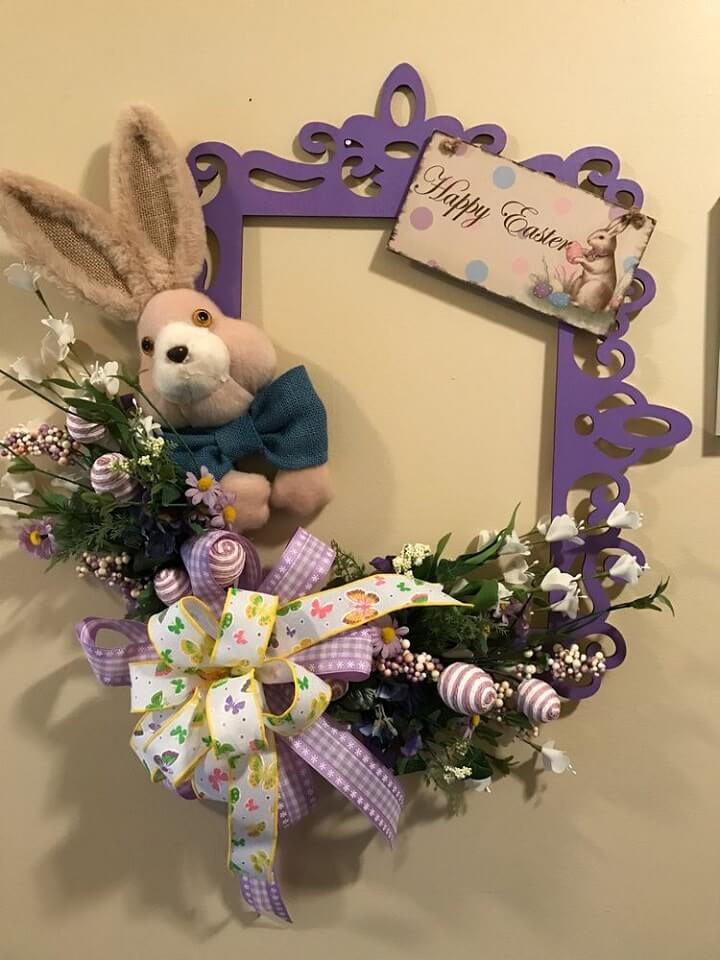 15. Umbrella Wreath
Umbrella wreath is a very creative way of flower arrangement for spring decoration. It is very easy to make and the color contrast of umbrella really goes well with the fresh spring flowers. Try it.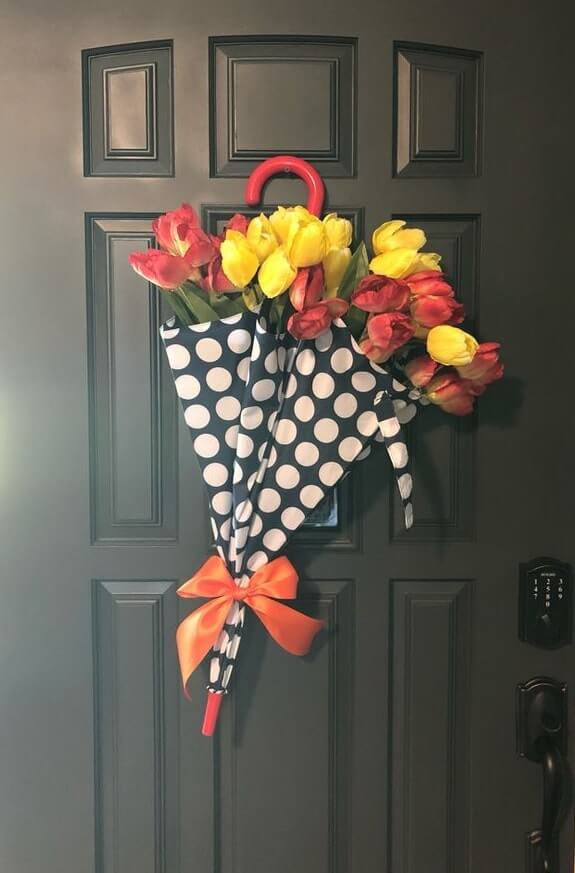 16. DIY Rope Wrapped Spring Floral Wreath
This beautiful wreath can be easily made with Dollar Tree supplies. Wrapping rope on wreath form gives a rustic look. Learn the technique.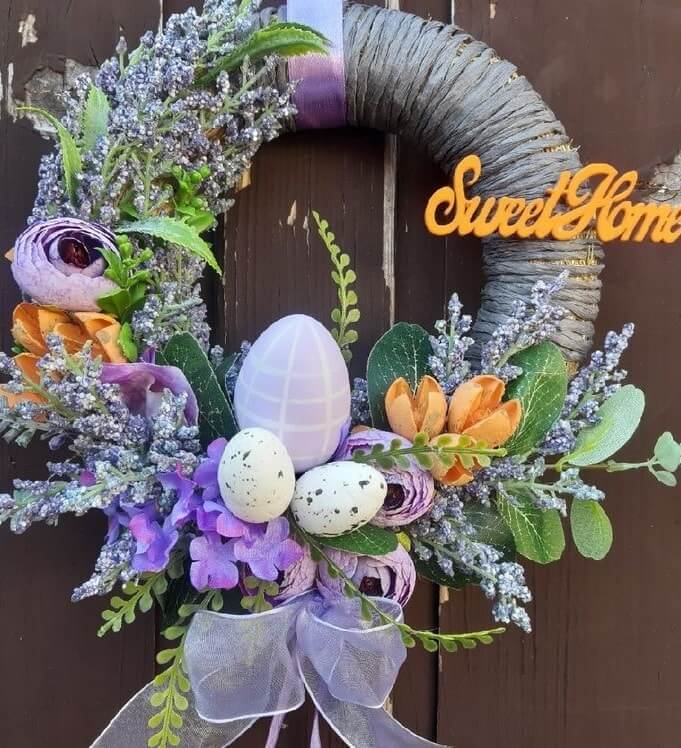 17. Easter Bunny With Purple Tulips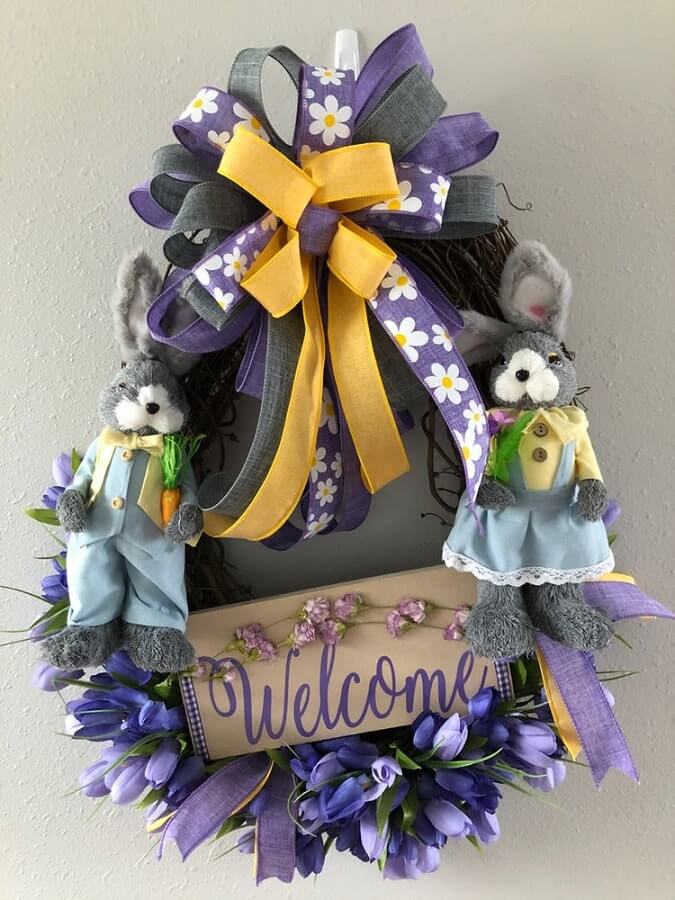 18. Bunny Grapevine Wreath
Learn how to make this cute bunny grapevine wreath, decorated with greens, egg and a funky bow. Tutorial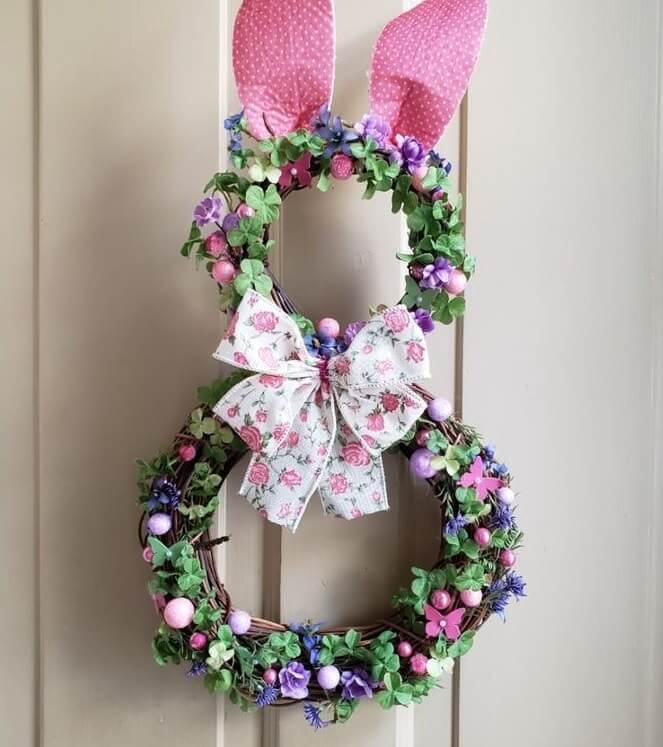 If you enjoyed these Easter wreath ideas or want to save it for your inspirations, Please Pin it on Easter Wreath board on your Pinterest.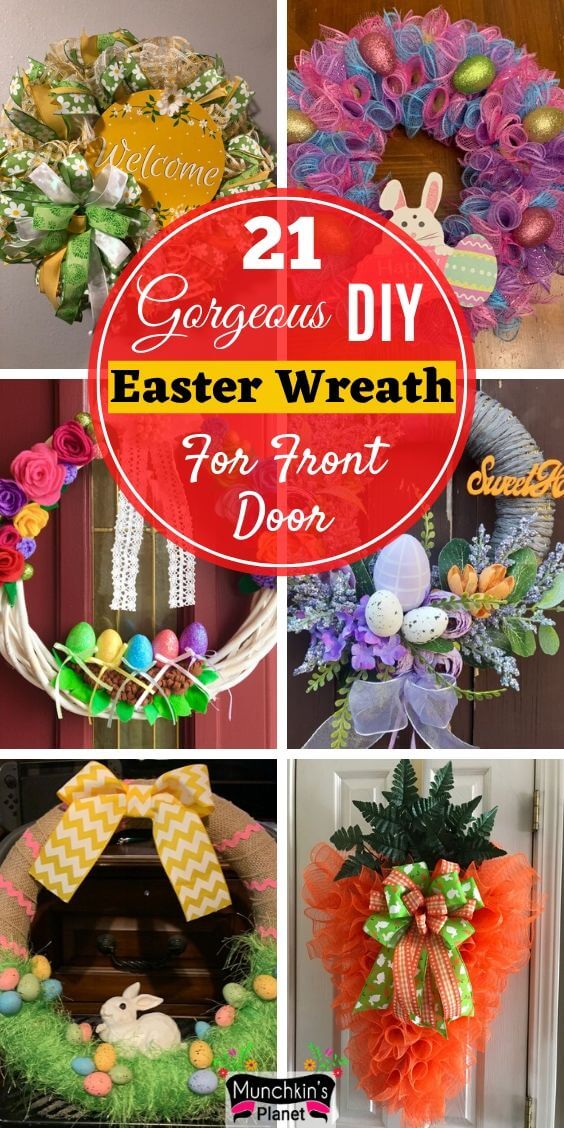 Related Post – Easter Egg Decorating Ideas