75+ Easter Basket candy alternatives that your kids will love
This post may contain affiliate links. Please read the disclaimer.
I can't express in words, the sigh of relief I get from the warmth of the sun after a long frosty winter. The floral scent in the air. Finally, spring is here.
There is so much planning in our heads, Easter decor, new hideouts of Easter egg hunts. How can one forget about the Easter basket?
My kids love all the goodies in the basket, but my concern is sugar-high candies, chocolate bunny, and jelly beans.
Being part of Easter tradition candies are inevitable, It's in the Easter party, the egg hunt, and the gift basket. You name it.
And I'm sure, you also don't want to encourage unhealthy eating habits in kids with the candy-rich Easter basket fillers.
So, what are the non-candy alternatives you can put in their Easter basket? And would they like it?
Here, I've put together a list of non-candy Easter basket ideas, that your little bunnies would love. There is something for everyone on this list.
what can I put in my easter basket non-candy alternatives to look full?
There are plenty of creative ways to fill your Easter basket with non-candy alternatives. It also depends upon which age group your basket is for. Preschoolers and toddlers love fun activities, so you can look for educational STEM activity toys.
In the same way, basic baby supplies and essentials are the best stuffers for a baby's first Easter basket. For boys Easter baskets, besides candy, you can look for building blocks, books, fun board games. I have covered the entire list below.
What about the Tik Tok lovers and Insta fans? I have also covered the teenagers in this list. They are tech-savvy, so check out the latest gadgets and tech toys to inspire them.
What to put in an Easter basket for a toddler (1-2 year old)?
There are tons of clever non-candy Easter basket filler ideas for toddlers. You can start with simple art and craft supplies, Pjs, books, cool backpacks, sunglass, building blocks, Lego, stuffed animals, and so on.
Plus you can also pick educational activities games such as kinetic sand, play dough, foam alive for sensory play, or STEM activities to improve their fine motor skills. Check out the fun list to inspire your toddlers: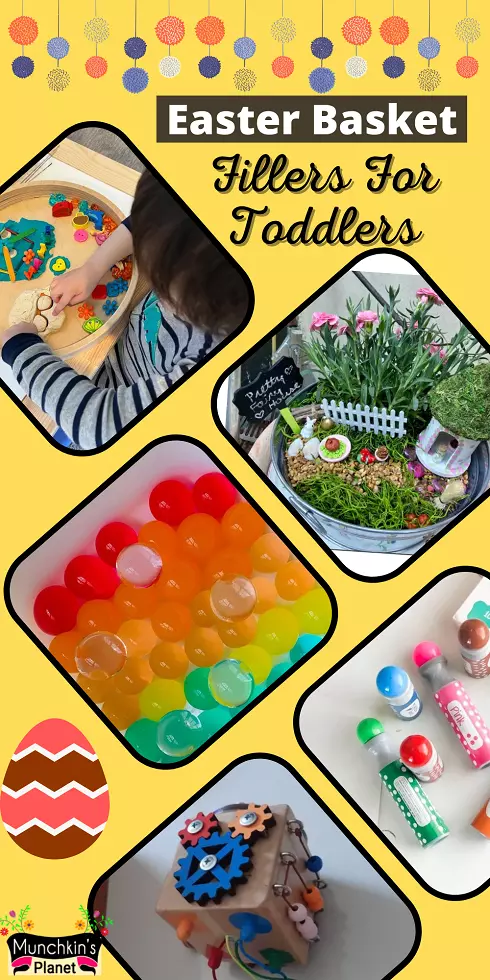 Give shape to your imagination with play-doh
Mold your favorite animal with the mold clay set
Cool fluffy foam alive for sensory play
Fun Educational set to improve sensory and fine motor skills:
Counting bears and color matching set
Activity cube set for counting and math skills
Pipe play toddler's bathtub fun activity
See your animal grow bigger in water
Cute animal and fruit design hair pins for girls
Easter-themed books are always a hit!
Pete the cat big Easter adventure
What to put in baby's first Easter basket?
For a baby's first Easter basket you need to be selective to pick only those items that are useful to the baby and mom. Start with basics like – baby wipes, cute PJs bodysuits, bibs, bath toys, stuffed animals, and sensory toys.
Practical items like – training cups and spoons, bibs, baby lotion, pacifier, teething toys, socks, and booties. Some of the fillers are even good for preschools. Check out the detail list: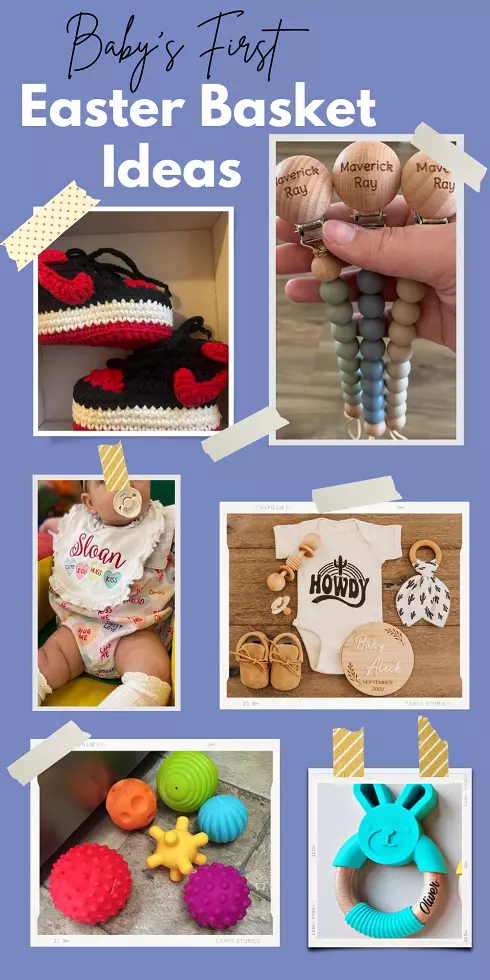 Personalized bunny teether toy
What do you put in a boys Easter basket?
I completely agree, putting together a boys Easter basket is the hardest part. The toys we select fails to impress them. To help you out I have some inspiring suggestions. Starting with educational games that are are engaging, medieval castle building blocks, board games, books, and puzzles.
Let their creative juices flow with paint sticks, dot markers coloring pens, LED light and tracing pad, sidewalk coloring chalk, activity workbook, and scratch art notes. They are not limited to boys, you can also consider them to fill girl's Easter baskets too.
Art supply kit for DIY crafting
Easter eggs color and shape recognition puzzle gift
Dinosaur backpack with a cool plush toy in the harness
Medieval knight wooden castle building blocks
What to put in an Easter basket For teenagers?
Shopping for a teenager's Easter basket is one of the trickiest things, especially when considering your budget. Sure candy might work for some teens. They're too old for Easter eggs, coloring sticks, toys, books, or board games. Today's 13 year old boys or elder guys are more interested in cool gadgets, music, and gaming stuff.
So here are some of the unique Easter basket ideas for teenage guys. I have cherry-picked a few trendy ideas like the game controller, drone, gaming headsets, and other cool tech products.
Cool game controller for mobile gaming
Spotify premium subscription
3d printing pen for teen artist
Magnetic Levitating Globe with LED Light
What do you put in Easter baskets for teen girls?
I'm sure you'll agree with me, reading the minds of teenage girls is as difficult as finding gifts for their Easter hamper. You should know the trendy things that inspire them. I'll tell you what they exactly like. Teen girls spend a lot of time learning makeup tutorials and hairstyles on Instagram, get them makeup kit and hair accessories.
They also love the cool techy gadgets like – a selfie photo printer, Bluetooth karaoke microphone, and AirPods. They're crazy about music so look for Bluetooth speakers. Some are BTS fans so, look for BTS backpacks.
Tweens love room aesthetics and decor, get them color-changing light strips and photo clip fairy lights to decorate their bedroom. Check out more creative Easter basket filler ideas for teenage girls.
Tile mate bluetooth key finder
If you enjoyed these ideas or want to save them to try later, Please Pin it on the Easter basket board on your Pinterest.