19 DIY Easter Basket Ideas For Kids & Toddlers
This post may contain affiliate links. Please read the disclaimer.
Easter is around the corner and this is the perfect time to find inspiration for the unique homemade Easter basket for kids, toddlers, and adults.
There are tons of ideas for designing a DIY Easter basket when it comes to kids and babies you have to make sure their Easter baskets are full of pastel colors, an Easter bunny, and cute little goodies to bring a smile to you their faces.
As the toddlers and kids are busy with the egg hunt, Easter baskets for adults and teens need to be full of fun and thoughtful things with a practical approach.
For starters, here you'll find simple and easy creative inspirations to make a baby's first Easter basket stuffed with chocolate, candies, toys, and useful things.
These beautiful personalized Easter baskets include a baby swing Easter basket, handmade string egg basket, and no candy Easter baskets using Dollar Store items inspired by Easter decorations.
Theme-based popular Disney character-based Easter baskets for girls like Frozen easter basket, Trolls Easter basket, tutu Easter basket, and unicorn basket ideas. And don't forget those Easter eggs.
For boys and teenage guys, the Easter basket is full of action pack things like the Avengers Easter basket, Spiderman, Batman, baseball, summer beach, pool toys, and practical gifts.
Ready? Let's dive in!
Related Easter Posts:
Easy DIY Easter Wreath Ideas
DIY Dollar Store Easter Decoration Ideas
1. Trolls Easter Basket
Troll's theme Easter basket has been in Trending among the kids. It looks gorgeous and attracts kids very often. The basket is based on queen Poppy, fill the basket with Trolls toys, candies, and gift items. Order this cute Easter basket.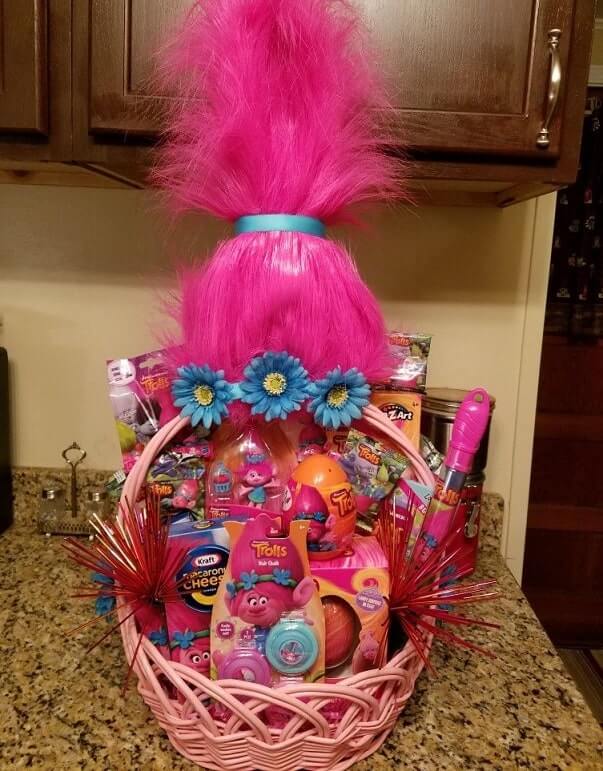 2. Rain Boot Easter Basket
Very unique and creative Easter basket idea using rain boots, fill them with some peeps, treats, and candies. You can also opt for no-candy items like Easter eggs, stickers, crayons, and coloring books for kids. Get this basket from here.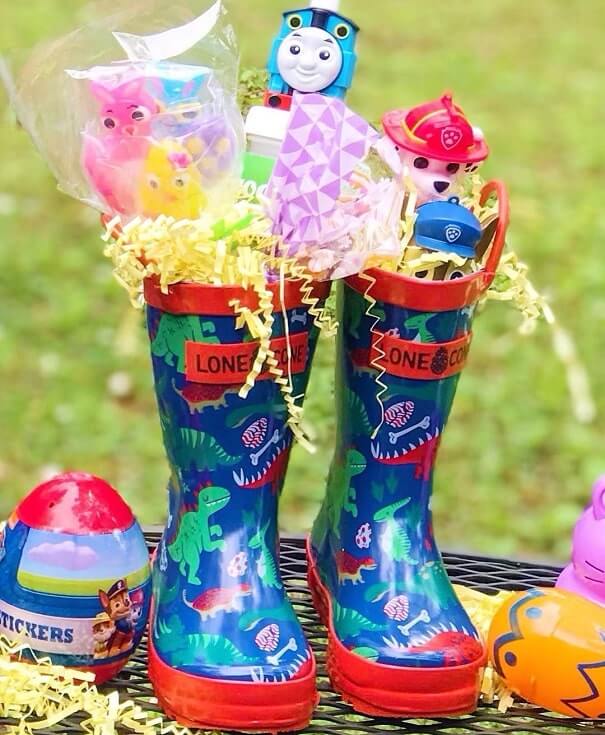 3. Handmade T-shirt Yarn Crochet Easter Basket
Unique Easter basket that is handmade with recycled T-shirts using crochet. They come in adorable pastel colors with a custom wooden bunny tag of your kid's name. Order it from Etsy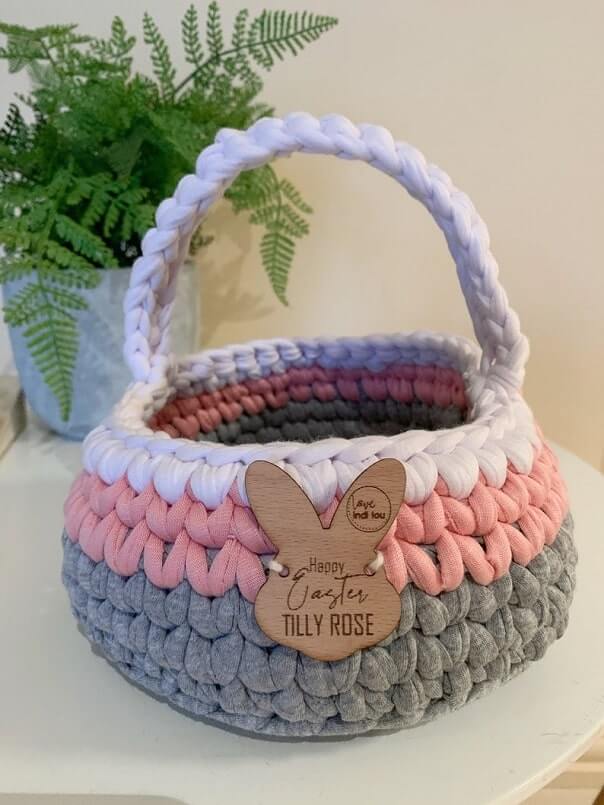 4. Umbrella Easter Basket
Another no candy super cool idea is an umbrella Easter basket. You can try this for boys and girls. Boys love superheroes. Get some of these superhero umbrellas for boys:
Check out girl's favorite characters for the umbrella basket
They look pretty, colorful, and super easy to make. All you've to do is fill the umbrella with kid's favorite superhero character toys like batman and spiderman, and add goodies like puzzle books, stickers, and sports balls that kids love.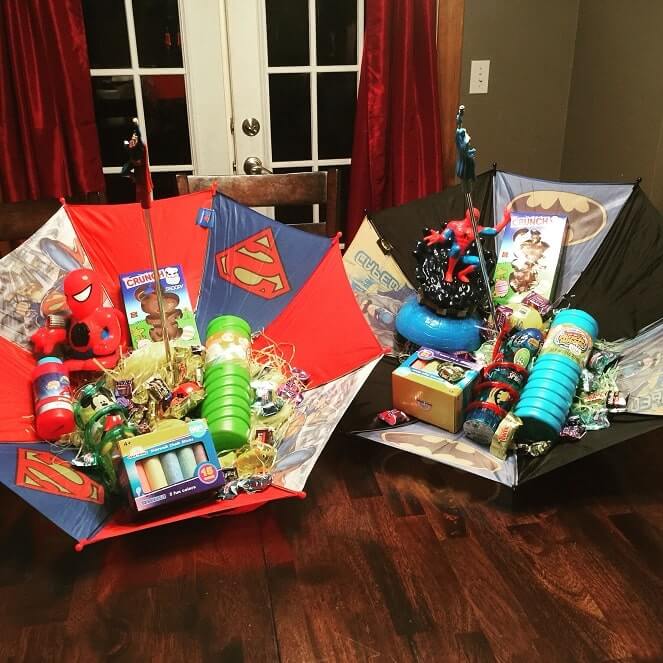 5. Mason Jar Easter Baskets
Think out of the box, try this gorgeous mason jar basket, and fill them with colorful m&m eggs, Easter cone treats, and chocolate bunnies.
Instructions:
1. Get these clear glass jars
2. Decorate the jar with daisy flower heads on top and tie polka dot ribbons on the neck
3. Now comes the best part, fill the jars with all the goodies that kids love. Since the jars are clear glass you can experiment with items of pastel colors plus some vibrant colors. Fill the jars with: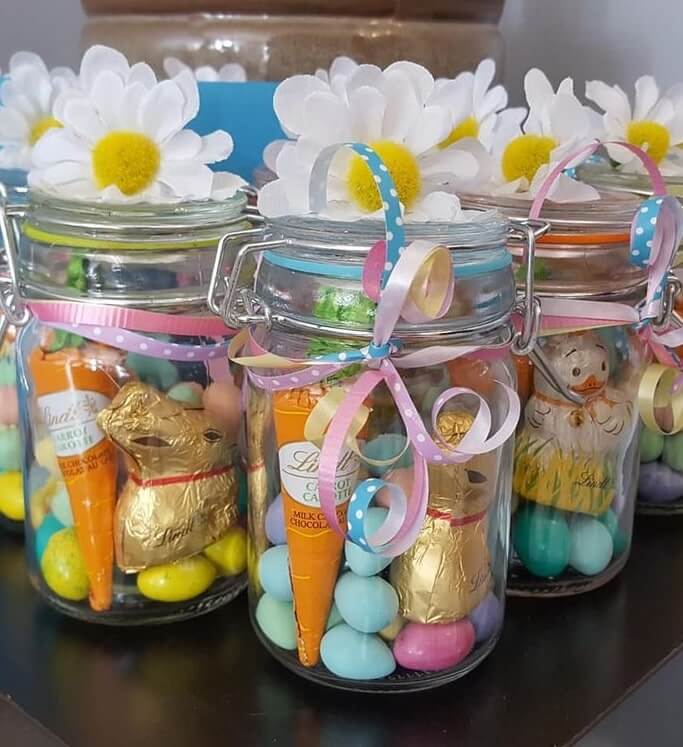 chocolate bunny in a mason jar
There is another way to fill the glass jar. Take a few Easter grass, place it at the bottom then put the chocolate bunny in the middle. Fill the jar with colorful jelly beans or chocolate eggs.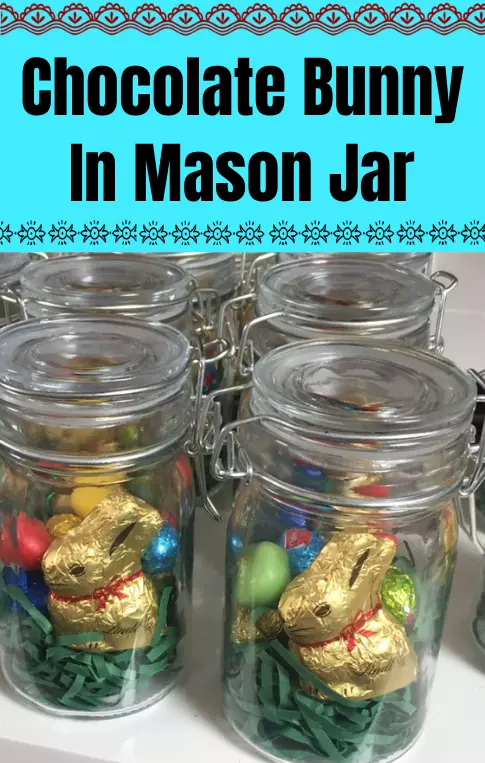 6. Basket Ball Easter Basket
Basketball theme Easter basket is full of all the favorite sports snacks and candies. It has got caramel popcorn, chocolate-dipped pretzels, lots of chocolate Oreos, and fudge. Check out this Easter basket.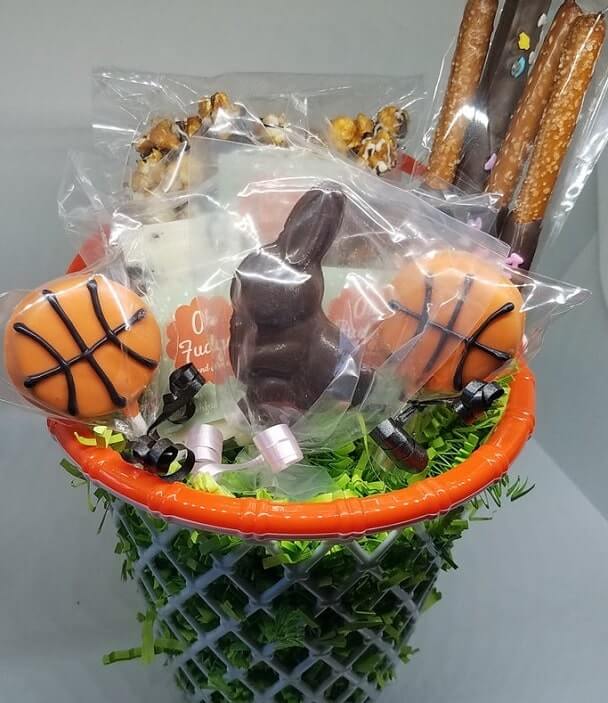 7. DIY String Easter Basket
Learn to make the egg shape Easter basket with the string and decorate it with colored paper butterflies and flowers. Tutorials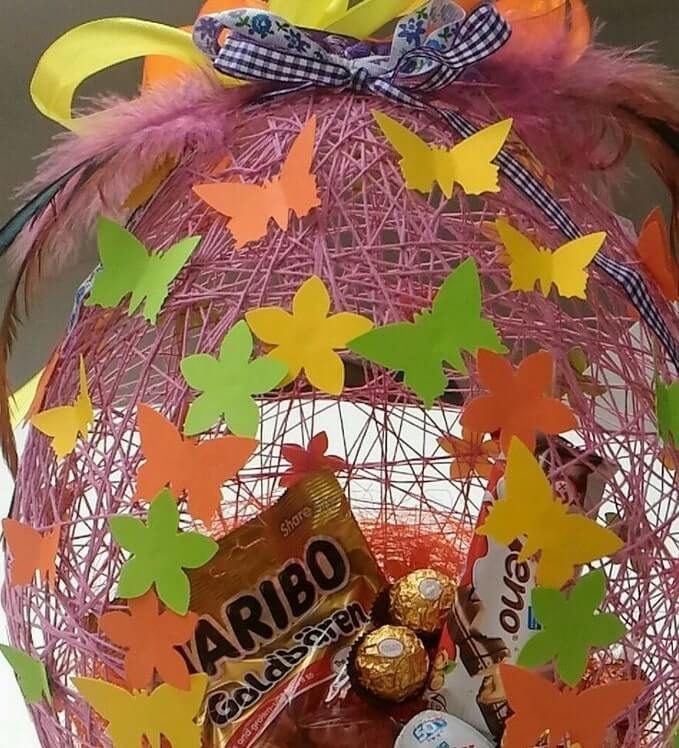 8. Minnie Mouse Easter Basket
Staying with the Disney theme, try this pretty Minnie mouse Easter basket this year to surprise your kids. Get this Minnie mouse Easter basket. If you love DIY here is the guide.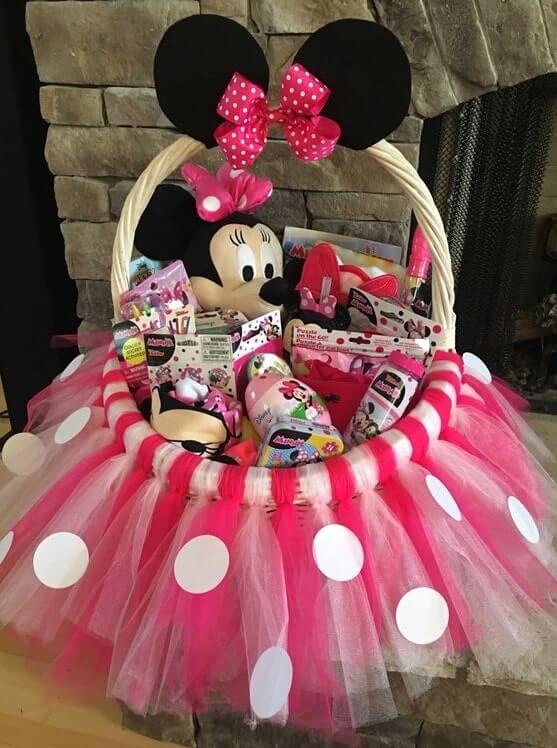 9. Peeps Marshmallow Easter Basket For Kids
The fact is all kids love marshmallow peeps, using this theme make these unique Easter baskets using cute peeps and fill them will all the goodies. Get these candy baskets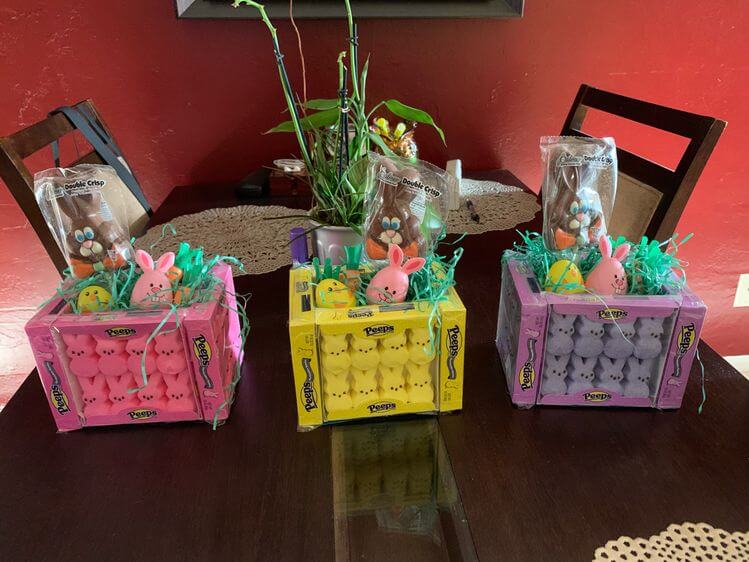 10. Frozen Easter Basket
Inspired by my favorite Disney character, find inspiration for a girl's Easter basket. Frozen Easter basket is a collection of all the goodies based on Elsa & Ana's characters including bracelets, dolls, jewelry, and other treats. Check out this basket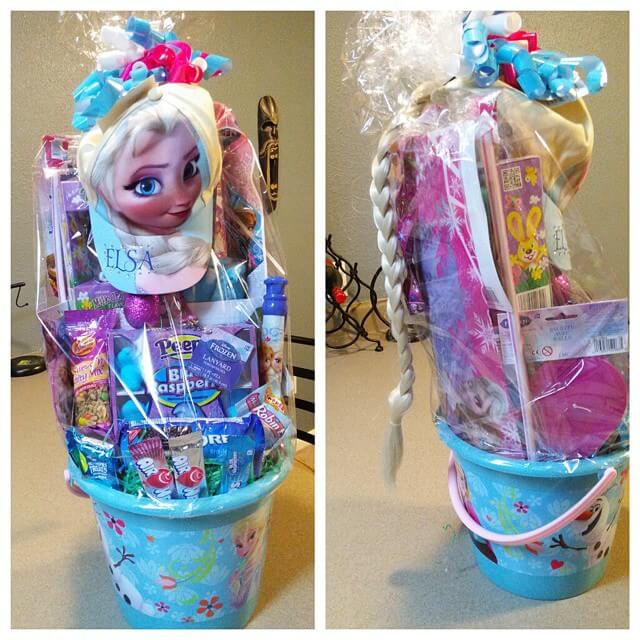 11. Easter Basket Candy Cake
This Easter basket candy cake is made with kid's favorite candy and treats. Topped with Easter Peeps, chocolate eggs, toys, and all other goodies that your little ones love. Check out this candy Easter basket.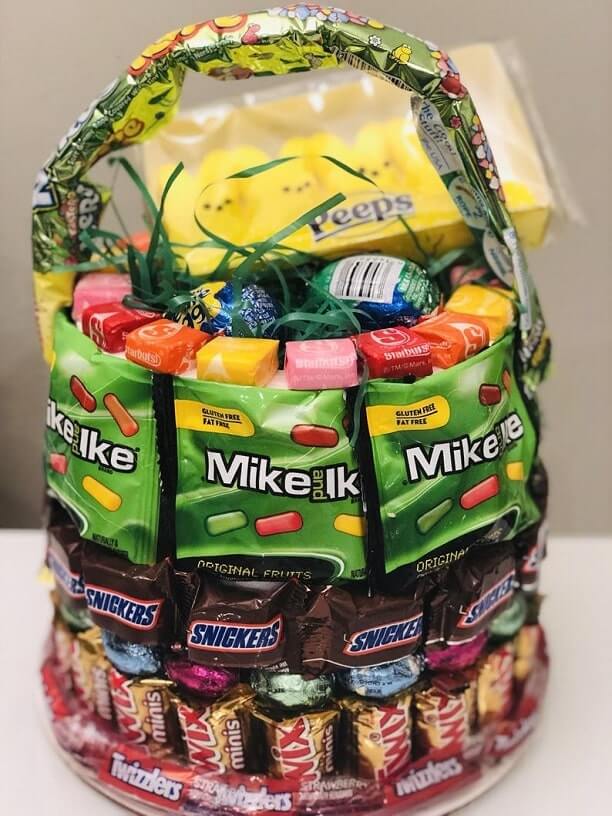 12. Hello Kity Easter Basket
Inspired by the Hello Kitty theme, this basket is full of all the goodies that kids love. Take a willow basket, and paint it with pink spray paint. The main point of attraction, place the Hello Kitty plush toy in the center and fill the basket with pink candies, kid's accessories, and toys.
Supplies you need:
Fill the basket with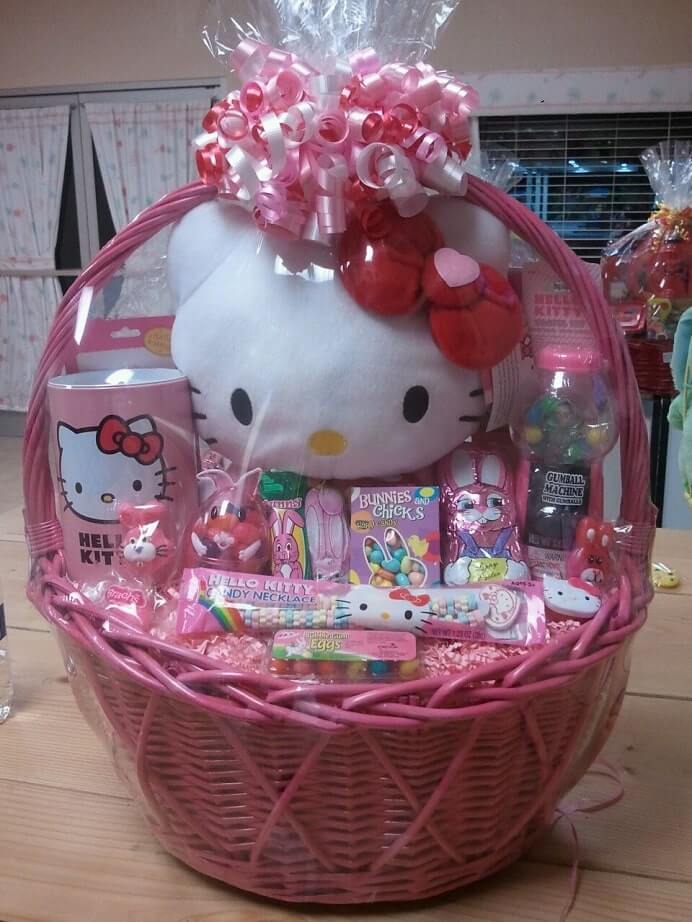 13. Flower Basket
This is a super gorgeous flower basket for Easter. Decorated with artificial Eggs, greenery Bunny, and paper flowers. Check out on Etsy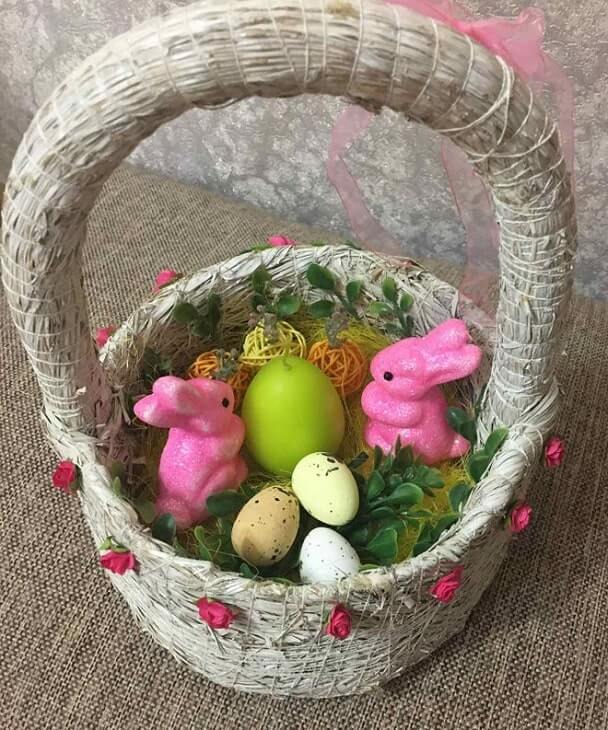 14. Wicker Basket For Girls
This cute pink wicker basket is perfect for girls. Decorated with paper flowers and ribbon. Fill it with Easter eggs, toys, and goodies. Check on Etsy.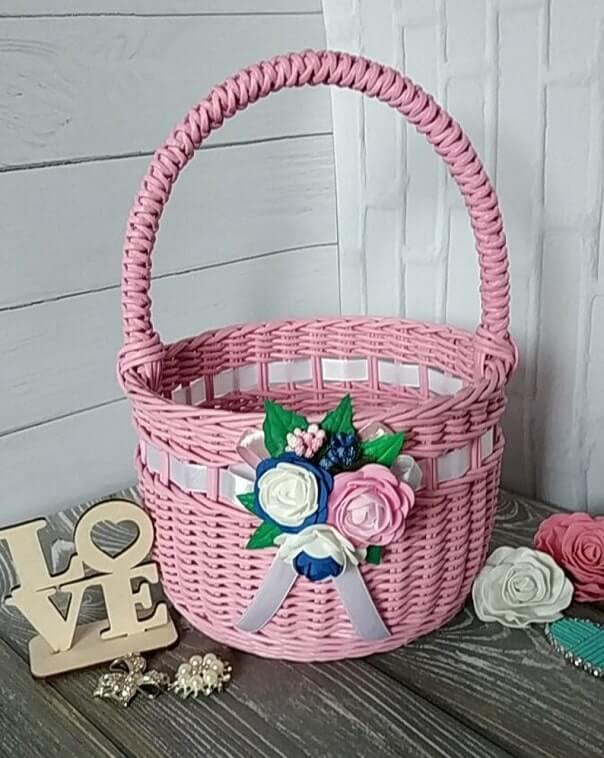 15. Personalized Easter Buckets
Learn how to make those DIY personalized Easter buckets. Tutorial. Check out these personalized baskets.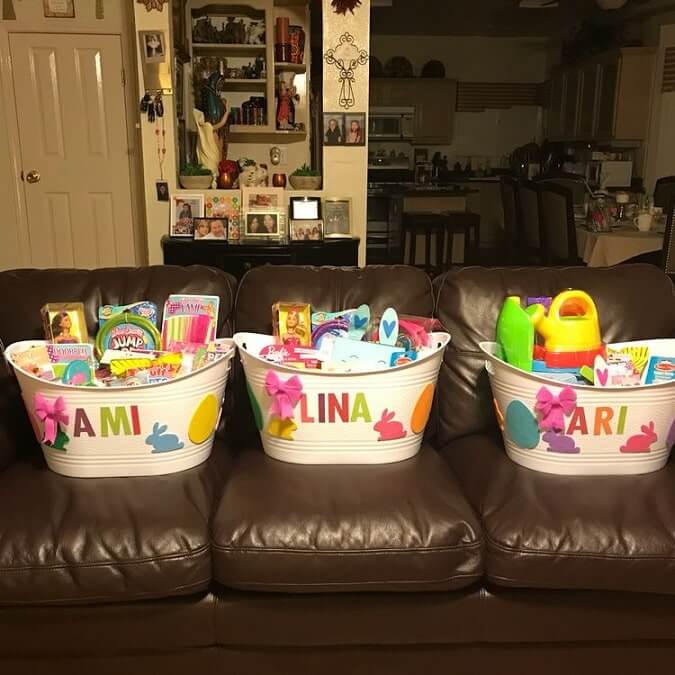 16. Beach Towel Bunny Easter Baskets
Learn how to make this simple beach towel Easter basket. Roll the two sides of the towel to the center to give a bunny shape and attach a swimming goggle at the end to keep those folds in place. You can add candies, toys, eggs, and other Easter goodies inside the basket.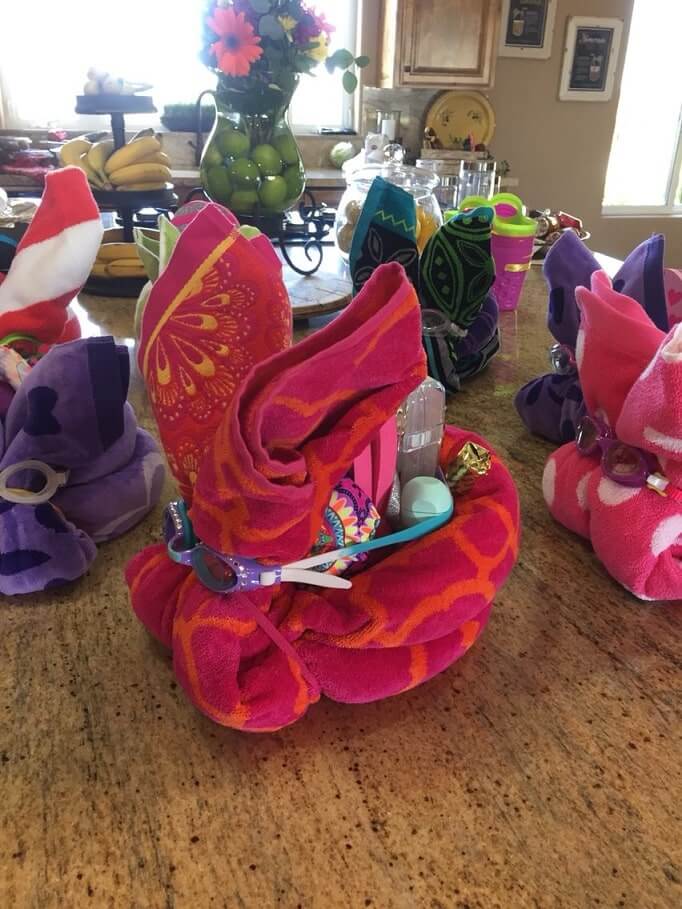 Tutorial video
17. Baby Swing Easter Basket
If you're looking for a practical Easter basket for a toddler or baby, you should try a swing Easter basket. It is easy to make and you can pick the toys and goodies of your choice.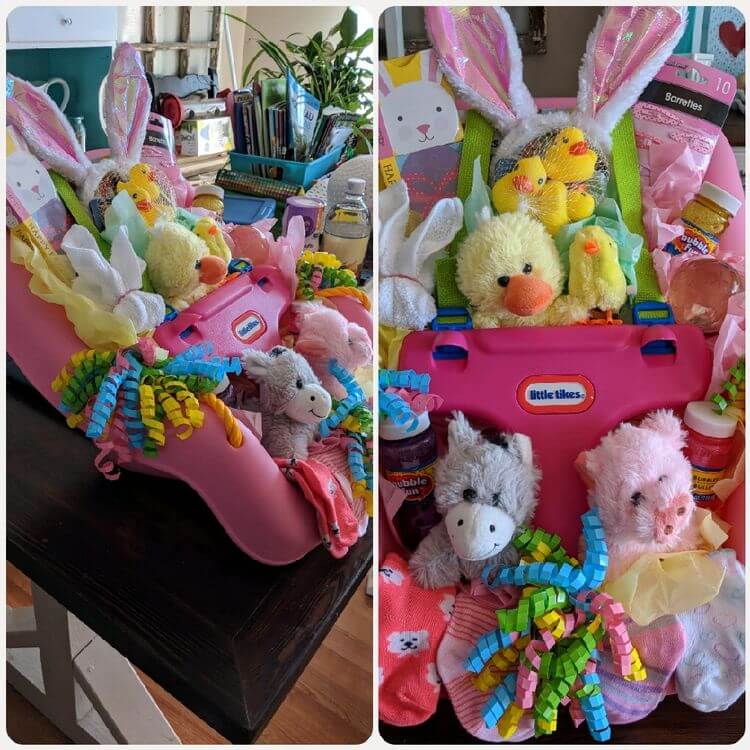 18. Truck Easter Basket
Make your Easter basket inspired by a tipper toy truck, and fill it with all the goodies and treats.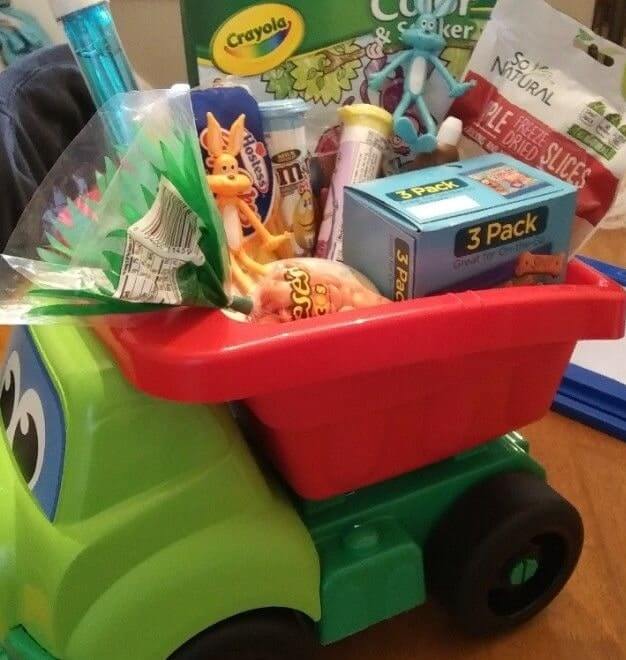 19. Baby's First Easter Basket
Find fun ways to fill the baby's first Easter basket. Try practical gift ideas and fillers like cozy outfits and pajamas, stuffed bunnies and cute chicks, Easter-themed adorable storybooks, rattles, infant slippers, and baby blocks.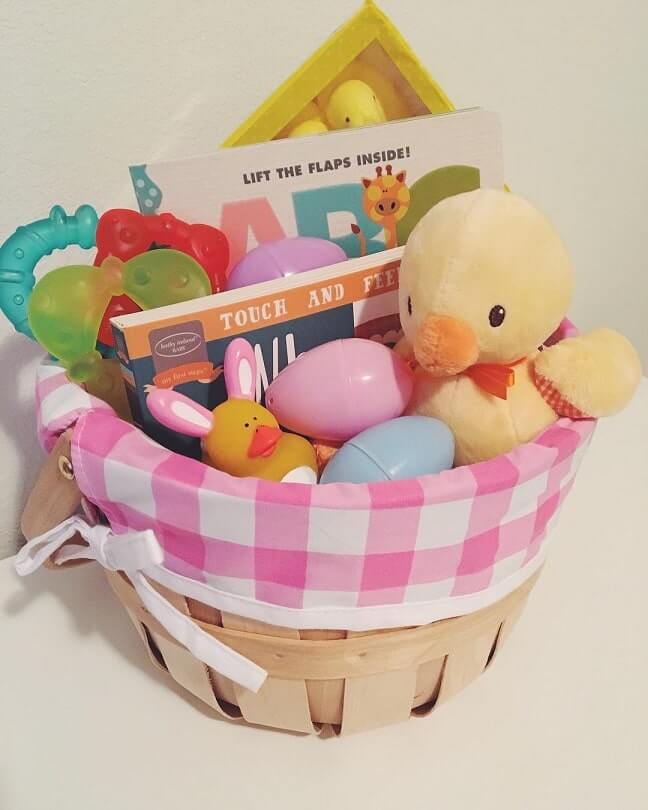 If you enjoyed these ideas or want to save it for your inspiration, Please Pin it on the Easter Basket Ideas board on your Pinterest.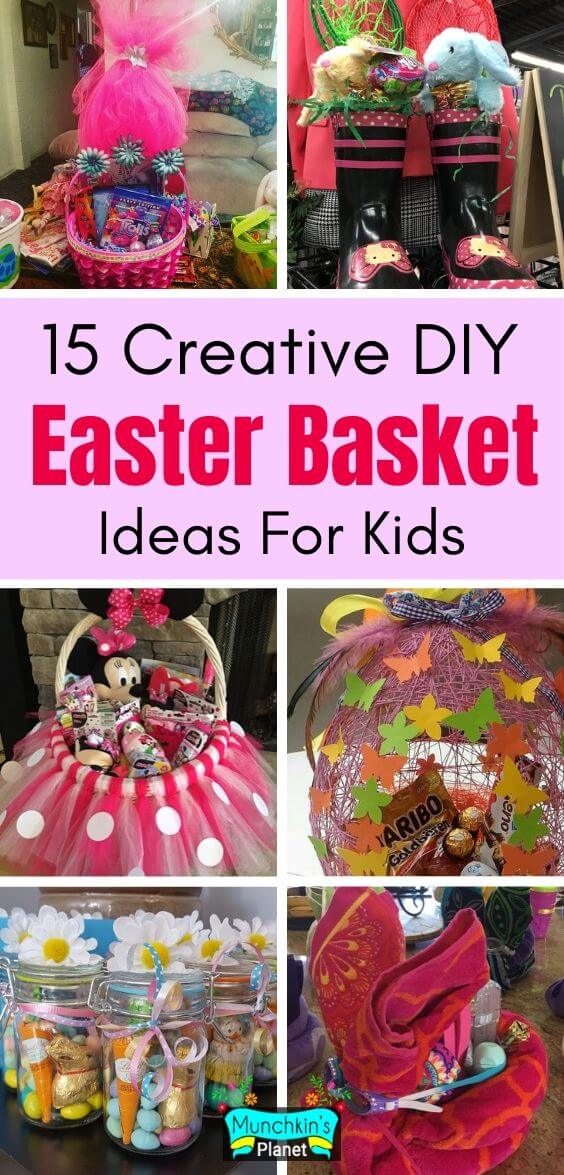 Related Post – Easter Egg Decorating Ideas