18 Spooky Beetlejuice Yard Decoration Ideas
Don't be scared to say Beetlejuice 3 times because It's Halloween!
I'm a die-hard fan of the Beetlejuice movie. Whenever I watch this classic horror comedy, I get tons of ideas for my outdoor Halloween decorations.
There are so many ideas you can borrow for Beetlejuice yard decorations.
Starting with the funny tombstone saying here lies Beetlejuice, the creepy sandworm, teen goth Lydia, Barbara, and Adam Maitland. You name it.
And, how can one forget the cool characters in the waiting room scene? You can try them as outdoor ghost decorations.
In this article, I'm going to share some of the awesome Beetlejuice decorating ideas. If you're a true fan of Beetlejuice then don't miss this.
Since the front yard has a large visible area, the sandworm can be a great creature to place in the Beetlejuice yard. Simply because it looks cool and you can try it with different types of items.
You can use an inflatable Beetlejuice sandworm, a hand-painted wooden sign, or make it from HVAC duct/dryer vent that I'll show you later.
Let's get started!
How to create Beetlejuice yard decorations?
Every Beetlejuice fan wants to transform their yard into the neitherworld as shown in the movie. First, you must figure out which characters you want to display on your lawn. Definitely, the Beetlejuice sandworm is a must.
The main components of Beetlejuice-themed decor are:
The spooky sandworm (everyone's favorite)
Beetlejuice himself in a black and white striped suit
Barbara Maitland and Adam Maitland
Teen goth Lydia
Beetlejuice magician's assistant that cut in half
The shrunken head guy and his ghost friends
The tombstone with funny skeletons sitting on top
Beetlejuice sign – Betelgeuse written light up
This is just a basic guideline to creating the theme that doesn't mean you need all of those items listed above. Be creative and pick the characters and props that fit well in your yard.
With some light effects, you can make your yard look stand out in the neighborhood. I'll also share some of the Beetlejuice decorations DIY ideas in case you want to create your own stuff for the theme.
If you're planning a Beetlejuice lawn decoration this year, don't forget to check out these spooky ideas!
This outdoor DIY Halloween décor recreates the cemetery scene from the movie. The center of attraction is of course the inflatable sandworm.
In addition, they have also used Beetlejuice animatronics, Lydia, and Maitland's props. I'll show you, how you can make your own character props for this decoration. keep reading.
Check out these cool cemetery fences and tombstones to make it look real.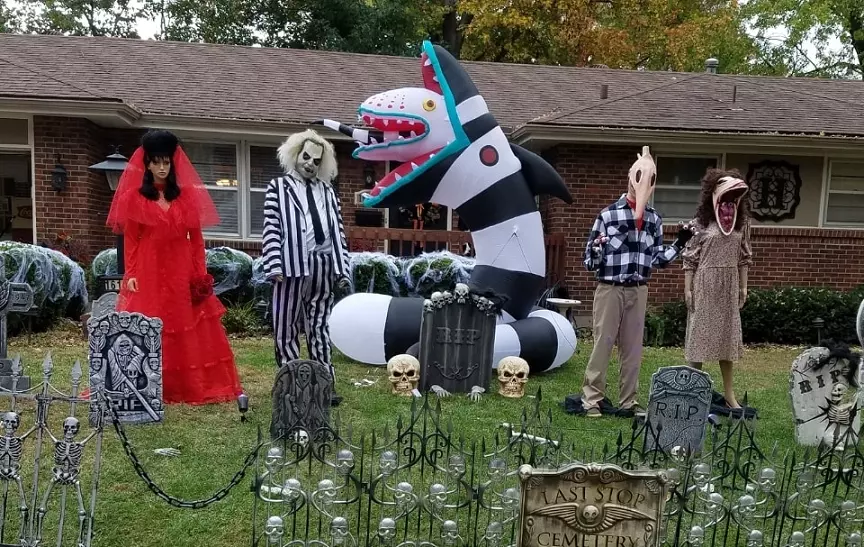 Think beyond the graveyard, look at how this lawn has been decorated with the iconic Beetlejuice tombstone and the cool light-up sign. It's simple and elegant.
Of course, how can one forget? the Maitland couple is the main character and the shrunken head guy sitting next to the porch looks funny to boo the trick or treaters.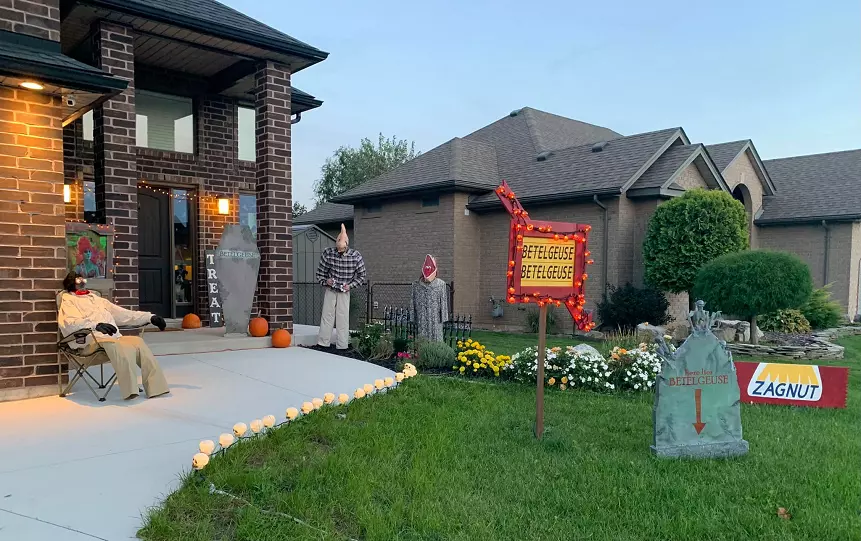 How to create Barbara Maitland and Adam Maitland props for the yard?
Creating Barbara Maitland and Adam Maitland's character is pretty simple. Get the dummy bodies from spirit Halloween or Amazon and put the matching clothes on both of them.
Now add their masks, which you can find on Amazon.
Quick Tip: If you find it hard to make the prop stand in the yard, simply use a bench and make them sit on it to provide stability.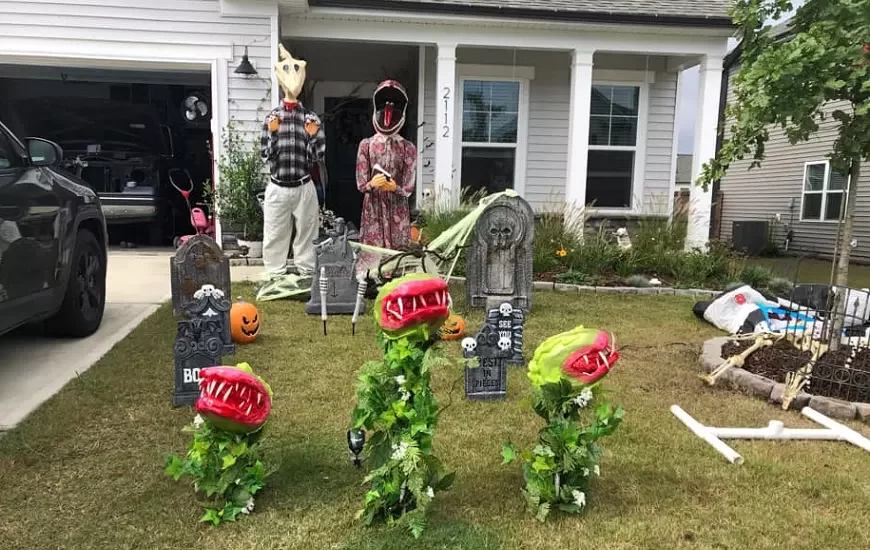 Remember the Beetlejuice hammer hand scene in the movie? with the same concept they used to create the entrance.
Further in the yard, on one side they have recreated the dinner scene where the monster hands come out of bowls. On the other side, they created a cemetery.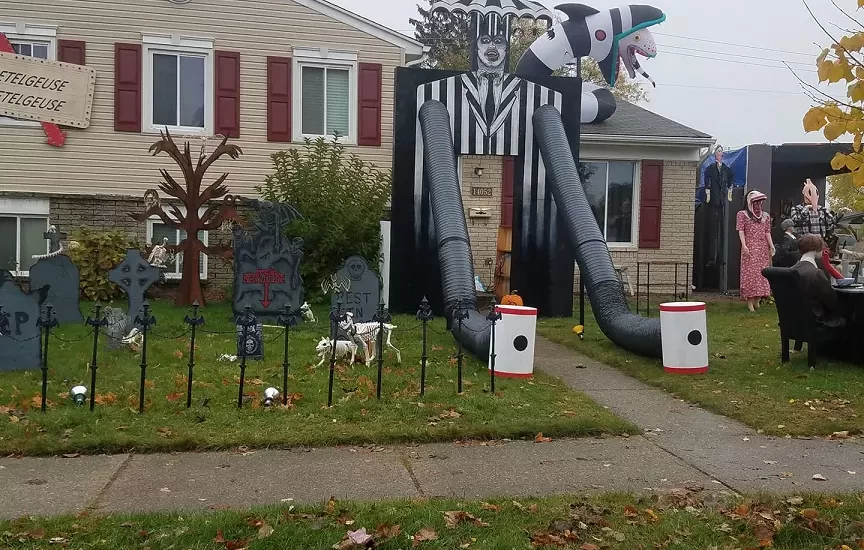 Beetlejuice sitting on a tombstone accompanied by Barbara and Adam. On the green floor of the cemetery, they used a foam mattress pad spray painted green.
Inflated sandworm in the background. This can be more fun if you can manage to get the Beetlejuice animatronics.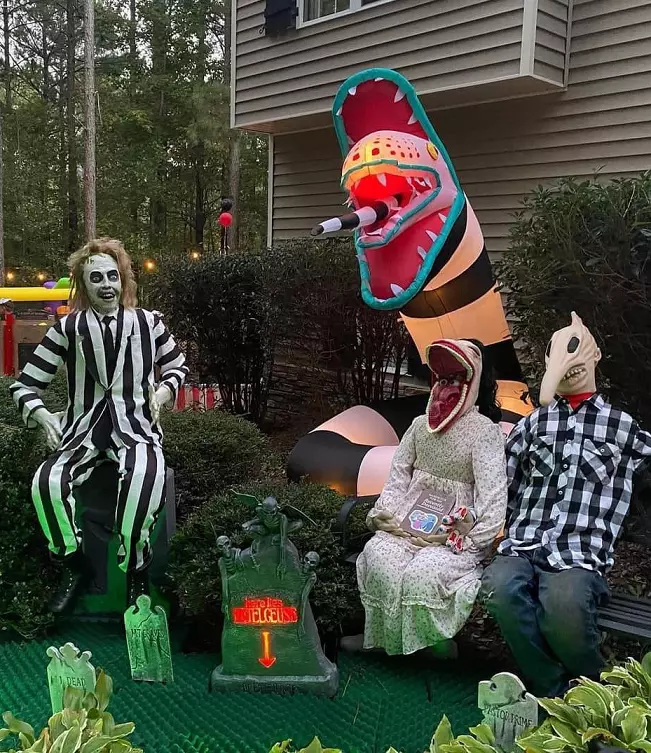 With some cool lighting effects, you can make your yard and porch area stand out in the neighborhood.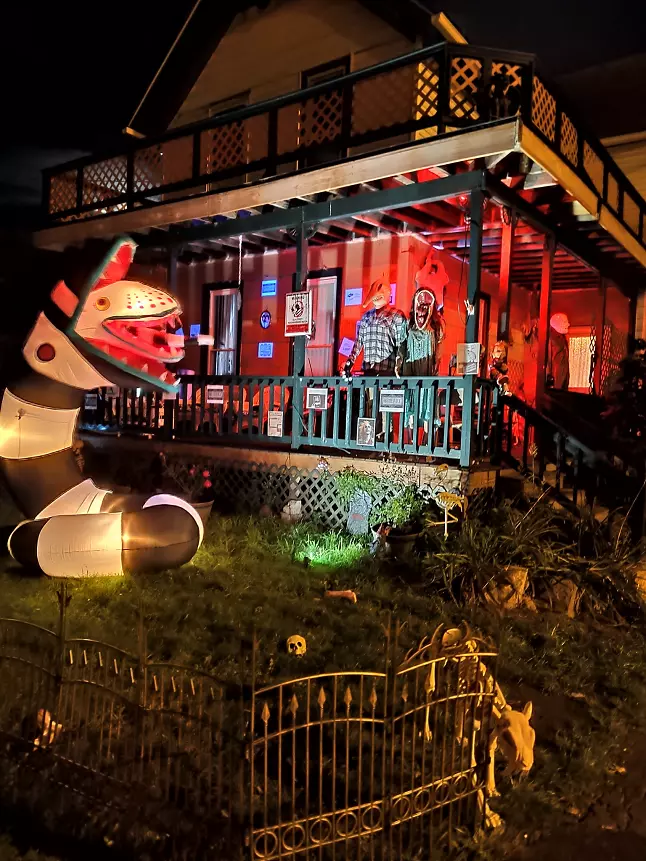 For a DIY Beetlejuice tombstone, you need a foam insulation board. Hand draw the outline of the tombstone and cut out the required shape with a jigsaw. Make it look weathered and paint it in a grey color.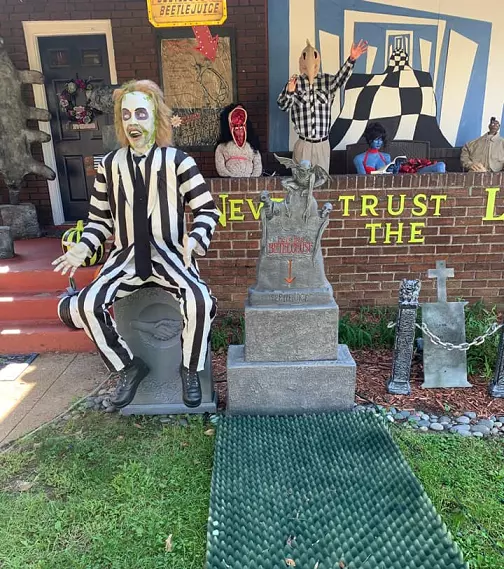 Further need some skeletons sitting on the top. For more details check out the video:
Even the plywood cutouts look equally good for a Beetlejuice lawn art display. First, draw the character on plywood and cut it down with a jigsaw. Sand it properly, highlight the outlines and paint it with acrylic paint. Don't forget to put a protective layer to seal all the colors.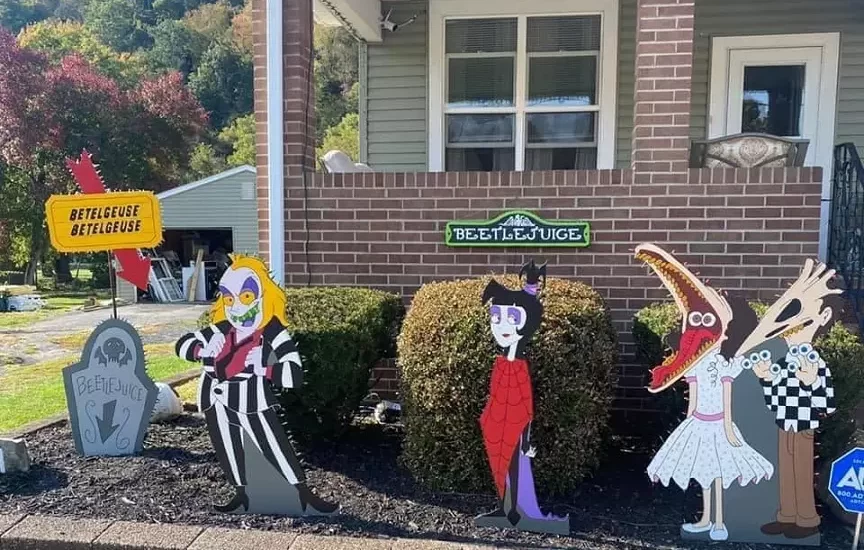 The night view of the whole setup looks amazing with some eye-catching light effects.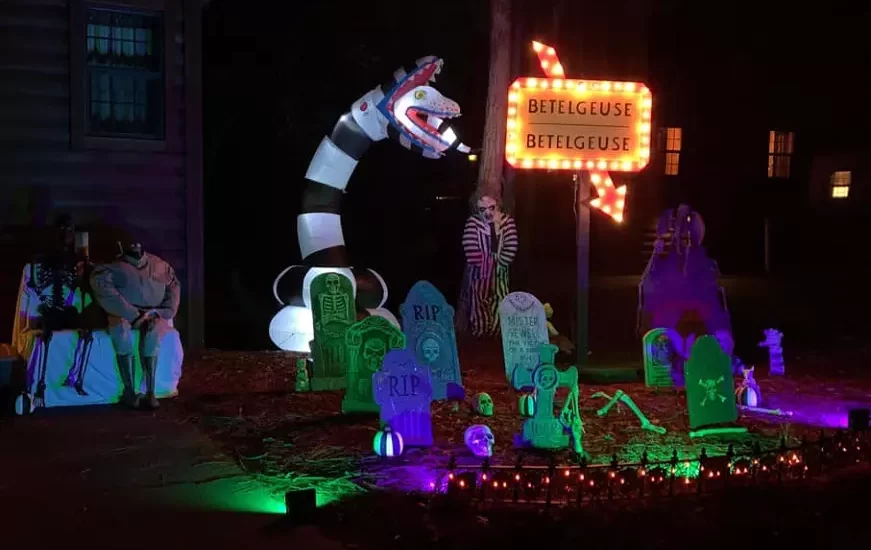 Another spooky Halloween lawn decoration idea to wow your guests.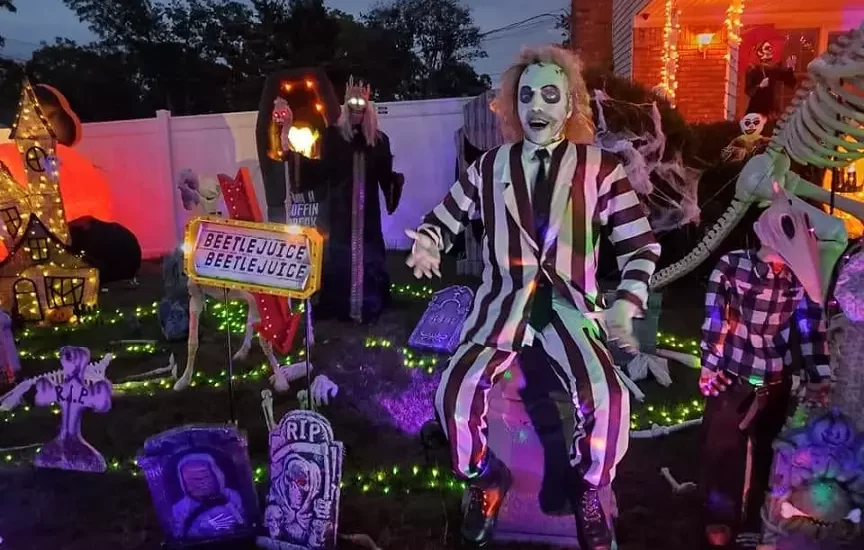 The sandworm is undoubtedly the center of attraction for the whole theme especially when you light it up at night. You can find these inflated ones at your nearest Home Depot. Learn more about how to set up Beetlejuice sandworm for the yard.
The Beetlejuice sign and the funny-looking tombstone truly capture the spirit of Halloween.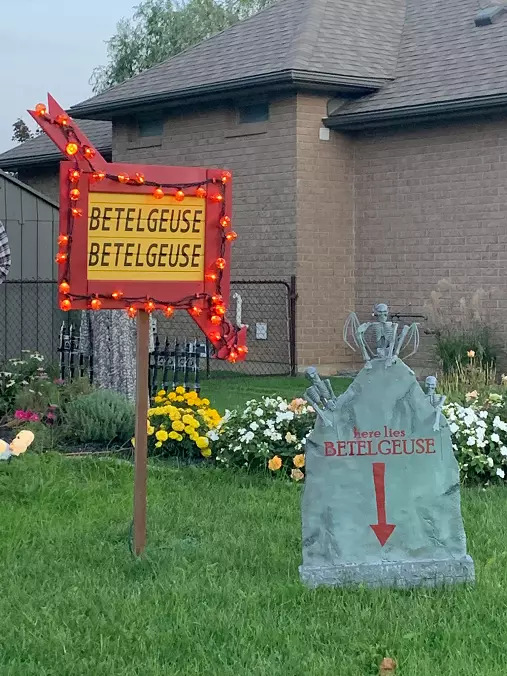 Barbara Maitland prop.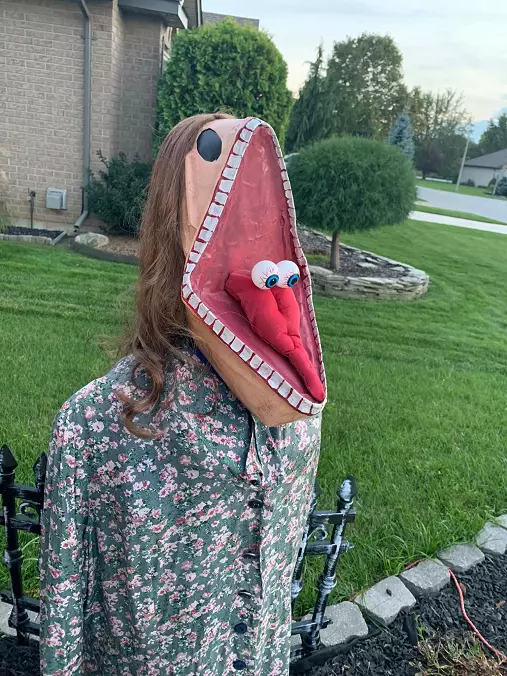 The shrunken head guy inspired by the waiting room scene of the movie can also be used for indoor Halloween decorations.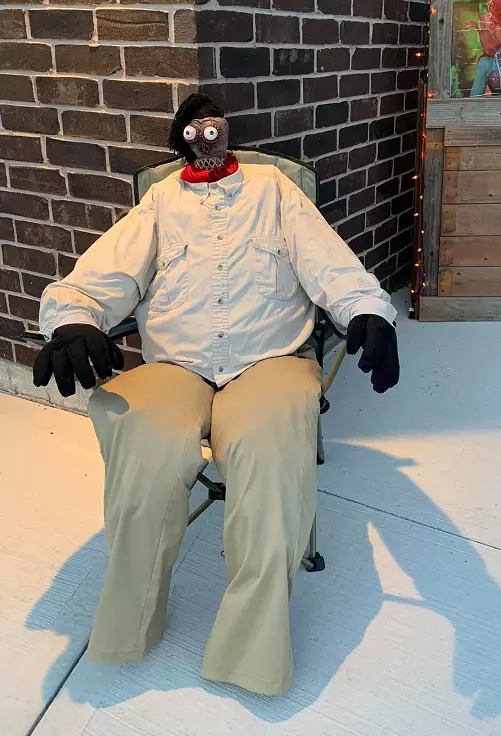 Beetlejuice magician's assistant sawed in half sitting on the couch with him is a cool idea you can add to your Beetlejuice yard decorations.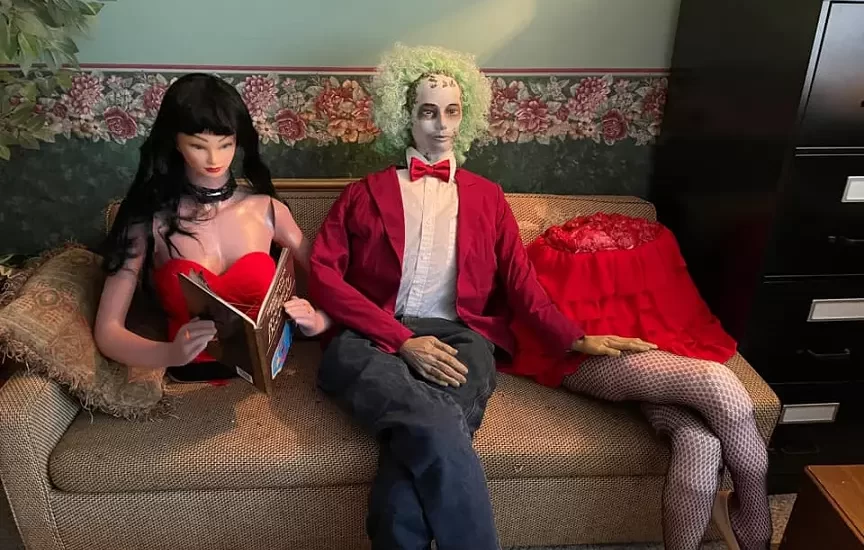 If you get inspiration for your yard through this post, please consider pinning these images to your DIY Halloween decoration board on Pinterest. It really helps me to reach more audiences.