Easy Christmas Cupcakes Ideas
I'm sure we all agree that Christmas cupcakes are the most popular treat at a Christmas party or a holiday dinner.
But during the holidays a cooking marathon is going on in the kitchen with the main course, side dishes, desserts, cookies, and lots of Christmas bakings. There is very little time left to spend with family and kids
One of the best time-saving ideas to make cupcakes. Christmas cupcakes are simple and easy to make, you can buy the cake mix from the store in advance plus everyone loves these cute and elegant cupcakes.
The best part of making cupcakes is always fun to play with fondant, chocolate, snowman, and snowflake, it gives you ample opportunity to show your creativity with cupcake flavors, frosting, and decorations.
To give you some super simple and easy ideas to make these delicious Christmas cupcakes, I've collected some of the gorgeous cupcake recipes from Pinterest to inspire your holiday baking.
Get inspiration from these Christmas goodies…
*Quick tip – Click over the recipe title to get the recipe

Gingerbread Cupcakes With Cream Cheese Frosting
Perfectly moist from inside and fluffy outside with tangy cream frosting, a great treat for gingerbread fans.

Red Velvet Cupcakes
Buttery soft flavorful classic red velvet cupcake topped with simple cream cheese frosting.

Reindeer Cupcakes
Making these adorable reindeer candy bar cupcakes is so much fun, try this easy decoration idea for Christmas.

Related post – 15 Easy Christmas Cookie Recipes

Chocolate Covered Strawberry Cupcakes
Nothing is better than a moist chocolate cupcake with strawberry frosting for a holiday dessert.

Hot Cocoa Cupcakes
Substitute your hot cocoa cup with a chocolate cupcake topped with fresh whipped cream, mini marshmallow, and a handful of chocolate chips.

Snowman Cupcakes
Try these very cute snowman cupcakes with simple vanilla frosting with your kiddos.

Mini Christmas Tree Cupcakes
Get inspired by these adorable mini Chrismas tree cupcake decorations and make your own masterpiece.

Velvet Holly Leaf Cupcakes
Try the traditional red and green color of holly leaf for the Christmas cupcake decoration.

Apple Pie Cupcakes
A must-try apple pie cake with the best ever caramel, it can be a perfect holiday dessert.

Santa Hat Cupcakes
If you have minimal cupcake piping skills, then this easy Santa hat cupcake recipe is for you.

Apple Pie Cupcakes with Vanilla, Cinnamon Frosting
Imagine the yummy taste of a moist apple pie cupcake, and topped with whipped vanilla and cinnamon frosting.

Berries and Cream Cupcakes
Creamy cupcakes topped with some fresh berries and the yummy whipped cream cheese filling is just divine.

Banana Caramel Cupcakes
Sometimes a simple banana flavor can make your taste buds crazy and the caramel cream cheese frosting takes the cupcake to the next level.

Sparkling Cranberry White Chocolate Cupcakes
The aroma of a moist vanilla cupcake and the delicious filling of cranberry with white chocolate buttercream is just mouth melting.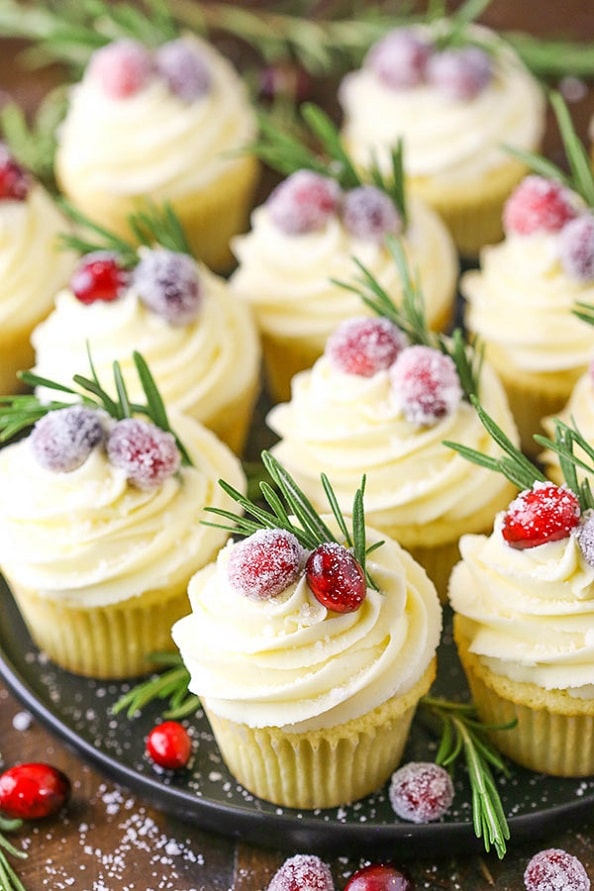 Banana Pudding Cupcakes
Rich creamy banana pudding filled inside and whipped topping with whole vanilla wafers and crumbs.

Snowflake Cupcakes
These adorable Chocolate cupcakes with vanilla cream cheese frosting and the royal icing snowflakes make it extra special.

If you enjoyed these ideas or want to save it to try it later, Please Pin it on the Christmas Desserts board on your Pinterest.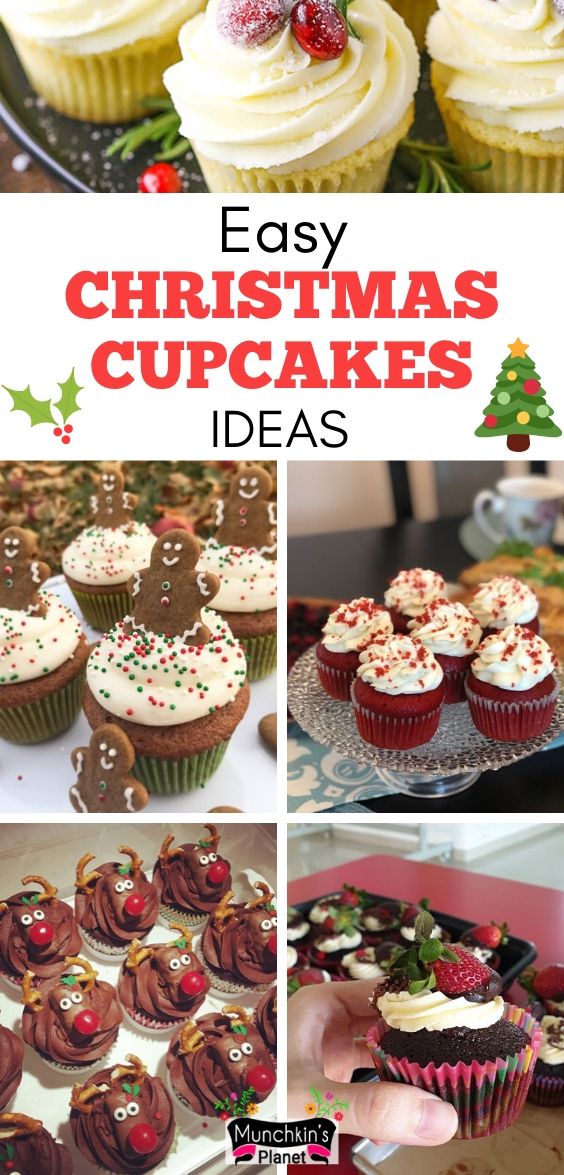 Related post – 15 Easy Christmas Cookie Recipes