23 Mouth-Watering Easy Thanksgiving Dessert Recipes
The pumpkins can't get off my head, as its Thanksgiving time!

Thanksgiving is incomplete without some yummy desserts, but to be honest, on Thanksgiving, the to-do list is quite long. So we want something quick and easy to make.

Right?

Though the turkey is the main hero at your Thanksgiving dinner table, followed by the mashed potatoes and cranberry sauce.

Thanksgiving desserts are not just limited to the pumpkin or apple pies, although I love pie. There is a lot more than you can think to try for desserts which are simple and easy to make.

Here is your dream list, as today I've come up with these mouth-watering super easy recipes for your Thanksgiving desserts.

Let's head over to the list
Also, check out more ideas for:
Thanksgiving Appetizers
Thanksgiving Side Dishes
Thanksgiving Table Setting Ideas

*Quick tip – Click over the recipe title to get the recipe
Pumpkin Pie Slice Cookies
This is one of the super-easy pumpkin pie slice cookies to bake and they turn out to be gorgeous orange, perfectly matching with the Fall theme. Check out this treat.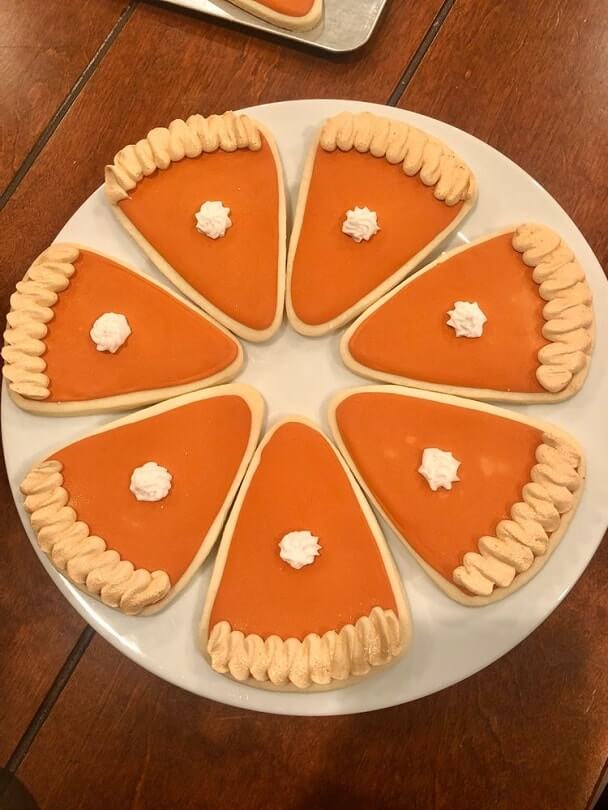 Pumpkin Pie Sugar Cookies
I'm sure everyone will be asking you the recipe for this dessert and will be a major hit at your Thanksgiving dinner. Check out the recipe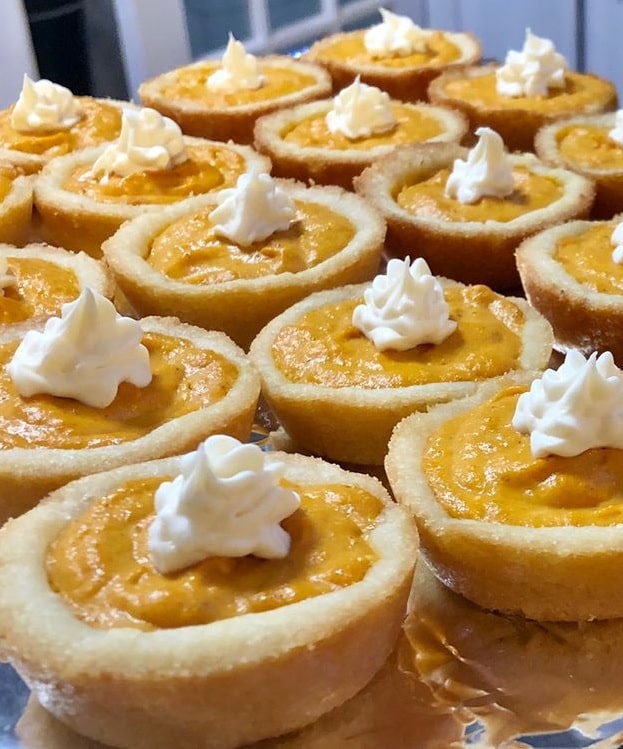 Thanksgiving Oreo Turkey Cookie
Who don't love Turkey candies! Try this super easy Oreo turkey cookies that includes all your favorite candy corns, peanut butter and chocolate.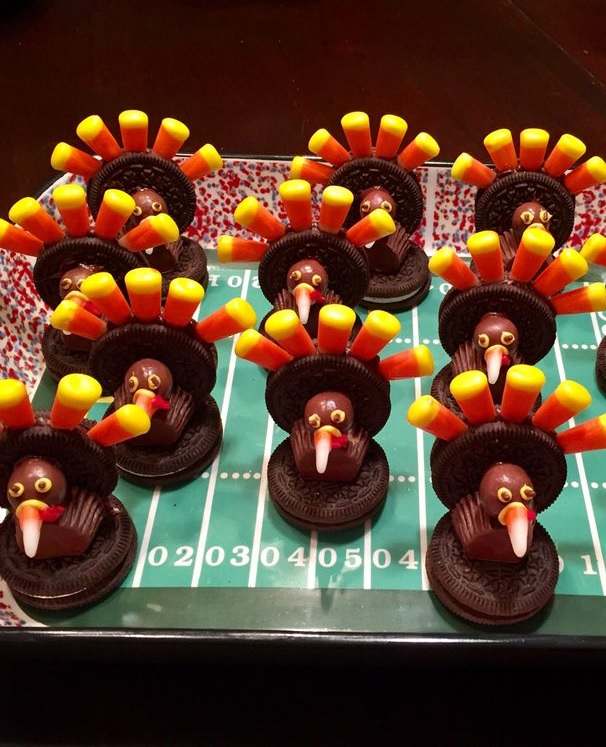 Learn how to make it!

Mini Pumpkin Swirled Cheesecakes
The wonderful golden color of pumpkin swirl over the white cheesecake makes this dessert irresistible.

Easy Mini Cheesecakes
Try these mouth-watering mini cheesecakes with your favorite berries.

Pumpkin Cinnamon Rolls
A perfect fall dessert, soft and fluffy pumpkin cinnamon rolls with a sweet cream cheese icing.

Cranberry Orange Cake
A perfect treat for the holiday dinner, the cranberries are a great contrast to the sweetness of the cake.

Pumpkin Pie Rice Krispies Treats
Ditch the same boring pie with the pumpkin pie rice krispies treats, the wonder crunchy flavor of cereals.

Pioneer Woman's Apple Dumplings
Try the delicious and healthy pioneer women's apple dumplings, very easy to make.

Classic Apple Turnovers
Add this crispy treat of classic apple turnovers to your dessert list this holiday. It's so simple, I'm sure you'll love it.
Turkey Oreo balls
Turkey Oreo balls are the best kid-friendly treat to try this Thanksgiving and the colorful candy corn will surely entice your kids.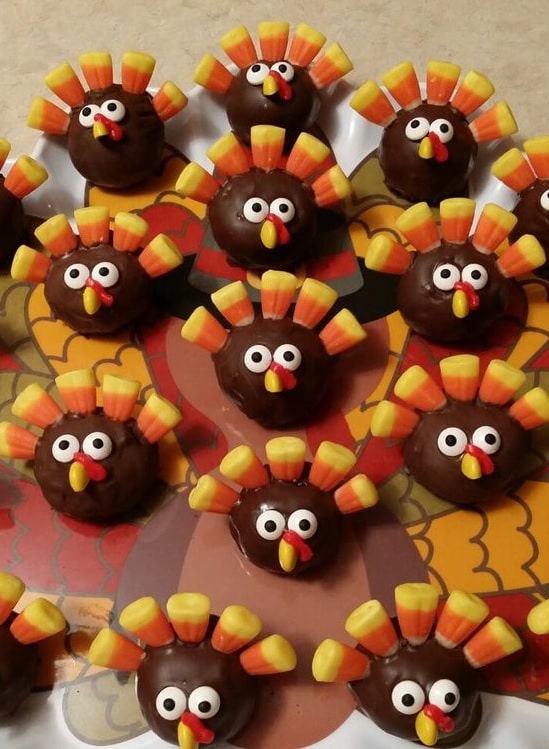 Learn the recipe

Related Post – Easy Thanksgiving Appetizers To Make Ahead

Upside Down Apple Cake
Nothing can beat the flavor of the caramel sauce spread over the layer of apples.

Toll House Chocolate Chip Pie
A perfect chocolate chip delight for Thanksgiving with the classic flavor of buttery chocolate chips and the chopped walnuts melts in your mouth.

Apple Pie Bars
A super easy apple pie bars dessert is a perfect balance of buttery texture and sweetness. The nutty flavor of walnuts is just incredible.

Pecan Pie Cheesecake
The delicious spongy base and the sweet crunchy topping of pecan is just yummy.

Apple Pie Bites
A perfect last-minute dessert for thanksgiving dinner. Just roll apple slice with brown sugar, pecan and bake them, it's that simple to try.
Oreo Turkey Cookie Treats
Another cool way to make that yummy Oreo turkey treats for thanksgiving. We use the candy corn and decorate Turkey.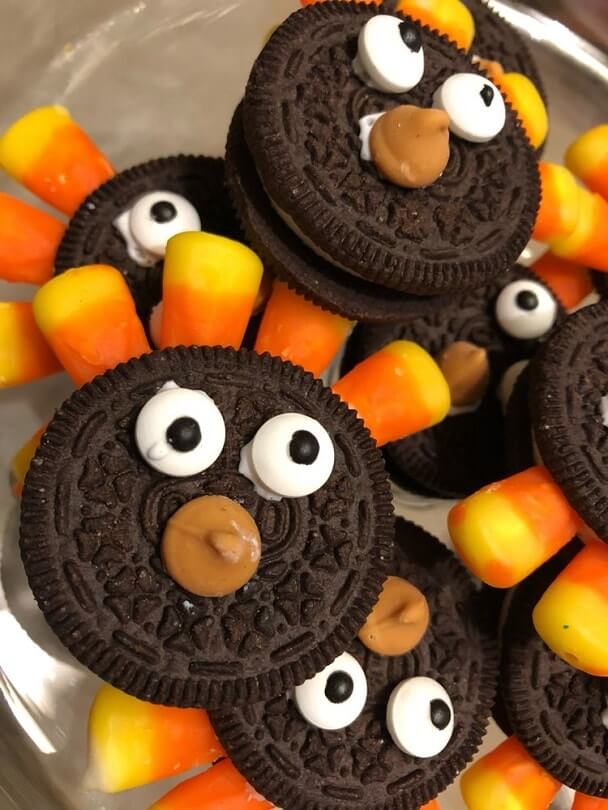 How to make these Oreo Turkeys

Pumpkin Bars With Ice Cream Frosting
These pumpkin bars are divine with the moist delicious fluffy pumpkin cake topped with the creamy frosting.

Turtle Pumpkin Cheesecake
Try this creamy pumpkin cheesecake combined with caramel chocolate and pecans over the top.

Harvest M&M'S Cookie Bars
Enjoy this easy festive cookie bar recipe combined with M&M'S and mini chocolate chips to feed a crowd.

If you enjoyed these recipes or want to save it to try later, Please Pin it on the Thanksgiving or Recipes board on your Pinterest.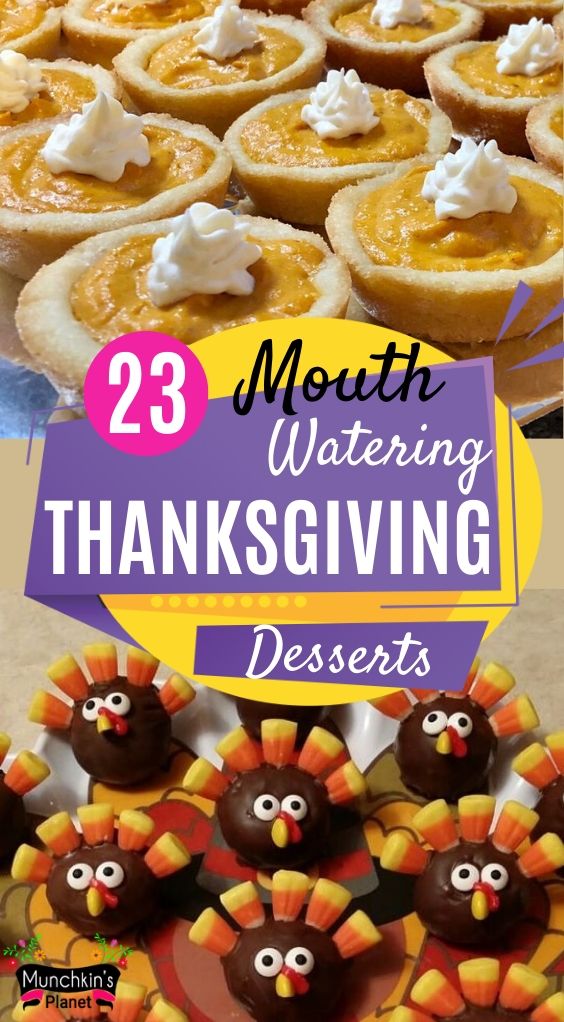 Related Post – Easy Thanksgiving Appetizers To Make Ahead