Easy Sensory Activities for Toddlers & Preschoolers at Home
This post may contain affiliate links. Please read the disclaimer.
Sensory activities are key for the development of the brain for toddlers and preschoolers in the early years of their childhood.
Because children use their senses to explore the world around them. You've often seen babies try to touch things to explore them.
Sensory play is not just limited to tactile activities (touch-related), It also involves using 5 senses – touch, smell, sight, taste, and hearing. Also the vestibular sense (balance) and proprioceptive sense (body movement).
The most common problem with sensory activities at home is, that it's messy and needs clean up all the time. Don't worry here I'll cover lots of non-messy sensory ideas, edible play using rainbow spaghetti and digging jello, etc.
The best way to encourage imagination in babies and toddlers is to allow them to play with edible playdough, slime, scooping, and transferring activities. Learning activities such as ice cube painting, sensory bags, and jello dig are very helpful to develop fine motor skills & gross motor skills.
Starting with simple ideas like setting up sensory bins for toddlers, tactile activities for one-year-old to preschoolers with kinetic sand, and moon sand, including hands-on play messy and nonmessy activities, and DIY sensory bottles to calm down kids.
Exploring the 5 senses with bubble foam, rainbow rice, pasta, and colors are some of the fun ways to learn things using common kitchen items and Dollar store items.
What is sensory play?
Sensory play is any type of play activity that stimulates children's senses like taste, smell, touch, sight, and hearing. As we know babies and young kids learn very fast and sensory activities provide them with the right environment to explore the world through their senses.
Sensory play not only helps in developing these 5 senses, but it also involves using movement and balancing skills. Sensory activities also include using small muscle groups called fine motor skills and large muscle groups called gross motor skills.
For ease of understanding, I've divided the list into four categories – Fun sensory bins yes it is messy activities, non-messy sensory activities, edible sensory play ideas, and sensory bottle ideas.
Disclosure: This post includes affiliate links. It means if you purchase from these links I will earn a small commission at no extra cost to you.
Fun Sensory Bins for Toddlers & Babies
1. Shaving foam rainbow
When I think about messy sensory play, the first thing that came to my mind is making a colorful rainbow by squirt shaving foam and adding some color paints. All these can be easily done in a plastic bin or a tray. Kids can try any pattern using the colors.
Items needed:
Plastic container tray
Kids paint set
Shaving foam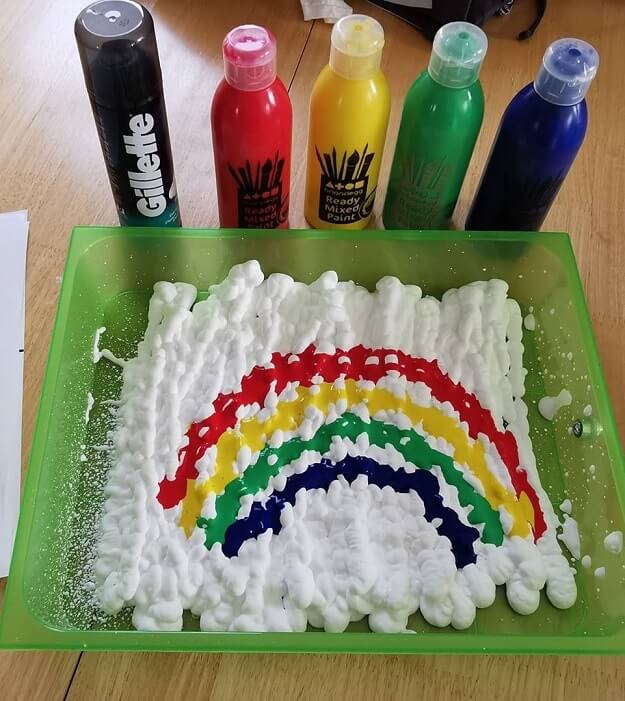 2. Kinetic sand
Kinetic sand or moon sand can be fun activities for toddlers. They can use their imagination and make various shapes using molds and cookie cutters. It is very easy to make and is very cheap and reusable. here is the DIY recipe.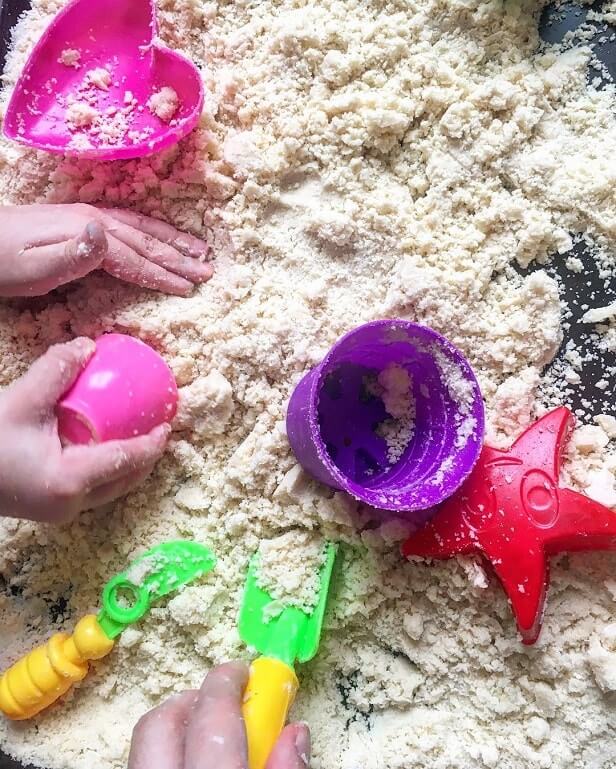 3. Construction site sensory bin
If your kid is passionate about construction sites and trucks, then try this sensory bin where the kids can show their creativity with moon sand and toy trucks to construct their own world.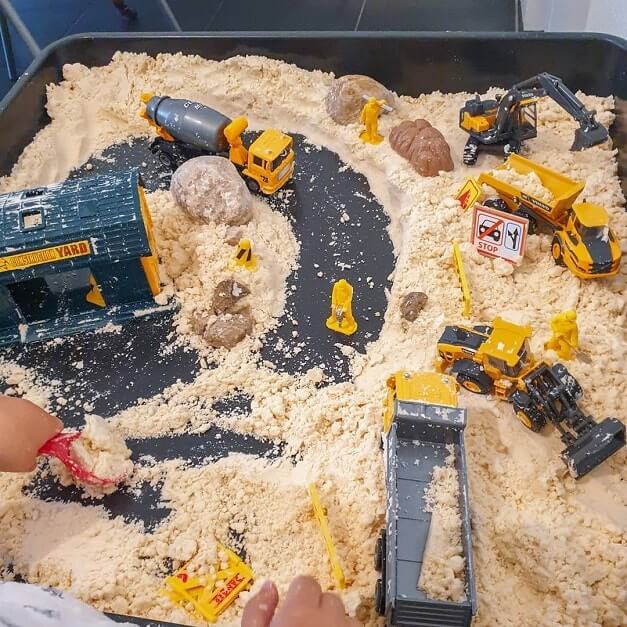 Non-Messy Sensory Activities
1. Water beads sensory bin
All kids love to play with water beads, they are colorful, shiny, and feel so nice while touching. The best part of water beads is they are cheap and reusable. To hydrate these water beads, add some water to a bowl and put those tiny beads overnight.
Water beads
Sea animal toys
Place the water beads in a large bin and let your toddlers explore them. Add some sea animal toys as well. They can scoop them, sort them based on colors, freeze them, smash them with a hammer, and make sensory bags of water beads.
A word of caution, keep close supervision for small kids so that they don't put those water beads in their mouths.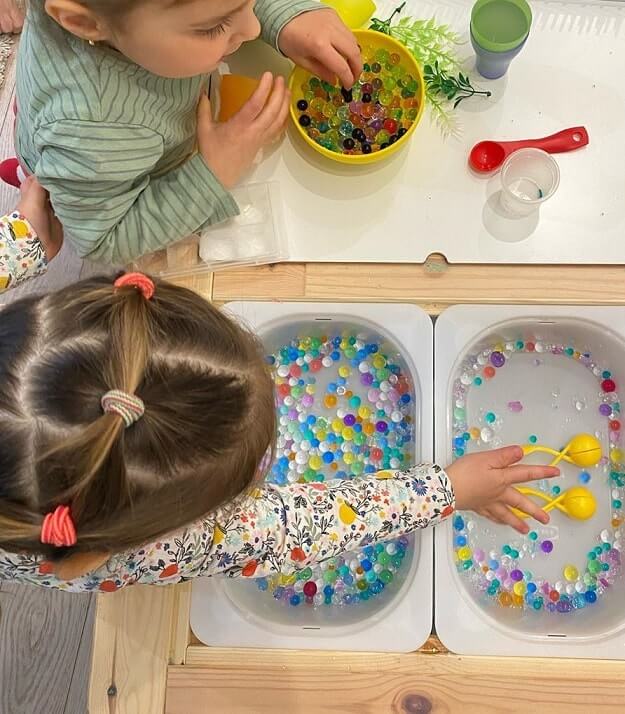 2. Rainbow rice bin with bugs
You must have seen it on Pinterest. Rainbow rice is colorful and babies love to play with bright and attractive stuff. They are mess-free and easy to make. You can store it and reuse it in the long run. Find how to make rainbow rice.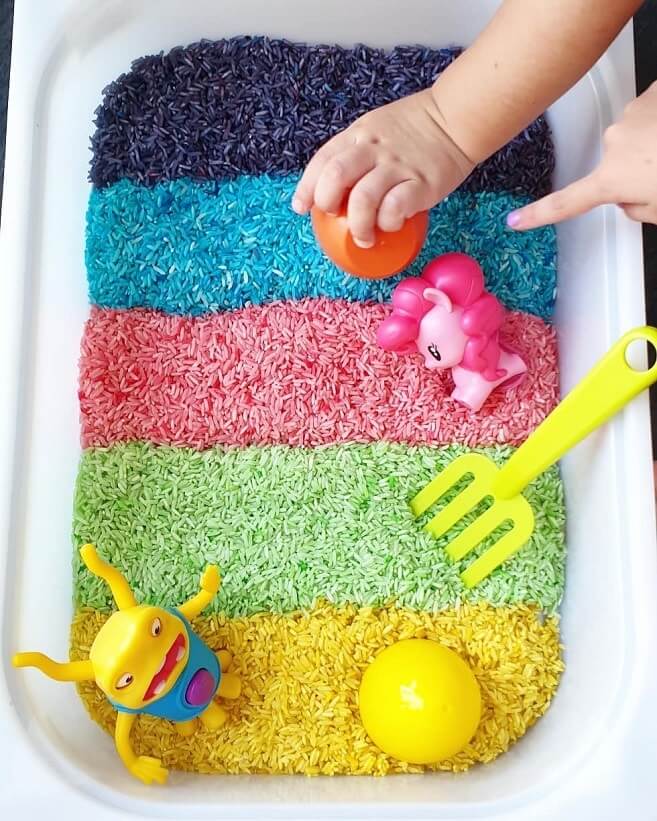 3. Pom pom sensory bag
Introduce your child with sensory bags. Easy to make a fun sensory bag using a simple Ziploc bag and put some pom pom toys with water in it.
4. Jello dig sensory activities
A fun sensory play idea where the toddler is encouraged to find hidden animal toys from jello filled bowl.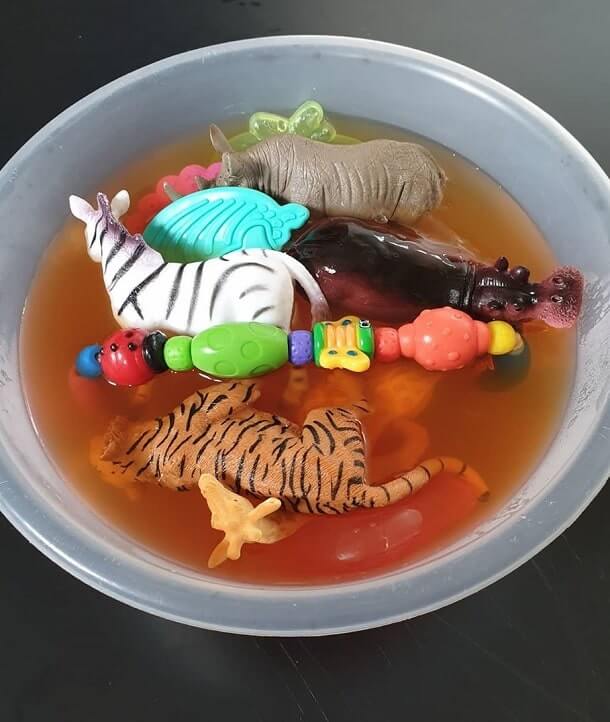 5. Ice cube painting activity
Make some colored ice cubes with a stick and allow your little ones to paint their imagination on paper.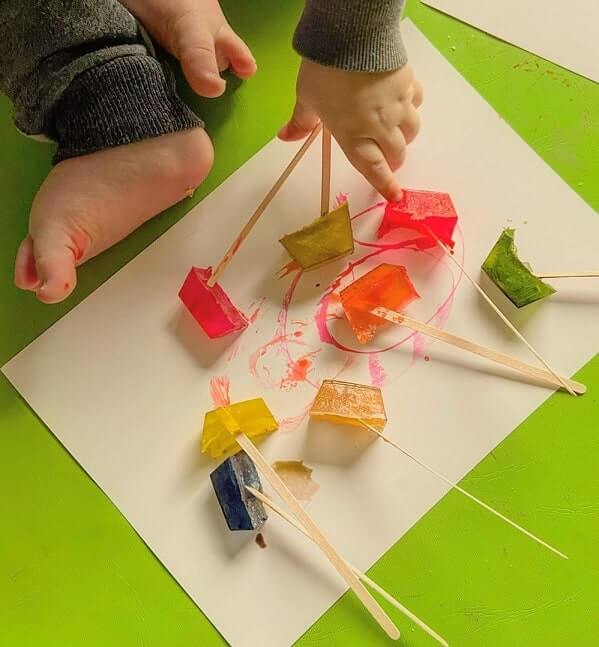 6. Sensory walk
Explore the preschooler's senses of touch by creating paths using different types of surfaces to walk.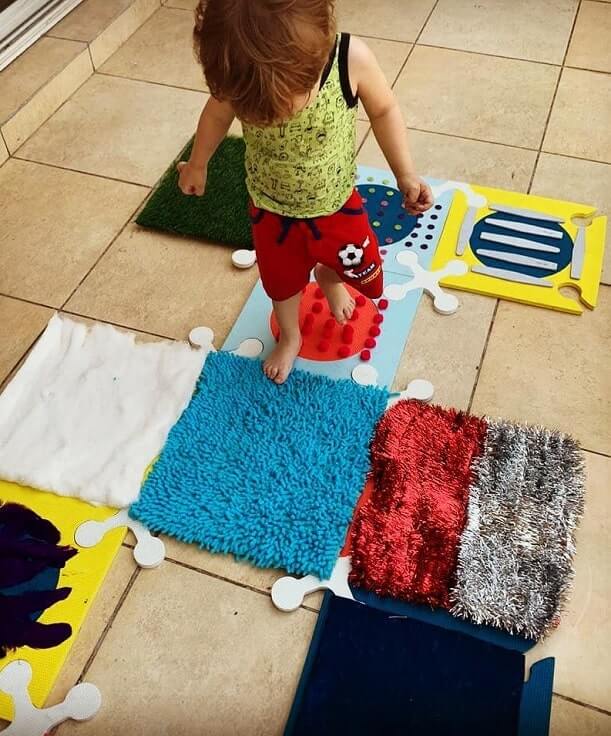 7. Multiple sensory bag play
Give your toddler the choice to play with multiple sensory bags at once. Here use a pom pom bag with a water beads bag. Check out this sensory bag on amazon.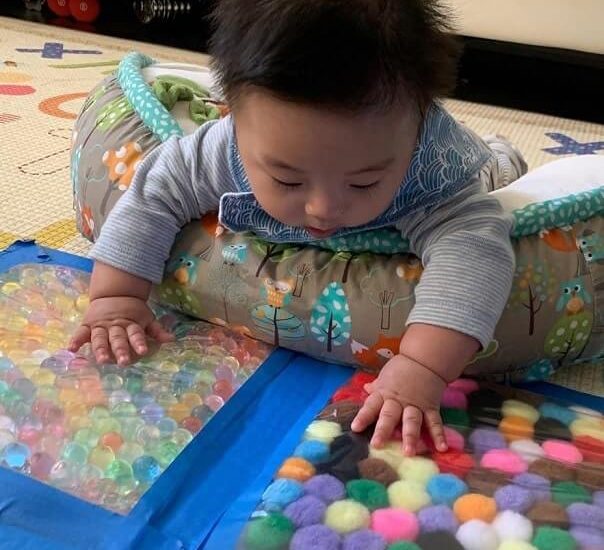 8. Sensory fabric book for baby
Fabric books are perfect for stimulating the eyes of an infant. The black and white patterns in the book are designed for faster visual development. And the best part, babies enjoy watching these cool patterns. Check out the sensory fabric book.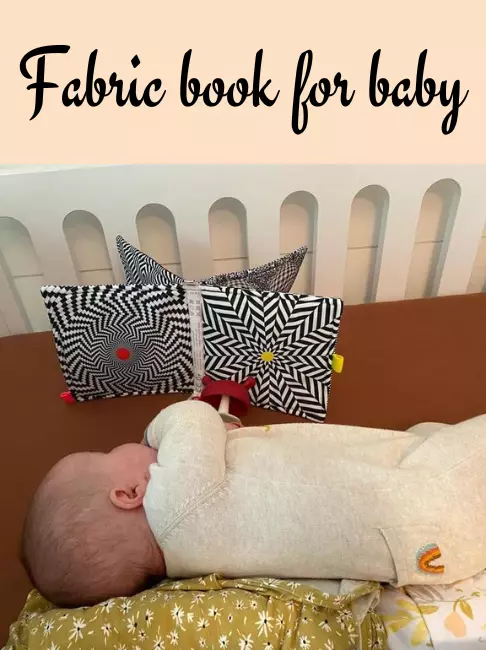 Edible Sensory Play Ideas
1. Rainbow spaghetti and dyed noodles
Bright colorful spaghetti is a perfect sensory play idea for toddlers and preschoolers. They can touch and feel the texture of the spaghetti. It encourages them to explore different colors.
Rainbow noodle play is helpful in developing gross motor skills and fine motor skills in children.
It's edible and safe for kids because we use food colors to dye it.
Learn how to make it:
Supplies you need to make this sensory bin
The plastic storage bin container
Food colors
Spaghetti
Ziploc bags
Spaghetti spoon to play
Cook and drain the spaghetti first. Make 4 to 5 equal batches of the noodles. Put each of these batches into 4 or 5 Ziploc bags and add a few drops of food color. In each bag use, different colors of your choice. Mix the color and spaghetti till it absorbs the color. The rainbow noodles are ready for play.
In a large plastic storage bin, spread the spaghetti noodles of different colors and invite your toddler to play with a spaghetti spoon.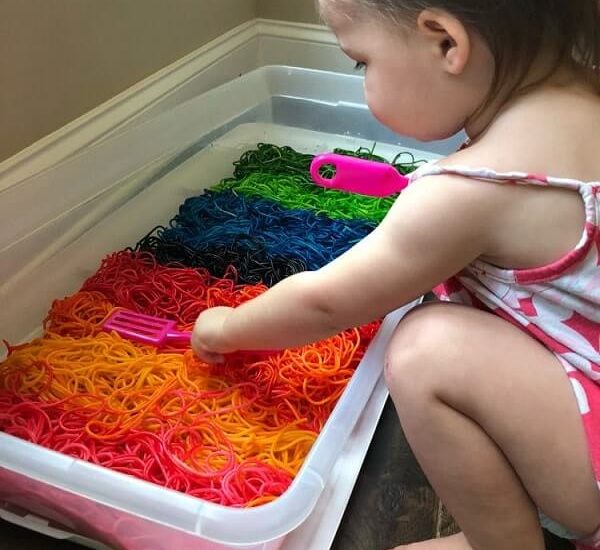 2. Edible Sensory Dough
Toddlers love playdough because it can be easily molded into any shape. This makes it a great sensory play idea. It is very easy to make at home and that too edible. Perfectly safe for toddlers and small kids.
You need simple 3 ingredients:
Corn starch
Half a cup of warm water
Food color or jello for incredible color and scent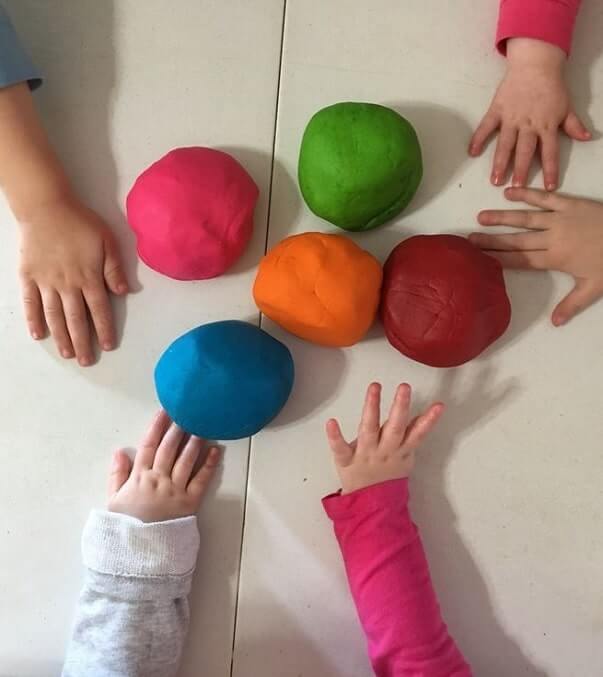 Animal rescue and transfer activity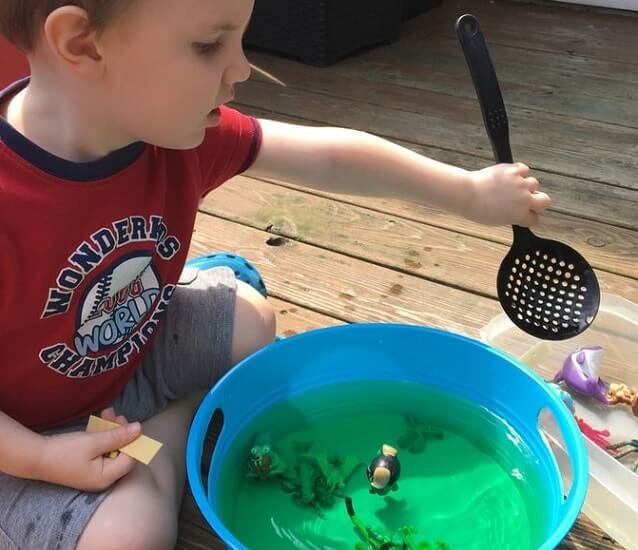 Sensory bottles to calm down kids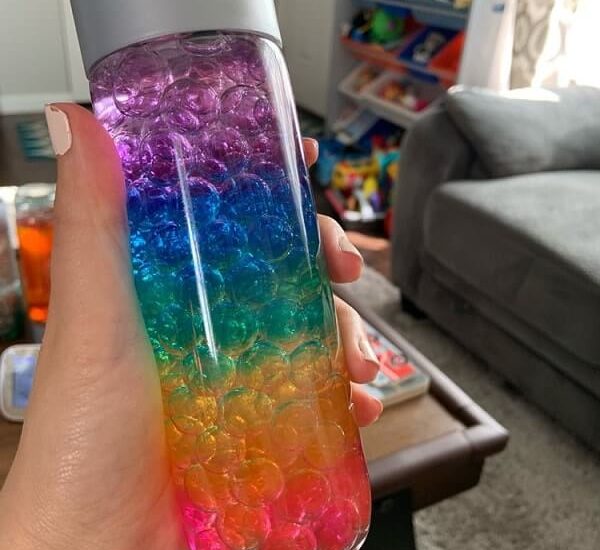 If you liked these sensory play ideas please pin it on the sensory activities board on your Pinterest