Easy Thanksgiving Side Dishes You Can Make Ahead
When it comes to Thanksgiving dinner, maybe the turkey and mashed potatoes are in the spotlight, but sometimes you never know, the side dishes steal the show.
No Thanksgiving dinner is complete without some amazing side dishes the likes of roasted carrot, green bean casserole, salad, cranberry sauce, and more.
And to be honest, a big chunk of the dinner plate is made of these side dishes, these sweet and savory dishes can easily be made ahead, so need to stress out at the last minute.
For all those veggie lovers, there is much more than carrots and sweet potatoes on the sides. Just scroll down the list of recipes.
So get ready to wow your guests with these irresistible collections of side dishes.
Explore more ideas:
Thanksgiving Appetizers
Thanksgiving Desserts
Thanksgiving Table Setting Ideas
*Quick tip – Click over the recipe title to get the recipe

Baked Tomatoes with Mozzarella and Parmesan
When it comes to making an easy appetizer, nothing is better than cheesy tomatoes roasted with parmesan and mozzarella cheese.

Curry Roasted Cauliflower Sweet Potato Salad
If you're a great fan of curry, then check out this curry roasted cauliflower and sweet potato salad, and it's vegan and gluten-free.

Classic Traditional Thanksgiving Stuffing
Learn the classic Thanksgiving stuffing with simple ingredients and the best part, it is so delicious that you can make it any time of the year.

Mexican Zucchini Burrito Boats
Another great recipe for the vegan and gluten-free diet, make these wonderful green zucchini boats filled with all flavorful veggies.

Baked Parmesan Zucchini
If you are looking for a healthy and nutritious side dish, then try this parmesan zucchini, there is absolutely no deep frying or sauteing of any kind.

Buffalo Cauliflower Bites
For all those veggie lovers, here's one more healthy recipe of baked cauliflower tossed with Buffalo sauce.

Herby Cauliflower Salad with Chickpeas
Lots of fresh veggies and herbs make this delicious salad a stand-out side dish plus the flavor of chickpeas and dressing makes it irresistible.

Vegan Apple Broccoli Salad
A super easy vegan apple broccoli salad is full of nutrition and the sweet and tangy dressing perfectly compliments the main dish.

Bacon Green Bean Bundles
While you'll be busy with Thanksgiving main dish, bacon green beans bundles can be made ahead and stored in the fridge. Just need to heat it before serving.

Roasted Broccoli and Sweet Potatoes
Roasted veggies with some amazing seasoning make some delicious side dish, try it.

Dilly Cucumber Bites
Try this healthy finger food, a very classy-looking and simple recipe of dilly cucumber bites. A perfect light appetizer for the holiday.

If you enjoyed these recipes or want to save it to try it later, Please Pin it on the Thanksgiving or Side Dishes board on your Pinterest.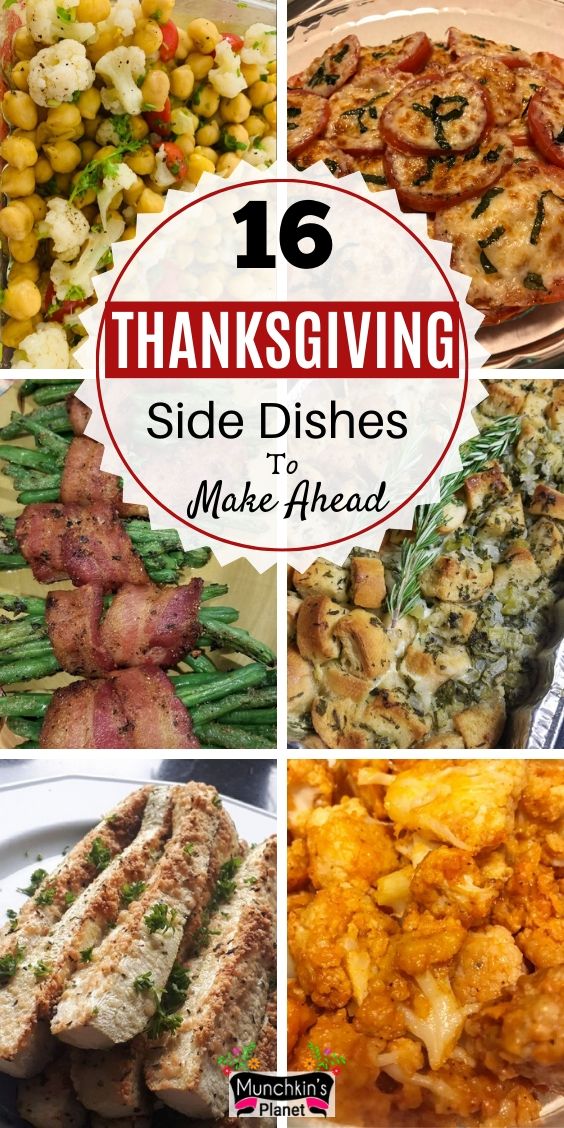 Related Posts:
Thanksgiving Appetizers
Thanksgiving Desserts