12 Easy Keto Breakfast Recipes For On The Go
Starting the day with a healthy ketogenic diet is always a good idea when your target is to lose weight. And when these easy keto breakfast recipes come to your rescue.
If you are on a low-carb diet, that doesn't mean you have to try the same old complete and meat for the breakfast. Because in these recipes you get keto-friendly pancakes, muffins, eggs, burritos, tacos, sausage, french toast, casserole, and smoothies.
Even if you follow a vegan or vegetarian diet, there are plenty of options including salads, avocado, shakes, sandwiches, bread, and bagels, made from almond flour or coconut flour that are dairy-free, gluten-free, and paleo-friendly.
When you are on the go and getting late for the office, you need something simple and easy no egg keto breakfast, and if it is make-ahead quickly even better.
Even if you are not a keto enthusiast, still these low-carb breakfast ideas are meritorious because it promotes clean eating and are very helpful if you are a beginner trying meal prep.
Related post – Easy Keto Dinner Recipes
1. Goat Cheese Tart
As it sounds, it is not the same old sweet or eggy tart, in fact, it is a delicious savory tart perfect for breakfast. The flavorful combination of three different kinds of cheese is so easy to make for meal prep or a party.
2. Keto Low Carb Pancakes with Sneaky Squash
A healthy pancake recipe to start your day with the goodness of zucchini and crookneck squash mixed with coconut flour to make the perfect low-carb pancakes.
3. Breakfast Quesadillas With Spinach & Red Pepper
Try this protein-rich delicious quesadilla for a power pack breakfast. Chopped spinach and red pepper add flavors to the tortillas topped with cheese.
4. Chocolate Peanut Butter Shake
If you are looking for the best keto meal replacement shake, well here is a chocolate peanut butter shake. When you are on the go, this low-carb replacement shake is so easy to make, that it takes five minutes to prepare.
5. Keto Chocolate Chaffle
Satisfy your craving for chocolate with this low carb Cheese + Waffle = Chaffle breakfast. It just takes 15 minutes to prepare.
6. Low Carb Pepperoni Pizza Frittata
Repurpose leftover veggies from your lunch or dinner into this delicious low larb pepperoni pizza frittata, a simple and easy breakfast.
7. Chocolate Chip Gluten-Free Scones
Try these crunchy on the outside and soft on the inside chocolate chip gluten-free scones that are perfect for breakfast or lunch.
8. Simple 5 Ingredients Keto Bagels
These are the easiest and most delicious low carb bagels, unlike the regular bagels that have too many ingredients. A must-try for breakfast.
9. Denver Omelet
Classic breakfast recipe with fresh and tasty ingredients egg, onion, cheese, ham, and bell peppers.
10. Instant Pot Italian Sausage
A quick and simple instant pot Italian sausage recipe seasoned with garlic, chili, and fennel is a perfect keto breakfast to start the day.
11. Cauliflower Hashbrowns
These healthy starch-free patties are the perfect low-carb breakfast idea as you can replace the high-carb potatoes with cauliflower. Check out the recipe.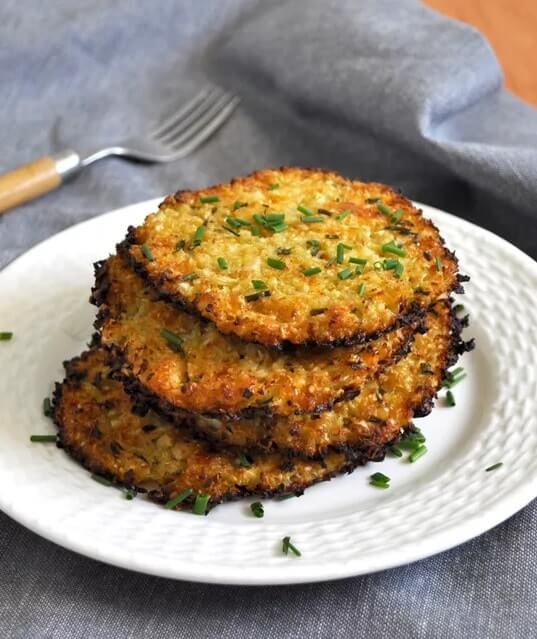 12. Chocolate Protein Pancakes
A perfect way to start your day with an easy and quick chocolate protein pancakes ketogenic diet, choose your desired toppings.

If you enjoyed these recipes or want to save it to try later, Please Pin it on the Keto Recipes board on your Pinterest.