21 Scary Halloween Garage Door Decoration Ideas
As the air gets cooler, the stage is set for Halloween.
I'm sure you must have planned some great DIY ideas for the porch, front yard, and windows. What about the garage door?
Halloween garage door decor is so underrated.
Even I forget about it. Every Halloween I try to do something different than last year however, I always feel something is missing, and that's my garage door.
The garage door is indeed a huge area visible right in front of the house. It obviously looks boring if you leave it blank. It's a big canvas, you can do so much with your creativity.
In this post, I'm going to share a bunch of easy DIY Halloween garage door decoration ideas that will transform your garage door into a scary masterpiece.
Let's get started.
How to decorate garage door for Halloween
To decorate the garage door I've scrolled through the Pinterest rabbit hole and found that, broadly there are five most popular types of garage door decorations:
Mausoleum crypt decoration
Duct tape art
Plywood silhouette
Creating animated effects using a projector
Door covers and decals
Decorating with door magnets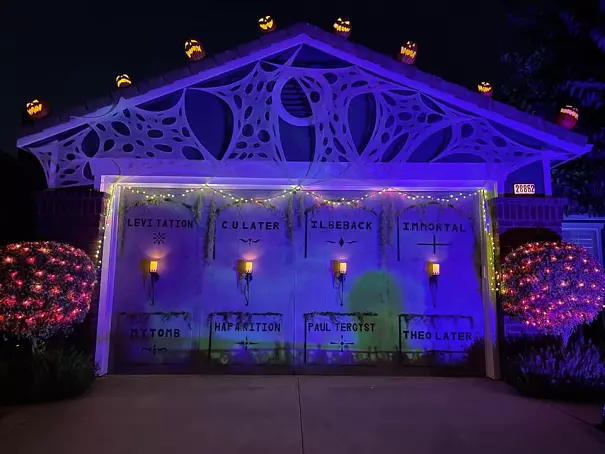 Plus there are other popular themes like monster mouth, jack-o-lantern, and clown face. That I'll talk about later.
Mausoleum crypt Garage Door Decoration
The square panels of the garage door are perfect to create a mausoleum-type crypt wall. This project is pretty simple, you need foam boards and magnets. you can easily get them from your local hardware store.
Take 1-inch thick foam board and cut it into equal sizes crypt plates. Spray paint the board with a grey shade and make it look weathered. You can write the names and memorials by hand or take a printout and glue it on the foam board.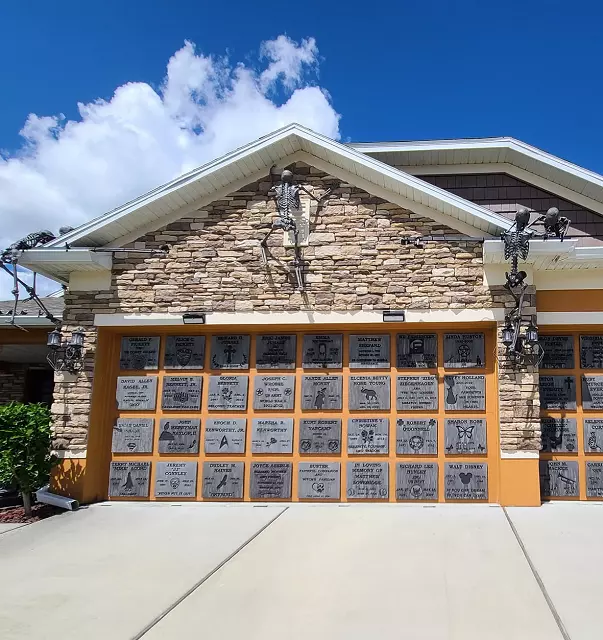 The installation of the garage door mausoleum crypt is pretty simple, just glue the magnets on the back side of the foam board and attach it to the squares of the garage door panels.
A quick tip: In place of foam board, you can also use try poster board and use transparent tape to attach it to the squares.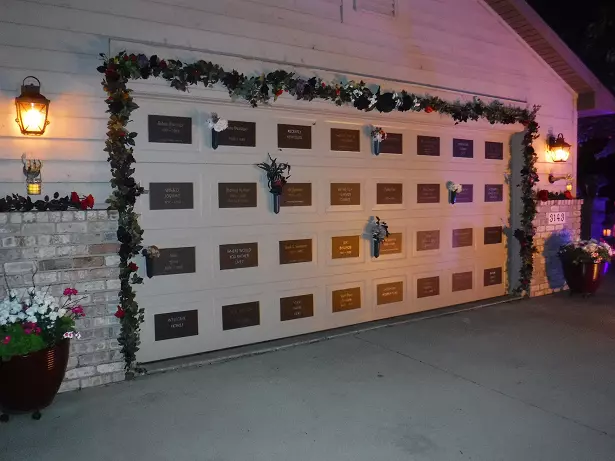 Magnetic sheets are another great material you can use to make crypt plates for the mausoleum. Get 8″x10″ magnetic sheets from Amazon and print names and memorials of your choice. The magnetic sheets are easily attached to a metal garage door.
Add some faux flower garland and lanterns as shown above to make it real.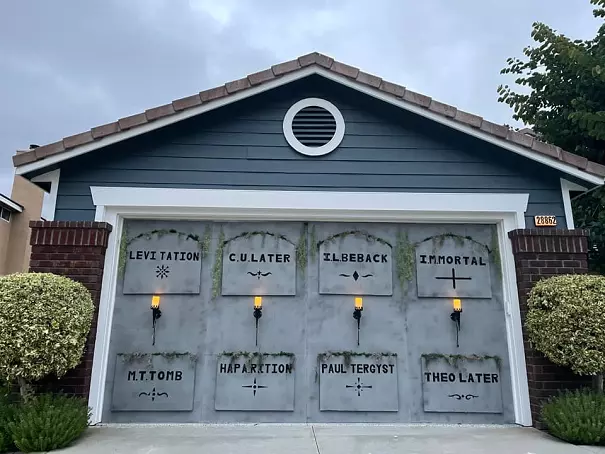 This monster mouth door decoration is based on a carnival theme. The eyes, nose, and teeth are made out of plywood cutouts. And painted to look like a creepy clown with a wide mouth.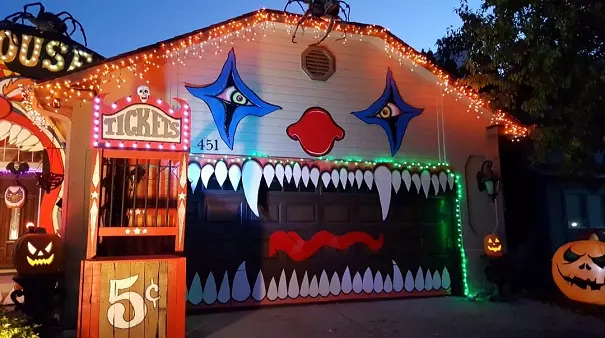 Halloween garage door decor Silhouette
If you're passionate about woodworking then this project is for you. To make the silhouette, for inspiration first, find an image of two witches with a cauldron. You can easily get one on Pinterest or Google.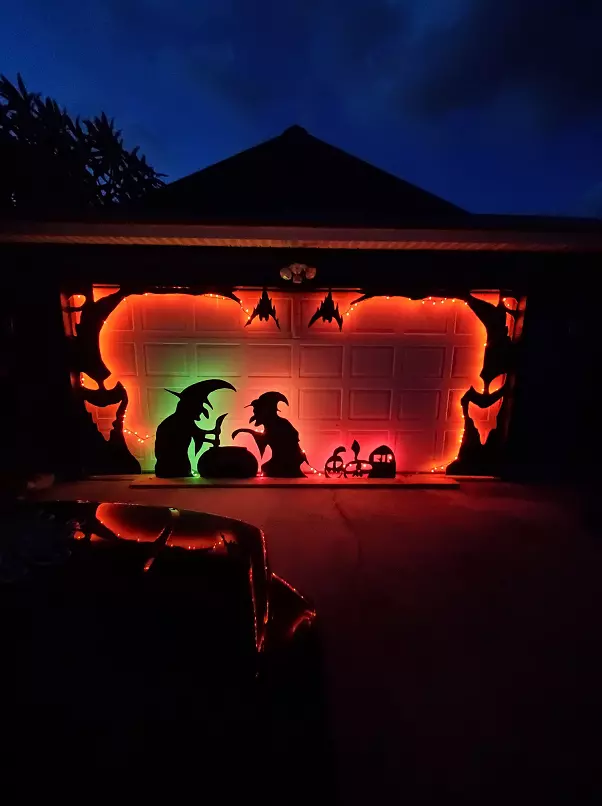 The second step is to draw an outline of the image freehandedly on a piece of plywood (4×8 plywood board). You can even use bigger plywood based on the image and size you want. You will need two or three pieces of plywood for this project.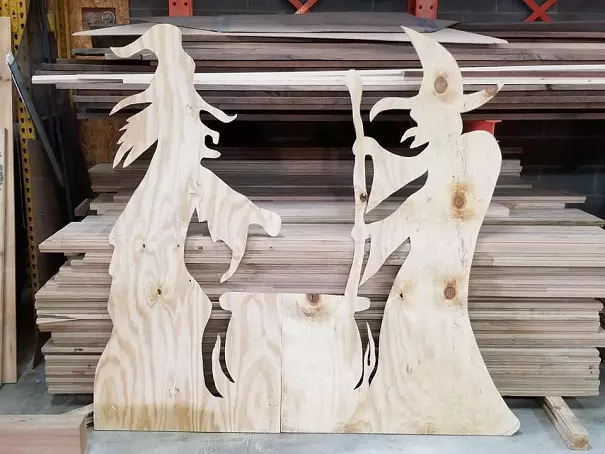 Once you are satisfied with the outline, cut the plywood with Dremel in the desired shape. Sand it and paint it in a dark black shade. Maybe two or three coats of paint are enough.
Add some extra spookiness by adding orange or red string lights (affiliate links) at the back of cutouts. Attach them with tape. Plug in the cord and check everything looks fine. Give some final touch-ups before installing the silhouette.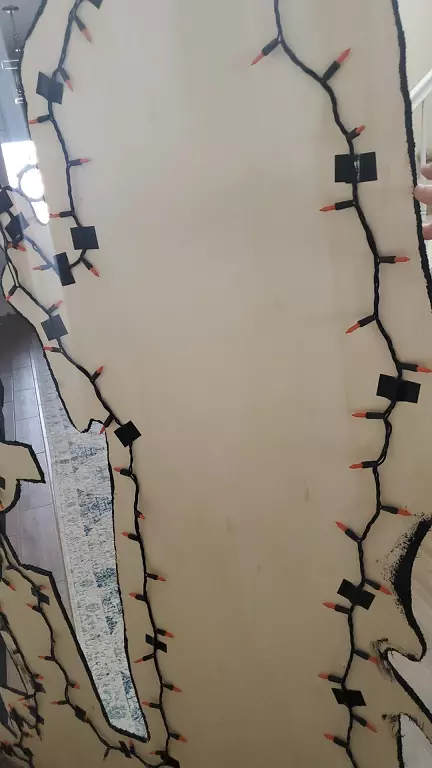 The headless horseman is a unique silhouette for Halloween door one can try other than witches with the cauldron.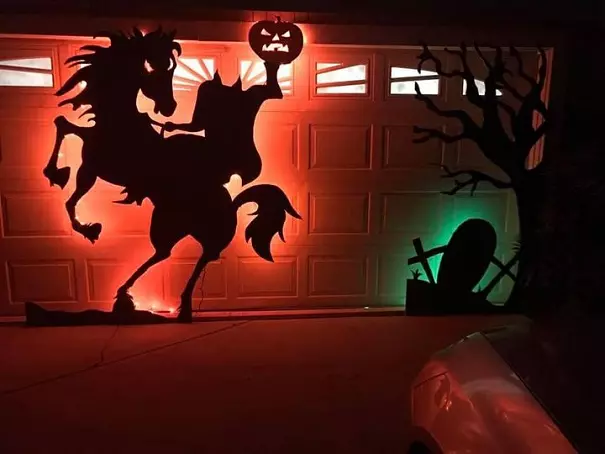 A grim reaper along with jack-o-lanterns is used in this silhouette design additionally, two cocoon corpses are also hung to make a haunted scene.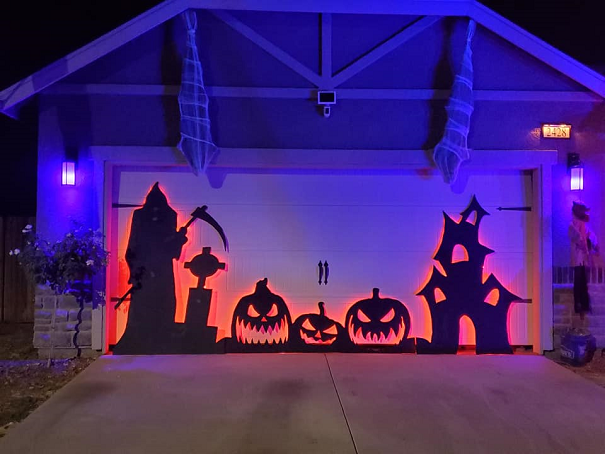 This silhouette is inspired by Oogie Boogie.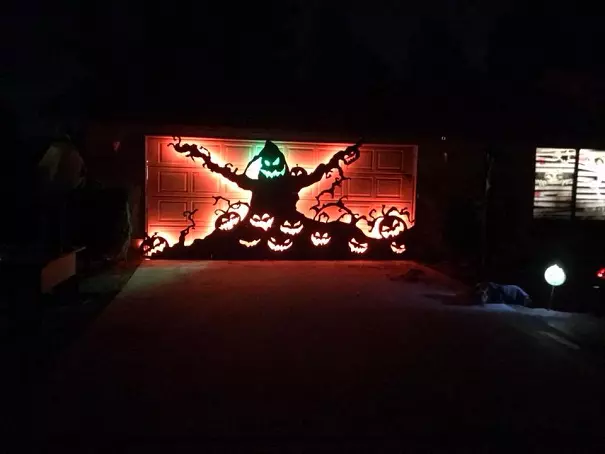 This amazing jack-o'-lantern face garage door is again made from foam board pieces cut to look like jack-o'-lantern teeth decorated with Christmas lights.
For the eyes and nose, the weed barrier is attached to thin pieces of wood in a triangle shape. As it gets darker, this decoration makes the garage door a huge jack-o'-lantern.
Related post – Make sure to check out these front door decorations for Halloween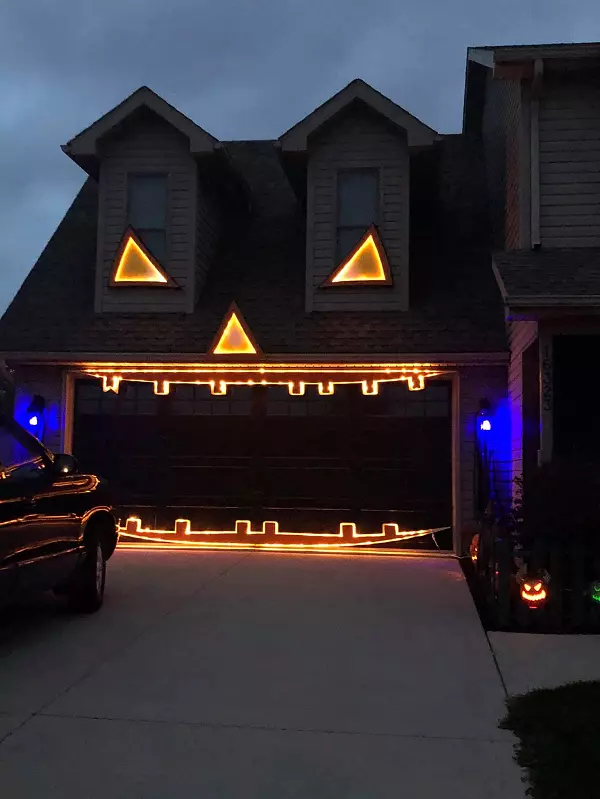 Halloween garage door Monster Mouth
This monster mouth garage door went too viral a few years ago. This is pretty easy to make. First, you need black plastic sheeting. Cover the door panels with black plastic sheeting.
With the help of a marker, draw the monster teeth shape on the foam board and cut them out. Paint the upper and lower part in red gum color.
For eyes, cut the foam board in an oval shape, and make the eyes a bit tilted. Glue a green construction paper, and again glue a black circular paper over it.
With double-sided tape, stick the teeth and eyes over the garage door. Your monster door is ready.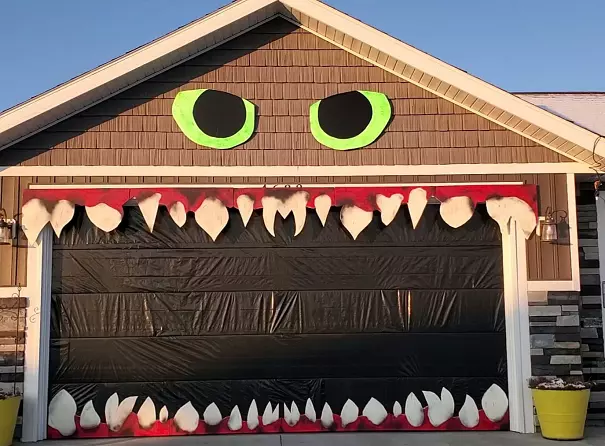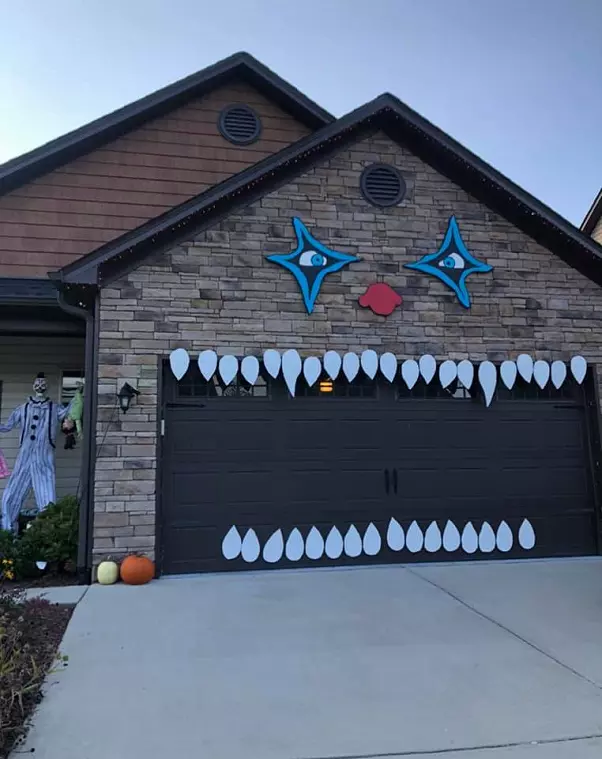 The killer eye monster garage door decoration, the red lighting, and the spider give this decoration a creepy look.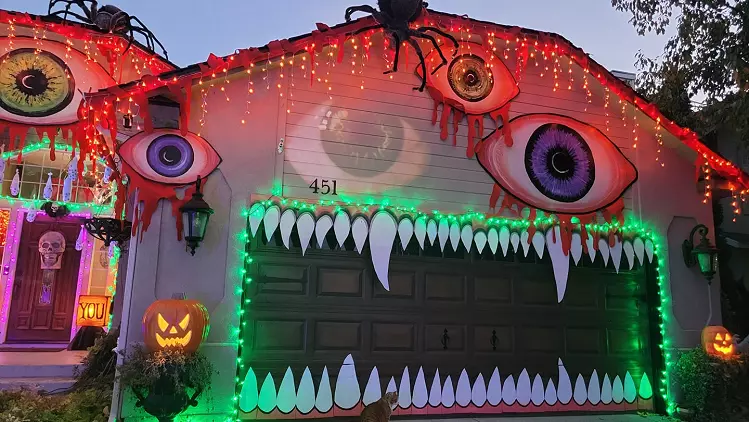 DIY Garage Door Halloween Decorations With Duct Tape
At first, glance, when you see a duct tape decoration on the garage door it seems like you need artistic skills for that. But it's not that hard, start with simple designs like a jack-o'-lantern, bat, or spiderwebs.
You just need three things, black duct tape, a crafting blade, and imagination. Take inspiration from the below ideas.
Still, if you find it hard to make something out of duct tape, you can use decals like – bats, skeletons, and many other cool ideas available on Amazon and Etsy.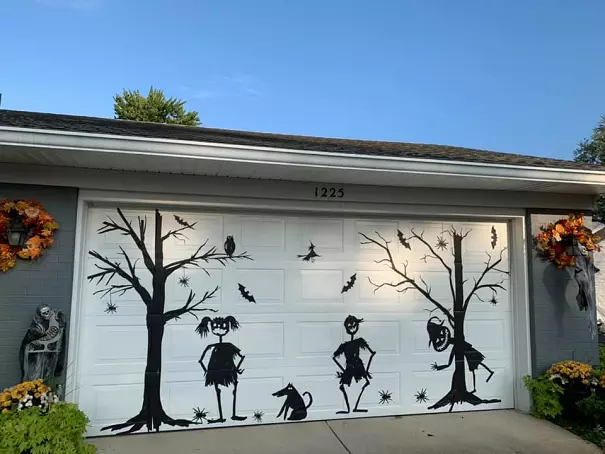 Some of these decals and stickers can easily be found online.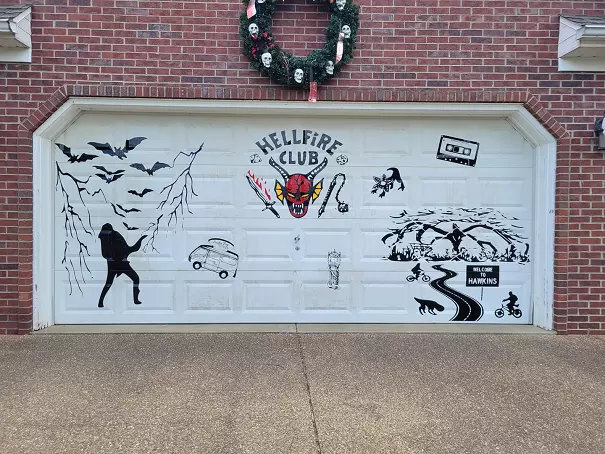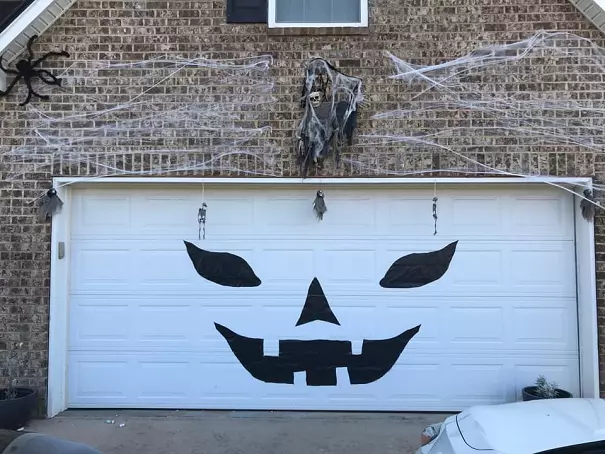 Jack Skellington's face from the nightmare before Christmas.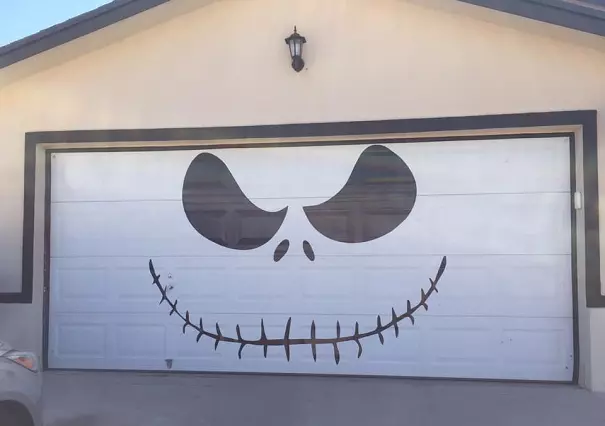 A cemetery scene with a lot of bats and a grim reaper made from duct tape.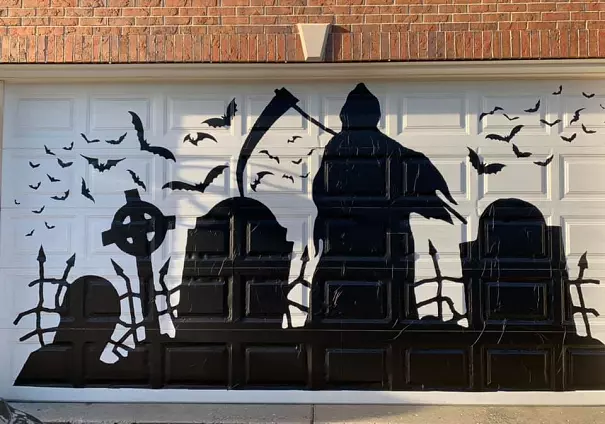 Halloween Garage Door Magnets
Since most garage doors are made of steel, there are plenty of garage door magnets you can try for Halloween decor. Just lay them on your metal door, it is as simple!
Check out these magnet decors at Etsy (Affiliate link)
Animated Effects Using A Projector
As digital decorations are trending nowadays, you can also try creating these animated effects using a projector with AtmosFX. Though it sounds a bit technical believe me it's way easier than any of the above door decorations we have discussed so far.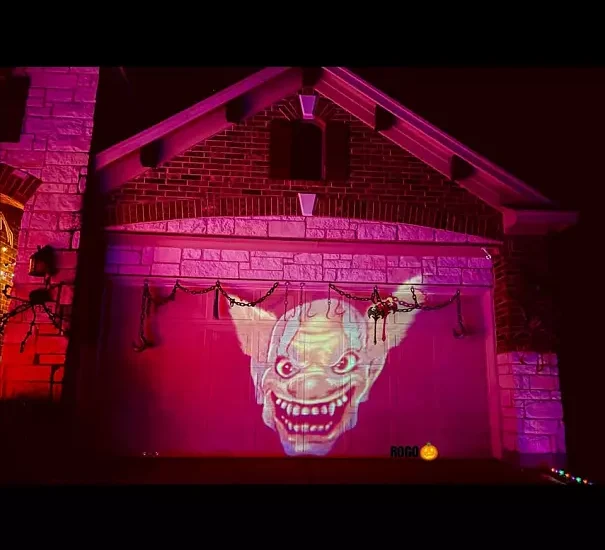 How to create animated effects on a garage door with a projector?
In digital decoration, horror images with animated effects are stored on a DVD or a USB stick. You need to connect your projector to a DVD player or an HD media player (to play the USB).
Adjust the distance between the garage door and the projector. Find the right spot over the door to play the effects.
The setup you need: (Affiliate links)
A projector with 1080P resolution
Or you can buy special effect videos online of your choice from AtmosFX and store them on your USB and play it on the projector.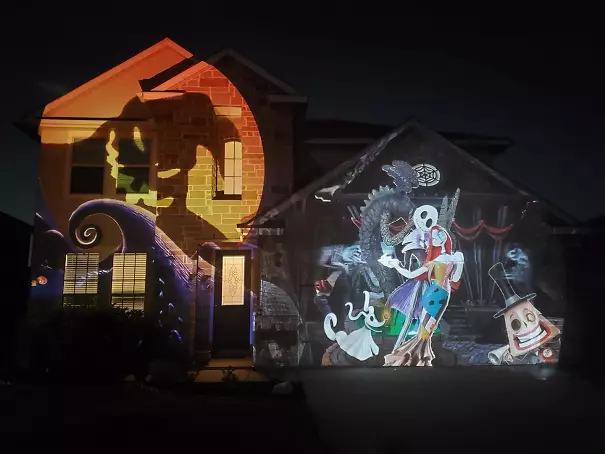 If you find this post interesting or got some new ideas, please consider pinning these images to your Halloween decoration board on Pinterest. It really helps me to reach more audiences.