12 DIY Halloween Door Decorations Ideas
This post may contain affiliate links. Please read the disclaimer.
It's the perfect time to BOO the Treat trickers with these amazing DIY Halloween door decorations ideas.
If you're on a tight budget and want to try some cheap and easy Halloween decoration ideas then you won't be disappointed here as I'm going to share some unique and creative Halloween door decor ideas.
To be frank DIY door decoration is one of my favorite parts of the school Holiday door decorating contest for the classroom. Kids really love to do this spooky and scary Frankenstein stuff.
You can also take inspiration for your Halloween door decoration for your home and office. Most of these decoration ideas are simple and easy using cheap supplies from Amazon.
Here you'll find lots of cool and funny ideas to decorate your front door. Starting from basic Frenkestine, spider web, lot's of bats, and funny monsters you'll have all here.
Without any further delay, let's jump right into the ideas.
Giant Spider
A giant spider with eight eyes staring at you, the big four legs give a unique look to the door. Check out the self-adhesive googly eyes for this decoration.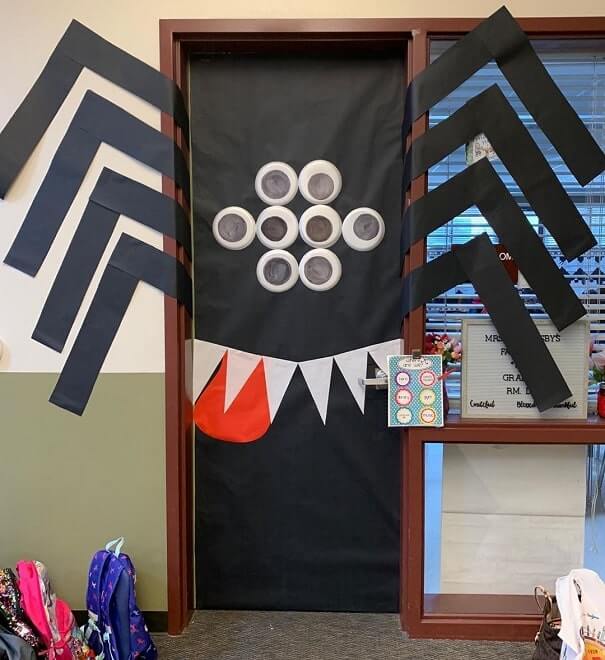 Funny Frankenstein Halloween Door Decoration
We have all seen scary Frankenstein stuff but this one is funny and perfect for classroom kids. Check out this Frankenstein decal to make those faces. Add a spider decal in the corner.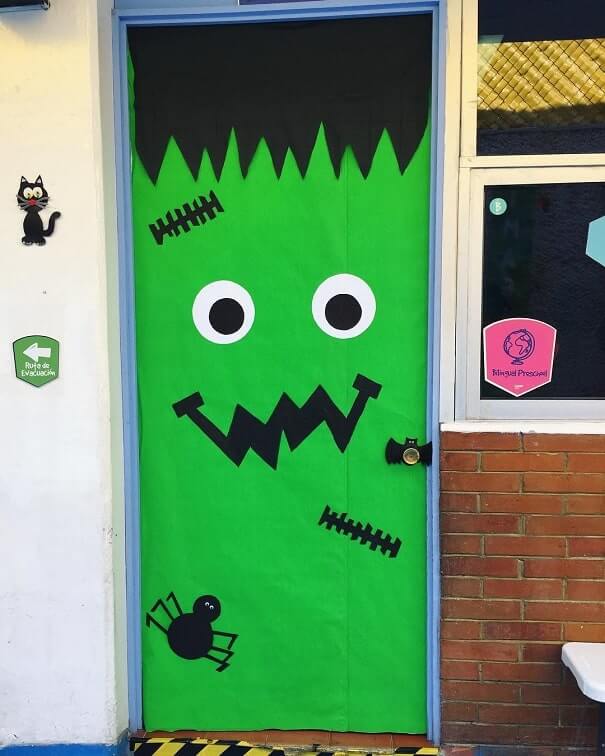 Hocus Pocus Wooden Porch Sign
Welcome your guests with this elegant Hocus Pocus Halloween sign to decorate your front porch. Check out the Hocus Pocus sign.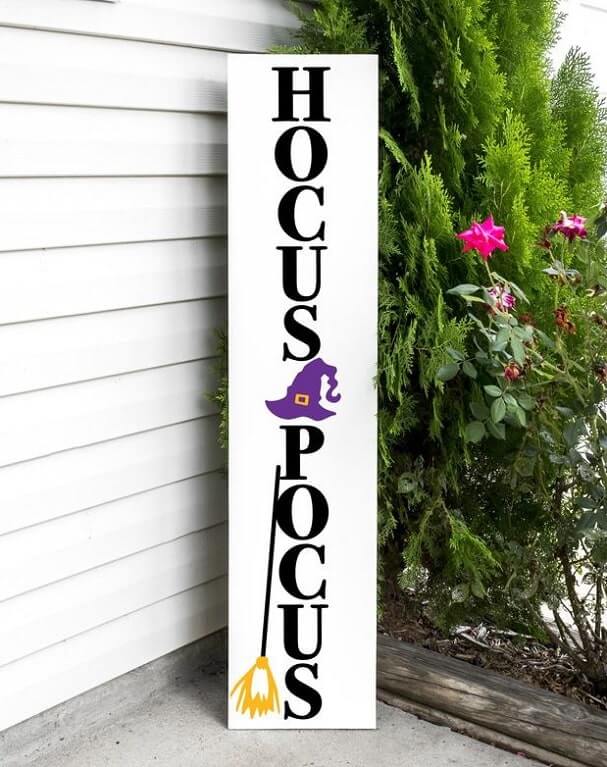 Simple Bat DIY Halloween Door Decor
Bat decor is the simple and easiest way to decorate the door. You can choose a combination of one large or medium-size bat surrounded by lots of small bats. Get these 3D bat decals.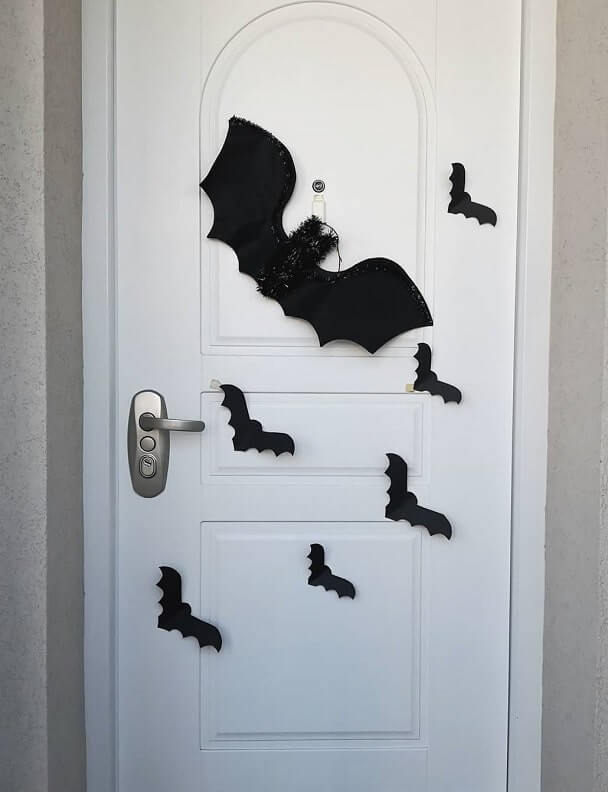 Spider Trick or Treat Door Decoration Idea
Cute spider web decoration with trick or treat the text with a yellow background really looks cool. You can get these spider web decals from here. Also, add this trick or treat decal in the mid.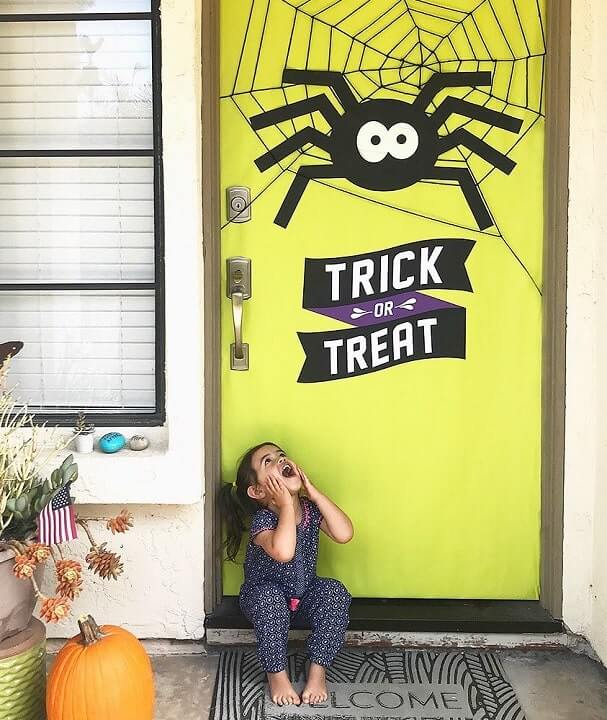 Skull Halloween Door Wreath
Decorate your front door with this battery-operated skull head wreath. His eyes, nose, and mouth glow in different colors and he makes a spooky Boo sound. Check out here.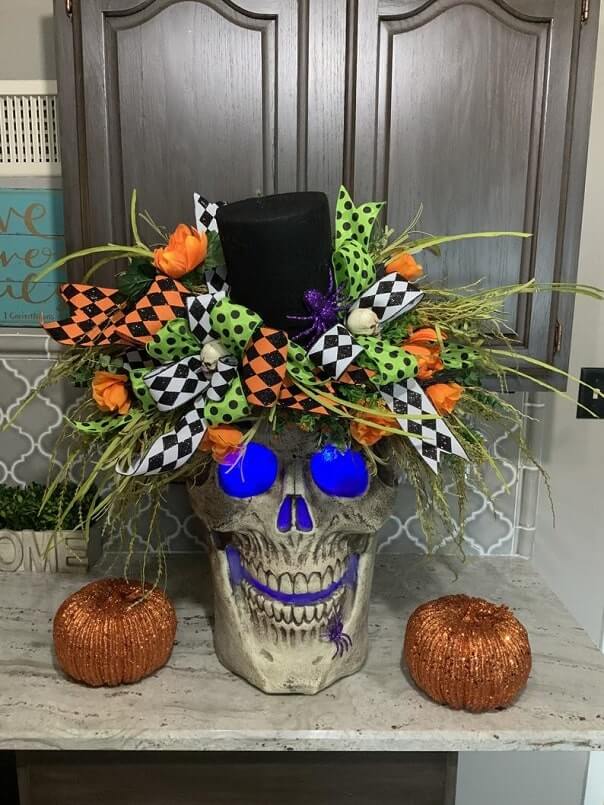 Moroccan Style Halloween Lantern for Front Door
Halloween front door decoration is incomplete without these beautiful Moroccan lanterns. The amber color perfectly matches the Halloween theme. Check out this lantern.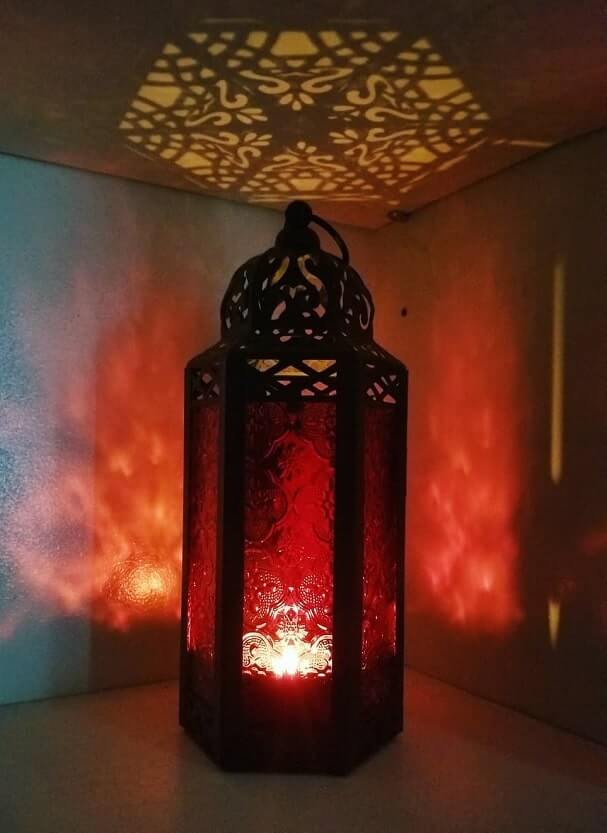 Cute One Eye Monster
All kids love this cute one-eye monster.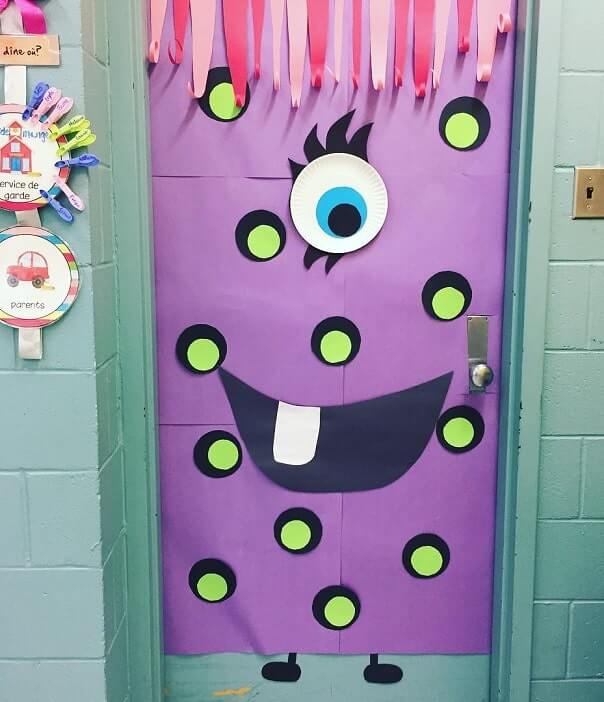 Wicked Witch Face
Try this scary and funny wicked witch face decoration. Also, check out witch's brew door cover.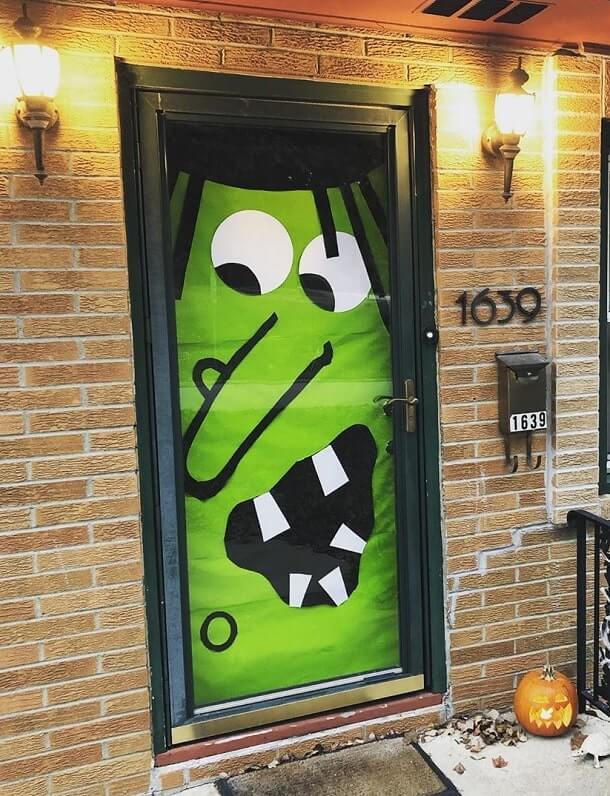 Halloween Garden Flags
Decorate your front yard and garden area with these beautiful Halloween flags to perfectly match your holiday decorations. The best part is, that it's double-sided and easily visible on both sides. Check out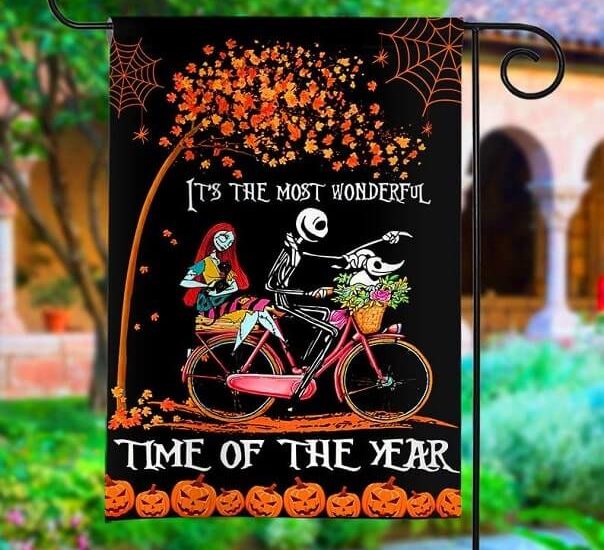 Check this Tricky or Treat Flag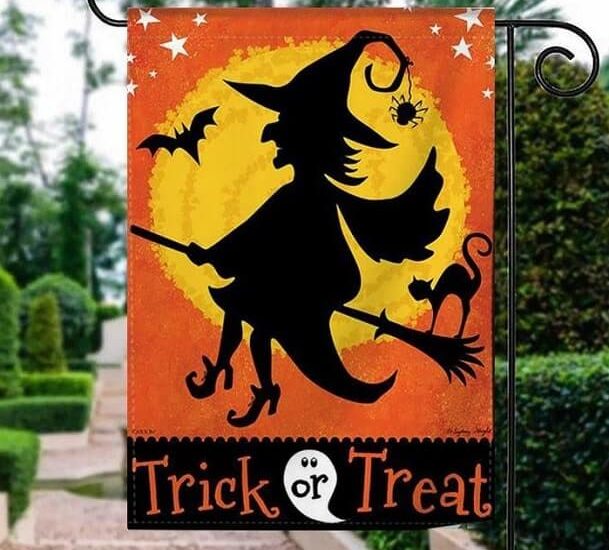 Witch Feet Candy Bowl
Try this classy-looking witch feet candy bowl for porch decoration. It is in cauldron shape. Check out these candy bowls.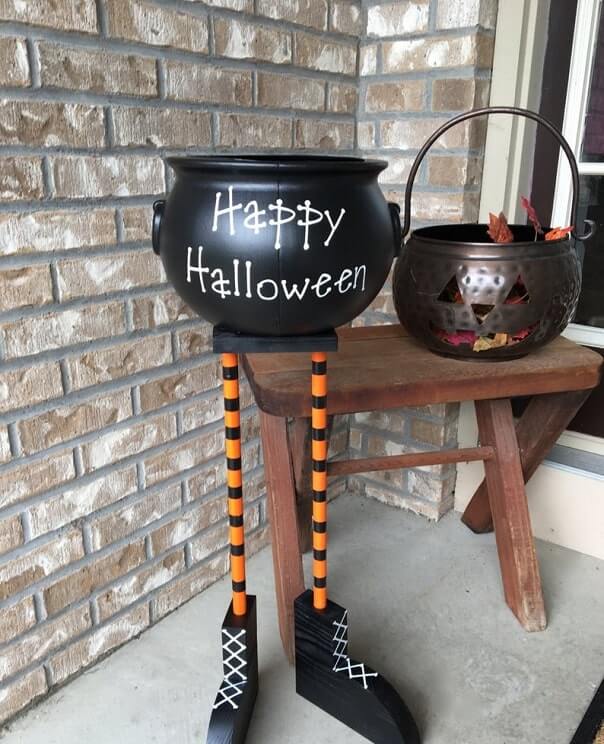 Hocus Pocus Coffee
A very interesting Halloween door decoration was done by school kids for the classroom. Check out another cool Hocus Pocus door cover for Halloween party decoration.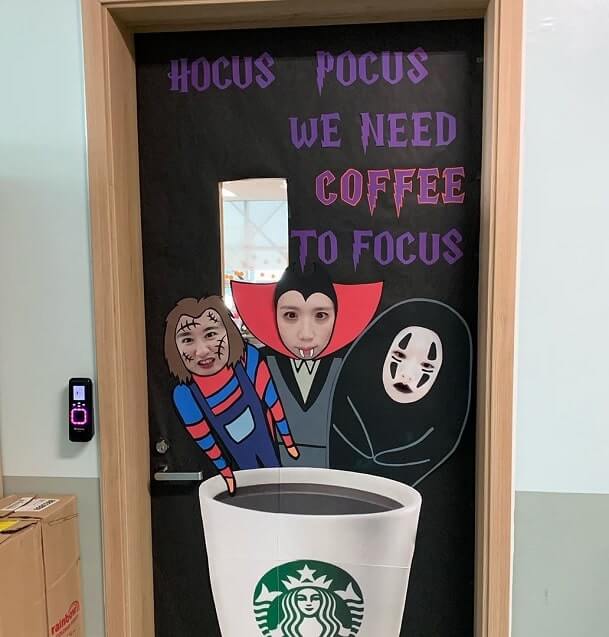 Spooky Halloween Front Door Decoration
Boo! A very simple yet scary door decor idea for the front porch. Get this Jack skellington face vinyl design.
One of the cost-effective ways to decorate the front door is by hanging some eye-catching Trick or Treat banners. Add some maple leaf garlands over the door for a classy look.
Check out the banners: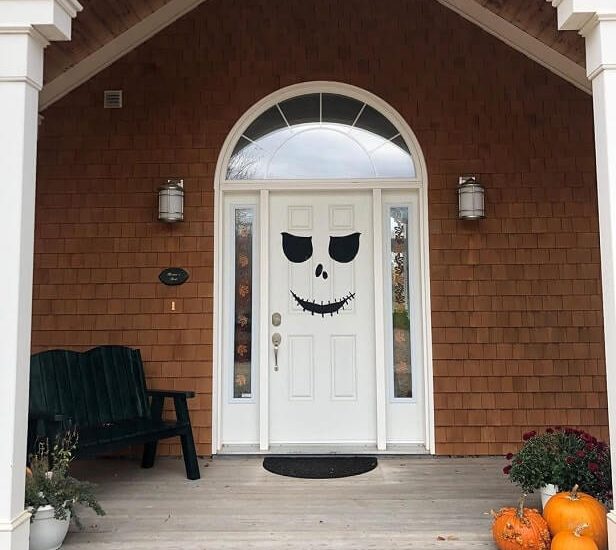 Fall Decor Pumpkin Wreath
This rustic pumpkin door hanger is a perfect fall décor idea for the front door. The orange Jack o Lantern design gives a festive touch. Check out this wreath.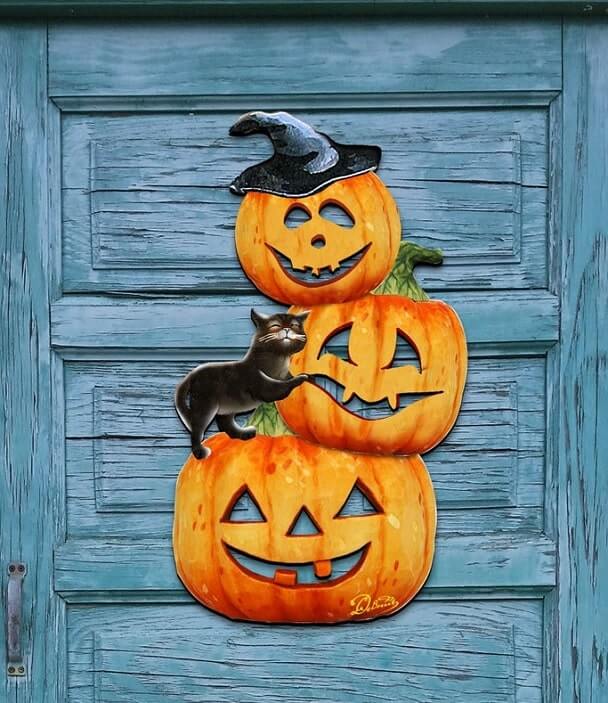 Smell My Feet
Creative idea to say trick or treat smell my feet with the socks hanging. Check out this orange face jack-o-lantern door cover.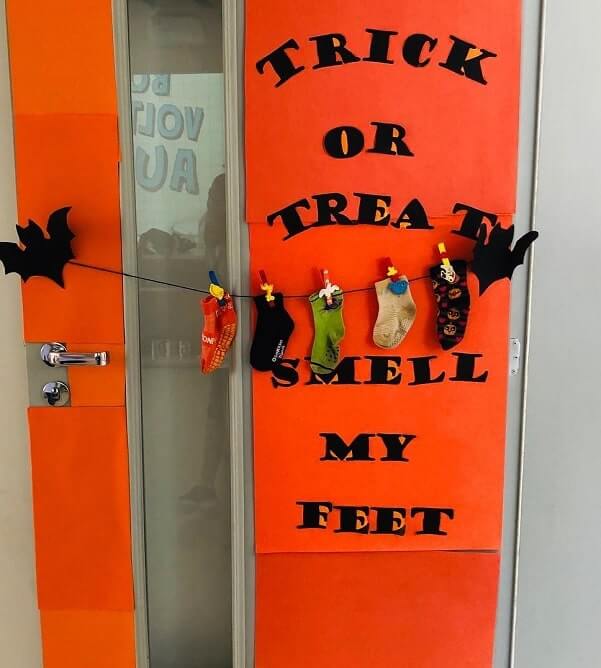 Decorative Pumpkin Foam Jack-o'-Lantern
Jack-o'-Lantern is perfect for Halloween party decoration. Check out these foam pumpkins.
For the porch decoration, it is best to try a combination of small, medium, and large artificial pumpkins. The best part is you can use them as the centerpiece for Thanksgiving.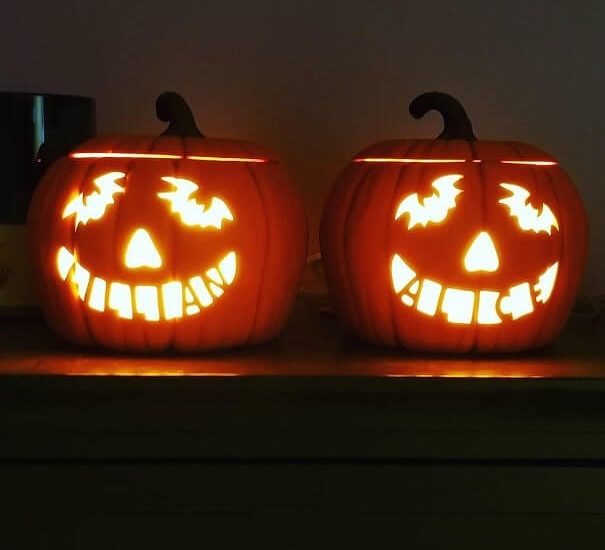 Mummy Halloween Door Decor Idea
You just need some broad white tape to make those mummy bandage patterns on the door to give that Boo look. Check out those self-adhesive giant googly wiggle eyes.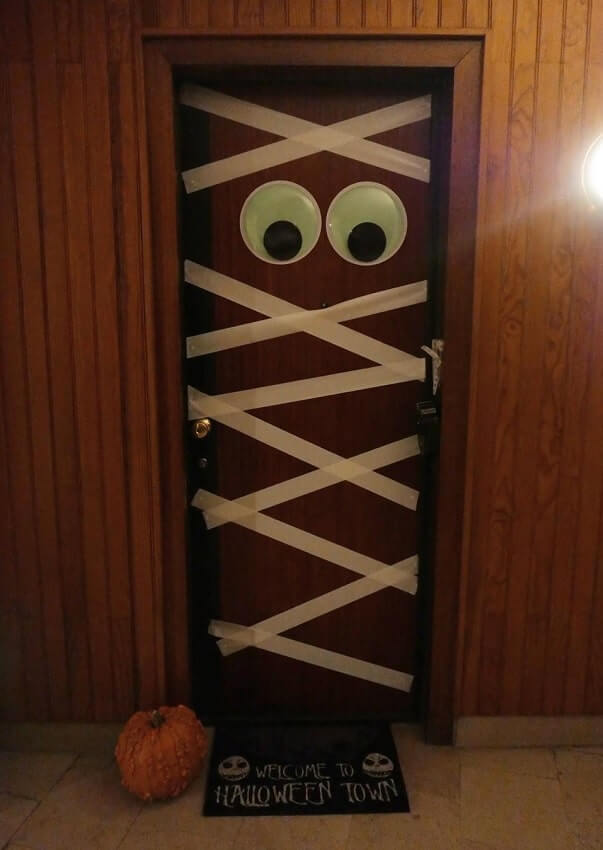 Spider Web Decor
The Spider web pattern really looks cool for Halloween door decor, adding some tiny spiders will make it more realistic. Check out these spider stickers and decals for this decoration.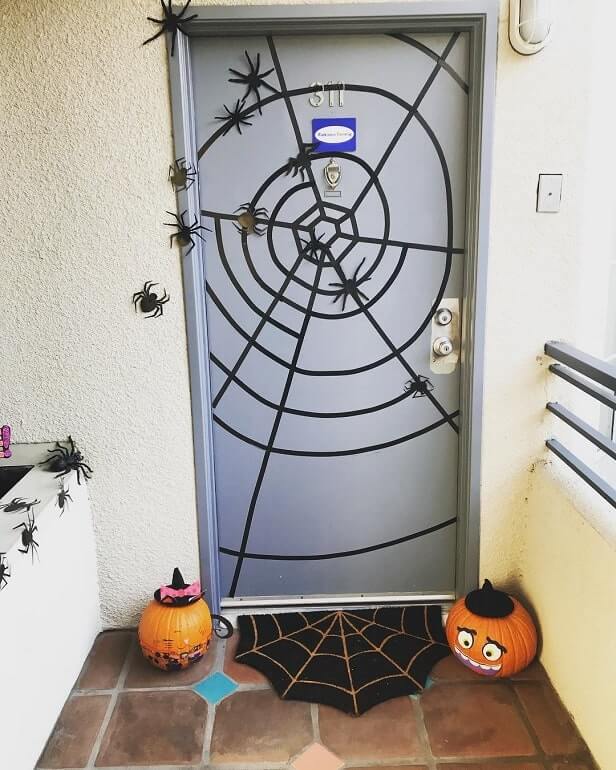 Burlap Halloween Boo Wreath
A beautiful handmade burlap Boo wreath with cute ghosts and polka dot ribbon makes it a perfect Halloween wreath for door decoration. Check out.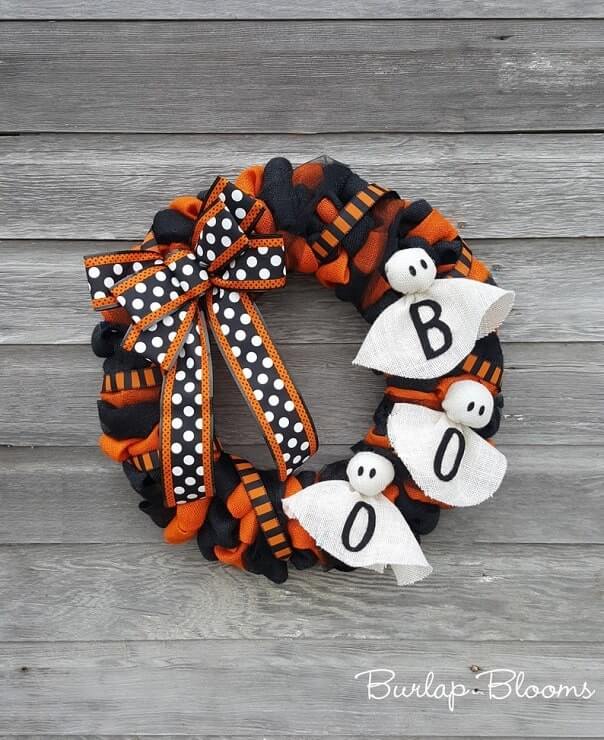 Read If You Dare
Check out this Halloween welcome door decor perfect for the classroom.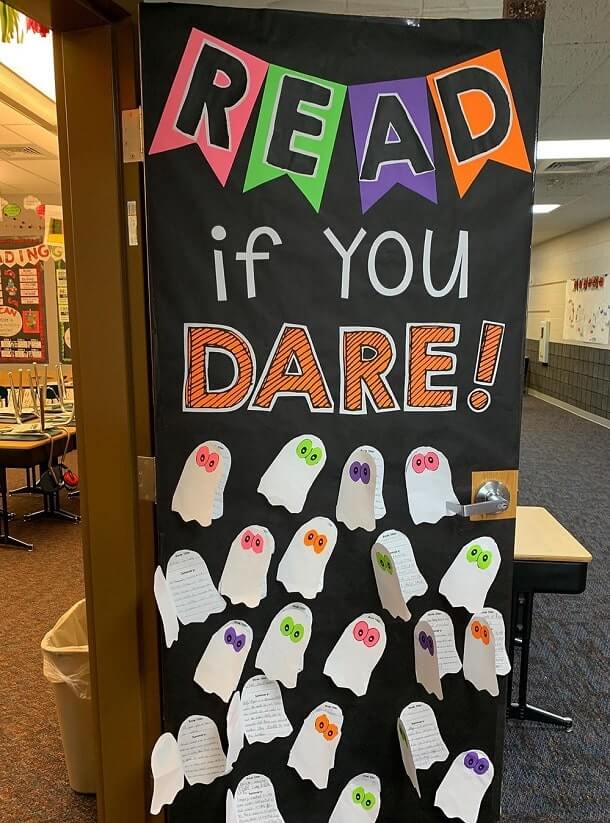 If you enjoyed this post or want to save it for your inspiration, please pin it on the Halloween Decoration board on your Pinterest.