21 Large Outdoor Fairy Garden Ideas
Do you believe in fairies and their magical powers?
Well, whether they are real or not but the idea of creating an enchanting miniature fairy garden excites the child in all of us.
Let's be honest, In some or the other way, fairies have always been part of our childhood fantasy. The tiny houses, plants, and Gnomes keep running in our minds.
In my childhood, I always dreamed of creating a large outdoor fairy garden in my backyard. The whole idea blew my mind.
When you're making a DIY fairy garden in a pot, container, or even a teacup fairy garden, your space is very limited.
You can create a tiny fairy house along with some accessories like a table, chair, and pond. And the fairy sitting on a bench. That's it.
But in a large outdoor fairy garden, you got a much bigger canvas to showcase your creativity. The possibilities are endless. Just imagine, you can create an entire village, a woodland with deer, horses, and other animals in your backyard.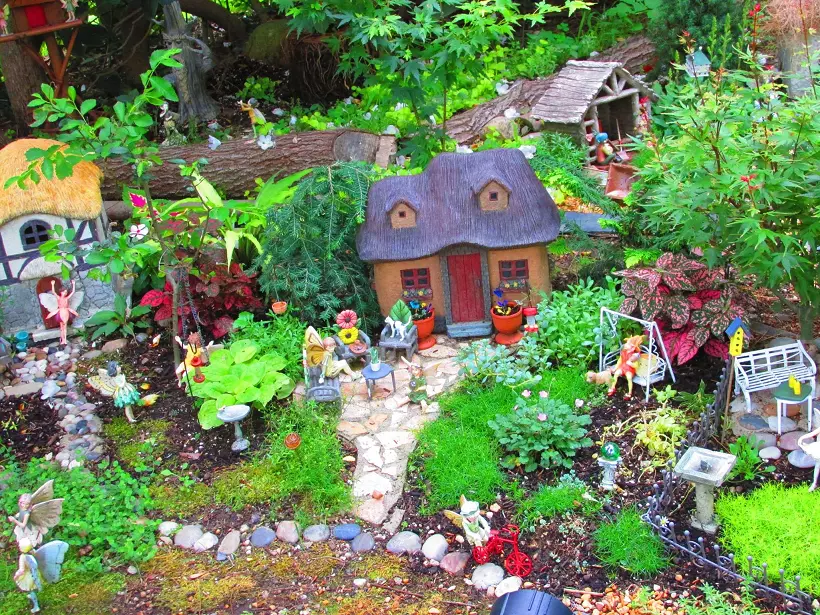 In a larger outdoor set up you have more room to make several gnome houses, tiny mushrooms, ponds, waterfalls, beaches, and bridges. You can accommodate more variety of plants to make it full.
To make you believe in fairies, I've cherry-picked a beautiful collection of large outdoor fairy garden ideas. Take a look…
Large Outdoor Fairy Garden Ideas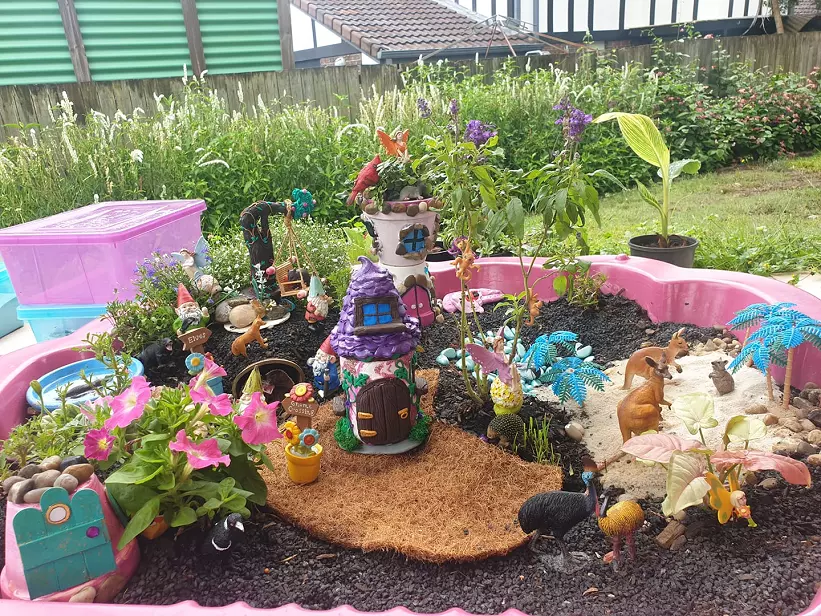 How do you make a large fairy garden outside?
While creating a large outdoor fairy garden, first you need to select the right place in your backyard. Starting with a base structure, a tree stump can be the best element.
If you don't have a tree stump, look for a large piece of log that looks close to a tree stump. Add all the accessories like a staircase, door, and windows. This will give a perfect gnome house look.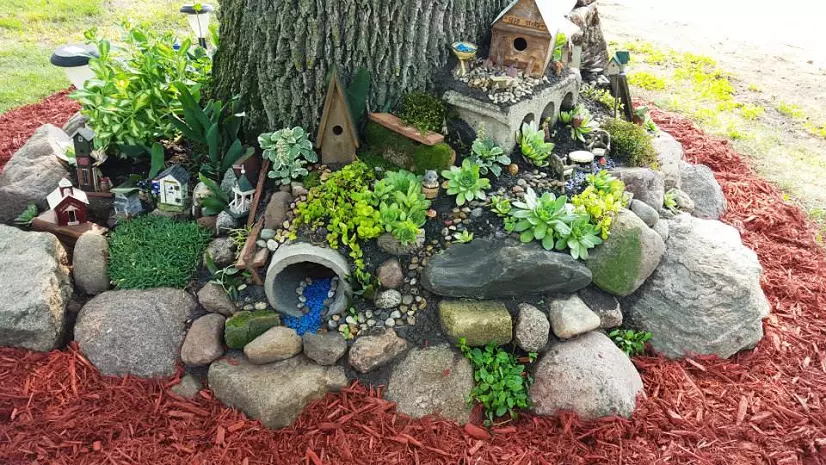 Once the base structure is in place, start building other structures around it. Create more tiny fairy houses, and water bodies like a pond, waterfall, or a bridge over it.
Within each structure, add adding matching accessories like tiny mushrooms around the house, and flowering plants like lavender and pratia pedunculata. A few tiny gnomes figurines near tree stump plus add fences around the fairy homes.
How do you layout a fairy garden?
To layout, a fairy garden, first, start with landscaping. As you place the main structure in the center, it can be a tree or a gnome house. Make pathways using stepping stones, or small rocks. Sprinkle some pea gravel around the stepping stones. You can also use colorful pebbles and blue sand to make the pathway stand out.
Tiny plants like rosemary, Alyssum, and succulents are perfect for the fairy landscape. To make the garden inviting to fairies add a fountain, waterfall, and a bench with a tire swing.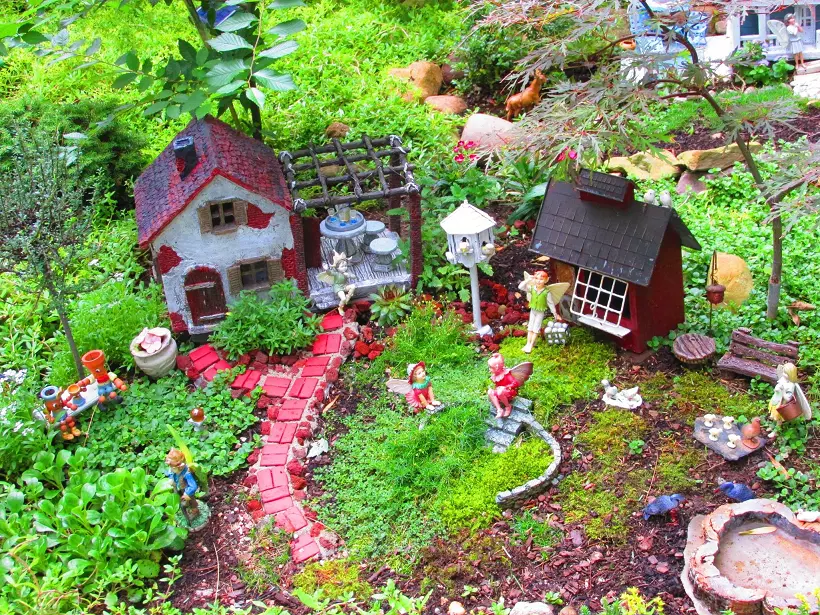 Next, to cover the soil area, you can use red much, it looks awesome and gives a nice background color to your large fairy garden. It also stops weeds from growing into the outdoor garden.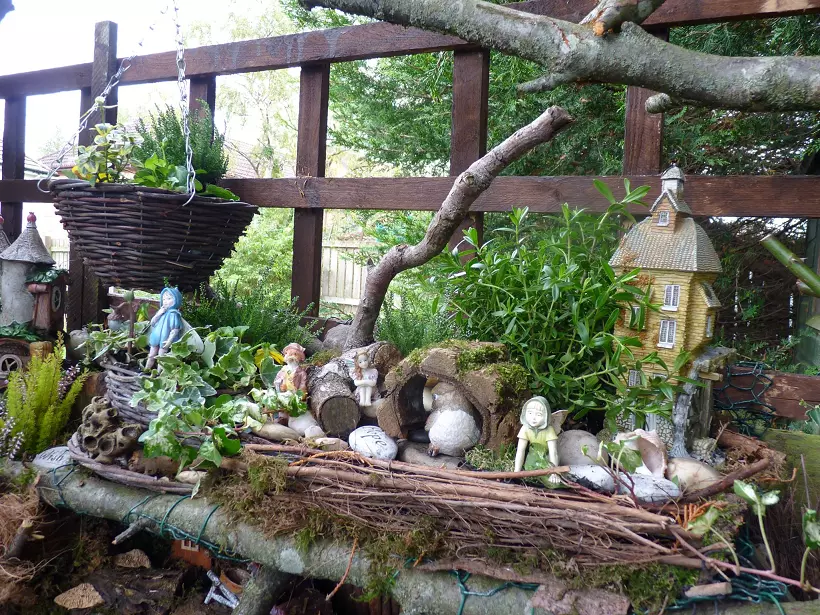 The second option is to cover the empty spaces with moss and shrubs. There are many varieties of moss you can try. I prefer fern and Irish moss.
What type of plants to use for a large fairy garden?
For a large outdoor fairy garden, focus on more floral plants because it gives a vibrant look to the whole setup.
Flowering plants like Lavender, pratia pedunculata, mini daisies, fairy roses, California poppies, chives, and African violets are some of the best choices for a large fairy garden.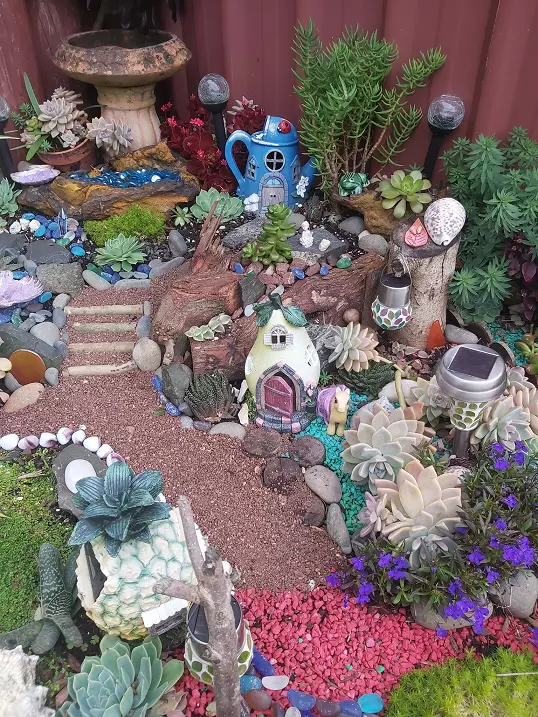 Choose miniature plants that can be easily grown in small places plus grow densely to cover the empty spaces of the garden. You can try golden creeping jenny, sedums, pink nerve plants, coleus, Alyssum, jade, and succulents.
What accessories do you need for a large outdoor fairy garden?
When it comes to accessories for a large fairy garden, the sky is the limit. Start with very basic items like tiny mushrooms, garden fence, lanterns, fairy swing, pond, bridge, and ladder.
Create a whimsical world for fairies with miniature furniture including tables, chairs, and teacups. Try DIY fairy garden accessories made from twigs and popsicles.
Make a fairy waterfall or pond with a few rocks and hot glue. Use wood slices or round chips to make a staircase. Polymer clay can be to make fairy doors.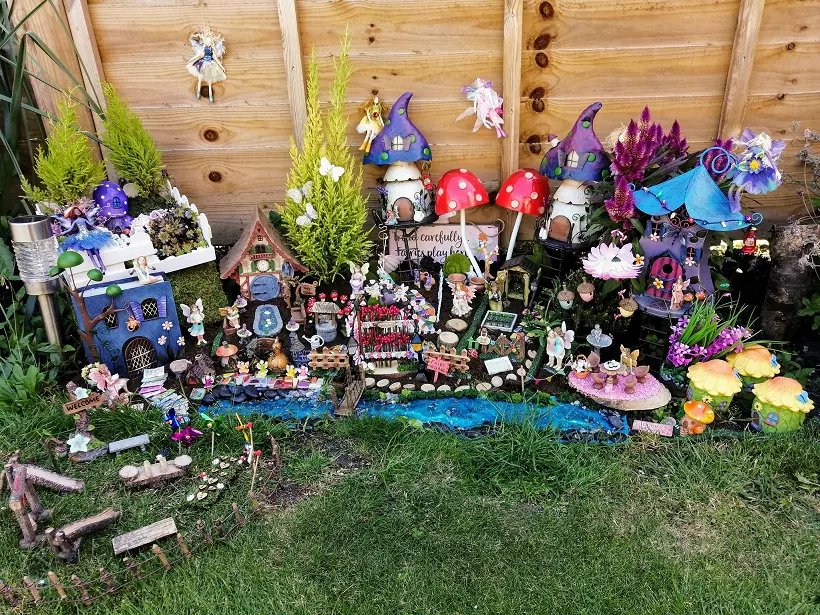 Don't forget the fairy garden figurines – Gnomes, animals, and of course cute little fairies. Make some good use of bottle caps, buttons, acorns, and rocks to create your accessories.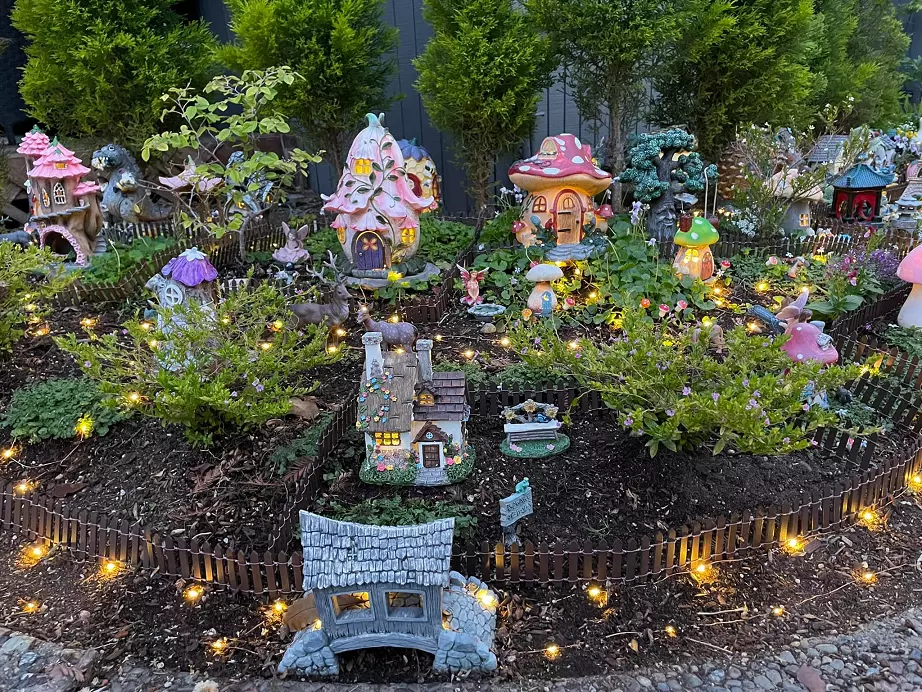 Take a Closer view of a Large Fairy Garden
For this article, I like to mention a special thanks to Sharon Lee Balewicz to allow me to use her awesome fairy garden images. Here are the detailed images of her large fairy garden.