21 Creative Mother's Day Gift Ideas For Mom
This post may contain affiliate links. Please read the disclaimer.
Mother's day is just around the corner. Have you figured out the best gift for mom?
Mom is one of the most important person in our lives who brought you into this world and Mother's day is that special occasion to express your love for her.
Think something out of the box that she really deserves. Creative mother's day gift ideas like a love letter blanket, wooden music box, mason jar ideas for mom or sweet memories wall hanging.
Finding a perfect gift for mom can be a challenge. It must be something thoughtful and unique, consider a personalized gift for mom like a mug with a meaningful message, a necklace, or a key chain.
What about a relaxing spa gift box or a foot massager?
For mom, it's not about money, what matters most is the emotional connection with the gift. You can create that emotional link with handmade and DIY gift ideas for mom.
To inspire you, I've compiled a collection of some great Mother's day gift ideas for mom.
Wooden Music Box
Give her the best taste in music with these heart-touching words. Imagine when she opens this cute box she will see a meaningful message engraved inside the box lid. Order this box for your mom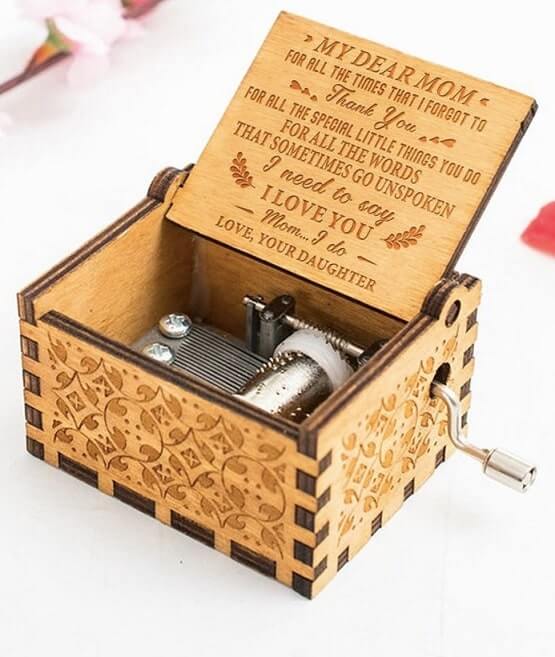 Handmade Mother's Day Gift Basket
Gift her this unique gift basket that has all-natural products straight from the farm. This includes a honey jar, beeswax candles, beeswax handmade soap, lip balm, and many other goodies to treat her. Check out this gift basket on Etsy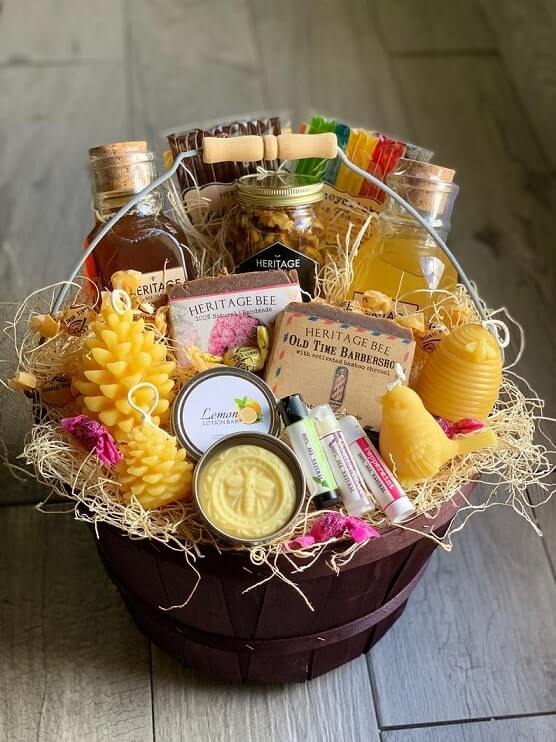 Bird Nest Necklace Gift For Mom
Surprise your mom with this beautiful bird's nest necklace. This tiny nest is made from a very fine wire to look like a bird's nest and crystal pearls as colorful eggs. The best part is that it is customizable, you can upgrade the chain, eggs, and other parts. Order it from Etsy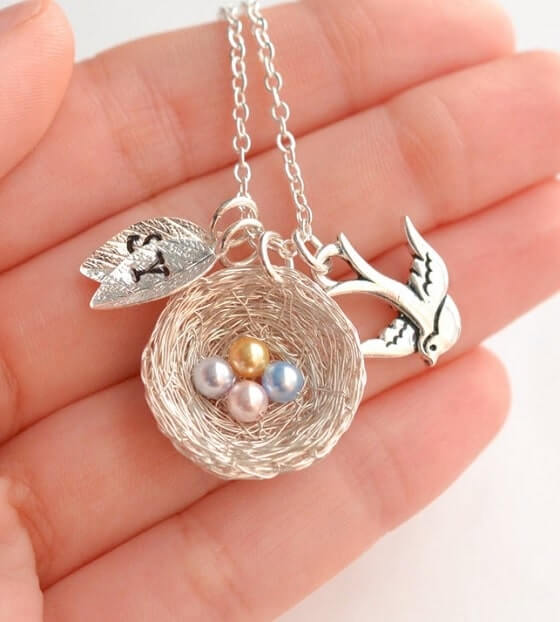 Relaxation Spa Gift For Mother's Day
Make your mom's day special with this relaxation spa gift. All these years she has been taking care of you now it's your turn to feel her relaxed. This gift comes with a succulent plant, goat milk soap, essential oils blends, and many other things to feel relaxed. Get this spa gift for her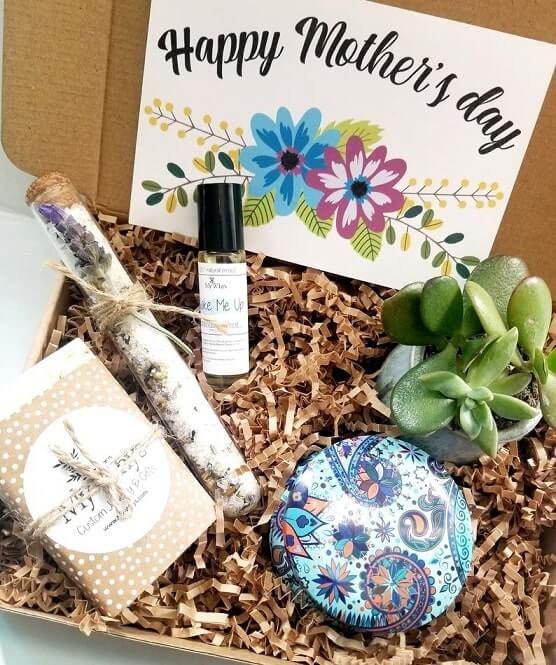 Love Letter Blanket For Mom
If you're looking for something unique with a personal touch, then this is it. This custom-made blanket is like you're writing with your own handwriting, give words to your feeling, and write a heart-touching letter and it will turn out the same as you see in the picture. Order it now!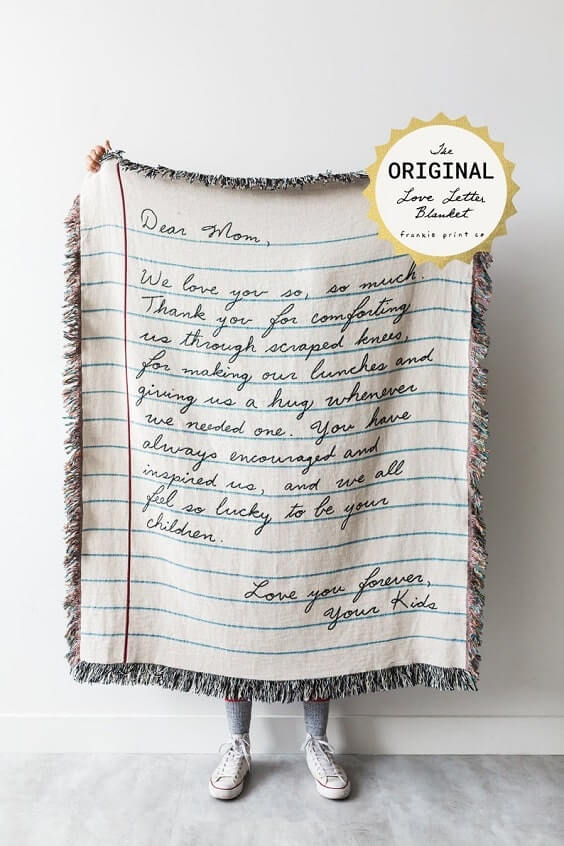 Family Tree Keychain
Get her this adorable family keychain that represents an inseparable bond with her children. The best part is you can select the number of birthstones and add instructions on how exactly you want. Check out the keychain for mom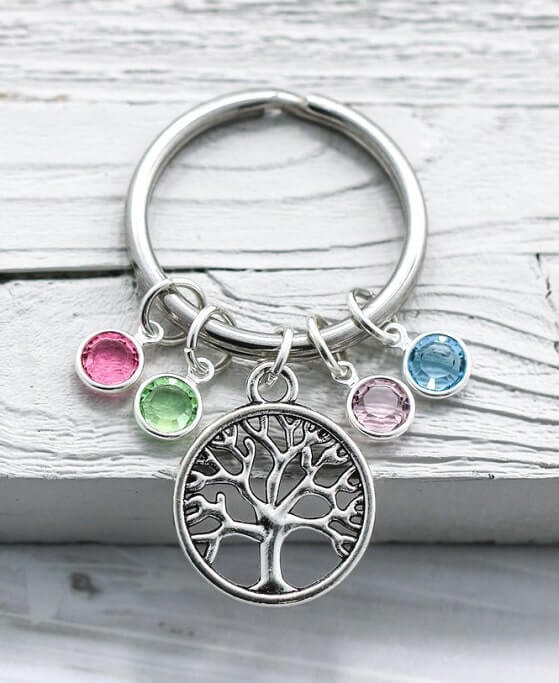 Smart Robot Vacuum
This is the much-needed cleaning tool you can gift to mom. This smart robovac can easily be controlled by an app and has a powerful suction that will definitely make her job easy. Check out the vacuum
Mother's Day Mum Engraved Heart
Gift her a personalized engraved wood heart decorated with colorful reindeer moss. It is safe to keep indoors it will not require much maintenance or watering. Get this moss heart for mom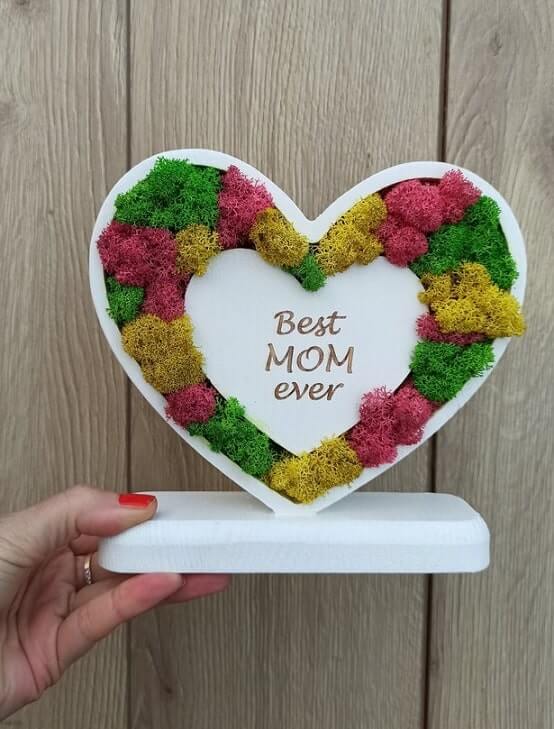 Reasons Why I Love You Mum Photo Cards
This gift comes with a personalized box with 10 cards that contains your photo and the reason written over why you love her. Isn't it a great idea? Check out this gift box
Personalized Tumbler With Cute Message
I'm sure your mom will going to love this personalized tumbler. Select the color of your choice and mention the text you want to be written. Get this gift for mom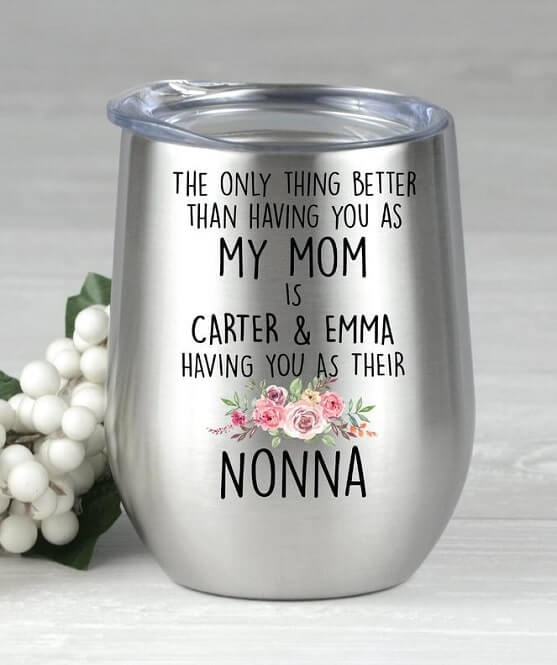 Back and Neck Massager
Give her the most useful gift this mother's day. This back and neck massager would be perfect to make her feel relaxed. Get the massager from here
Personalized Garden Watering Can
We all know most of our moms love gardening so why not give her a personalized watering can with a cute message that will remind her every day about how much you love her. Get this cool gift for mom now! Check out on Etsy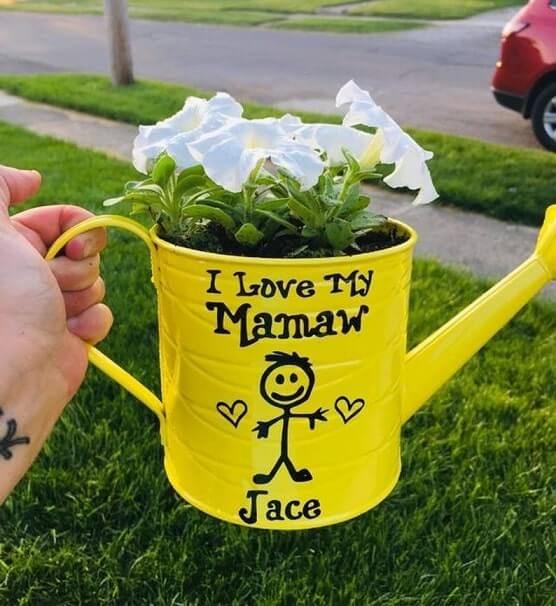 Mother's Day Photo Pull-Up Gift Box
The best way to say happy mother's day is to gift her this personalized photo pull-up gift box. Add pictures of the special moments with your mom with a thoughtful message. Check out this box on Etsy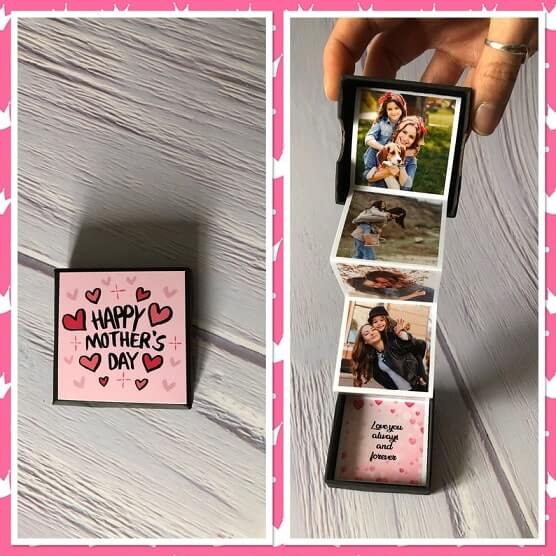 Message in Bottle Sentimental Gift for Mom
An adorable sentimental gift for mom with a heart-touching message inside the cute little bottle, she will always remember. Order this now!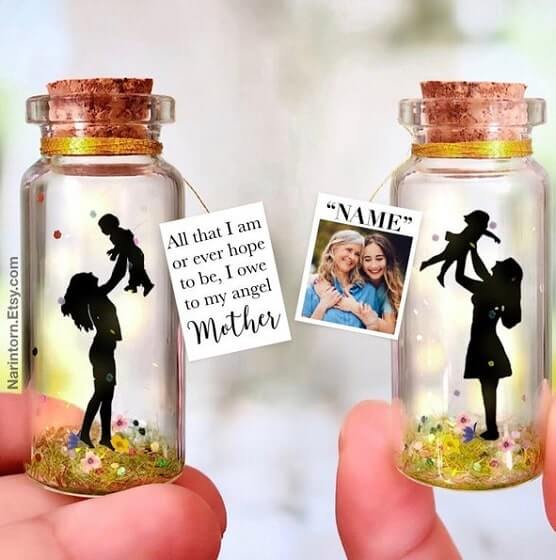 I Love You Mom Moon Lamp
Remind her of the memorable days you all spend with her with this personalized moon lamp. Check out on Etsy.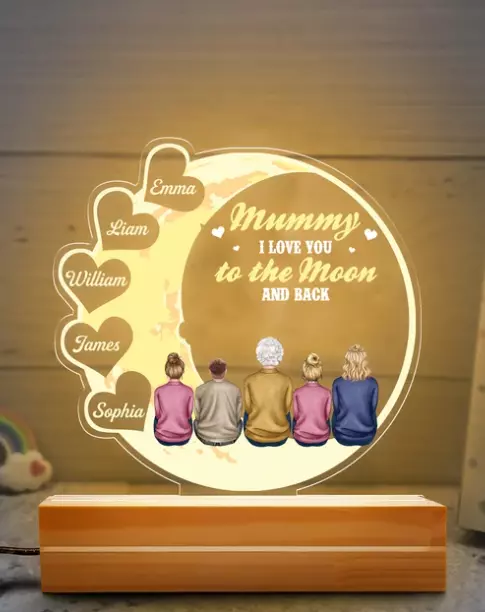 Photo Cube gift box
Bring back old memories with this photo cube box. This beautiful box comes with customizable pictures. Inside is another surprise box where you can keep a cute gift like an earring. You can also display this magnetic box on the fridge. Get it from Etsy!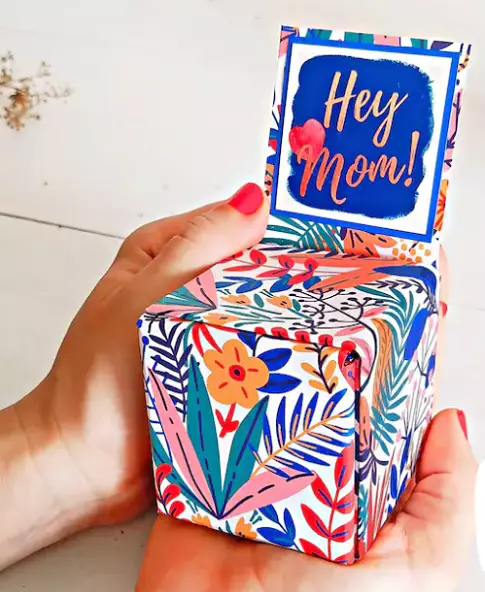 Mama Bracelet
This is the perfect gift for mom if you're looking for a minimalistic bracelet. You can select the material of your choice – gold, or silver. Order it on Etsy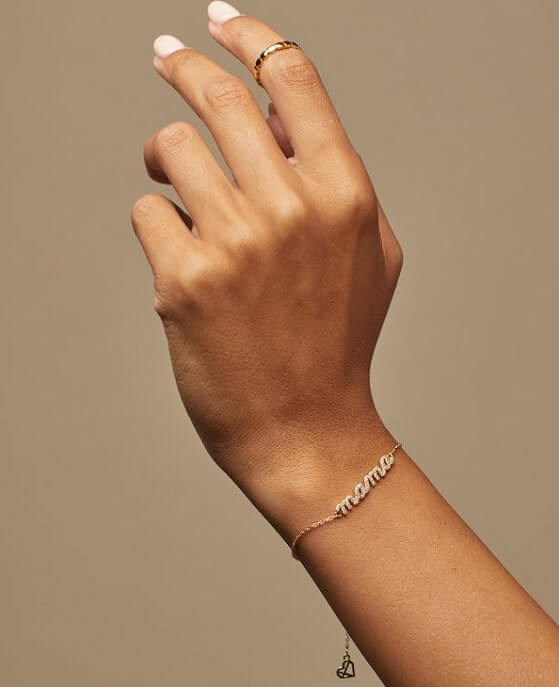 Custom Portrait
This custom portrait can be a special gift for Mother's day. Additionally. you can put a heart-touching custom message to this portrait. Check on Etsy.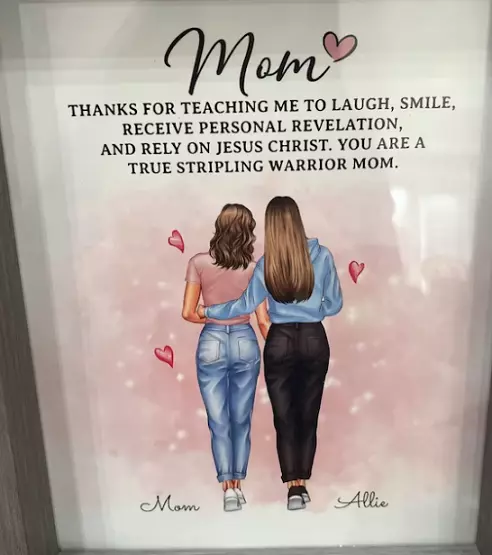 Puzzle Sign
If mom means the world to you then you should look at this puzzle sign gift idea with a heart-touching message "Mom, you are the piece that holds us together". In this custom puzzle piece, you can mention the name of family members. Order on Etsy.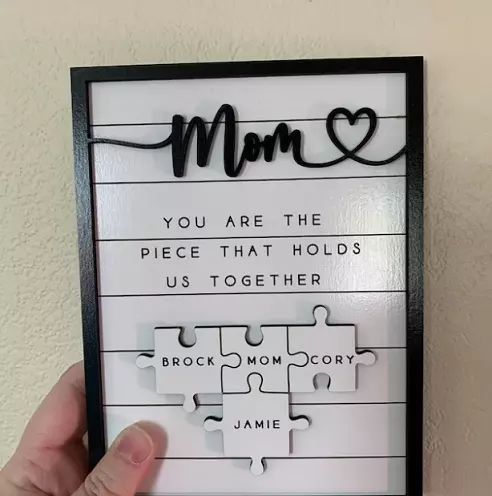 If you find value in this post, please consider pinning the below image to your Mother's Day Gift board on Pinterest. It really helps me to reach more audiences.