12 Best Thanksgiving Napkin Rings
This post may contain affiliate links. Please read the disclaimer.
At the Thanksgiving dinner table, Turkey may be the center of attraction but the table decoration is equally important. And napkin rings are no exception.
When you're hosting the Turkey day dinner you may have figured out plates, table cloth, and place cards. What about the napkin rings?
To make the Thanksgiving table setting special you need some adorable fall napkin rings that go well with the fall theme.
To inspire your fall table decor I've picked some of the best Thanksgiving napkin rings to match your fall tablescape.
Here you'll find pumpkin napkin rings, turkey napkin rings, thankful napkin rings, and DIY paper napkin rings to celebrate the harvest.
If you're interested in making DIY napkin rings, I've also shared a DIY tutorial to make napkin rings at home using cheap Dollar store supplies.
Check out these ideas to impress your guests.
Harvest Maple Fruit Napkin Rings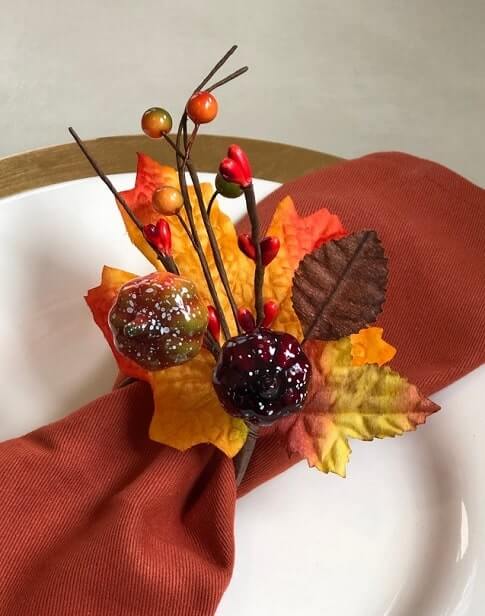 I can bet your Turkey day tablescape would be incomplete without this beautiful napkin ring. The color combination perfectly matches the fall theme. Check out on Etsy.
Wooden Beaded Napkin Rings
Check out these elegant napkin rings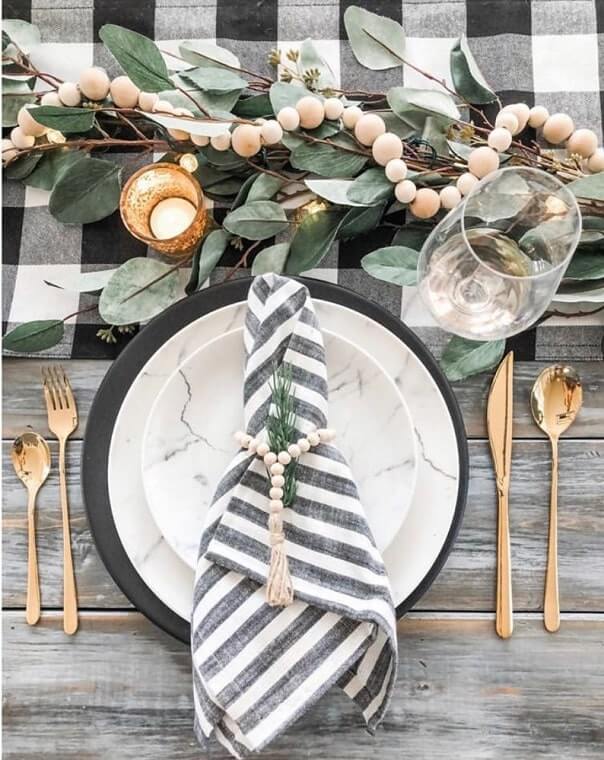 Orange Pumpkin Napkin Ring
These orange pumpkin rings give an elegant touch to your Thanksgiving table decor. The best part, is it works well with even plain white napkins. Check out this rustic masterpiece.
Elegant Maple Leaf Pumpkin Napkin Ring
This adorable napkin holder gives a farmhouse touch to your Thanksgiving table. The colors perfectly fit the fall vibe. Take a look.
Fall Leaf Napkin Rings
Fall leaf has been an old-school style traditional napkin ring, still, it's so elegant and simple at the same time. Check out this classic napkin holder.
Cute Pearl Pumpkin Napkin Rings
These cute artificial pearls and alloy metal pumpkin rings can be a good option for a modern chic Thanksgiving table or Fall dinner table decoration. Check it here.
Pinecone Burlap Harvest Napkin Rings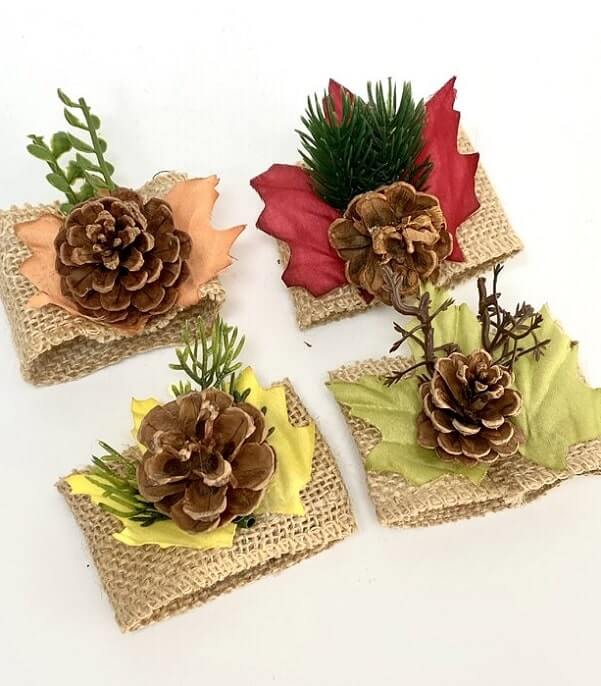 Pinecones and burlaps add a rustic character to your Thanksgiving table decor. Try this unique idea from here.
Autumn Leaf Thanksgiving Napkin Rings
Check out these fall leaf napkin rings
Orange Maple Leaf Napkin Rings
Check out the maple leaf napkin rings
Pine Cones & Rustic Fall Leaves Napkin Rings
Check out this fall rustic napkin rings
Gold Leaf Napkin Rings
Check out these rustic napkin rings
Classic Fall Napkin Rings
Check out these classic napkin rings
If you enjoyed this post or want to save it for your inspiration, please pin it on the Thanksgiving table decoration board on your Pinterest.